Meet Genoa's Most Famous Explorer: Christopher Columbus
BORN
Cristoforo Colombo in October 1451 in Genoa, Liguria.
ORIGINS
The location of Columbus' birth has actually been a source of debate. Some historians have claimed that Columbus originally hailed from Spain (in the region of Aragon) or Portugal.
What clinches the fact that Columbus was indeed born in Genoa is a document known as Documento Assereto. It's an act that was drawn up on 25th August 1479 in which Columbus declared that he, a citizen of Genoa, was about to embark on a mission to get financial backing in Portugal.
The document can be found in the Galata Museum of the Sea.
FAMILY
Columbus' mother and father were Susanna of Fontanarossa and Domenico Colombo. Both parents were in the wool weaving trade, both working in Genoa (Domenico also worked in Savona).
Domenico also owned a cheese stand, where young Christopher would help out from time to time.
Christopher had three brothers (Bartolomeo, Giovanni and Giacomo) and one sister (Bianchinetta). Out of his siblings, Bartolomeo (who would go on to be a map maker in Lisbon) helped his elder brother out on future voyages, embarking on planned destinations and conceiving potential plans and routes.
In the late 1470s, Columbus married Filipa Moniz Perestrello. Filipa was the daughter of Portugese nobleman and governor of Porto Santo, Bartolomeu Perestrello. Filipa gave birth to Christopher's son Diego in either 1479 or 1480. But not long after, it's claimed that she passed away in 1485. Two years later, Christopher would fall for a young mistress called Beatriz Enriquez de Arana.
INTERESTS, EXPERIENCE AND STUDY
Columbus claims that he became interested in boats from a young age, having worked on a ship at the meagre age of 10. Around nine or 10 years later, he would go on to work on a ship based in Genoa that was under the command of Rene of Anjou. Following this, he would work as an apprentice business agent for the powerful Centurione, Di Negro and Spinola families.
Columbus immersed himself in learning and studied all kinds of subjects such as history, geography and astronomy. He would read the works of many writers including Ptolemy and Pliny, as well as acquainting himself with the past travels of Marco Polo.
Columbus also took an interest in religion, and in future written records, would quote from the Bible (for example, to make a particular point). He was also interested in Biblical prophecies, and would also assemble a Book of Prophecies in the early part of the 16th century with assistance from a Carthusian monk called Gaspar Gorricio.
APPEALS
By the time Columbus reached his 30s, he was looking to embark on a full-scale voyage project. His aim was to seek a western route to the Orient, with additional requests being made. He wished to be titled the Great Admiral of the Ocean, become the governor of any lands that he discovered, and to also claim a 10th of any money from these potential lands.
He put together his proposal and took it to King John II of Portugal. However, this was rejected twice – in both 1485 and 1488. Reasons given were that Columbus' guess of the travelling distance was lower than in reality. Similar less than forthcoming responses also came from Venice, his homeland of Genoa, and also England (where his brother Bartolomeo had gone to seek assistance from Henry VII).
However, Columbus managed to find favour with Ferdinand II of Aragon and Isabella I of Castile, who agreed to fund the project. And from this moment on, Columbus' name was to become considerably well known.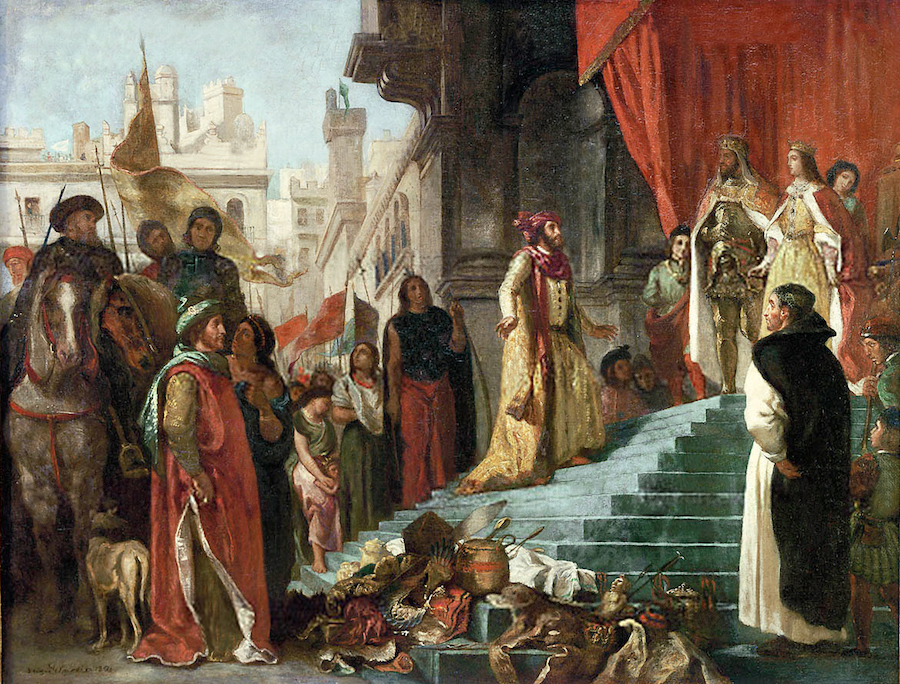 The Return of Christopher Columbus By Delacroix,Eugene (Wikipedia.com) [Public domain], via Wikimedia Commons. 
VOYAGES
There were four of these in total, with travelling taking place between 3rd August 1492 and 7th November 1504.
The first voyage used three ships, with Columbus at the helm of the larger one, the Santa Maria. The other two smaller ships were the Santa Clara and the Pinta. Columbus would travel to the Canary Islands, the north-east coast of Cuba and the coast of Hispaniola. Among his landing destinations were San Salvador and the Bay of Rincon. The latter destination would be nicknamed the Bay of Arrows as a result of the arrows carried by the local people, the Cigüayos (who had refused to trade bows and arrows with Columbus).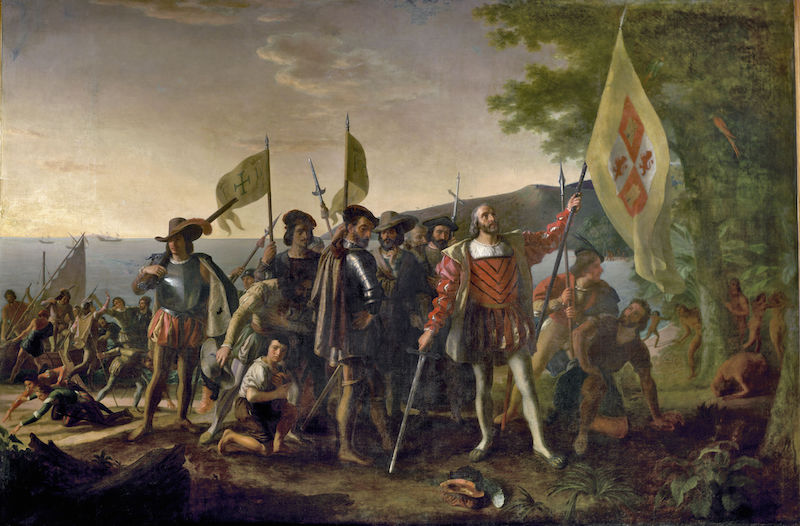 Christopher Columbus is depicted landing in the West Indies, on an island that the natives called Guanahani and he named San Salvador, on October 12, 1492. He raises the royal banner, claiming the land for his Spanish patrons, and stands bareheaded, with his hat at his feet, in honor of the sacredness of the event. Photo credit: John Vanderlyn [Public domain or Public domain], via Wikimedia Commons
Riding on the success of the first voyage (when Columbus had been appointed viceroy and governor of the Indies), the second voyage left the Port of Cadiz on 24th September 1493. This time, the number of boats was a massive 17, as 1200 men were selected to establish colonies in the New World. Among the number were priests, soldiers and farmers. Columbus went back to Hispaniola, although this was partly a bittersweet return as the fort of La Navidad, which had been built at the time of the original voyage, had been found destroyed. A new settlement in the Dominican Republic, La Isabela, was founded, but this proved to be a brief experience, owing to its limited location.
The third voyage, which set sail from Sanlucar, Spain in late May 1498, was however, to prove to be a more troubled affair. During the voyage, Columbus' expedition was becalmed, he suffered from poor health, and most damning of all, faced revolution from the Spanish settlers during the return to Hispaniola.
The settlers claimed that Columbus had tricked them with regards to the riches of the New World as well as levelling accusations of poor management. The outcome of this was that Columbus was stripped of his title of governor and was then arrested and escorted back to Spain in chains – although he was later released and allowed to travel again to the New World.
This would take place on 11th May 1502, when Columbus set sail from Cadiz in three vessels (including the Santa Maria) with his brother Bartolomeo. The destinations this time, included Jamaica, Central America and Puerto Castilla. Again, however, this was a voyage set with problems – most notably from the weather. While surviving an initial hurricane with only minor damage and then a December storm, a third storm in the June of 1503 saw the crew's luck run out, as they were left stranded in Jamaica for a whole year – despite the governor of Hispaniola, Nicolás de Ovando y Cáceres, blocking attempts of rescue, Columbus and his team made it back to Spain in the November of 1504.
DEATH AND LEGACY
Christopher Columbus passed away on 20th May 1506. Columbus, while enjoying the prestige and status of his voyages, had found that these had come at a price to his personal health.
During this time, Columbus had suffered from frequent bouts of gout, fevers and influenza. It's thought that Columbus' ultimate death was a result of Reiter's Syndrome, an arthritis-related disease which in this case, was apparently brought on by food poisoning.
Columbus' legacy lives on however – not least in his hometown, where there are countless statues and tributes to the explorer. A large statue stands in the Piazza Acquaverde.
The Palazzo di San Giorgio play host to a special fresco and plaque. Meanwhile, the Galata Museum houses the portrait of Columbus, as painted by Ridolfo di Domenico Bigordi. And of course, the city's airport is named after Columbus – as millions embark on their own travels.
Location:
You may also be interested in...