Why You Should Consider Abruzzo as Your Next Vacation Destination
When it comes to hidden gems in Italy, you'll be hard-pressed to find anything completely off the radar, but it is our mantra to provide coverage of places that we feel get less attention than they deserve by visitors. This time we're talking about lovely Abruzzo; a region flanked by le Marche, Molise, Umbria and Lazio. Abruzzo boasts an interesting topography that combines the best of mountain life with glorious beaches, all within an easy reach of the airport of the delightful city of Pescara. In our opinion, the "drama" of its landscapes perfectly compliment the peace that most people who visit here feel. 
Abruzzo is centered around four provinces, L'Aquila, Teramo, Pescara, Chieti, and the region is known as the "greenest in Europe" with a large amount of its territory dedicated to national parks, making it one of the least populated regions in the country (roughly 1.3 million). Cost wise, it's a place conveniently in your favor, the accessible accommodation prices match nicely with traditional eateries, this means as a family, you won't break the bank if you're paying for multiple people. Here's why we know you should consider Abruzzo as your next Italian holiday destination and Pescara the ideal base to explore Abruzzo.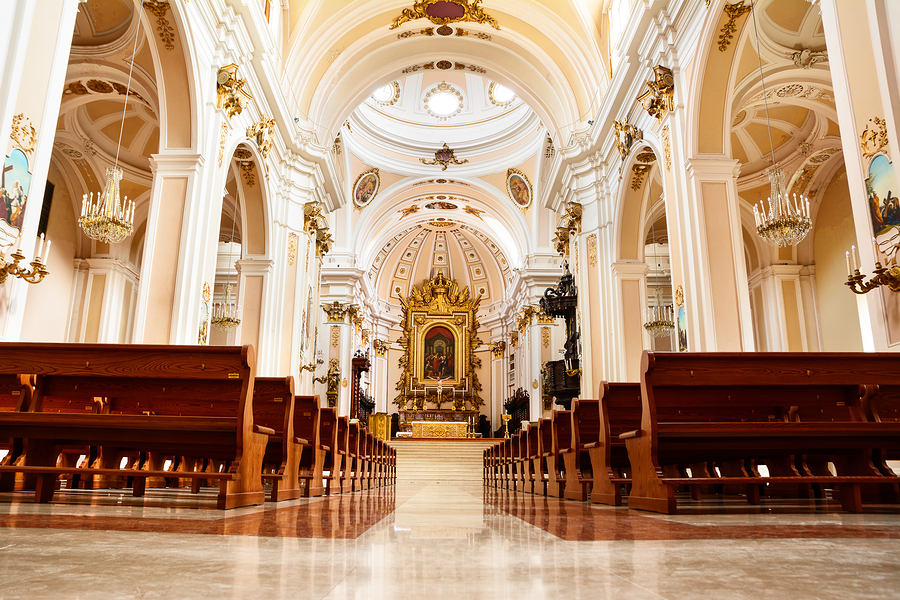 [Inside the Cathedral of Chieti]
The Great Places to Stay
When it comes to villa stays, this lovely spacious vacation rental in Abruzzo offers spectacular panoramic views, comfort and a gorgeous terrace from which you can enjoy stunning sunsets. This villa places you in the centre of all things Abruzzo.
Conveniently close to Pescara this villa offers four air-conditioned bedrooms (all with en-suite bathrooms), large living space, WiFi, all modern amenities and is completely surrounded by 50,000 sq m (538,195 sq ft) of private land where abundant organic fruit and over 100 olive trees are at your total disposal. It's the perfect place to truly relax and take in the gorgeous, panoramic surroundings and serve as the ideal base for exploring Abruzzo.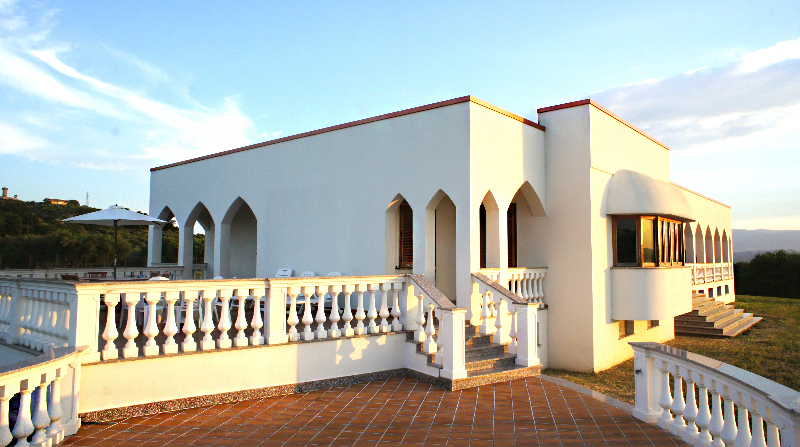 [Villa Adriatica]
After an unforgettable day out exploring you can cook in the fully equipped modern kitchen and dine in the very spacious living area overlooking the Adriatic Coast, mountains, countryside and medieval towns or you can choose to dine "al-fresco" on the large terrace while you enjoy the spectacular views.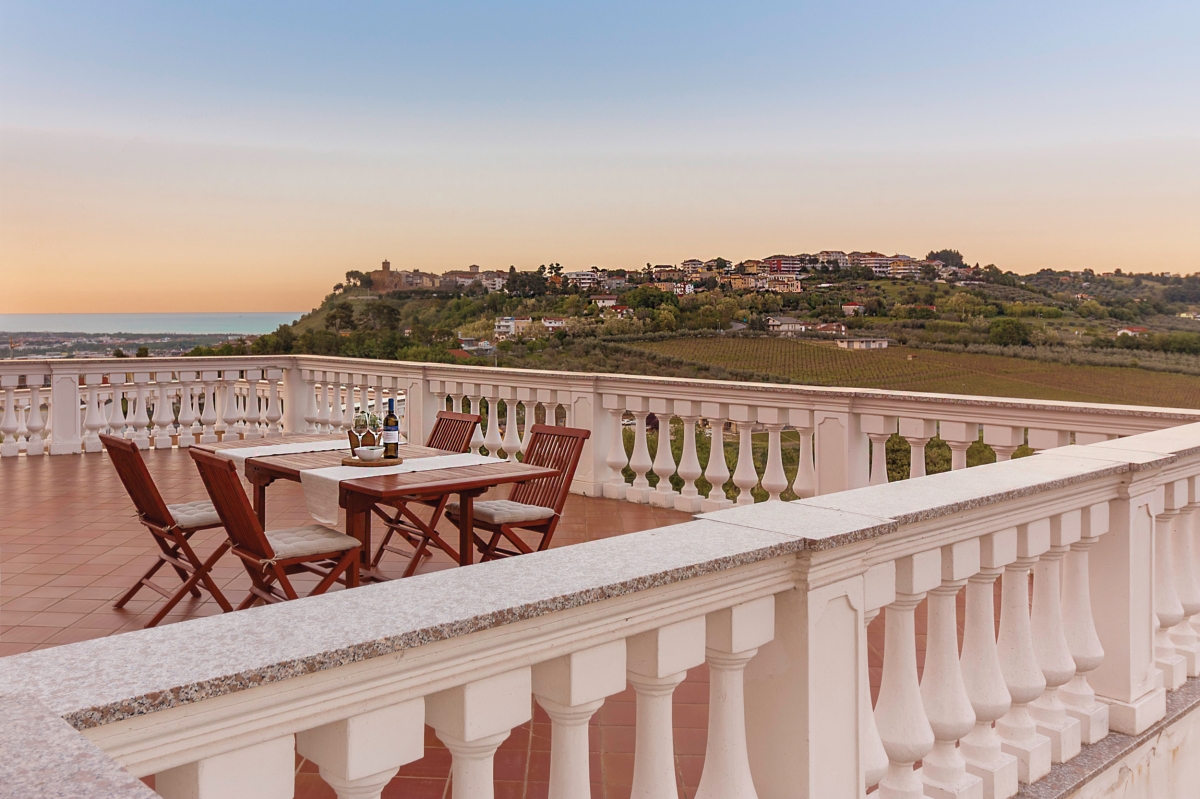 Outside terrace at Villa Adriatica]
The beautiful blue flag beaches, Pescara city centre with its elegant shops, cafe's and vibrant night life, Pescara is an easy 10-minute drive. The villa can also be used as a venue such as yoga retreats and a chef is available on request. Prices for booking the villa start at around 200€ euros per night. You can book here.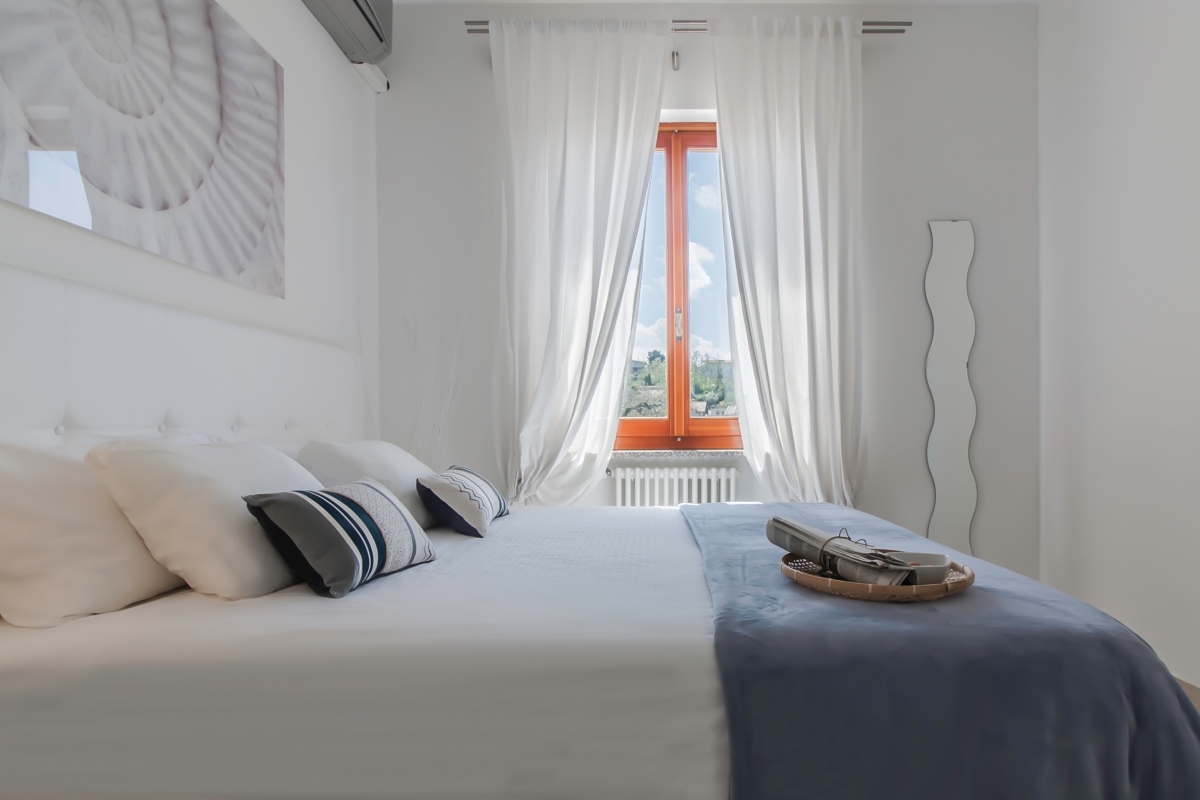 [Interior of the Villa]
The people. 
In Italy, it is well known that the Abruzzese are considered "Forte e gentile" (strong and kind), which is statement best coined by Italian journalist Primo Levi when he visited in the 20th century. Many people I have personally met from the region are kind, hard-working and claim (as usual) that their mom makes the best food I'll ever try. 
Many famous people you have probably seen on TV or heard in mainstream music have roots based in Abruzzo as well, including Madonna, American Chef Mario Batali and Dean Martin. Due to the prime filming conditions, it is a region popularly used for filming, The American with George Clooney, King David, The Name of the Rose, Bread and Tulips are just a few of the flicks that have used Abruzzo as their backdrop. 
Locally, Gabrielle d'Annunzio is one hot shot you definitely need to know. This famous Italian poet writing up to 48 volumes of works, a figure that was well-regarded by the likes of Proust, Joyce and Puccini. He also had the somewhat dubious reputation as a lady's man, having seduced the likes of actress Eleonora Duse. 
In Pescara, you can see relics of his past at his birth house-turned-museum. After which we recommend heading to the Museum of the Abruzzi people to discover more about the ancient settlers that first populated the area. 
Speaking of history, there is plenty to see in regards to its Roman history, including the ruins at Amiternum near L'Aquila, Alba Fucens and Sulmona.
Gorgeous Towns
While we prefer to base around Pescara, we highly recommend a jaunt around some of the country's best hilltop towns. Keep in mind that Abruzzo is home to twenty of the "Borghi Piu Belli d'Italia" which highlights some of the most beautiful villages in Italy. 
If you want to stay closer to Pescara and explore some of the beautiful blue flag beaches of the region, head over to Torre del Cerrano for a dip in the sea.
When it comes to trips, you have plenty of options, such as a visit to Montesilvano Colle, a fortified mountain town with a beautiful church called La Madonna della Neve which boasts 12th century frescoes, and Citta' Sant'Angelo which is one of the "Borghi Piu Belli d'Italia" or The Most Beautiful Villages in Italy. 
Another top pick are medieval villages that seem set back in time. Castel del Monte lies close to a popular screensaver landscape image with the staff of Italy Magazine, of course I'm talking about the spectacular Rocca di Calascio, and the town of Santo Stefano di Sessanio.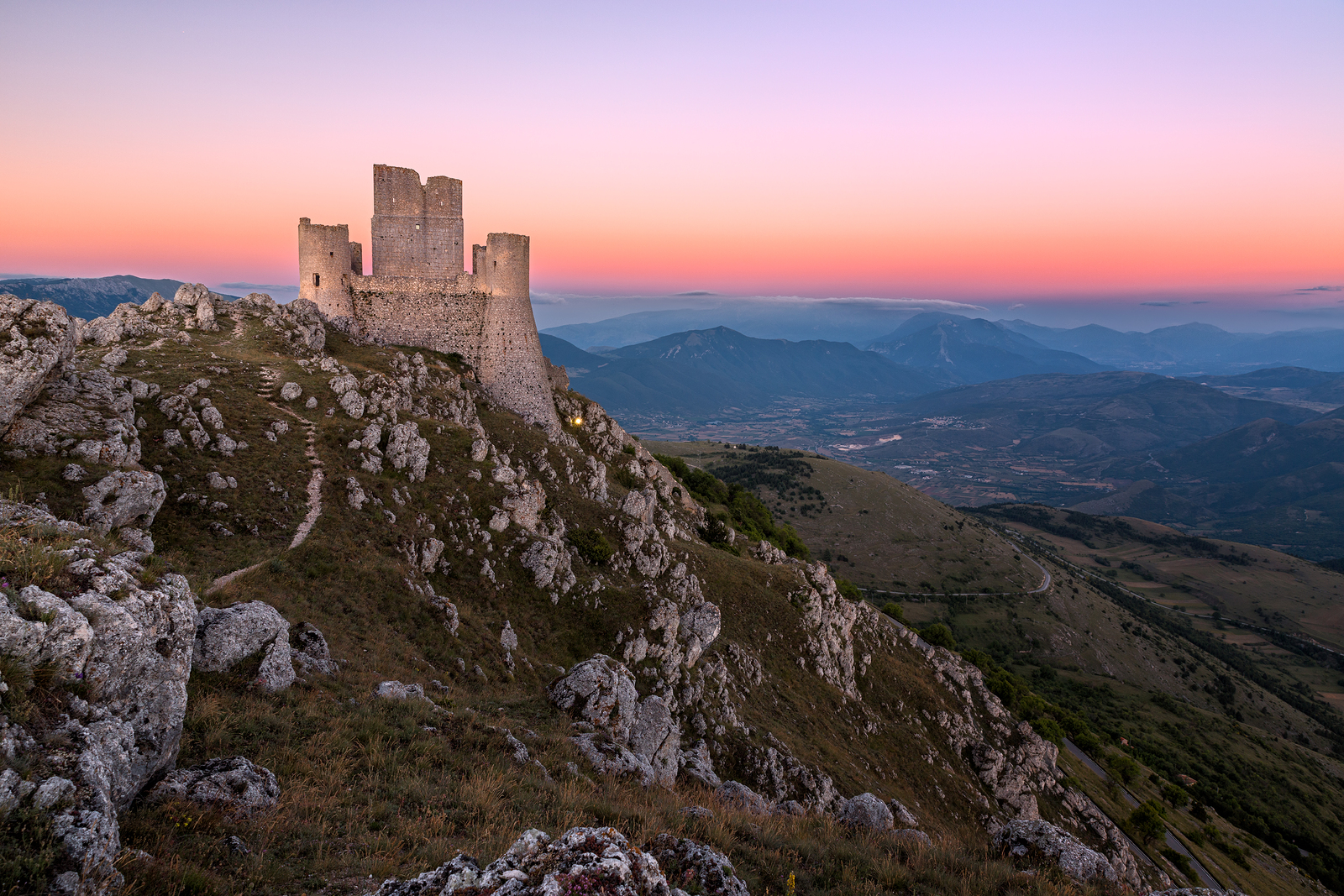 [spectacular Rocca di Calascio at dusk]
In May, you'll want to visit the town of Cocullo where on the first Thursday of the month the town comes alive with thousands of tourists for a celebration of the town's patron Saint Domenico di Sora. A statue of the saint is draped in live snakes (really), before going through the town on a procession before being released back into the wild; this is meant to show respect to the saint by farmers who believe that snakes then disappear from their fields. It's definitely a tradition that has pagan ties which is not at all uncommon for Abruzzo. That's not all, local girls and priests then drape themselves in traditional sweetmeats, called ciambelli, that are prepared specially for the festival. 
The Food 
When it comes to eating "local" your first stop should always be at a local market. Not only can you usually be assured of great quality, but it's a prime place to do a little people-watching along with purchasing your day's nourishment plus it's a great place to get to know people. In Pescara, you'll find two morning markets every Monday, on Via Passolanciano and Via Pepe. 
The Abruzzese are quite proud of their cuisine, and for good reason. It is known for both hearty mountain fair and fresh seafood, along the region's beautiful coastline. Some typical dishes that hail from here include arosticcini, or roasted lamb-skewers over hot coals, a favorite during local food festivals. Also delicious is the pecora al cotturo, or sheep stuffed with a variety of mountain herbs and cooked in a copper pot. Towards the sea you'll discover Scapece, pickled fried fish and guazzetto, a delicious fish broth.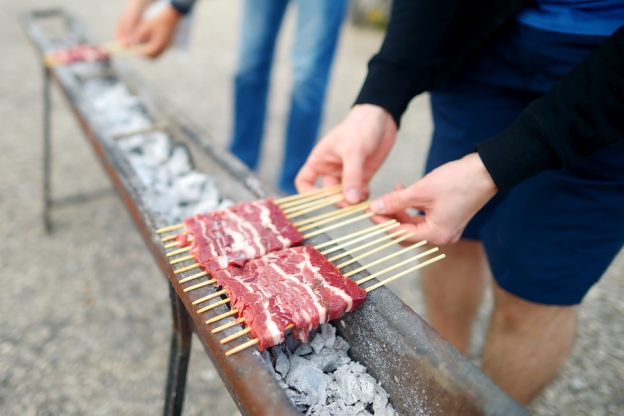 [arosticcini, or roasted lamb-skewers heated over hot coals]
The iconic pasta dish is none other than spaghetti (or maccheroni) alla chitarra which is made by cutting pasta through a chitarra. Often served with a tomato-based ragu, you'll find it on most menus locally. When it comes to wine, you can't leave without trying Montepulciano d'Abruzzo and Trebbiano wine.
The dramatic Landscape 
For a truly "into the wild" experience, we always choose Abruzzo. Between the mountain life, great skiing resorts, beautiful beach towns, you'd be hard-pressed not to find something to do. Keep in mind that here you'll find three national parks, one regional park, and 38 protected nature reserves encompassing a large part of the territory. The wildlife that you can spot here include the Marsican brown bear, Abruzzese chamois, and the Apennine wolf. 
From Pescara, it is an easy drive to the 100 squares miles of land encompassing the Majella national park with jaw-dropping canyons, rolling hills, ravines and waterfalls – with Monte Cavallo being the perfect hiker's paradise. 
In the winter, head to Passo Lanciano and Gran Sasso for great ski trails, day passes are relatively cheap here compared to other areas in Europe costing around 16-22€ a day respectively.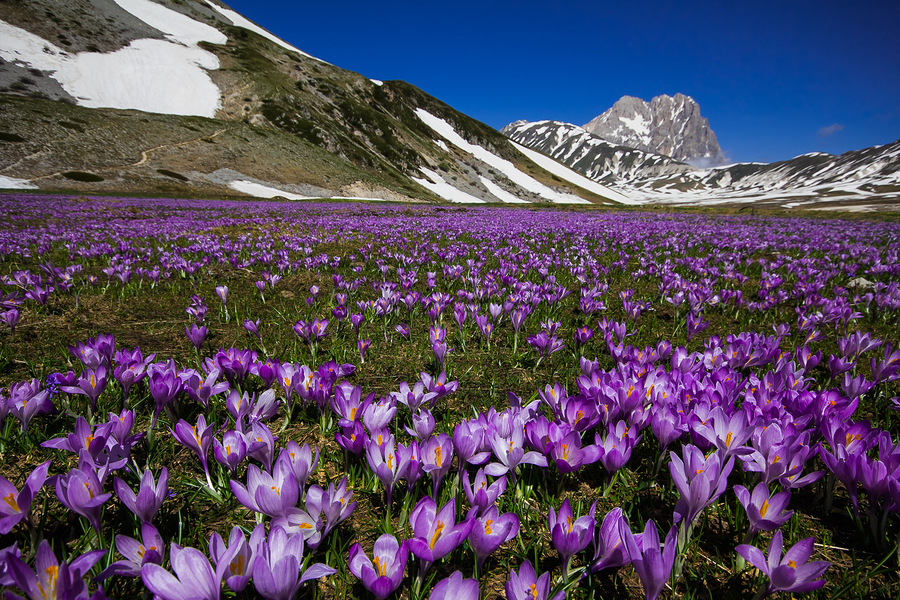 [Gran Sasso national park, Plateau of Campo Imperatore with violet crocus]
The variety in seasons 
We'd like to think of Abruzzo as a year-round destination but those who want to experience events like the Pescara Jazz festival should aim to come in summer time, concurrently is the Festa di sant'Andrea which includes a local procession through the streets of Pescara on the last Sunday in July Personally, we think autumn and Spring are the best seasons if you want to enjoy the best the region has to offer without the crowds. 
How to get there
There are regular flights to Pescara airport otherwise it's just a couple hours drive on the autostrada from Rome airport. We recommend renting a car to be totally liberated in your Abruzzo trip. 
Topic:
You may also be interested in...