Your Guide to Visiting FICO Eataly World in Bologna
100,000 square meters dedicated to Italian biodiversity and culinary traditions: FICO Eataly World is scheduled to open in Bologna on November 15. Our Silvia Donati had a sneak peek before the official opening. Here's her guide to making the most of your visit to the largest agri-food park in the world. 
What is FICO Eataly World?
It's a 10-hectare theme park dedicated to Italian food, 'dal campo alla forchetta', from field to fork. There are two hectares of open-air cultivated fields and stables, with 200 animals and 2,000 cultivars (types of plant). The remaining eight hectares are occupied by 40 food factories, where you can see how ingredients are transformed, 44 kiosks and restaurants, as well as shops, where you can taste and buy the final products, all representative of Italy's rich food traditions.
Entrance will be free, and you can explore FICO on foot or on a bike, on your own or guided by the so-called 'Ambassadors of Italian Biodiversity'.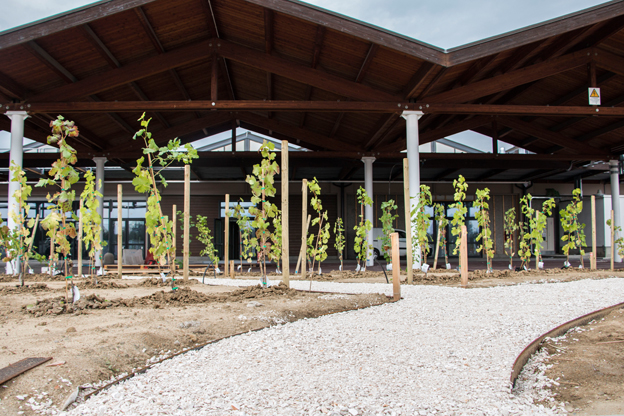 [Vineyard at FICO Eataly World.]
Why go
FICO's motto is 'dal campo alla forchetta', from field to fork, and its goal is to show people where the food we eat comes from, thus raising awareness about the value of food and about the importance of sustainable practices in the production of food.
"FICO tackles the food theme in the most original, yet obvious, way: from the beginning rather than the end," said Oscar Farinetti, founder of Eataly and honorary president of FICO Eataly World, at the press conference held on November 9, a few days before the scheduled opening of FICO. "We're used to talking about food only as the final dish. Here we show farming and breeding, and the transformation of ingredients into the finished product on the table – with a little entertainment thrown in."
That is indeed the added value of FICO: the chance to see the processes behind the making of food, to experience first-hand the extraordinary food biodiversity of Italy, the largest in the world, and understand how it has contributed to the excellence and variety of Italian cuisine. Otherwise it's just a high-end food court.
Planning your visit
A first visit to FICO can feel a bit overwhelming: it's huge and there are many offerings. A little advance planning is recommended to avoid wandering aimlessly and getting to the thing that interests you most when you're exhausted.
-First things first: Fields and Stables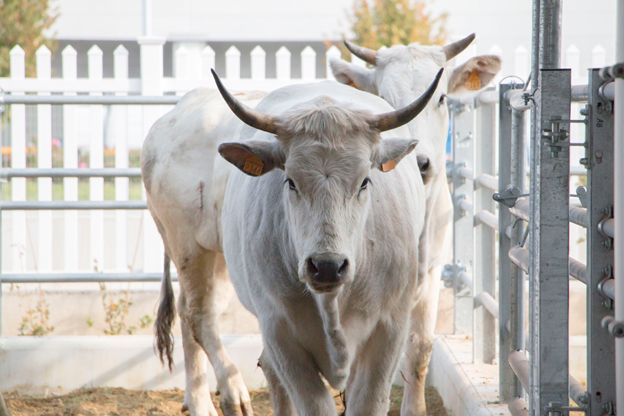 [Some typical Italian cattle varieties can be seen in the stables of Eataly World.]
Go check out the fields and animals that give you an idea of the variety of Italian edible biodiversity. Cereals, legumes and herbs gardens, fruits orchards, olive groves, vineyards, even a truffle plantation; and then some of the most typical Italian species of beef and dairy cattle, sheep, pigs (think Chianina, mora romagnola, Altamura, etc.), and courtyard animals. Explicative panels provide background information and anecdotes: did you know for example that Italy holds the record for olive and apple biodiversity? (Which explains why a wall covered with apples welcomes visitors to FICO: Italy has the largest variety of apples in Europe, again to highlight its biodiversity.) Depending on the time of the year you go, fields may or may not be in bloom, and that's the point: to show the seasonality of crops, which should always be respected.
-Understand how ingredients turn into Italian food excellence
[See how pasta is made.]
Choose among 40 'fabbriche contadine' (farming factories) to experience first-hand the processes behind the making of, say, Parmigiano Reggiano and mozzarella, mortadella and prosciutto di Parma, fresh pasta and pasta di Gragnano, gelato (who wouldn't want to see that?!), olive oil, wine and beer.
-Fun learning
There are six multimedia 'giostre' (carousels), dedicated to exploring the relationship between humans and the elements of nature: Man and Fire, Man and Sea, Man and Animals, Man and Earth, Man from Soil to Bottle, Man and Future.
There are also several courses to choose from: from classics like pasta and pizza making to beer or sorbetto making, to the life of bees, to food photography tips.   
There's a fee to access the carousels and courses; if you want to be sure you get into the activity of your interest, you can book in advance on the FICO website.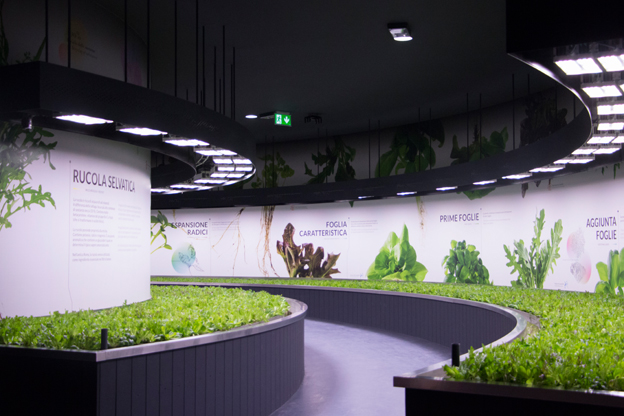 [One of the six interactive educational 'carousels' at Eataly World.]
-What you really came for (admit it): eating
You need fuel to get through FICO's many offerings; you'll find it at the 44 establishments ranging from the classic restaurant to the street food stand (piadina romagnola, Tuscan lampredotto, arrosticini, anyone?). Most Italian regions are represented, with a prevalence of Emilia-Romagna's products - this is the region that hosts FICO after all. For a complete list, click here.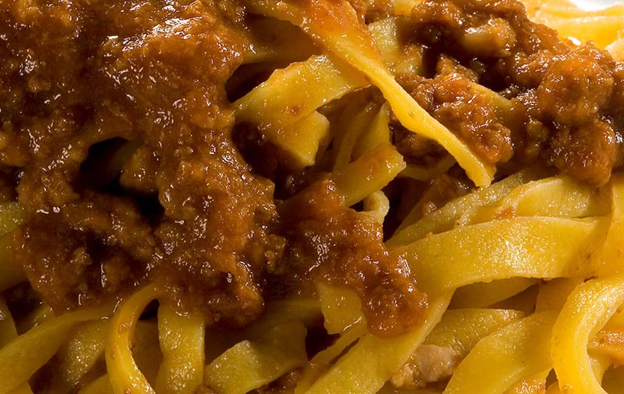 Getting there
Address: Via Paolo Canali 8, Bologna.  
A FICO shuttle runs from the train station to FICO Eataly World every day beginning 9:30 am, every 30 minutes Monday to Friday, every 20 minutes Saturdays, Sundays and holidays. The ride is about 20 minutes and costs 7 euros round trip (same day). There's a 30% discount on same-day, round-trip Trenitalia tickets to Bologna from November 13 to January 15, 2018.
There's a large parking lot for those arriving by car.
FICO Eataly World opens on November 15 at 4:30 pm. It will be open every day, from 10 am to midnight.
For more information, visit the FICO Eataly World website. 
Photo credits: FICO Eataly World.
Location:
You may also be interested in...