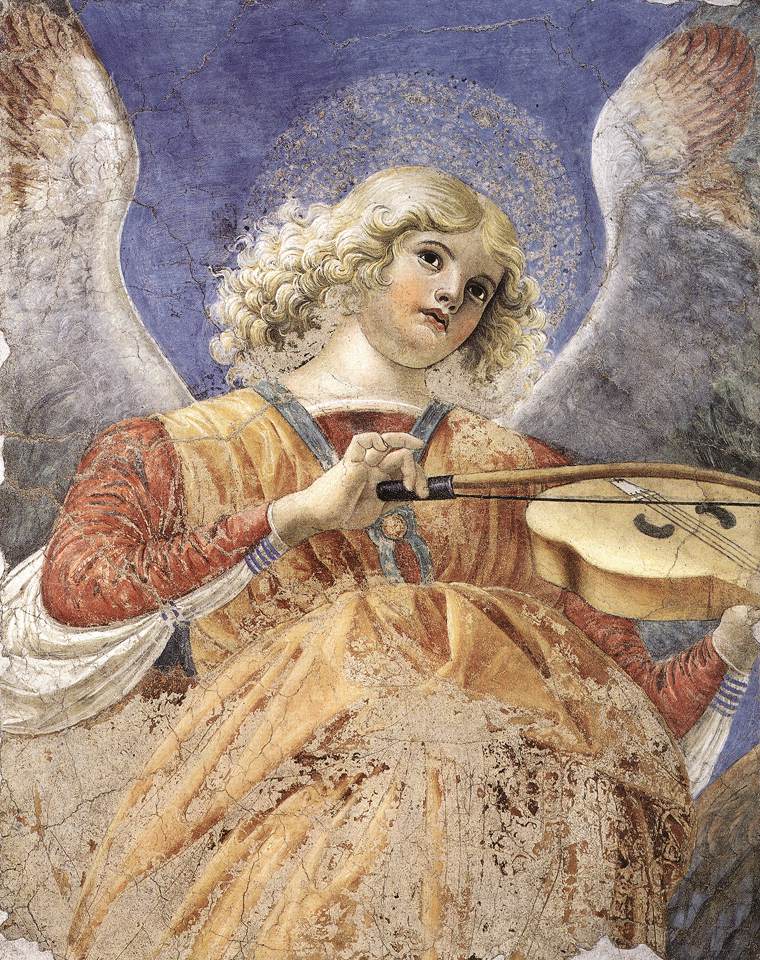 Musician Angel (1480) by Melozzo da Forlì - Pinacoteca Vatican Museums 
Melozzo da Forlì (c. 1438 – 1494-11-08) was an Italian Renaissance painter and architect, one of the most important member of the Forlì painting school.
His fresco paintings are notable for the use of foreshortening, the visual effect or optical illusion used to makes an object or distance appear shorter than it actually is because it is angled toward the viewer.
In about 1480 he was commissioned by Pietro Riario to paint the Ascension of Christ on the vault of the apse in the basilica dei Santi Apostoli in Rome. The artist made an excellent use of perspective and the fresco was so boldly and effectively foreshortened that other artists studied it for inspiration, including Michelangelo for his Sistine Chapel.
The fresco was taken down in 1711 when the apse was destroyed to modernize the church. It was removed and divided into 16 parts: 14 fragments with the Apostles and the famous Musician Angels are now on display in Room IV of the Vatican Pinacoteca , another fragment with an Angel is in the Museo del Prado, while the figure of Christ is now in the Quirinal Palace, the current official residence of the President of the Italian Republic.  Other fragments, which influenced Raphael, are in the sacristy of St Peter's. 
Tags
Melozzo da Forlì
Renaissance
Vatican museums