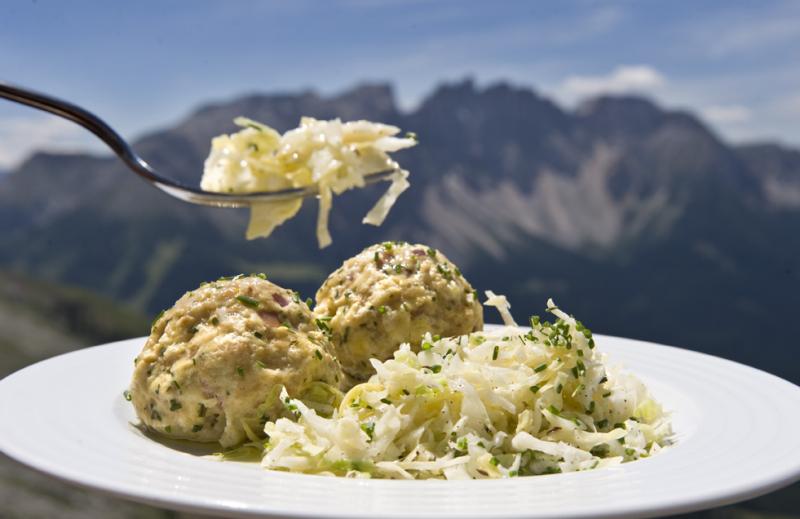 English
Whenever I travel to Trentino-Alto Adige, the first meal I have is canederli (knodel), a signature dish of the region's culinary tradition.
The recipe for canederli is very ancient and quite simple: the dough is made of stale bread, milk, eggs and onions, flavored with parsley and a little flour, and stuffed with speck or cheese in its more traditional version. The ingredients are molded into balls of about 4-6 cm in diameter, and cooked in salted water. They can be served in a meat broth, or with melted butter.
Canederli is a dish of the peasant tradition, dating back to a time when farmers used the leftover bread that had become stale, combined with the products they could easily find on the farm, precisely speck and cheese, still today cornerstones of Trentino Alto Adige's gastronomy.
Today, you can find canederli with all kinds of fillings, and vegetarians too can enjoy them; there are canederli with spinach, with herbs, with savoy cabbage or chicory.  
Very nutritious, canederli are more suitable for the cold season (but that hasn't stopped me from enjoying them in summer!).
Whichever version you prefer, canederli should definitely be tasted when traveling to Trentino-Alto Adige as they are such a staple dish of the region's cuisine. 
Italian
Ogni volta che vado in Trentino-Alto Adige, il mio primo pasto è a base di canederli (knödel), uno dei piatti più tipici della tradizione culinaria della regione.
La ricetta dei canederli è molto antica e piuttosto semplice: l'impasto è fatto di pane raffermo, latte, uova e cipolla, aromatizzato con prezzemolo e poca farina, e farcito con speck o formaggio nella sua versione più tradizionale. Gli ingredienti sono modellati in palline di circa 4-6 cm di diametro, poi cotte in acqua salata. I canederli possono essere serviti in un brodo di carne, o con burro fuso.
I canederli sono un piatto della tradizione contadina, che risale al tempo in cui i contadini usavano il pane avanzato che era diventato stantio, in combinazione con i prodotti che potevano facilmente reperire alla fattoria, speck e formaggio per l'appunto, ancora oggi capisaldi della gastronomia del Trentino-Alto Adige.
Oggi è possibile trovare i canederli con tanti diversi tipi di farciture, e anche i vegetariani possono gustarli; ci sono canederli con gli spinaci, con le erbette, con la verza o la cicoria.
Molto nutrienti, i canederli sono un piatto più indicato per la stagione fredda (non che questo mi abbia impedito di gustarli anche in estate!).
Qualunque sia la versione che preferite, i canederli andrebbero assolutamente provati durante un viaggio in Trentino-Alto Adige in quanto rappresentano un piatto base della cucina della regione.
More Dual Language Articles...