Experience your perfect italy
Languages Alive - Unique Italian Learning Experiences in Italy and Online
Contact
Email:
raffaella@languagesalive.com, raffaella@languagesalive.com
Address:
Languages Alive
20-22 Wenlock Road
London
N1 7GU
United Kingdom
Phone:
+447771534369,  +44 7771534369
Highlights
We are different, we are Languages Alive and we do things like no one else. We offer unique language and cultural experiences suited to your wishes. We are good listeners and can adapt easily to your needs to exceed your expectations.
We excel at what we do; we are proficient in Italian and English alike. Having been in operation in and from London, UK for 10 years means communication will be smooth and efficient. We believe language learning and leisure can be successfully combined and it is our reward to make you live unforgettable experiences.
We offer Italian lessons online! 
Fees from £35 to £50 per hour.
Description
We organise Italian cultural experiences in Italy, UK and we are also happy to travel to recreate our distinctive Italian language and cultural experiences anywhere in the world. Our tutor will teach you conversational Italian, whilst you are doing what you like most. You could visit a farmer's market, enjoy a visit to a winery along with a wine and local product tastings or simply relish an authentic Italian breakfast, lunch or dinner together. Your tutor will help you to dramatically improve your conversational Italian; however, you could combine the experience with traditional lessons.
Italian Conversation with Cookery
Ever dreamed about cooking with an Italian Nonna or maybe with a professional Italian Chef and learn Italian at the same time? It is possible with us! Our Italian with cookery courses will allow you to combine your love for the Italian language with your passion for cooking authentic Italian meals. Your tutor will teach you Italian while you make pizza, gnocchi, tiramisù and many more dishes from scratch. Eat what you make along with a glass of wine; get the recipes and the Italian handouts of what was covered during the course.
Bespoke Corporate Experiences
Here is your chance to stand out and give your valued team a memorable experience anywhere in Italy with plenty of team building activities, relaxation and entertainment. We pride ourselves in taking care of our clients, always going the extra mile to satisfy their needs and deliver only outstanding service.
Winter Experiences
Christmas shopping with your amazing Italian Tutor in your favourite Italian city
Learn how to cook traditional food and make Italian Christmas sweets
Experience religious and pagan traditions such as the living nativity scene and beloved Roman tradition of "La befana" celebrated by children and adults alike
Spend a romantic St Valentine's day with your loved one, tasting the finest Italian chocolate and indulging in a scrumptious Italian dinner
Experience the most amazing Carnival ever in Venice or Viareggio
Special Services
Live and Learn Italian through my family's traditional recipes online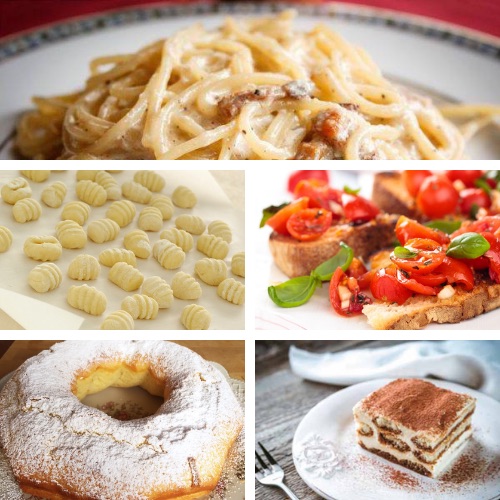 Have you ever imagined you could cook delicious traditional Italian recipes and learn the language at the same time? 
Discover the beauty of the Italian language in an easy and enjoyable way!
Benefit learning the Italian language at a beginner level in a well-structured and enjoyable way. Avoid wasting your time learning endless lists of words and phrases which you will systematically forget.
Our method has been designed by professional tutors to bring to you a unique Italian experience you can enjoy anytime and anywhere. 
This program will give you the tools to build a solid understanding of the Italian language and explore Nonna Lena's traditional recipes. Nonna Lena's has been cooking since the age of 12 and she still cooks now at the age of 96, so the recipes have been tried and tested plenty of times.
See the whole program here https://www.languagesalive.com/learn-italian-online/
What Included
This is what your Italian Experience could look like this
Return transfer from Rome's airport (Ciampino or Fiumicino)
Welcome drink (Prosecco)
Accommodation for 5 nights based on 2 people sharing twin or double room with en-suite bathroom.
Continental Breakfast
Internal transfers for scheduled activities listed in the program
12 hrs of Italian cooking lessons with Signature Chef Max Cotilli
12 hrs of Italian language immersion while cooking with a qualified, native, friendly Languages Alive Tutor
Recipes and language photocopies provided
3 Lunches, tasting your own Italian creations at Elegant Restaurant "SATRICVM" . Drinks excluded.
5 Dinners and one lunch at a local restaurant. Set menu including a glass of house wine. Vegetarian option available
Guided visit of the "CASAL DEL GIGLIO" winery with wine a food tasting
Nettuno by night, guided walking tour around the amazing medieval centre and the harbour
Honey tasting at well-known honey factory dello Iacono
Half day guided excursion to Rome, by train. Free time in Rome
Optional free visit to the American and English cemeteries 
24 hr assistance by your tutor/tour leader from Languages Alive
What Not Included
Medical and travel insurance
Flights 
Lunch in Rome
Featured Accommodation in Italy