'Art Exceptions' in Italy
By Jane Fortune
In the seventeenth and eighteenth centuries, the majority of women artists around the world practiced art solely as an amateur pastime. It was unusual for them to receive payment for their works—as women artists were often gifted jewels or trinkets in exchange for rare private commissions. Many were banned from gaining an arts education at all-male academies or solely given access to formal training if a male relative, usually their fathers or uncles, took them in as part of their workshop staff. There are exceptions to every rule, however, and Florence was one of them. In the Baroque period, the Grand Duchy fostered an extremely liberal environment that nurtured rather than excluded the production of art by women. Giovanna Fratellini, Violante Siries Cerroti and Maria Hadfield Cosway are three women artists who issued invoices in their own names and were accepted as members of the city's historic drawing academy. The trio represents a unique example of women artists teaching or being taught by other women. Their works can still be seen in multiple venues in Florence today. It is time that these exceptional but little-known Florentine "exceptions", finally get their due!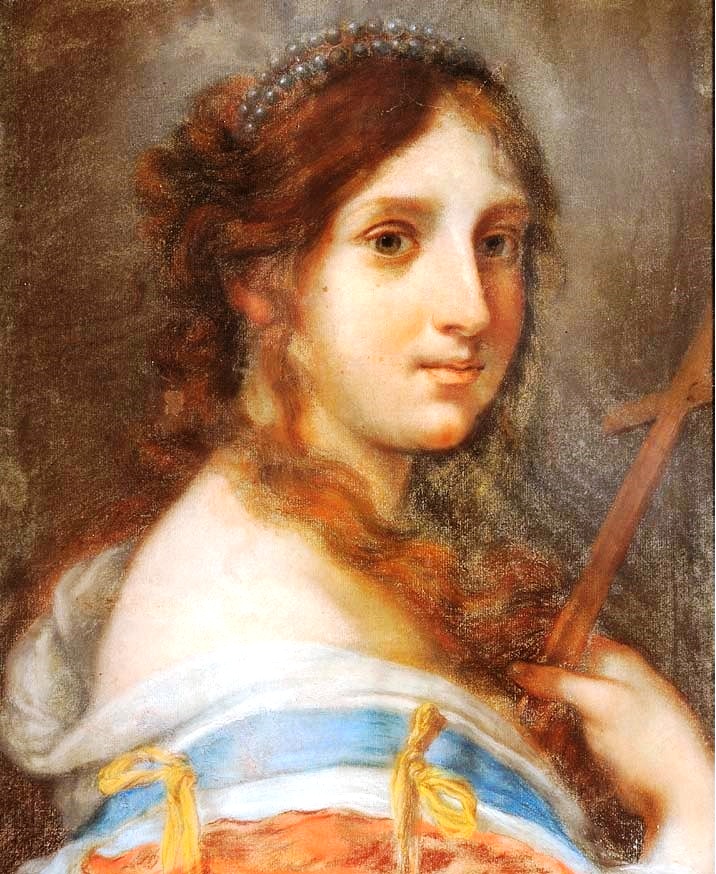 Baroque artist Giovanna Fratellini (1666–1731), lady-in-waiting to Tuscan Grand Duchess Vittoria della Rovere, was the Florentine rival of Venetian pastellist Rosalba Carriera, considered one of the greatest portraitists of the eighteenth-century. Fratellini received professional training in both painting and music and was elected a full member of Florence's Accademia della Arti del Disegno, the world's first drawing academy, in 1710. Portraiture was the key Fratellini's professional success and her sitters were primarily women, either noble by birth or virtuous by nature. Though she was especially practiced with pastels, Fratellini worked in other mediums as well, including oils, enamel and chalk. Her charming self portrait in the Vasari Corridor shows the artist at the age of 54, as she creates a miniature likeness of her son, Lorenzo Maria, who also became a painter under her training. The Vasari painting (1720) represents Fratellini's most famous work, yet the Medici Villa La Petraia holds Tuscany's largest collection of the artist's pastels on public view. Visitors to the villa on the outskirts of Florence, can see eleven of her portraits in what was once the boudoir of Rosina Vercellana, royal mistress to King Vittorio Emanuelle II. Thirty-one her pastel portraits on paper representing courtly ladies are currently housed in the Uffizi's deposits and in dire need of restoration.
Fratellini 02, Giovanna Fratellini, XVIII century, Portrait of a woman with a crucifix and pearls, Medici Villa, La Petraia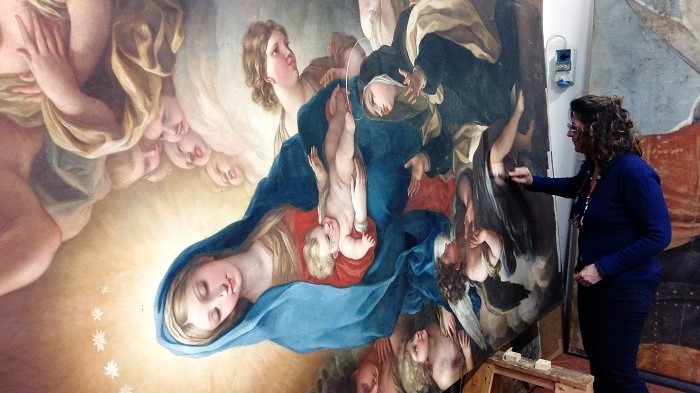 Violante Siries Cerroti (1709–1783). Fratellini's equally successful student, Florentine Violante Siries Cerroti (1709–1783), gained the patronage of the Medici dynasty after Fratellini's death. Daughter of French cameo engraver, Louis Siries who was also the director of the prestigious Opificio delle Pietre Dure, she practiced several genres, including large-scale religious subjects, but is best known as a portraitist. Her most important work, hosted at the Church of Santa Maria Maddalena dei Pazzi on Via Borgo Pinti, depicts the Virgin Mary presenting the Christ-child to Maria Maddelena de' Pazzi, a Florentine noblewoman sainted in 1669. Damaged by the Arno River's 1966 flood, it is currently being restored by the Advancing Women Artists Foundation. Accepted as a member of Academia dell'Arte del Disegno in 1732, she was the first woman granted permission to copy in the Uffizi nearly thirty-eight years later. Siries Cerroti has two paintings in the Vasari Corridor: her self portrait depicts the artist painting her father and an oil portrait of a lady with a roll of parchment dated 1734, also thought to be self-rendition.  
Siries 03, Conservator Nicoletta Fontani restoring Siries Cerroti's masterwork, Cosway 04, Maria Hadfield Cosway, c. 1778, Self portrait, Vasari Corridor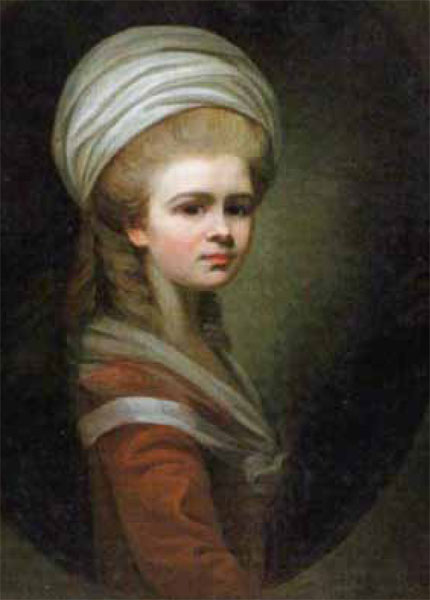 Maria Hadfield Cosway (1759–1838). Florence-born English painter, writer, musician and educator Maria Hadfield Cosway studied under Siries Cerroti from 1773 to 1778. She showed talent for drawing at an early age and by 13, she was copying the Old Masters' works at the Uffizi. At 19, Hadfield became a member of the Accademia dell' Arte del Disegno. That same year, her mentor and fellow-artist Angelica Kauffman invited her to London where she met her future husband, Richard Cosway, a renowned miniature portrait painter who was twenty years her senior. He forbade Maria from selling her paintings after they were married in 1781, but later realized his wife's talent and helped sustain it. In 1786, at the age of 27, Hadfield met Thomas Jefferson in Paris when he was the American envoy to the Court of Versailles. A passionate, but platonic, relationship ensued, until Jefferson's death in 1826. She was the muse of Jefferson's 4,000-word letter, "A Dialogue between the Head and the Heart", in which he describes the struggle between his head (the practical) conversing with his heart (the romantic). Her self portrait as a young girl, part of the Grand Ducal Collection since the mid-nineteenth century, was rediscovered in 2010 and is now displayed in the Vasari Corridor.
Siries 03, Conservator Nicoletta Fontani restoring Siries Cerroti's masterwork, Cosway 04, Maria Hadfield Cosway, c. 1778, Self portrait, Vasari Corridor
For more information about art by women in Florence visit our website and facebook page. 
About the Author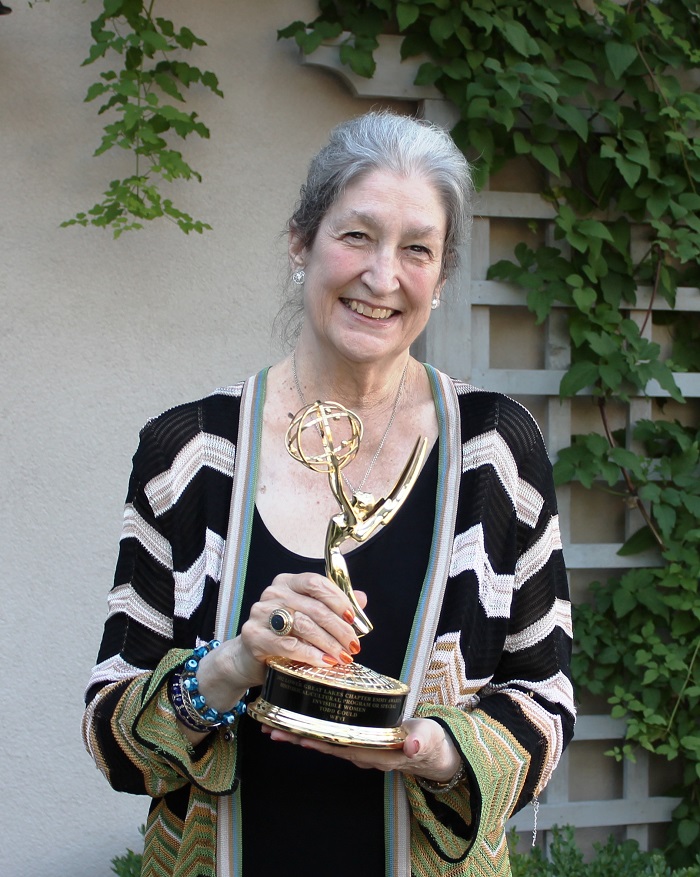 Dr. Jane Fortune is founder and chair of the Advancing Women Artists Foundation. Her books include To Florence, Con Amore: 90 Ways to Love the City and Invisible Women: Forgotten Artists of Florence. With Linda Falcone, she co-authored Art by Women in Florence: A Guide through Five Hundred Years  and When the World Answered: Florence, Women Artists and the 1966. In the United States, she serves on the Board of Trustees at the Indianapolis Museum of Art and on the National Advisory Board at both the National Museum of Women in the Arts and the Indiana University Art Museum. In Florence, she is on the Board of Trustees of the Medici Archive Project, where she has endowed a pilot program dedicated to researching women artists in the age of the Medici.
Fortune 05, Author Dr. Jane Fortune with her Emmy Award