Foreign visitors are usually familiar with just one Italian lake, Lago di Como, made famous by actor George Clooney who owns a villa in Laglio (Italians, on the other hand, have known about Lake Como for a long time, thanks to Alessandro Manzoni's masterpiece novel The Betrothed, which begins there). Not many perhaps know that right around the same area in the north of Italy, shared among the regions of Lombardy, Veneto, Trentino and Piedmont, are three more equally beautiful lakes: Lake Maggiore, Lake Garda and Lake Iseo. The best way to explore all four of them? On foot.
Fresh off the press is a great guidebook that can help you plan your walking vacation in the lakes area, "Walking the Italian Lakes". Authored by Gillian Price, an English-language authority on exploring Italy on foot, the guide, published by Cicerone Press, presents 50 day walks that will allow you to explore the lakes by their lakefronts and beyond, through woodland, alpine terrain and panoramic trails, with the Alps as the backdrop. Be prepared for amazing landscapes and relaxation amid nature.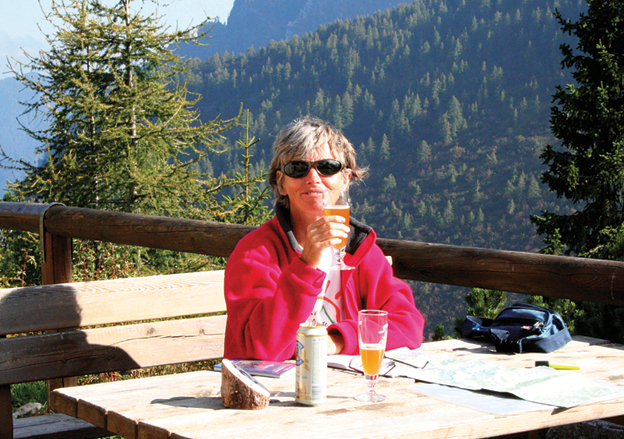 [Gillian Price, author of "Walking the Italian Lakes" and many other guidebooks on exploring Italy on foot.]
For ITALY Magazine's "Walking Italy" series, I was thrilled to interview Ms. Price about her walking experiences at the lakes. Below are her precious tips and insights for prospective visitors.  
Gillian, you write in the guide that "the four lakes are quite distinct in flavor and atmosphere." In one sentence, how would you describe each lake to someone who's planning a trip to the area?
Lago Maggiore has a bevy of picturesque islands. Lago di Como has a bit of glamour with its lakeside lined with villas, but high above are beautiful villages in scenic spots. Lago di Garda in the north has dramatically steep cliffs. Lago d'Iseo is tiny, hidden away and romantic.
What surprised you the most during your walking explorations of the lakes?
Where do I start? I was amazed at the superb walking on all the lakes on age-old mule tracks and marked paths that lead away from the busy lakefronts and into another world of old hamlets and mountains. But it's not all alpine as there are plenty of routes that wander along the lakeside too. Then there are several micro-climates - for instance lemons flourish on Lago di Garda (yes, that means limoncello is available too!).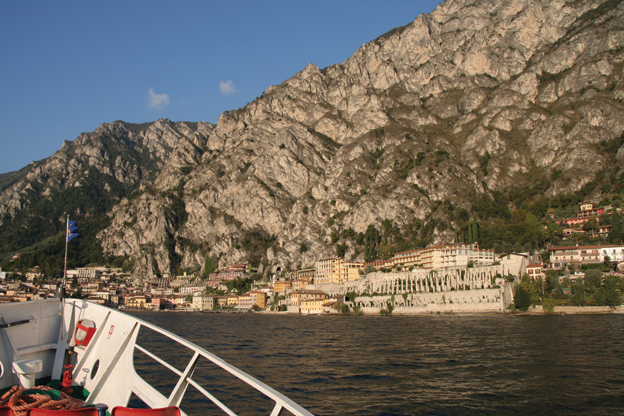 [Photo: Limone and its lemon groves squeezed below soaring cliffs.]
Is there anything about the history of the area that has particularly struck you?
The glacial erratics. The what? These massive boulders were transported from the Alps by the slow flowing glaciers. When the ice melted and the glaciers retreated a couple of centuries ago, the erratics were left stranded like whales, some as far as 60km from their original position. (And how can you tell? Because they're a completely different sort of rock from the rock around them now). Some were used by creative ancient people as tombs or were painstakingly sliced up for use in mule tracks.  
Do you have a favorite among the four lakes, and why?
Oooh, that's a very very difficult question! Tempted to say Lago di Como as it seemed to have the perfect combination of public transport types. Access by train then chugging ferries that drop you off at tiny landing stages on steep hillsides. And there's the historic funicular from the lakeside at Como.
What was your favorite walk, and why?
Lago di Garda: Beginning in charming Riva di Garda, you follow the old road Strada del Ponale hewn into the spectacular cliffside (Walk 41 in the guidebook). There are dizzy lake views all the way along. Magic! And far below is the modern-day road which film buffs will recognize when James Bond went speeding along it in the 2008 film Quantum of Solace.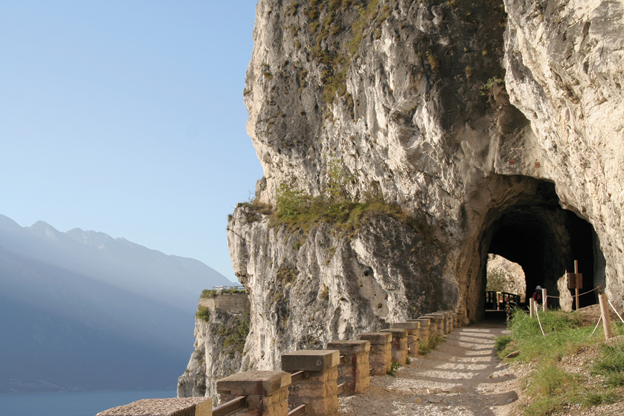 [Many tunnels are encountered on the Strada del Ponale.]
The one walk for each lake that a visitor shouldn't miss?
Maggiore: Visit the remarkable alpine village of Monteviasco that continues to function without a road! A cable-car runs up to it (this doubles as the school bus and is used by the doctor on his weekly visits) as does a beautifully paved mule track (Walk 11 in the guidebook).
Como: Monte San Primo is an amazing belvedere above groovy Bellagio that takes in virtually the whole of Lago di Como backed by the rugged Grigne mountains, the Alps themselves (including the mighty Matterhorn) and over the Po plain to Milano (Walk 28).
Garda: The Sentiero del Sole (sunshine way) wanders along the lakefront past the fascinating lemon orchards (Walk 39).
Iseo: An easy walk across the pretty island of Monteisola set in the lake (Walk 35).
You are the author of several walking guidebooks about Italy. What advice do you have for travelers who want to explore Italy on foot?
By all means visit the cities, but take your walking shoes and take time out to explore the pathways - they've been there for centuries. I'm gradually learning Italian history this way. On foot, moving slowly gives you a special outlook on a country and helps meet local people. Always allow extra time for unplanned encounters! Do learn some Italian as it will endear you to the locals.
Is there anything you'd like to add that you feel would be useful to know for travelers to the lakes area?
Public transport is excellent and you don't need a car. A perfect combination of ferries, buses, trains, funicular, cable-car, chair lifts....
Then there's the food and wine. After a good day's walking, it's such a pleasure to sit down and enjoy the regional cuisine. For instance, tagliolini al limone (thin ribbon pasta with lemon). Yum!
Photos by Gillian Price courtesy of Cicerone Press.