At carnival time, every joke counts. This is, more or less, the meaning of the popular Italian saying "a Carnevale ogni scherzo vale" which refers to the intoxicating and lighthearted atmosphere characterizing this time of the year.
Originated as a pagan ritual celebrating the winning of life over death and the rebirth of Nature after the coldest months of the year, Carnival then become e Christian festivity preluding the 40-day fast of Lent in preparation for Easter. Yet it kept something to do with the realm of magic, out of the ordinary. For a short time of the year a certain amount of intemperance is tolerated, the illicit becomes licit. This has not necessarily to do with lasciviousness or crime: shielded by a mask, kids can eat an extra portion of cake, boys can play rougher tricks and adults can flirt in a more playful way. Differences are equalized by costumes and everybody can dream for one night or one week to be a princess or a noble man.
Yet, in Venice – where every year since 1268 one of the more evocative Carnivals is held – dreams can come true or, at least, much more realistic.
This has not only to do with the spellbinding energy of the city itself, but also that of an atmosphere jazzed up by the charm of masked figures walking along its calli and campielli.
Amongst the many events scheduled for the Venice Carnival – this year running from from January 27 to February 13 and dedicated to the theme of  "playing" – there is a special occasion to experience the magic of the Carnival at its best: attending the impressive, unique and flamboyant Ballo del Doge, the gala of all galas created by Antonia Sautter.
A renowned stylist working in fashion and cinema, creating fabrics and accessories inspired by the Venetian tradition, Sautter first launched the event in 1994 as an international gala, or rather a sort of masked royal ball, hosted in the charming Palazzo Pisani Moretta facing the Grand Canal. It has been described as "one of the ten things one must do in one's lifetime". 
Its creation was inspired by the request to design and create the costumes for the Monty Python's reenactment of the Fourth Crusade which occurred while Venice was ruled by Doge Enrico Dandolo, to whom the ball is dedicated.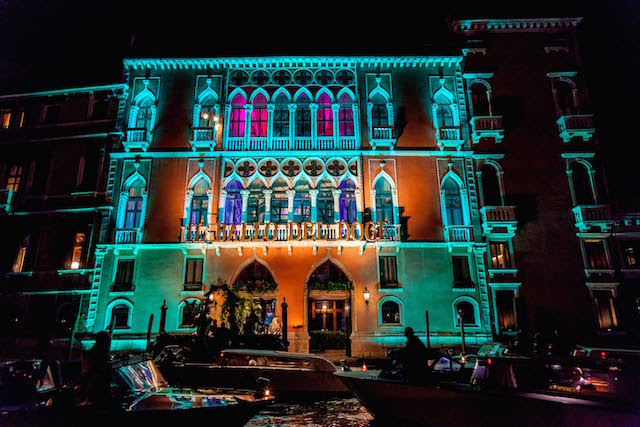 Every year, Antonia Sautter sets a theme for her gala, putting together an incredible and captivating experience where guests – a selected ensemble of VIPs and high-ranked people who can afford to pay for the entrance fee and the lavish, hand-sewed costumes – are literally immersed into the Carnival's mystical world.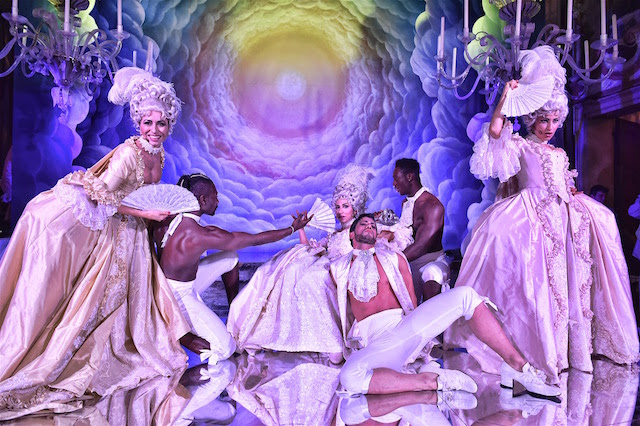 You might want to also read - One For Rent Private Island Bringing About an Eco-Sustainable Luxury Renaissance to the Venetian Lagoon
For the 2018 edition, marking its 25th anniversary, the Ballo del Doge promises to be even more glamorous and intriguing for those attending on February 10th.
Luca Marchini, chef at the Michelin-starred restaurant L'Erba del Re in Modena, will create a menu inspired by sumptuous 18th Century banquets. His dishes will be matched with the elegant effervescence of Champagne Vranken-Pommery and to a mixologist's creations based on spirits such as Absolut Elyx Vodka, The Glenlivet 18 Years Old Scotch Whisky and Plymouth Gin.
"This year, the Ballo del Doge reaches an important milestone celebrating a quarter of a century" Antonia Sautter told us. "This important edition also coincides with my own birthday. I decided to name it "Rebirth & Celebration", since every milestone achieved is a layover towards new adventures".
As Sautter explained, the event will embrace different shows: on the ground floor Rebirth will play in unison with Mother Nature's breath, still generous to us despite the offences of the so-called modernity.
On first floor, The Fleeting Time is dedicated to the most precious gift one could ask for: Time.
That is: time to love, to enjoy, to travel, to make wishes come true, to celebrate beauty. On the second floor, guests will meet Pleasure intended as the global driving force of every instant, celebrating passion and creativity, beauty and freedom: "Only if transgression hides an unaware return to instinct and to a life perceived with all the five senses, Rebirth can be actually considered achieved".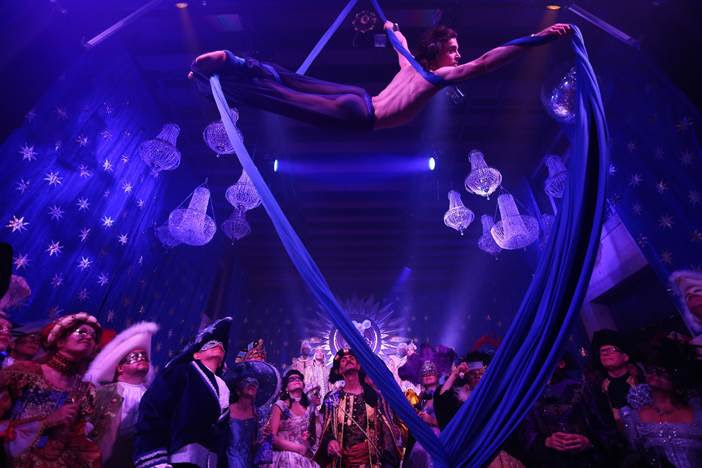 This elaborative extravaganza is the outcome of 365 days of intense work, every year, and Antonia Sautter dedicates most of her time to it.
Of course, one has to wonder if something has changed over the past 25 years. "The Ballo del Doge has always stayed faithful to the original spirit of Venice's Carnival. Of course, over the time it evolved together with the world's social dynamics, yet it maintained its principles involving guests in a historical reenactment of Venice's former glory, bearing at the same time a gust of modernity. Nothing gets lost over the course of time if we can seize the opportunities to enhance what is ever-changing. This is the purpose of this 25th edition: celebrating the past and keep looking to the future, with a constantly renovated life-force and creativity".
Of course, such an ambitious aim is not achieved effortlessly: "This is a proper art production which every year is renewed by new sceneries and ever different shows; it involves over 100 performers and an overall staff of more than 500 people including production assistants, props, photographers, video-makers, sound and light engineers, decorators, Michelin-starred chefs, famous bartenders, make-up artists and hairstylist and of course my whole team, all of them committed to realize something quite unique. What remains unaltered is the passion and the creativity we put in conceiving every year an unprecedented awesomeness".
So, what should expect those attending for the first time the ball?
"It's like entering a dream-like, fairy dimension, like floating in a daydream". Those are some of the frequent wording I hear from those who attended at least once the Ballo del Doge. It's not only the main masquerade ball of the last Saturday of Carnival; it's one of the most exclusive happenings in the world as it is often described" Sautter explained.
"This is an experience to be gone through with all the five senses; guests are thrown into a unique atmosphere melding Baroque remembrances and fantastic sceneries, they wear period costumes hailing from my atelier and taste a modern reinterpretation of an eighteenth-century feast, as seen through the filter of my imagination. All this happens overnight; a night which will stay indelibly engraved on their memory as pure magic".
A once-in-a-lifetime experience, in every way. If you are so lucky to be part of it, be sure to make the most of it. "My suggestion? Let yourself be overwhelmed and thoroughly surrounded by this magic. Venice will do the rest, with its inherent atmosphere".
You can reach Venice by fast train quite easily from Florence or Rome for under 40€ one way, here's where to book in advance.