One of the things quintessentially Italian is the Vespa, that stylish, slim-waisted scooter made internationally famous by the 1953 film Roman Holiday, starring Gregory Peck and the equally slim-waisted and stylish Audrey Hepburn.
The first Vespa went on sale in Italy in 1946 and quickly became a popular and inexpensive way for young people to get around, and, like many young people, Marco Quaretta owned his own and spent his teenage years riding around the Tuscan streets of Livorno. But when many young people grew up and turned their attention towards other interests, Marco's love for these scooters remained intact.
By experimenting, he soon became familiar with the workings of the Vespa and, over the years, he has become one of Italy's respected authority on these iconic scooters.
Marco's appreciation for the Vespa is evident when you enter his showroom and workshop situated in San Jacopo, a part of Livorno that contains some of the town's most interesting buildings, including the Naval Academy. The showroom houses many examples of vintage scooters, immaculately restored by Marco and displayed with pride.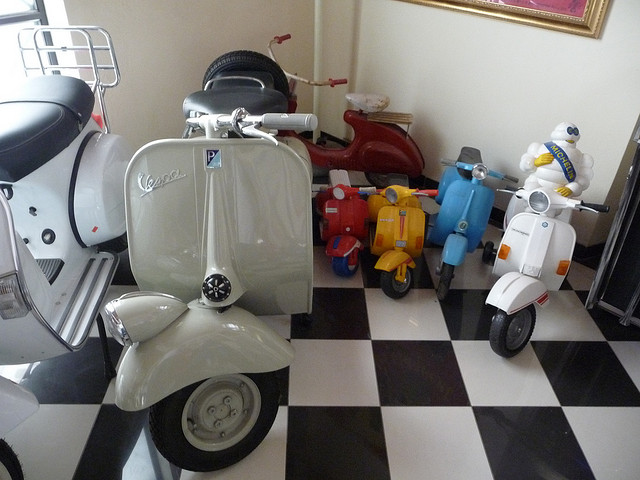 Most afternoons, after a day's work, Marco can be found in his workshop stripping down and reassembling a scooter; the workshop is a veritable treat for all mechanical enthusiasts who enjoy seeing what goes into making these engineering classics what they are today.
The showroom where his vintage models shine, resplendent in their restoration, also displays posters and other Vespa memorabilia, mostly from the 1950s and 60s, and to further enhance the retro atmosphere, there's a vintage juke box that plays classic Italian songs from the Dolce Vita era.
Marco's oldest scooter dates back to 1948, but it is Sophia, the 1961 Vespa, that visitors are interested in seeing up-close. It is named after Sophia Loren and made famous by the travel writer and author Peter Moore in his book, Vroom with a View.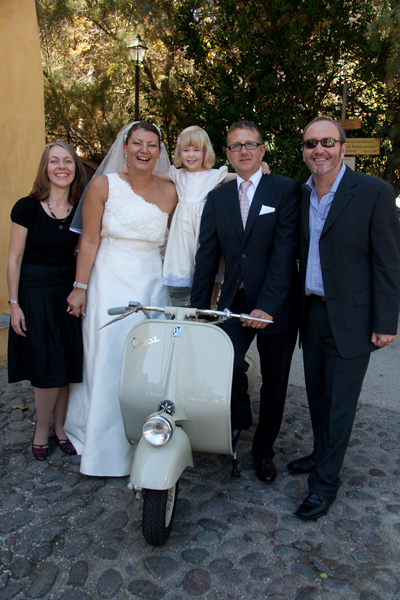 When I told Mr. Moore that I was writing a feature about Marco Quaretta, he said, "I'm so pleased that you're doing a feature on Marco. The guy is a bona fide legend."
Moore purchased the Vespa after seeing it advertised on e-Bay; he then undertook an eventful journey riding it from Milan to Rome. He also told me: "The simple fact of the matter is that my trip wouldn't have been the same if I hadn't met Marco." Peter's entertaining travelogue is available from all good booksellers, as is the follow up, Vroom by the Sea, where he continues his journey southward, on an orange coloured Vespa.
Peter also said of Marco: "More than anything else though, Marco became a great friend, not something you can say about everyone you meet when you travel."
Even when he got married, Marco couldn't resist posing with his wife and the Vespa named Sophia. [Photograph above, courtesy of author Peter Moore who is far right in the picture.]
With the arrival of cheaper small cars, the amount of scooters on Italy's urban thoroughfares has declined, but the sight of a vintage Vespa parked beside a bar or on a beachfront never fails to bring out the enthusiasts and devotees of this waspish little scooter.
Marco is always happy to show interested people around the showroom and chat about his collection, however this is by appointment only. You may contact him at quaret@libero.it.