So much is in season now—eggplants, figs, juicy tomatoes and more.  All of summer's vegetables and fruits pair wonderfully with pasta.  
One of my favorite recipes has zucchini doing double duty—cooking liquid and sauce.  After the zucchini is grated, it releases lots of lovely green juice, which is used to cook the pasta, coating the pasta in a glossy, delicious glaze. The grated bits are then tossed with the hot pasta to complete the light, rich dish. Not a drop of vibrantly fresh vegetable flavor goes to waste. Low fat, easy-to-make and delicious.
Eggplants and figs, both in season in June, are extraordinary together-- a play between sweet and bitter.  The eggplant for this pasta dish can be either grilled or baked whole, then mashed with garlic, oregano, olive oil and figs. The resulting smoky, sweet, creamy mix is tossed with pasta and garnished with more figs.   I especially like this dish with pantacce, that look like miniature curl-edged lasagna sheets, but it's terrific with any shape pasta.
Love fresh tomatoes and aromatic basil? Then you'll love cooking pasta in a mason jar with these delicious veggies. The technique keeps all the aroma and flavors from escaping and makes an adorable presentation. It's a modern technique, but based on the Italian tradition of oven-baked pasta. This recipe is from chef Cristian Mometti, fabulous book Vasocottura-- jar cooking-- as the technique is called in Italy.  When Italians eat out of a jar, you can be sure that whatever's in the jar is probably home made!
Zucchini Glazed Pasta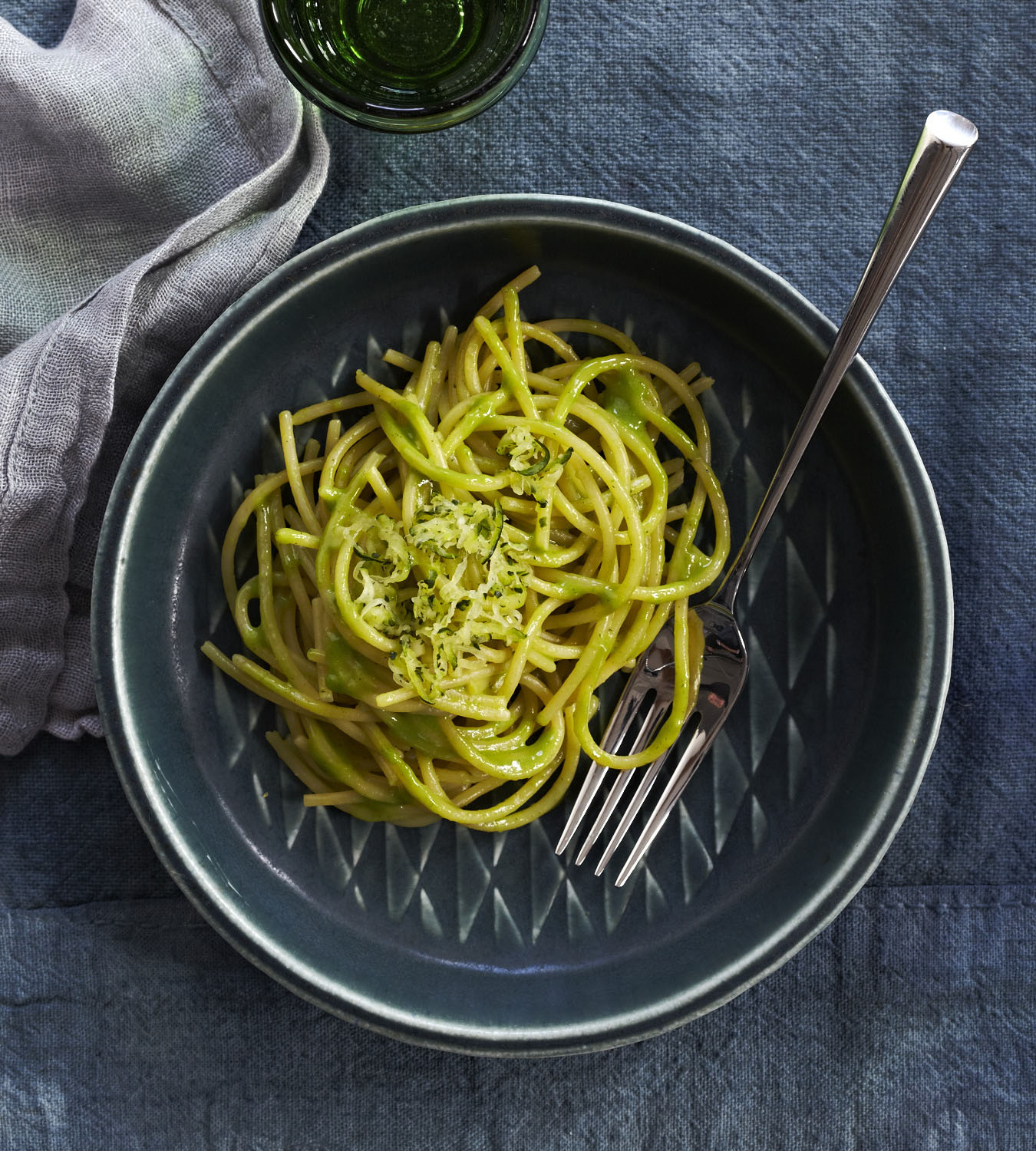 Serves 4    
5 large zucchini
Salt
2 garlic cloves, minced
1 pound spaghetti or any long pasta
Olive oil, to taste
Grana Padano or other aged hard cheese, grated
Grate the zucchini with a cheese grater into a calendar lined with cheesecloth that's resting in a large bowl. Toss with about ½ teaspoon of salt and the garlic and let rest for 1 hour. Squeeze out all the liquid, you should get about 1 cup's worth of juice.
Parboil the pasta in lightly salted water, drain. Bring 1/2 cup of the zucchini juice to a boil in the same pot you just cooked the pasta. Toss in the pasta and cook until al dente, adding a little zucchini juice at a time so it quickly absorbs into the cooking pasta and creates a nice glaze. 
Now you have a choice, you can either toss the pasta with the raw grated zucchini or, if you prefer, fry the zucchini in a skillet on high heat with 2 tablespoons of olive oil until crispy and toss that into the pasta. Serve the pasta topped with grated cheese.
Pasta with Figs & Eggplant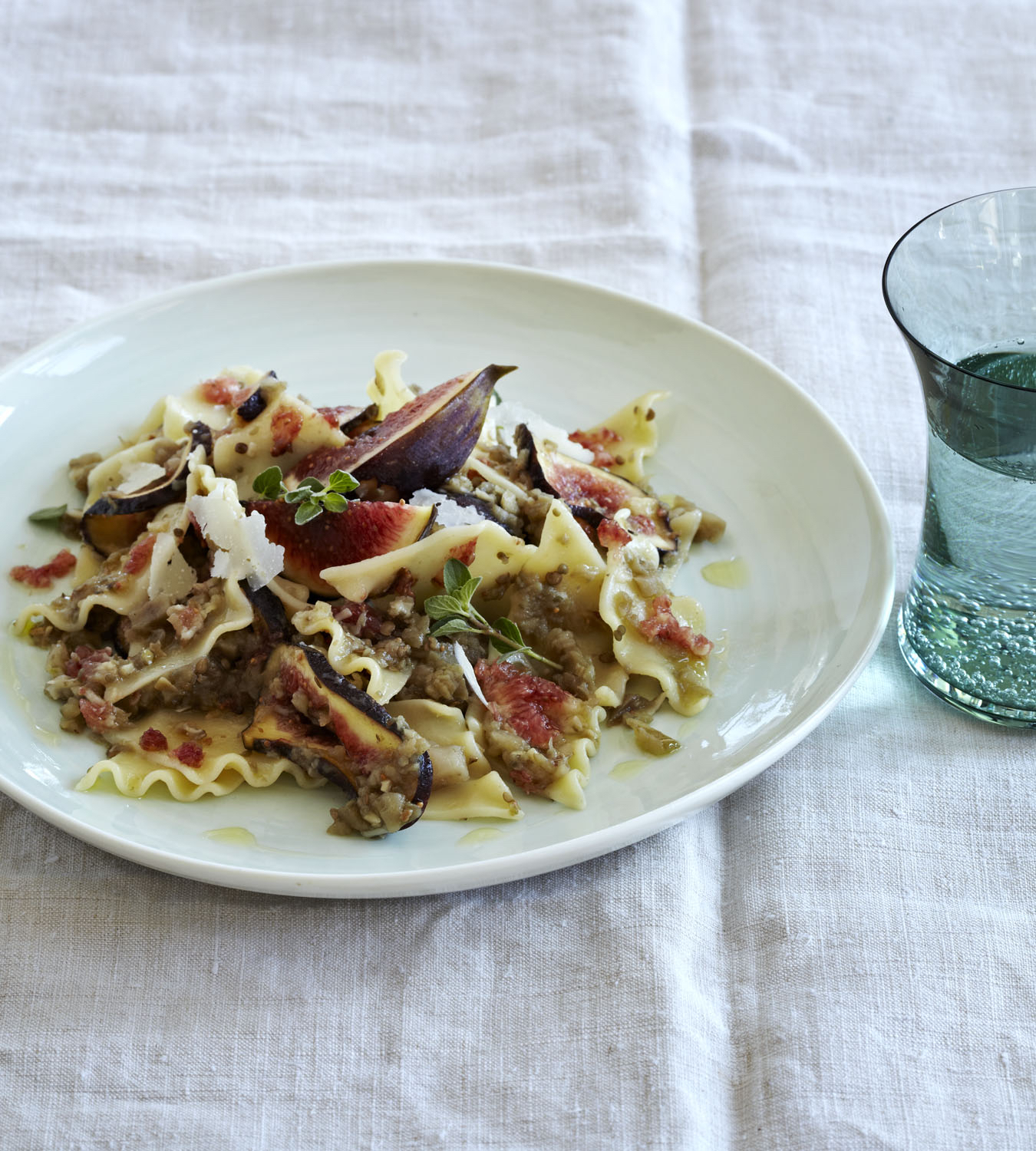 Pantacce con Fichi e Melanzane
Serves 4
2 eggplants, about 1 pound each
Salt and black pepper
1 pound pantacce or any shape pasta
2 garlic cloves, minced
4 sprigs fresh oregano, plus more for garnish
Olive oil
8 fresh figs 
Aged pecorino cheese
Preheat the oven to 350 F/176 C or heat grill. 
Bake or grill the whole unpeeled eggplants for about an hour, until very soft and collapsed. Scoop out the flesh, removing any seeds, and press it through a food mill or puree in a food processor until very smooth, and season to taste with salt and freshly ground black pepper.
Cook the pasta in salted water until al dente. 
Meanwhile, warm the garlic and oregano sprigs in 4 to 5 tablespoons of olive oil for a few minutes until fragrant, then discard the oregano. Stir in the eggplant. Thinly slice 4 of the figs and add to the eggplant. Cut the remaining figs into quarters and reserve for garnish.
Drain the pasta and toss into the eggplant along with grated pecorino to taste.  Top with a drizzle of olive oil, the reserved fig sections, and sprigs of oregano. Garnish with more shaved pecorino, if you like.
Pasta from a Jar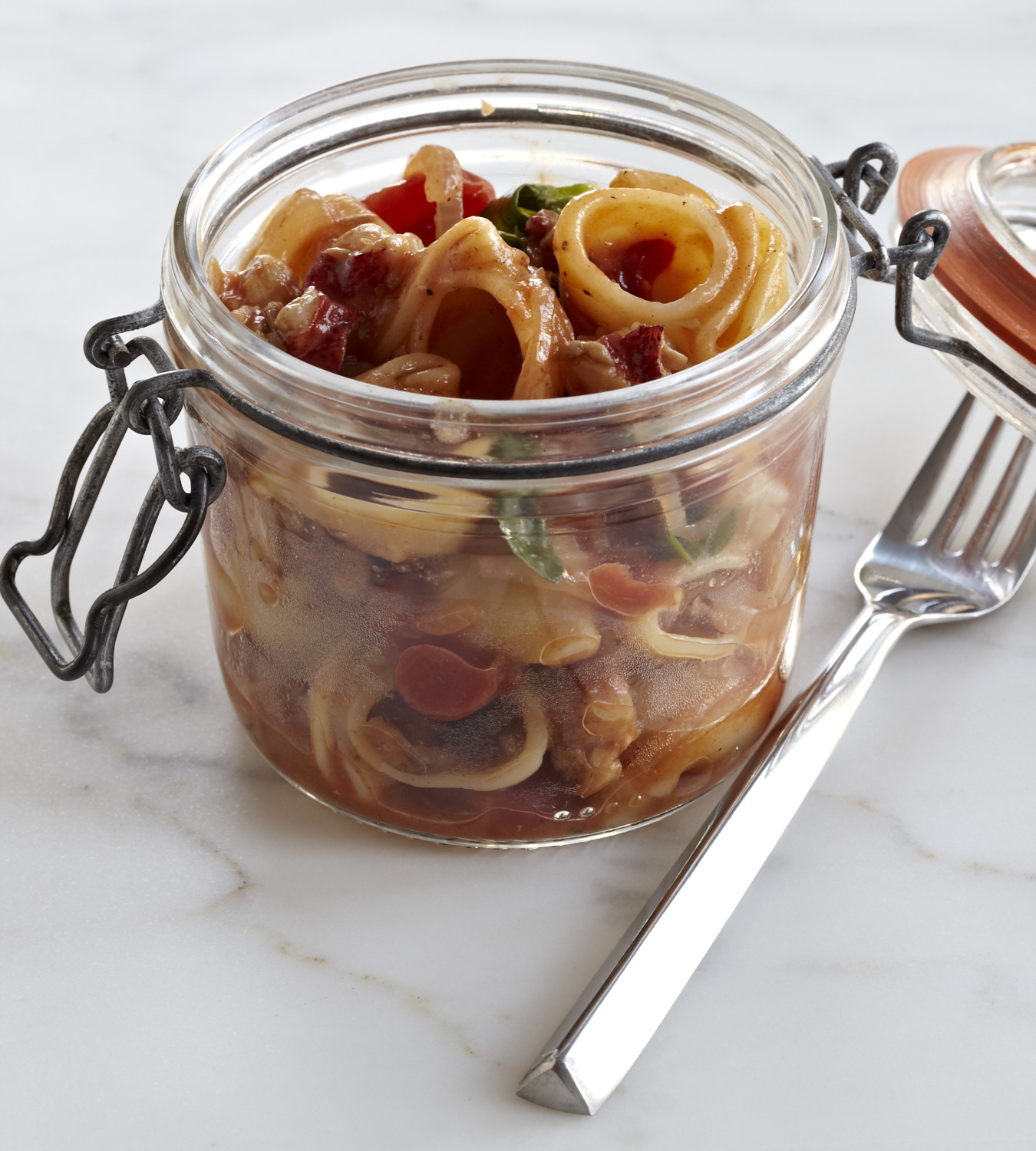 Serves 4
1 onion, thinly sliced
Fresh red chili pepper, thinly sliced
3 tablespoons olive oil
4 tablespoons white wine
6 Fresh tomatoes, blanched and diced
¾ cup fish broth, very hot
1 ½ cups vegetable broth, very hot 
8 ounces short pasta
1 clove garlic, minced
10 large leaves fresh basil
Heat the oven to 350 F/175 C. 
Sauté the onion and chili peppers in oil until golden. Add the wine and stir in 
the tomatoes, hot broths, raw pasta, garlic, basil and salt to taste. 
Divide the mixture between 4 small mason jars. Seal tightly. 
Put the jars into a deep baking pan and fill the pan half way with boiling water. Bake for about 35 minutes until the pasta is al dente, and then with oven mitts, carefully open the jars and set onto serving plates.
Like this article? Don't miss our Italian recipes, everything from delicious appetizers to beautiful desserts and drinks ideas.