Italian cinema has produced a number of amazing actresses known both for their beauty and acting talent. Silvia Donati struggled to pick only ten, but we believe all the Italian divas mentioned below fully deserve to be part of the list as they have represented Italian talent around the world over the past decades.
Gina Lollobrigida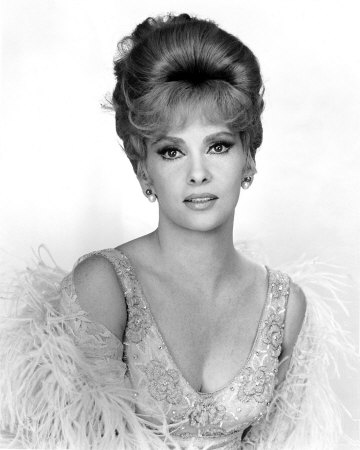 One of the most popular actresses and iconic sex symbols of the 1950s and 1960s, Gina Lollobrigida was born in 1927 in the mountain village of Subiaco, where she grew up. When she was 20, she entered the beauty competition Miss Italia, but came in only third. After appearing in a few films in Italy, film tycoon Howard Hughes invited her to Hollywood; however, she preferred to work in Europe and returned to Italy. Her appearance in Italian and French films eventually brought her to the attention of Hollywood and her first American movie was John Huston's Beat the Devil (1953) with Humphrey Bogart. After her movie Beautiful but Dangerous (1955), she was named the "most beautiful woman in the world" and was considered the prototype of Italian beauty. Her film, Come September (1961) starring Rock Hudson, won the Golden Globe as the World's Film Favorite. She was nominated three times for the Golden Globe and six times for the David Di Donatello Award, resulting in as many wins. In the 1970s, Lollobrigida took a break from acting to concentrate on another career: photography. She portrayed famous subjects such as Paul Newman, Audrey Hepburn and Salvador Dalì and published a collection of her work in 1973, "Italia Mia." In an interview to the magazine Parade in 2000, she declared she "became an actress by mistake."
Sophia Loren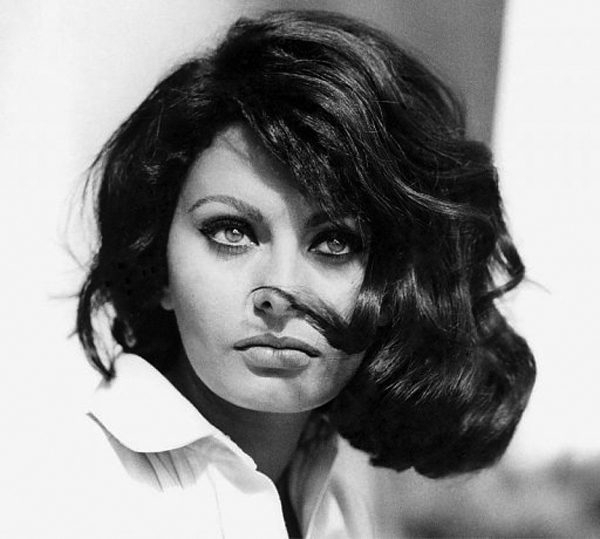 Sophia Loren was born Sofia Scicolone in 1934 in Rome. She grew up in Pozzuoli, near Naples, without any support from her father who refused to marry Sofia's mother. She was noticed at age 14 during a beauty contest by film producer Carlo Ponti who launched her career and, 22 years her senior, also became her husband in 1966, after their first marriage was annulled to spare Ponti from bigamy charges. By her late teens, Sophia was playing lead roles in many Italian films, and in 1957 began a successful career in the United States. She had a much publicized fling with her co-star Cary Grant, who was 53 at the time, while she was 22. After several films in Hollywood, Sophia returned to Italy in 1960 to star in La ciociara, for which she won an Academy Award for Best Actress. Sophisticated and sensual, she was an international movie star throughout the 1960s and 1970s, starring in films both in Italy and the U.S. with such actors as Paul Newman, Marlon Brando, Gregory Peck and Charlton Heston. Since the 1980s, she has slowed down her acting career to raise her two children. She was awarded the Honorary Academy Award for her work in film in 1991. She now divides her time between Switzerland and Los Angeles and remains one of the most popular and beloved film stars in the world. She keeps a low-profile lifestyle claiming, "Show business is what I do, not what I am." She was quoted saying "Everything you see, I owe to spaghetti."
Anna Magnani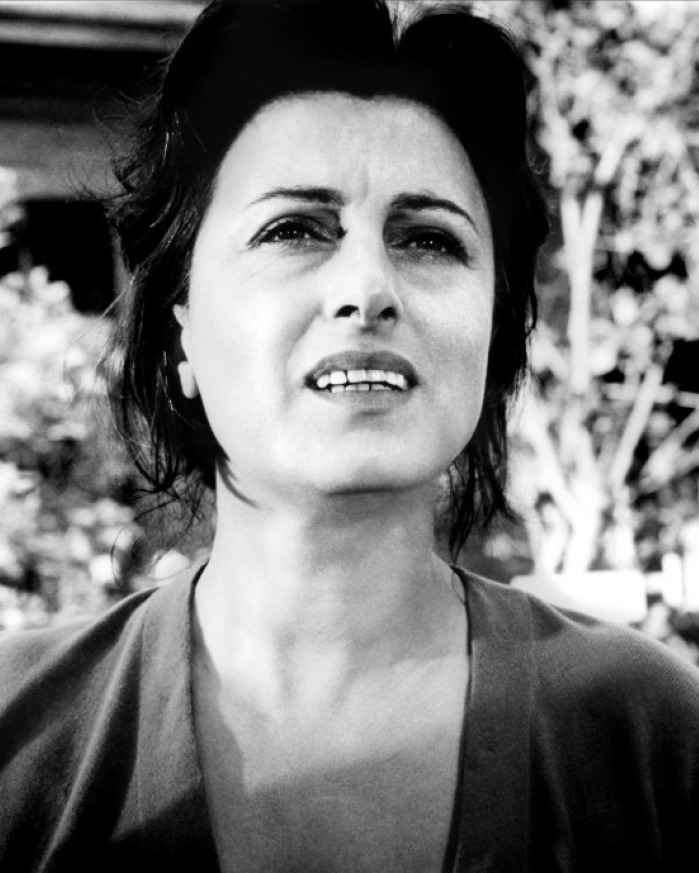 Anna Magnani was born in Rome in 1908 and grew up in poverty raised by her grandmother after her mother abandoned her. She began her career by singing in cabarets and nightclubs. Her breakthrough film was Roberto Rossellini's Roma, città aperta (1945), the first successful neorealist Italian film of the post-war years thanks to which she rose to international prominence. Magnani and Rossellini were lovers for a few years after the film, until he started his affair with Ingrid Bergman. She then began a prolific career in film and television and went on to win an Academy Award for Best Actress for her portrayal of a Sicilian widow in the film adaptation of Tennessee Williams' play The Rose Tattoo (1955), which he had written specifically for Magnani to star in. She was directed by Sydney Lumet in The Fugitive Kind in 1960, starring alongside Marlon Brando. She worked with Italy's leading directors from the 1950s through the early 1970s. Her last film was Federico Fellini's Roma (1972). She died of a pancreatic tumor a year later in Rome. In 1950, Life magazine declared her "one of the most impressive actresses since Garbo."
Silvana Mangano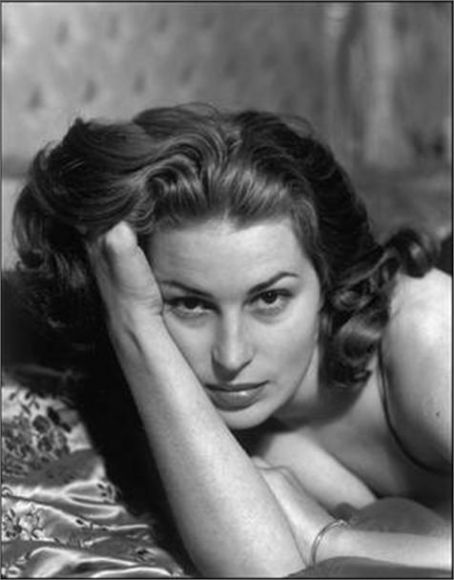 Silvana Mangano was born in Rome in 1930 and raised in poverty. In 1947, she participated in the Miss Italia contest, the same year as Gina Lollobrigida; they both lost to Lucia Bosè. Her appearance on the beauty pageant led her to work in films. She reached international stardom thanks to her performance in Riso Amaro (1949). She later married Italian producer Dino De Laurentiis who took charge of most of her career. Although she never became as famous as her contemporaries Sophia Loren and Gina Lollobrigida, she was one of the leading actresses of Italian cinema until the 1970s. She abandoned her career in 1983 when she separated from De Laurentiis and moved to Paris and Madrid. She died of lung cancer in 1989.
Virna Lisi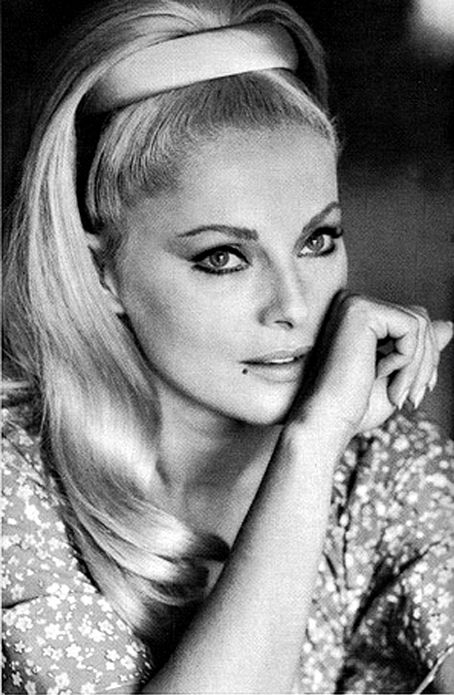 Virna Lisi was born in 1936 in Ancona. She began her film career in her teens when she was discovered in Paris by two producers from Naples. She started by making musical films such as Questa è la vita (1954) with Totò. In the beginning she was cast more for her looks than for her talent. She made her entry onto the Hollywood scene when she starred in the comedy How to Murder Your Wife (1965) alongside Jack Lemmon. She had been chosen for the role of a seductive blonde by Hollywood producers who were looking for a successor to Marilyn Monroe. During her Hollywood years, she worked with actors such as Frank Sinatra, Tony Curtis and Anthony Quinn. She returned to Europe a few years later and sought to obtain more challenging roles in order to change the perception about her. It was in the 1970s that her career renaissance began with a variety of award-winning performances, culminating with the role that brought her the Cannes Film Festival Award and the César Award, La Reine Margot (1994), where she portrayed Catherine de' Medici. Her last movie is Il più bel giorno della mia vita (2002).
Monica Vitti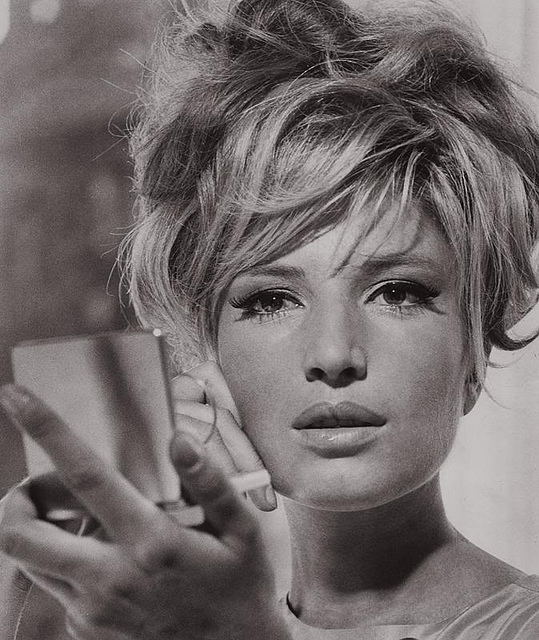 Monica Vitti was born in Rome in 1931 and is best known for her roles in films directed by Michelangelo Antonioni during the 1960s. She was in fact his muse and the two had a ten-year relationship. She gained international prominence thanks to Antonioni's award-winning L'avventura (1960). Vitti and the movie were later commemorated on an Italian postage stamp. Vitti received critical praise for starring roles in the Antonioni films La Notte (1961), L'Eclisse (1962) and Deserto Rosso (1964). After working with Antonioni, Vitti switched to comedy and worked with director Mario Monicelli on many films. In 1970 she starred with Marcello Mastroianni in Ettore Scola's highly successful romantic comedy Dramma della gelosia (1970). In 1974 she won the David di Donatello award for Best Actress for her performance in Alberto Sordi's Polvere di stelle (1973). Throughout her career, Vitti has won five David di Donatello Awards for Best Actress, the Career Golden Globe, and the Venice Film Festival Career Golden Lion Award.
Claudia Cardinale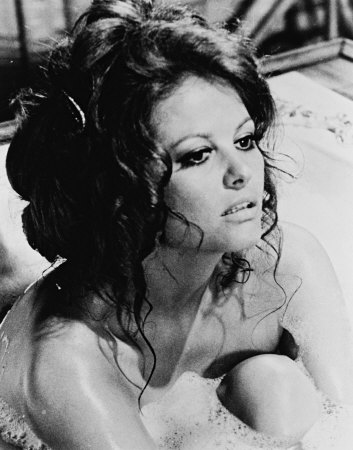 Born in Tunisia in 1938 from Sicilian parents, Claudia Cardinale grew up speaking French, Arabic and Sicilian and did not learn Italian until she began to be cast for Italian films. However, in her first Italian films, she was dubbed, reportedly because of her deep hoarse voice and heavy French accent. It was not until the movie that launched her career internationally, Federico Fellini's 8½ (1963), that she was allowed to use her own voice. Throughout the 1960s and 1970s, she appeared in some of the most acclaimed Italian and European films of the period and may be best known to American audiences for Sergio Leone's Once Upon a Time in the West (1968). Cardinale has been honored at many film festivals, including the 1993 Venice Film Festival, and the 2002 Berlin Film Festival, although she never won an Oscar. In 2011, the Los Angeles Times Magazine named her among the 50 most beautiful women in film history.
Stefania Sandrelli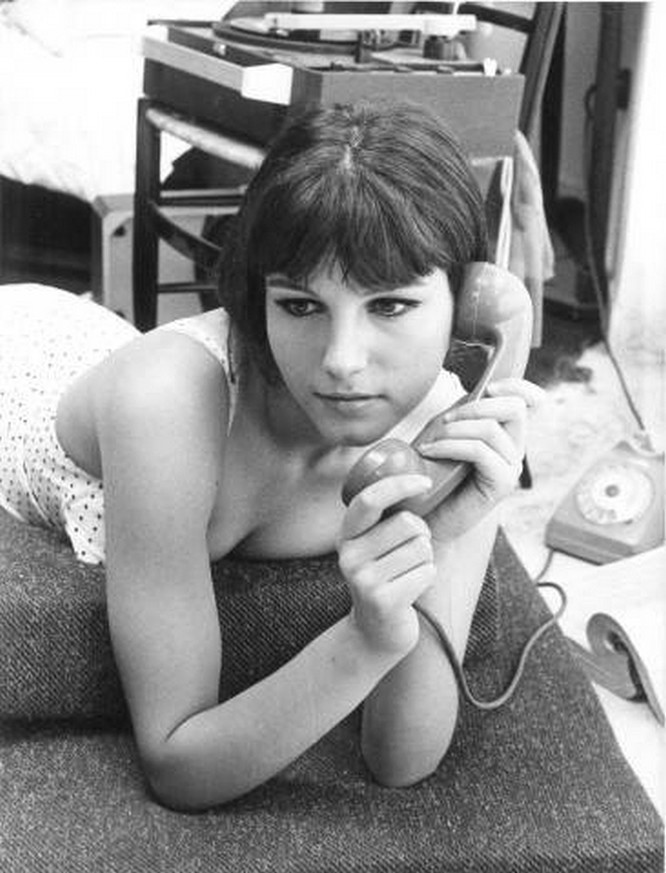 Stefania Sandrelli was born in Viareggio in 1946 and is famous for her roles in the "commedia all'Italiana" genre, beginning in the 1960s. Like other Italian actresses of her time, she got noticed after she won a beauty contest when she was only 14. A year later, she starred in Divorzo all'Italiana (1961) as Marcello Mastroianni's cousin, Angela. She soon became a leading actress of the commedia all'Italiana, appearing in Mario Monicelli's Brancaleone alle crociate (1970) and Ettore Scola's C'eravamo tanto amati (1974), among others. She also starred in several of Bernardo Bertolucci's films. In the 1980s, she became an erotic icon after her success in Tinto Brass' movie La chiave (1983) and starred in a few more movies of the same genre. In the 1990s she worked mostly for television series and became very popular as Gigi Proietti's fiancée in Il Maresciallo Rocca, while working less in films; however, she has also appeared in two recent commercially successful movies, Bertolucci's Io ballo da sola (Stealing Beauty, 1996) and Gabriele Muccino's L'ultimo bacio (The Last Kiss, 2001). In 2005, she received the Golden Lion for Lifetime Achievement at the 62nd Venice Film Festival.
Ornella Muti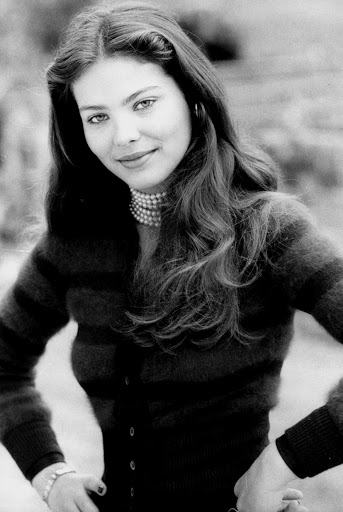 Ornella Muti was born in 1955 in Rome as Francesca Romana Rivelli. She started modeling as a teenager and made her film debut in 1970 in La moglie più bella. She has worked primarily in Italian films, but has also appeared in American movies, such as Flash Gordon and Oscar, the latter alongside Sylvester Stallone. Her breakthrough film was Mario Monicelli's comedy Romanzo Popolare (1974), with Ugo Tognazzi. At the time, Muti, 19, was pregnant with her first child, Naike. She has worked with such directors as Dino Risi, Marco Ferreri, Ettore Scola and Monicelli. Her career started to decline in the '90s, although she has kept working in film and television. She is particularly well-known in France and Spain. More recently, she starred in Woody Allen's To Rome with Love.
Mariangela Melato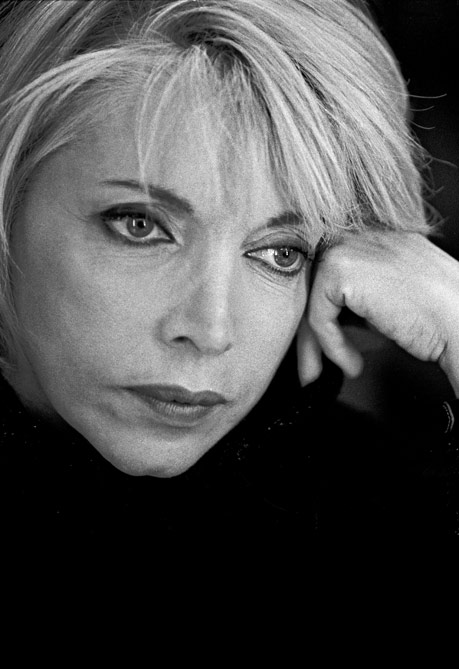 Mariangela Melato was born in Milan in 1941. She began her career in theater in the 1960s, working with Dario Fo, Luchino Visconti and Luca Ronconi. Her film debut came in 1969 with Pupi Avati's Thomas e gli indemoniati. It was during the seventies that Melato reached her international fame, thanks to her memorable roles in Nino Manfredi's commedia all'Italiana Per grazia ricevuta (1971), Elio Petri's La classe operaia va in Paradiso (1971) and Vittorio De Sica's Lo chiameremo Andrea (1972). In 1972, she began a collaboration with Lina Wertmuller and Giancarlo Giannini which saw them working together in three movies, Mimì metallurgico ferito nell'onore (1972), Film d'amore e d'anarchia (1973) and Travolti da un insolito destino nell'azzurro mare d'agosto (1974), thus reaching international success. In the later stage of her career she went back to doing more theater roles. She died of cancer earlier this year at age 71.