The most important feast of the year is fast approaching. This is the time when Italian families, proud of their local traditions, prepare the dishes, which recipes have been passed down from generation to generation. Looking at Christmas meals in Bel Paese makes you understand that, indeed, there is no such thing as Italian cuisine. It is all about regional cooking. From the Aosta Valley to Sicily, there are some famous Christmas classics such as panettone, tortellini, roasted lamb with potatoes, grilled eel and boiled ox, however, Italy has many festive dishes that are little known outside of their home region, let along abroad. Here is a list of my favourite ones to get you in the Christmas mood and, perhaps, inspire your Italian themed feast.
Roccocò biscuits, Naples
The first mention of roccocò biscuits dates back to the early 14th century when local nuns baked them for a religious feast. The recipe calls for honey, almonds, orange zest spiced with generous amounts of cloves, nutmeg, aniseed and cinnamon. The fragrant, ring-shaped biscuits are notoriously difficult to get right as they are supposed to be crunchy on the outside and soft on the inside, although, some Neapolitans prefer them stone hard. Traditionally, roccocò are dipped in vermouth, spumante or marsala.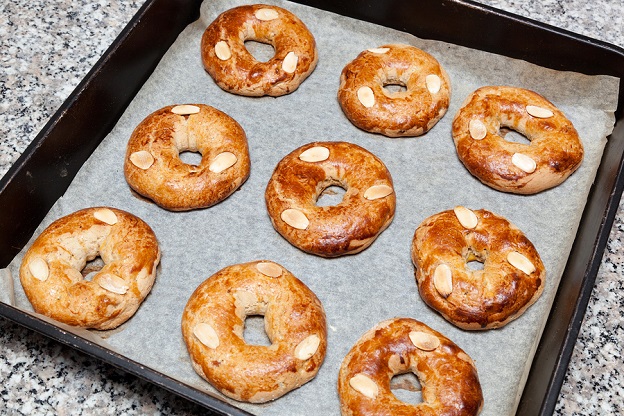 L'insalata di rinforzo, Naples
Another traditional Christmas dish from Naples is l'insalata di rinforzo, loosely translated as the "supporting salad". For many centuries, it has been served together with baccalà and spaghetti with clams as part of the meat free, lean meal on Christmas Eve. Easy to make, the salad consists of boiled cauliflower, local papacelle peppers, onions, olives, capers and anchovies dressed with vinegar and olive oil.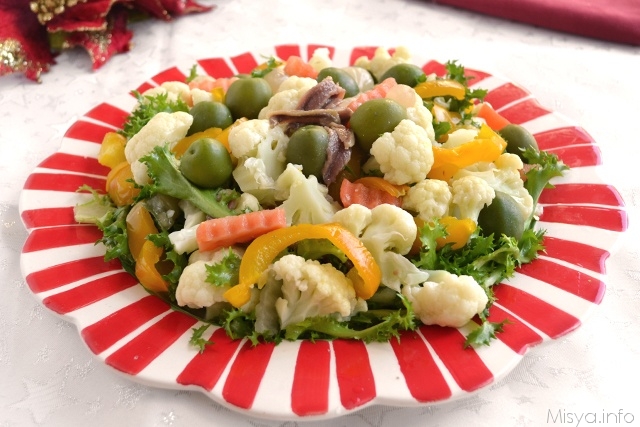 Insalata di rinforzo, photo credit: http://img.misya.info/Misya2/2013/12/insalata-di-rinforzo1.jpg
Thistle soup, Abruzzo
The thistle, or cardoon soup (zuppa di cardo) is normally cooked in December-January and comes as a welcome relief to hearty festive foods of the season as it is on the lighter side compared to many other Christmas dishes. If you are wondering what cardoon is imagine a thistle-like plant with impressive large leaves that remind of an artichoke but with smaller flower buds. The stems that are cleaned, chopped and sold in small green grocers' as well as bigger supermarkets. The real Italian mammas prefer buying fresh bunches of leaves and clean them at home.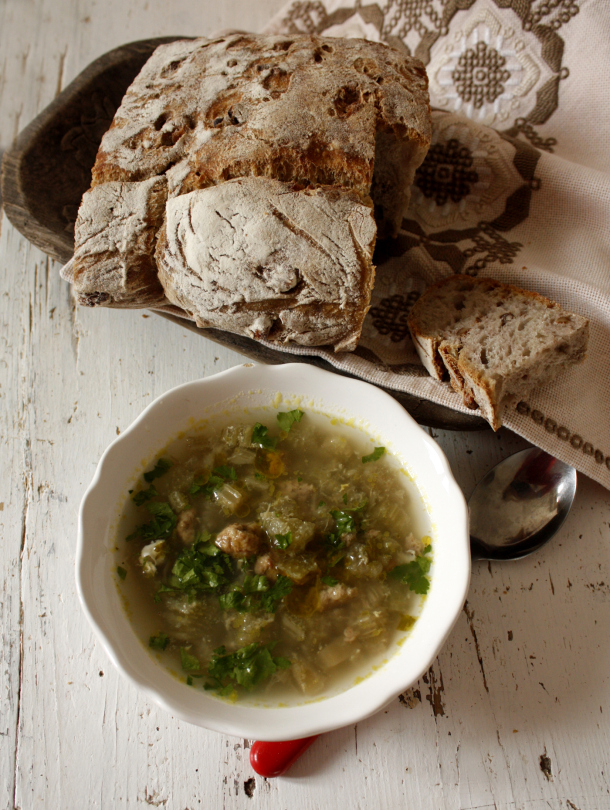 Cavallucci biscuits, Le Marche
Delicious cavallucci biscuits are filled with walnuts, almonds, grape must syrup, raisins and cacao. The recipe has ancient origins and is passed down through generations with slight variations, and, in some families, the biscuits are brushed with a traditional Italian liquor Alchermes to give them a lovely bright pink blush. I have tasted cavallucci and they are alone absolutely worth a trip to the wonderful Le Marche region.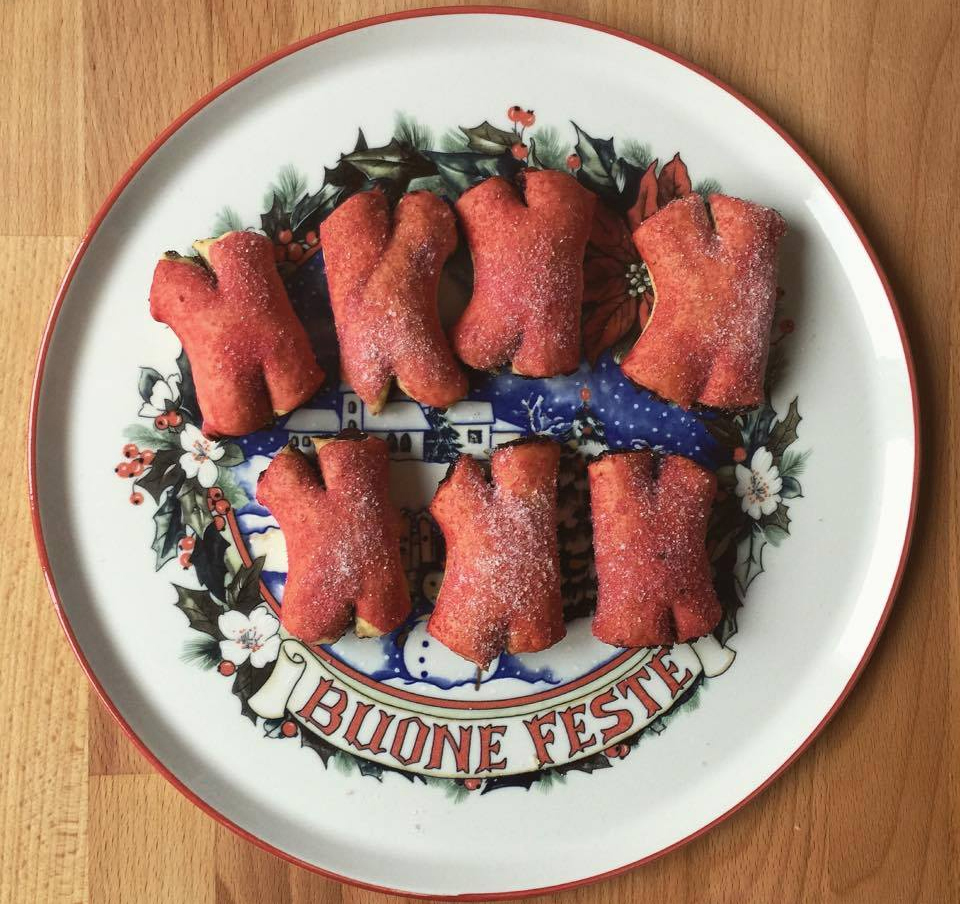 Cavallucci biscuits, photo credit: Georgia Barchi
Pasta and broccoli in skate broth, Rome
An old Roman classic, the minestra di broccoli e arzilla is served for no-meat Christmas Eve dinner which precedes the Midnight Mass. With only a few ingredients, the soup was especially popular in the city's poor quarters. After boiling, the skate fish was taken out of the pot and used to make another dish.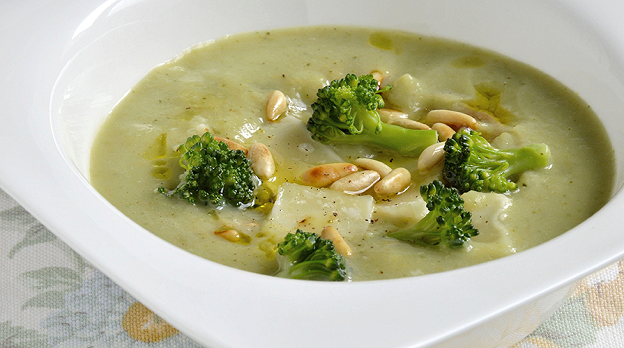 Minestra di broccoli e arzilla, photo credit: http://www.ilgiornaledelcibo.it/
Pettole fritters, Apulia
Natives of Apulia often affectionately call these soft chewy balls of deep-fried dough sprinkled with icing sugar "Baby Jesus's pillows". Families start making pettole fritters, like many other traditional festive treats, for the feast of the Immaculate Conception on December 8 and continue until Christmas.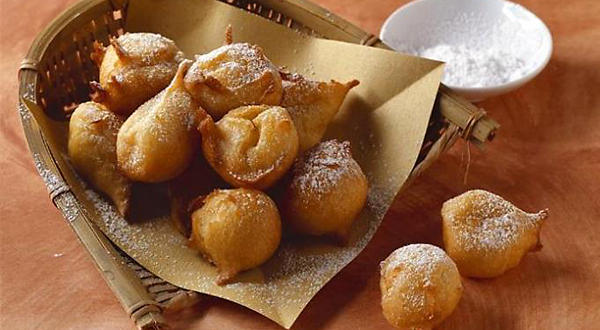 Pettole fritters, photo credit: http://www.radioitaliana531.com.au/
Orange and herring salad, Sicily
A strange combination for some, but the l'insalata di arance con aringa speaks to my Slavic roots, and I would gobble up anything with herring. Particularly loved in Palermo nowadays, this salad has ancient origins and was typical for the poor Sicilian fishermen's settlements where oranges and salty herring were common and cheap.