When it comes to finding Italy's Tuscany without tourists, the region of Le Marche instantly pops into your head as central Italy's "best-kept secret". Stretching 100 miles along the Adriatic coast, Le Marche has mysterious mountain ranges, a rich farming terrain with picturesque rolling hillsides covered in vineyards, and plenty of charming historical hilltop villages, including the cultural hotspots of Urbino and Ascoli Piceno, home to one of Italy's most beautiful squares. Le Marche is also the birthplace of the famous painter Raphael, Italy's great 19th-century author Giacomo Leopardi, motorcycle racer Valentino Rossi, and the revolutionary educator Maria Montessori. 
Naturally, the local cuisine is deeply rooted in tradition and blessed with delicious fare from the countryside, mountains, and sea—you won't go hungry here or run out of choice, Le Marche has something for everyone's palate. Think towns full of twisty, cobblestoned streets but often empty of tourist buses and English accents. You'll find a similar vibe in Abruzzo, a region of dramatic geography – high peaks contrasting with a diverse coastline and rich agricultural land. With the added bonus that Le Marche has some of Italy's most stunning coastline protected by the national parklands on the Coast of Conero.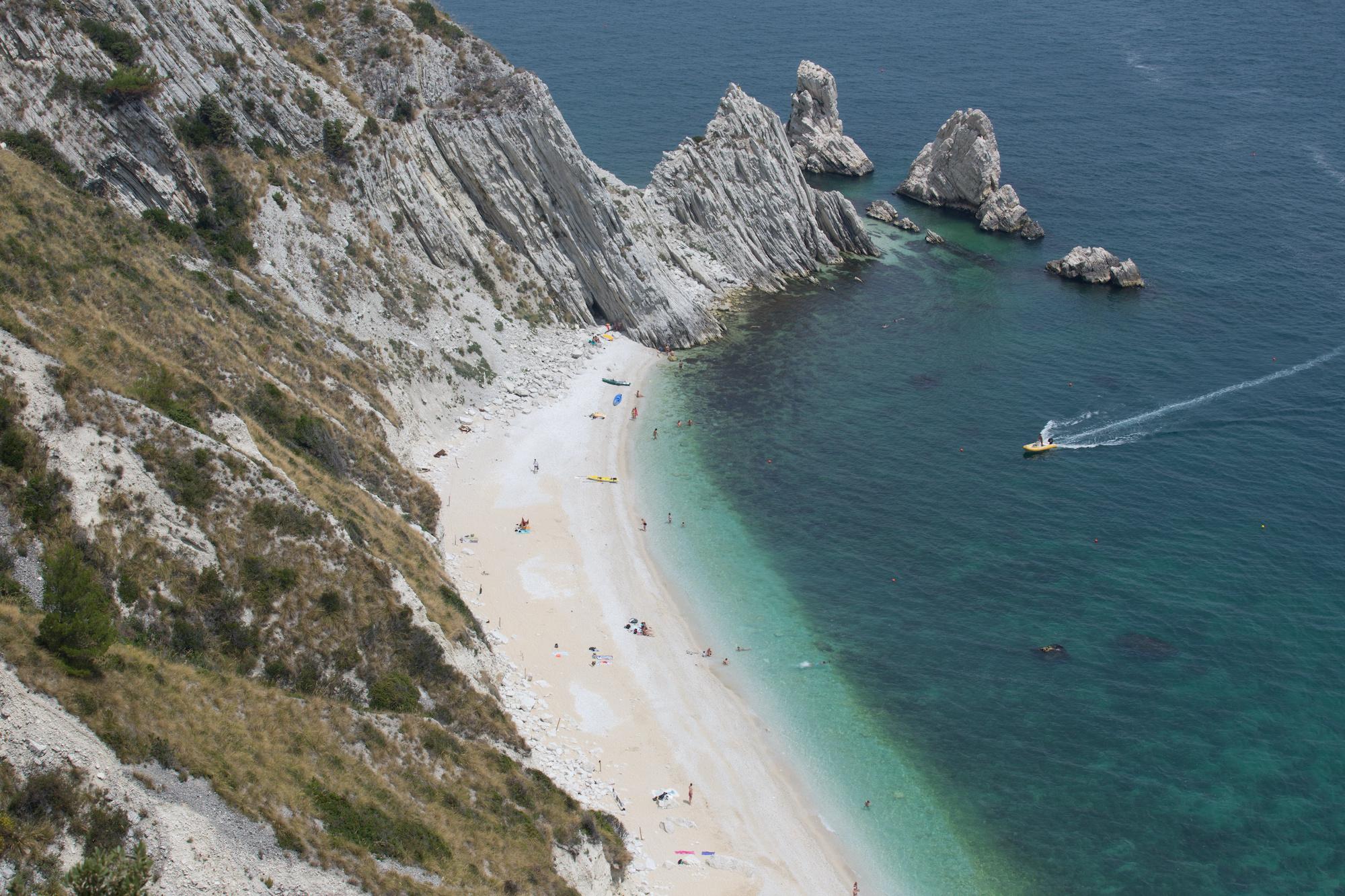 When it comes to exploring the best that Italy's hidden regions have to offer The Italian On Tour are the perfect guides to make it happen. Founded by Giovanni Dagostino, a Marchigiano from Ascoli Piceno in Le Marche and his wife Chantelle Kern, a Canadian transplant in Italy, this husband and wife team aim to give their guests a backstage pass to experience a side of Italy that most people never experience in their lifetime through their curated small group, multi-day tours. 
"My family has European heritage and I took a gap year after high school backpacking around Europe" Chantelle shared. "To be honest, even though I was born and raised in Canada, Europe has always felt more like home" 
Chantelle and Giovanni don't have the typical "met in Italy" story that we often read in books and movies but instead connected in their first year of university in Canada. After meeting, they embarked on a long 18+ year love affair with one another and also hatched a united plan to one day make it back to Italy.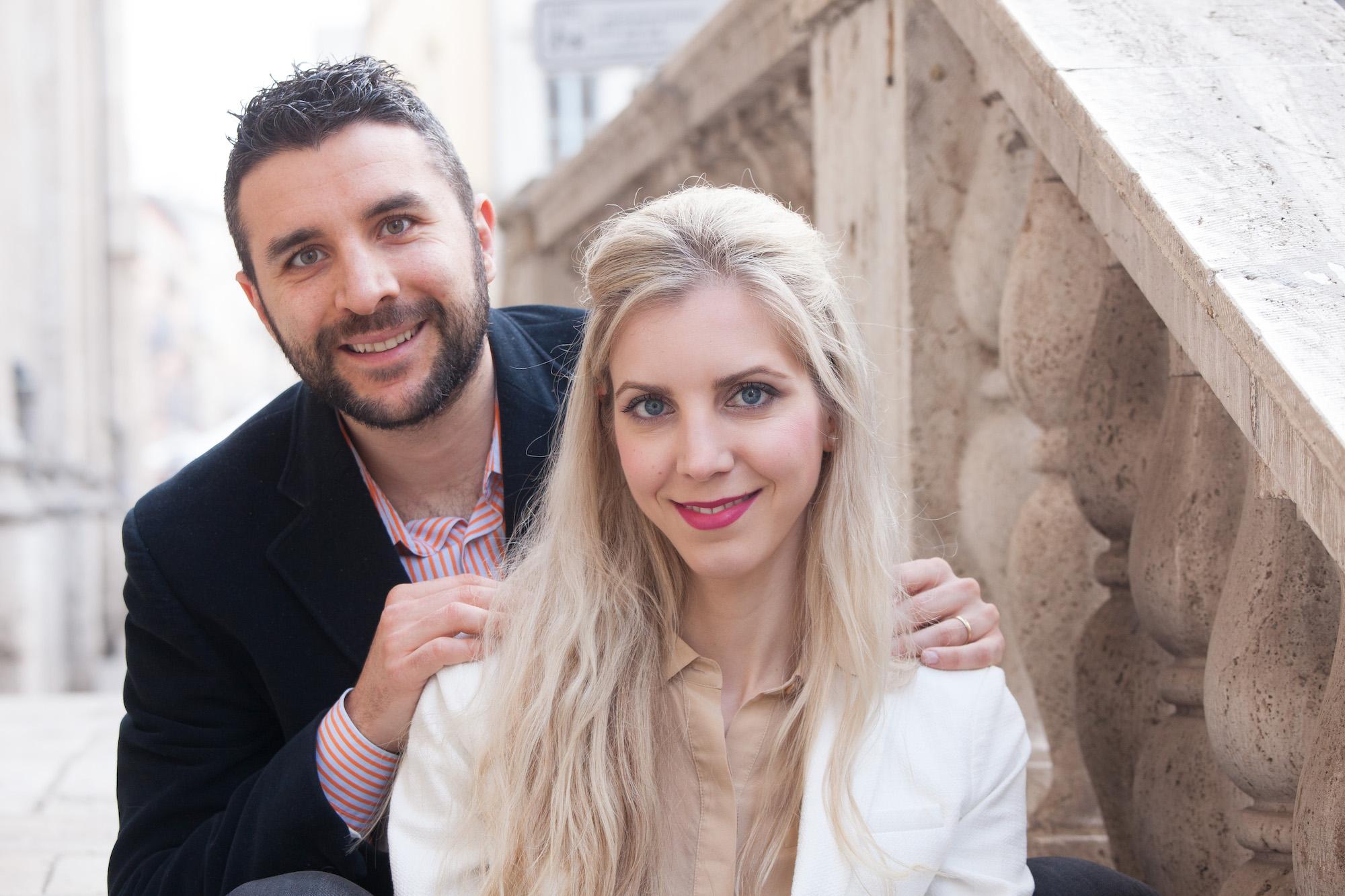 We've often heard about the brain drain that has robbed Italy of some of its finest minds but there are also stories, lesser-known perhaps, of Italians who have spent time abroad but seek to come back to Italy and make a real difference in their homeland. For Giovanni, this meant coming back to put into focus an idea supporting sustainable travel, small producers, and building up his local community in Le Marche. 
The "a-ha" moment came during their wedding day in Italy, when their International guests were blown away by the beauty of Ascoli and the kindness of locals while exploring Le Marche with the help of Giovanni and Chantelle's local expertise. This was the experience that people were drawn to which served as inspiration for Chantelle and Giovanni to provide this to anyone seeking a deeper connection with il bel paese.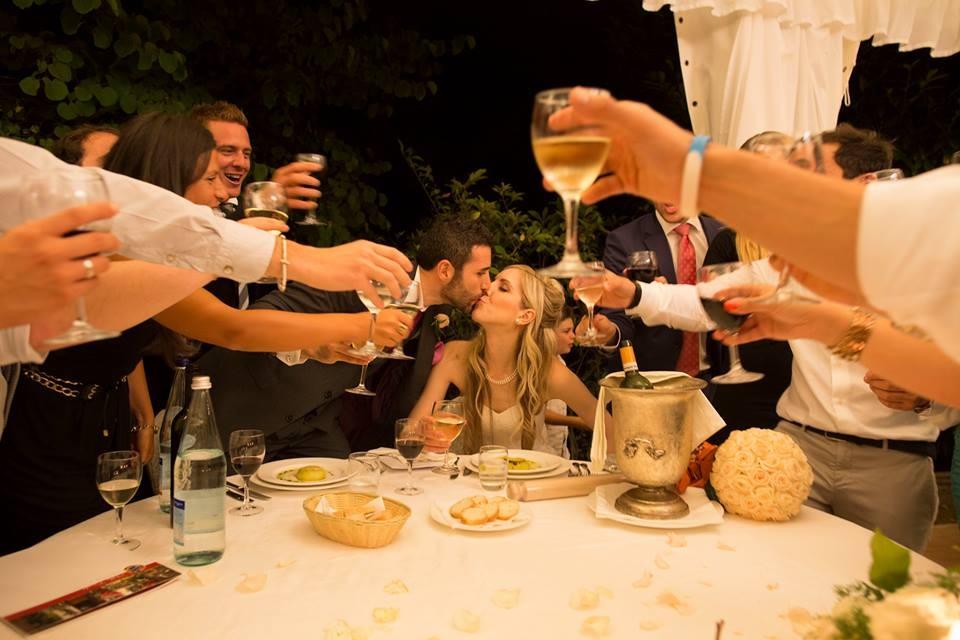 On offer are seven-to-ten day tours that focus on the off-the-beaten path destinations of Le Marche and Abruzzo, that allow you to get to know the local culture through it's top quality food, award-winning wines, and culinary traditions all while immersing yourself in everyday Italian life  as a local in modern Italy. 
You might have heard about the concept of slow travel without actually knowing what it entails. Essentially, what it means is you'll get the most out of any travel experience not just by passing through, but instead by immersing yourself in the place you are visiting. The result? You're better able to mingle with the locals, sample their way of life, and intimately discover their history, cuisine and culture. This is obviously easier said than done for travelers who don't have months to spare. With most of us only having a few weeks available for vacation, it is tantamount to have cultural icebreakers like Giovanni and Chantelle to do the hard work for you. 
"What we're really looking to do is show our guests why Le Marche is so special. Most people head to Tuscany, Cinque Terre, and hot spots featured in splashy magazines but have no idea that Le Marche, reachable from Rome, is where you can go to discover authentic Italian life and bask in an awe-inspiring landscape. Part of this is going out of our way to show people the boutique and 'younger' wineries doing interesting things that would be difficult to discover unless you live in the area" Chantelle says.
"With us, you're meeting the owner of the winery who is deeply passionate about what they do and willing to take the time to share notes about wine, food, culture, and history. This isn't a one-stop quick wine tasting for big groups. These are private experiences where guests can ask questions and really savor the moment. This is just one aspect of our immersive and exclusive experiences that introduce you to slow food and slow wine" 
"Personally hosting all our tours, we aren't looking simply to have guests follow us while we educate them on Italy," Giovanni says. "The point is for them to have truly unique experiences that will leave them with memories to last a lifetime. Getting the chance to connect with the local community is a big part of why people keep talking about our tours for years to come. Most people wouldn't easily have access to local winemakers, villa owners, family homes, chefs, and olive oil producers, which is why we are here to facilitate that, and share our personal connections with those that join us on tour"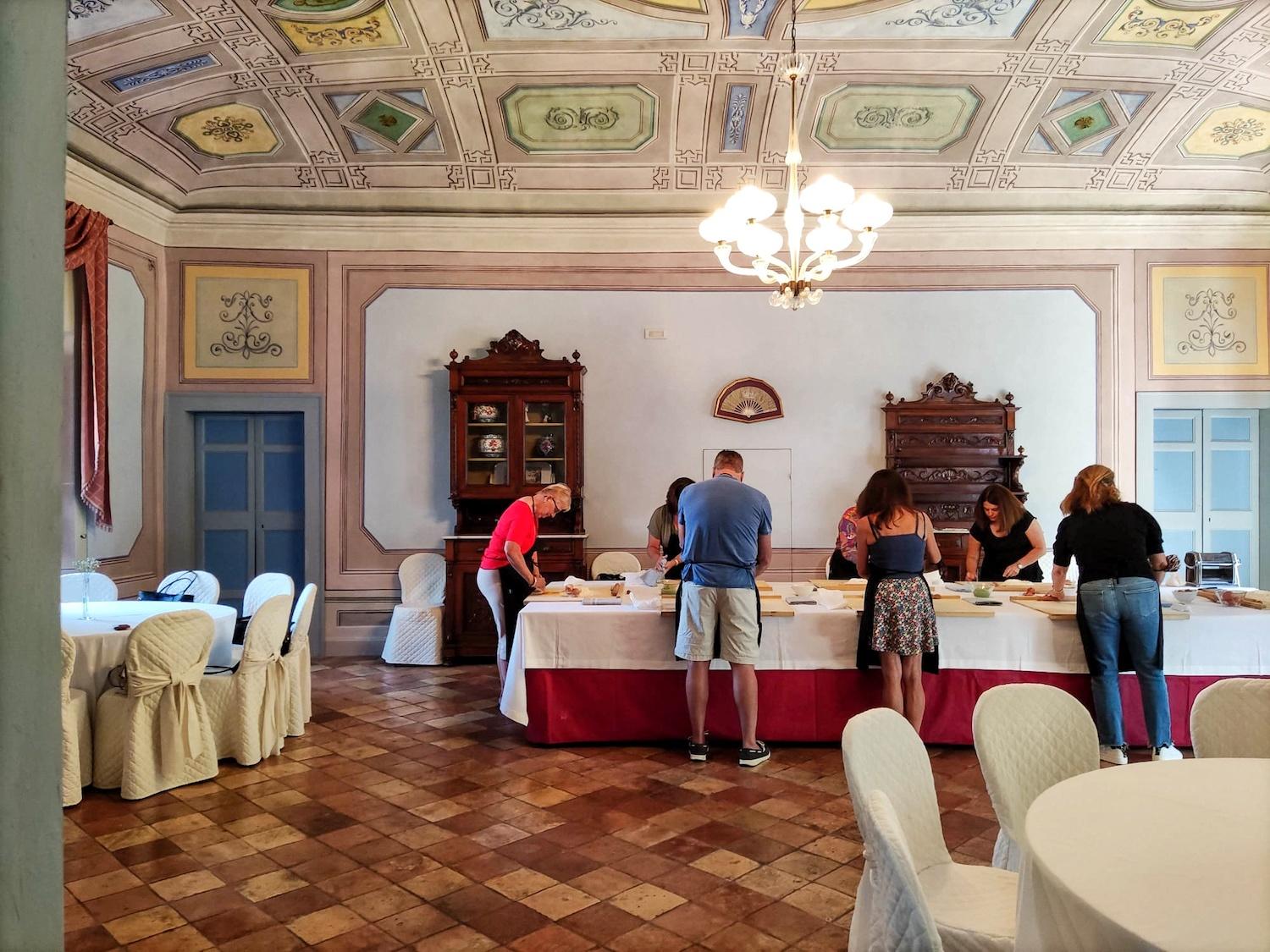 Getting to know local cuisine is an especially important aspect of the trip due to Giovanni's background of working many years in the Gourmet Italian food industry in Canada, which included selling fresh cheeses and truffles to Canada's top restaurants. Carefully selecting the wine, and curating exclusive tasting menus, his culinary expertise offers an extra layer to all the authentic food and wine experiences you'll enjoy on your tour.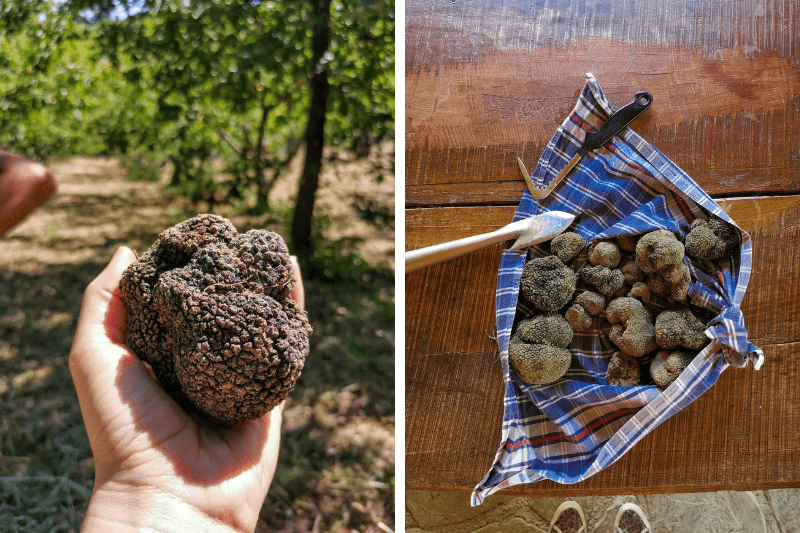 Guests are picked up in Rome and brought to the countryside of Le Marche's Ascoli Piceno for an intimate dinner in a 17th-century villa's historic kitchen.  The very same villa that Giovanni and Chantelle welcomed guests to on their wedding day and the perfect way to kick off the days to come. To better get everyone's bearings they then embark on a walking tour with a local guide to discover all of the fine attributes that Ascoli, a city older than Rome, has to offer. One of the tour highlights is an organic cooking class with a renowned local chef, who also happens to be a sommelier. During this hands-on cooking experience you'll learn to make fresh, local dishes from scratch (they can also accommodate gluten-free guests as Chantelle herself is a celiac). This includes the chance to make olive all'Ascolana, a gastronomic triumph that is traditional to this area of Italy. In Ascoli Piceno, the local giant olives are stuffed with a mixture of cooked and minced beef, pork, chicken, turkey, egg, and parmesan, then rolled in bread crumbs and lightly fried in olive oil. 
For those seeking to come on the 10 day Italy's Epicurean Journey or the 7 day Italian Truffle Adventure, Chantelle and Giovanni arrange for a typical truffle hunt with a truffle hunter who has been working in the area for over 25 years. Rough around the edges and full of stories, this is one experience you won't want to miss! The hunt is topped off with a multi-course lunch composed of the truffles you'll personally have the chance to forage for, local organic wines & rounded off with a private pasta all'uovo demonstration overlooking Le Marche's endless patchwork of rolling hills.
An important aspect to note is that this is not a tour that will bind your time 24/7 making you feel less like a traveller and more like a prisoner. They have smartly arranged for guests to stay in the center of town in a four-star boutique hotel allowing for more possibilities to get to know the beating heart of Ascoli's historic centre on a personal basis with plenty of free time to roam, find a particular café that speaks to you, or restaurant you want to return to night after night. 
Are you ready to experience the Italy that so many people who visit Italy multiple times, never get to experience in their lifetime? Check out The Italian On Tour's epicurean multi-day tours giving you the chance to experience genuine Italian life without ever having to lift a finger and book your next Italian  adventure today!