The Italy Magazine website is produced by Bluespark - an interactive agency with offices in the USA (Cary, North Carolina) and Italy (Ispica, Sicily).
Team
Silvia Donati - Assistant Editor Silvia contributed to Italy Magazine as a freelance writer before joining as Assistant Editor. She graduated from the University of Bologna in Literature and studied Print & Broadcast Journalism at the University of California in Los Angeles, where she lived, on and off, for several years. She began her career in journalism working for a Southern California news agency before returning to Italy and going freelance. She has written both in English and Italian for a variety of publications; she has covered the entertainment industry in Los Angeles, where she had the chance to interview Leonardo DiCaprio and Al Pacino among others and reported live from the Golden Globes for ANSA. She now specializes in everything Italy-related.
Terry Cornelissen - Vice President of Advertising
Terry leads Italy Magazine's digital advertising and business development efforts. He has been in the advertising business for 20+ years, with the last 15+ focused on digital marketing and media. He has worked for bigger media names like USA TODAY, Golf Channel and Men's Health; but more recently has focused on developing business for smaller start up companies. He started in the media business selling local newspaper advertisements while in college in Wisconsin, but now calls Chicago, Illinois his home. Get in touch with Terry if you would like to advertiser or be a marketing partner with us.
Get in touch with Terry
Carol King - Contributing Editor
Carol King spends her time between Sicily and London. She has been a journalist and writer for 30 years and a freelance for more than 20 years. Carol loves travel and has visited 36 countries - so far. Her appetite for travel has seen her track gorillas in Uganda, climb Adam's Peak in Sri Lanka, visit salt mines in Poland and puff cigars in Cuba. Outside of the UK she has lived in Buenos Aires, Madrid and Modica, Sicily. After more than 20 years as a technology journalist editing various titles and writing for newspapers including the Wall Street Journal Europe, The Guardian and Daily Telegraph, now Carol writes mainly on travel, art, architecture, film and history for books, magazines and websites. She has written about travel for TheTravelEditor.com, Frommer's, Volotea Airline and 1001 Escapes, as well as Destinations Travel, Destination Weddings, Psychologies and Discover magazines. Carol also does guest slots on the BBC radio show Mondo Italiano and Australia's Rete Italia. She loves Sicily: its nature, architecture, sun, sea, food and, most of all, its people.
Ariel Kocourek - Business Development
Ariel joined the Italy Magazine team in 2013 as Business Development Director, with a goal of expanding the brand's value and offerings for readers and advertising partners. After graduating from Appalachian State University, she built a career as an Interior Architect specializing in sustainable commercial buildings, but her love of global adventure led her to focus professionally on the travel industry. She now splits her time between North Carolina, Italy and France. Contact Ariel to discuss business opportunities
Andrea Poidomani - Digital Sales and Web Development
Andrea was born and grew up in Modica, Sicily and holds a Computer Science degree from the University of Torino. Whilst studying for his undergraduate degree he also spend a year at the Politecnico of Madrid. After working for several years for IVECO srl as a technology consultant he has gained considerable experience in web development which he is further refining at Bluespark.
Writers
John Bensalhia
John is a freelance journalist who has contributed to various magazines and websites for more than 12 years. Born in London in 1974, he went on to complete an English degree at university and then gained a diploma in Magazine Journalism in 1999. Since then he has written about a wide variety of subjects including ports and harbours, franchising, builders' merchants, tractors, arboriculture, the TV programme Doctor Who, motorcycles, sports, DIY, and of course, Italy! When not writing, his hobbies include travel, films, cooking, gardening, and playing the drums.
Julie Burns
Discovering and falling in love with Italy's La Dolce Vita aged 21, English writer Julie Burns revisits whenever possible. Her CV spans performing, broadcasting and publishing - from programme production at the BBC to feature writing for the UK/international press on arts and culture, style and lifestyle.
A fan of classic Italian fashion - especially a la Audrey Hepburn in movie 'Roman Holiday' - the nation's different places, different flavours, continue to inspire: from Capri to Assisi; Florence to Venice; Naples to the Lakes. 'From sunshine and sea to artisan crafts and Ferragamo shoes, along with heart-felt food from pasta to ice-cream, tutto bella!'
Mark Collinson
Mark is a freelance journalist who lives and works in London. He was born in 1981 and is a keen traveller. Like many born in the rain of England, he has an inborn envy of anyone who lives closer to the equator than he does.
His favourite Italian locations are Florence, for its long association with the arts, and a little town called Vinci: for Leonardo.
Gino De Blasio
Gino is a freelance blogger and writer. Born in 1982, Naples he moved over with his family at the tender age of 4. After completing his studies at Sheffield Hallam University in International Business and languages he has worked for marketing agencies across the UK and Europe. He's lived in both the north and south of Italy in these periods, and one day hopes to move to Milan to regularly watch his beloved football team, ACMilan play at the Meazza. He writes for a number of websites mainly about sport, food and culture. When he's not writing he's either on his bike, playing football or on his guitar.
Nicola Ferlei-Brown
Nicola Ferlei-Brown is a Rome based British travel writer, passionate about covering stories on where to eat, where to shop, and see all things divine. Nicola has worked for Wallpaper City Guides in London, Wanted In Rome, The Roman Forum Magazine, The Italian Insider and Italy Magazine. With 25% Italian blood pumping through Nicola's veins, the road led her to Rome after finishing her studies in Art History and Architecture at Manchester University. Fluent in Italian, she spends her time between Rome and London.
Magda Lauer
Magda was born in London but has spent most of her life in Africa. She developed a love for art and architecture at a young age as her father was a Polish artist living in London. A world of colour, imagination and wonderful people is how she describes her life, believing that creativity is magic, and therefore she has spent her life acquiring skills, from body painting to floristry, owning an art gallery to studying horticulture.
She has traveled in Southern Africa, Namibia, Mozambique, Madagascar, Eastern Europe and Canada. However, when she visited Italy it captured her heart in special way. Magda has seven children who live in three different countries which means she has to continue to travel as she now lives in England. In order to share her enthusiasm, her love of nature, people and places, culture and good food Magda writes articles and Poetry.
Francesca Re Manning
Francesca was born in Italy, Siena, and has now spent many years living in England as well travelling extensively in South America, Europe, and parts of Africa and Asia. Her love for food and travels is transmitted in her photography which has become part of her lifestyle. Francesca is a freelance food writer and photographer as well as being trained as a lawyer and having specialised in international development with a focus on hunger and agriculture.
She shares her passion for food with her cooking classes and secret suppers which she holds in her charming Victorian house in Cambridge, England. She also runs her personal blog, "Asaucepanandasuitcase" where she writes about the corners of the world that she discovers both for work and for holiday.
Myra Robinson
Myra Robinson's career specialised in children with behaviour problems. She has always had a passion for travel, languages and the arts, publishing articles on travel and education. (Daily Telegraph, Independent, etc.)
After a life-long obsession visiting spa towns, she discovered Battaglia Terme (thefictional Montebello), a faded backwater once renowned as having the best mud in Italy, the focus of her new book, Fried Flowers and Fango. She began learning Italian because the place intrigued her, and she ended up buying an apartment, feeling driven to write an account of life there. With an acutely observant eye, she enjoys its humour and quirkiness, and has become part of the community. Her latest project is to arrange twinning between the Museum of Navigation in Battaglia and two canal museums in England. Myra Robinson now divides her time between Newcastle upon Tyne and Battaglia Terme. She continues to write, sits as a magistrate, and occasionally advises on education.
Kate Wickers
Kate Wickers has been a freelance journalist for sixteen years since completing a BA Honors degree in Media & Communications. Specialising mainly in travel she has written for, among others, The Sunday Telegraph, The Express, The Daily Mail, The Scotsman, the Financial Times, The Scottish Sunday Mail, The Lady, House & Garden, Conde Nast Traveller, Real Travel, Junior Magazine, The Lonely Planet Magazine, The Jewish Chronicle and Practical Parenting and contributed to a Rough Guide special, Women Travel, in which she gave an account of a trek to Machu Picchu in Peru. She has written for the in flight magazines of Qantas, Kenya Airways, Bangkok Airways and Air Ecuador and for US publications Islands, Speciality Travel and Porthole. Recently she has turned her pen to fiction writing and her first novel Blackbird Has Spoken is published through Amazon Kindle. She is mum to three lively boys and is at her happiest when she's travelling off the beaten track with her family. Her favourite Italian pleasures are Giardino Giusti in Verona; gelato nocciola; and driving along the Amalfi Coast.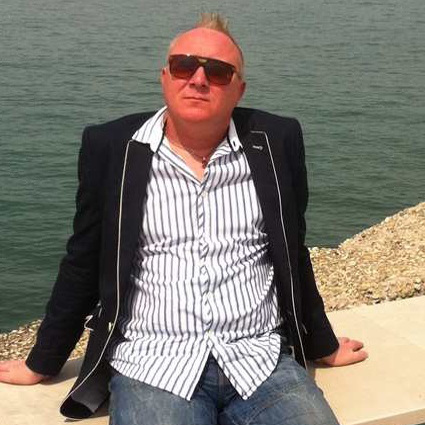 Barry Lillie
Barry is a professional writer who specialises in non-fiction for the international, English speaking magazine market and trade press. Barry had over fifty professionally performed plays under his belt before turning to features writing, he is mostly experienced in arts, travel and food writing; he's written for a varied mix of publications, including, Different Scene, Restaurant Life, US Brides, Gay Times and Catholic News, to name a few. As a travel writer he's been privileged to have experienced many diverse cultures. Experiences include being kidnapped in the Middle East, trekking through the jungles in Borneo and surviving 79 days in a camper van touring New Zealand. Barry has a particular passion for anything Italian and has made the Italian region of Abruzzo his home, which he refers to as, Italy's best kept secret.
When he's not writing magazine articles he enjoys being immersed in the Italian way of life, and is often found in his local bar enjoying a coffee and catching up on village gossip. Barry is currently working towards producing a book of traditional Italian regional recipes and in the meantime keeps a blog where you can read all about his life in Abruzzo and the eccentricities of rural Italy, the web address is, http://intheflatfieldidogetbored.wordpress.com