Cucina e Vini - The Perfect Combination
As a wine aficionado, I am always faced with a restaurant choice dilemma. On the one hand, I love to go to restaurants that have a wide and varied wine cellar in search of new wines. On the other hand, restaurants with wide and varied wine lists have two disadvantages: their prices tend to be quite wide and varied as well (but never towards the low end) and their dishes demand more attention than what I am necessarily prepared to give them. Don't get me wrong, culinary adventures are fantastic and I enjoy them as much as anybody. Sometimes, though, you just want to focus more on the wine and less on the complex mix of ingredients the dish has to offer. 
Luckily, there is an increasing number of restaurants in Italy that cater to such a wine-loving public. They focus on maintaing a great wine list of mostly local wines and provide excellent but straighforward food.  They simply allow you to enjoy a fantastic meal while getting to try amazing wines that would be tricky to find elsewhere.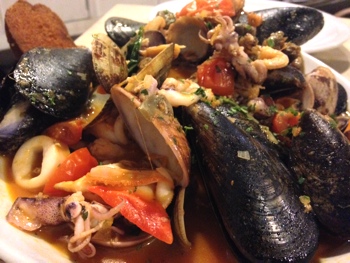 I came across a perfect example of such a restaurant in Siracusa in South-East Sicily. Quite simply called "Cucina & Vini 1921" (the date being a reference to the year of birth of the owner's grandmother), they do exactly what it says on the tin. They offer great food and amazing wine in a relaxed setting. 
We had a fish-based lunch with a rich shellfish soup as a starter, while the main was a novel combination of pecorino cheese, lemon zest and ombrina (shi drum or Umbrina Cirrosa). The restaurant is within a historical building on Via delle Carceri Vecchie 22 in Oritigia, a short walking distance from the main square in a quiet street away from the main tourist paths.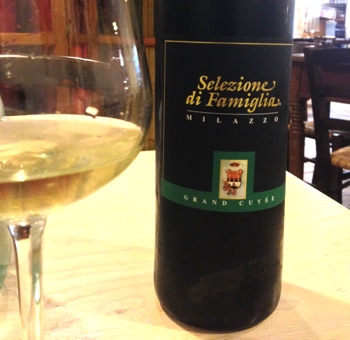 To accompany, we picked a wine of Azienda Agricola Milazzo called called "Selezione Di Famiglia", , which translates to "the family's selection". Milazzo is a great organic winery based near Agrigento. Their "Maria Constanza" and "Terre della Baronia" wines are well known and have won international awards, this one was new for us. They've allowed themselves more freedom to experiment with and the 85% Chardonnay mixed with Inzolia is a hit. Almost perfectly balanced between acidity and alchohol, mineral, a great finish with pleasant perfumes of vanilla, toasted bread and a hint of fresh oregano.  
We will definitely be going back to to Cucina & Vini, for both the cuisine and the wines, and looking for similar places across Italy. 
Related:
1921 Cucina & Vini, Via delle Carceri Vecchie, Syracusa, 0931 640 096
Topic:
Location: