Tuscan ND Dolfi Family Wall Crest: Della Conca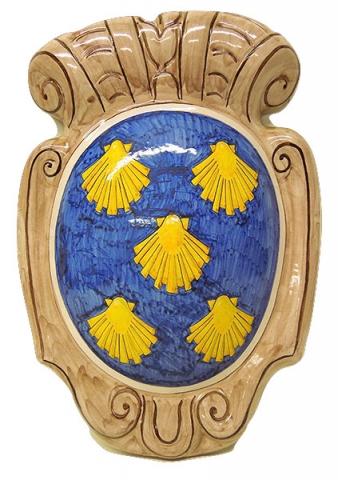 A plaque adorned with seashells, here we have a more traditional piece of Italian pottery that would add Tuscan style to your wall. ND Dolfi has replicated the family crests of certain Tuscan families, and this is a the crest of the Della Conca family. It is a wonderful way of having a piece of handcrafted Italian history as decor in your house. Whether or not one chooses to attach its history to this plaque, it is an elegant piece of ceramic decor. It is ready to hang on your wall.
This ND Dolfi Tuscan Family Crest is approximately 15" in height and 11" at its widest point. Measurements are approximate.

This product is guaranteed "Made in Italy"
This block is broken or missing. You may be missing content or you might need to enable the original module.
Dimensions
11X2X15 in 5 lb.
Countries Availability

United States
You may be also interested in...