Bolognese Stuffed Zucchini: Zucchine Ripiene alla Bolognese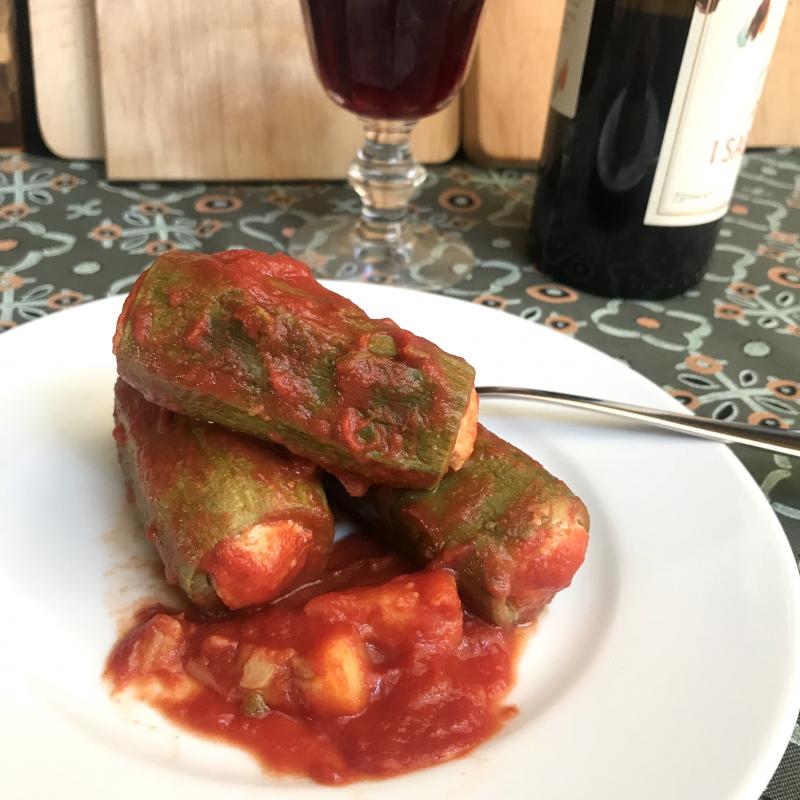 There are many types of stuffed zucchini dishes in the world, like Lebanese kousa mahshi filled with meat and rice and France's petit farcis, round zucchini stuffed with sausage. There are even variations within Italy, with different recipes in Genova and Rome. This one is the traditional one from Bologna, distinguished from the other variations because the zucchini is left whole, simmered in tomato sauce and most importantly, include mortadella. 
Mortadella bologna dates back to ancient Roman times. At the Archeological Museum of Bologna there is a Roman stone carving of mortadella production, showing piglets and a mortar & pestle, which the ancient Romans used to grind the pork with salt and spices. There are two theories on the origin of the word "Mortadella."  One that it comes from the ancient Latin for mortar, "mortarium" and another that it comes from the name of an ancient Roman sausage flavored with myrtle instead of the pepper used today. This delicate pink salumi was even traded as currency in the Middle Ages and is so unique to Emilia-Romagna it was awarded IGP status by the EU.
Recipe courtesy of Italy Food Nest, a cooking school based in Bologna that is unique in offering cooking classes in truly stunning private homes in Bologna. They also conduct all sorts of gastronomic tours of insider spots in Bologna and throughout Emilia-Romagna.
Photo credit: Romana Rimondi @blocnotes
Serves 6
 
Ingredients Sections
Zucchini: 12 short, preferably each the same size
Ground pork: 12 ounces
Mortadella: 3 ½ ounces, minced   
Parmigiano Reggiano: 3 ½ ounces, grated
Breadcrumbs: 3 ½ ounces
Eggs: 2
Salt: To taste
Pepper: To taste
Ground nutmeg: To taste
Olive oil: 6 tablespoons
White wine: 6 ounces
Tomato puree: 1 28-ounce can
Whole milk: 4 ounces
Instructions
Wash the zucchini and cut off the ends. Carefully, using a thin knife, scoop out the insides of the zucchini, being careful not to poke holes through the skin. Scoop a little from each end. Set aside. Save the pulp from the zucchini for use in the sauce later. 
Combine the ground pork, mortadella, Parmigiano Reggiano, breadcrumbs and eggs in a bowl. Season to taste with salt, pepper and nutmeg and mix until well combined. Fill each zucchini with the mixture, gently pressing in the mixture to fill compactly. 
In a large skillet, heat the olive oil and then add the zucchini and cook, turning so they are golden on all sides. Add the wine and cook until the alcohol has evaporated, then add the tomato puree. Season with salt and pepper to taste and cook for 10 to 15 minutes. Gently add the reserved zucchini pulp and milk to the sauce and carefully stir to incorporate.  Depending on the size of the zucchini, cook for 20 to 25 minutes, until the zucchini is tender.