Ciambelline al Vino (Red wine and Fennel Ring Biscuits)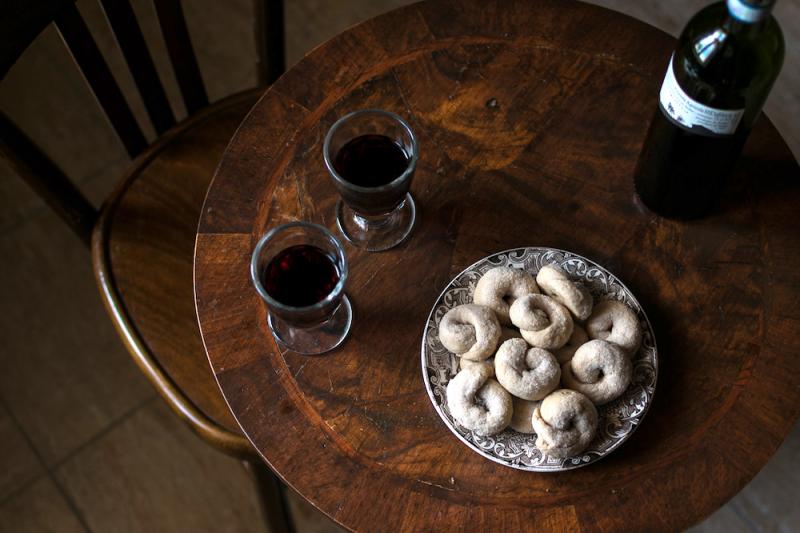 Cooking Time
10-15 minutes
'They're a bit hard', I was warned as my hosts laid down a trayful of sugar-coated, ring-shaped biscuits at the centre of the dinner table. Unperturbed, I grabbed one and took a couple of small, studious bites. The purplish-tinged biscuit was hard, but not jaw-breakingly so. I inspected its crumb. As suspected from those first morsels, there were fennel seeds dotting its interior. Everyone else sitting around the table was dunking the biscuits into their glasses of dessert wine. I would have been happy to eat them as they were but I quickly got in on the act. It seemed to be the done thing in this part of Italy.
Upon my return from the shores of Lazio's Lake Bolsena last summer, I learned from my hosts and some regional Italian cookbooks that what I'd eaten that evening were ciambelline al vino, or red wine and fennel ring biscuits. As it turned out, they were remarkably simple to replicate in my northern Italian kitchen, requiring minimal preparation time, no special equipment and basic pantry staples such as wine, flour, sugar and olive oil. I was hooked and have been making them for my family and I - to dunk in coffee, as well wine - on and off, ever since.
Like other hard-as-rocks ringed-shaped baked goods (think Puglia's friselle and taralli) ciambelline al vino appear to have originated as a subsistence food. Drier-crumbed biscuits and breads modelled into a ciambella or ring could be stored more easily for long durations, making them a favoured staple of sailors and soldiers who often had to venture far away. These preparations were softened and consequently. made more palatable by dunking them in water, wine or oil.
Many households in Lazio continue to rely on a simple formula - as opposed to a written recipe - for making these humble yet heartwarmingly good biscuits; for each glass of sugar, olive oil and wine, you'll need 4 glasses of flour. I've adapted this ratio in the recipe below to metric measurements. Some people add a teaspoon of baking powder to the mix these days, but my preference is to do without. As for the wine, I've indicated the red tannins that were used to give those biscuits in the ancient Etruscan town of Sutri last summer that distinct purple tint. If a dry white is what you have on hand however, feel free to use that. I also happen to love the crowd-dividing, fennel (or anise) seeds often used to flavour ciambelline. If you don't though, you can leave the teaspoon of that out as well.
This recipe makes about 30 biscuits. 
Ingredients
sugar
125 g, plus extra for coating
sifted flour
500 g, plus extra for dusting
fennel
1 tsp fennel or anise seeds, crushed (optional)
Instructions
In a bowl, combine olive oil, wine and sugar. Add flour, salt and, if using, fennel (or anise) seeds, in a slow and steady stream. Bring the ingredients together and transfer to a clean and lightly-dusted work surface. Knead until you have a smooth dough that no longer sticks to the your work surface.
Take walnut-sized pieces of dough and roll into logs 8 – 10 cm long. Curl each log so their ends meet and overlap. Pinch gently to form rings.  Dip the rings face down into a shallow bowl filled with sugar until well-coated. Arrange sugar-coated rings on a lined baking tray.
Bake in a pre-heated oven set at 180 º C for 25 to 30 minutes or until dry to touch, golden and crisp. Remove from oven and allow to cool completely before storing in an airtight container in a cool, dry place.