Pici With Roasted Cherry Tomatoes, Fresh Anchovies and Lemon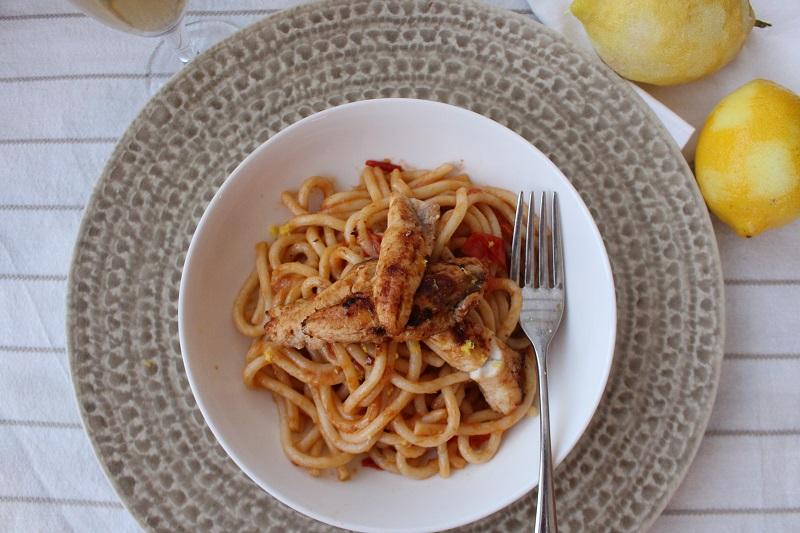 Recipe by: Elisa Scarton Detti
Pici is the Maremma Tuscany's favourite pasta. It's the predecessor to spaghetti and is hand-rolled. If you're pressed for time, just use fresh spaghetti. The sauce is rich, but fresh, making it a great summer lunch dish. 
Ingredients
all purpose flour
800 grams
extra virgin olive oil
1 tablespoon
Pachino tomatoes
250 grams (cut in half)
anchovies
250 grams (cleaned and filleted)
Instructions
Place your flour in a bowl. Make a well in the centre and add all the remaining ingredients except the semolina. Gently mix in the flour with a fork. Turn onto a work surface and knead to get a smooth dough. Add more flour or water if you need to. Shape the dough into a ball, rub with a little olive oil and leave to rest covered with a clean tea towel for 30 minutes.
Meanwhile prepare your sauce by heating a tablespoon of olive oil in a large saucepan over medium heat. Add your garlic and fry for 1-2 minutes. Then add the lemon zest and the tomatoes cut side down – this helps to the caramelise them and realise their juices. Add all but a handful of the anchovies to the pan and fry for 8-10 minutes or until cooked. Remove from the heat and set aside.
Roll your dough out into a rough ½ centimetre thick rectangle. Generously coat the surface with olive oil. This stops the pasta drying out while you roll your pici. Using a pizza cutter or a sharp knife, cut ½ centimetre strips. Roll each strip back and forth on your kitchen counter to round out the edges. Dust generously with semolina to stop the pici sticking to one another.
Heat a splash of olive oil in another saucepan over medium heat. Add the remaining anchovies and cook until browned on both sides (8 minutes), taking care not to break up the flesh. Remove from the pan and set aside.
Bring a big pot of salted water to the boil and cook your pici for 5 minutes. Drain and toss in the pan with the sauce to heat through. Serve with the remaining anchovies arranged on top. Feel free to add some more lemon zest for garnish.