Our company mission
Offering an authoritative, authentic take on Italian culture and lifestyle for international audiences, Italy Magazine and our team of local experts have been celebrating the best of the Bel Paese for more than 20 years. From language to food to culture to fashion, Italy Magazine, just like Italy itself, has something to offer everyone. Whether you're planning a trip or staying connected to Italy from home, Italy Magazine is here to help you go beyond the surface and incorporate Italy into your everyday life.
Our reach
Discover the expansive reach of our brand, spanning various online platforms and geographical areas.
Our 20-year-strong website is the heart of our operation with over 600,000 unique monthly page views. But that's just the beginning: Our curated and conversational weekly email newsletters are the strongest form of direct dialogue with the most engaged members of our audience. These newsletters reach a combined 85,000+ readers, including our most devoted Premium Members and a substantial base of free subscribers. 
Across social media, we engage over 409,000 Facebook fans, 142,400+ X (formerly Twitter) followers and 80,800+ Instagram enthusiasts. Our brand makes 1.3MM+ monthly impressions on Pinterest, highlighting its visual appeal.
Italy Magazine demonstrates continued steady growth across all of its social media platforms, even amid a changing landscape. Our brand generates a staggering 8,800,000+ social impressions every quarter, making our impact undeniable and far-reaching for those who work with us.
Our audience
Italy Magazine readers are remarkably enthusiastic about travel to Italy; many are regular visitors to the Bel Paese. 73% of our readers cite travel ideas and inspiration as their favorite type of content on our website, and for good reason: 65% are planning to visit Italy within the next 12-18 months. Over 50% of the magazine's readers have an annual household income exceeding $100,000, reflecting a financially stable demographic passionate about enriching travel experiences.
Bellissimo quarterly magazine
In our quarterly digital magazine, expert insights elevate our readers' Italian experiences to new heights. Each issue dives deep into a specific region of Italy.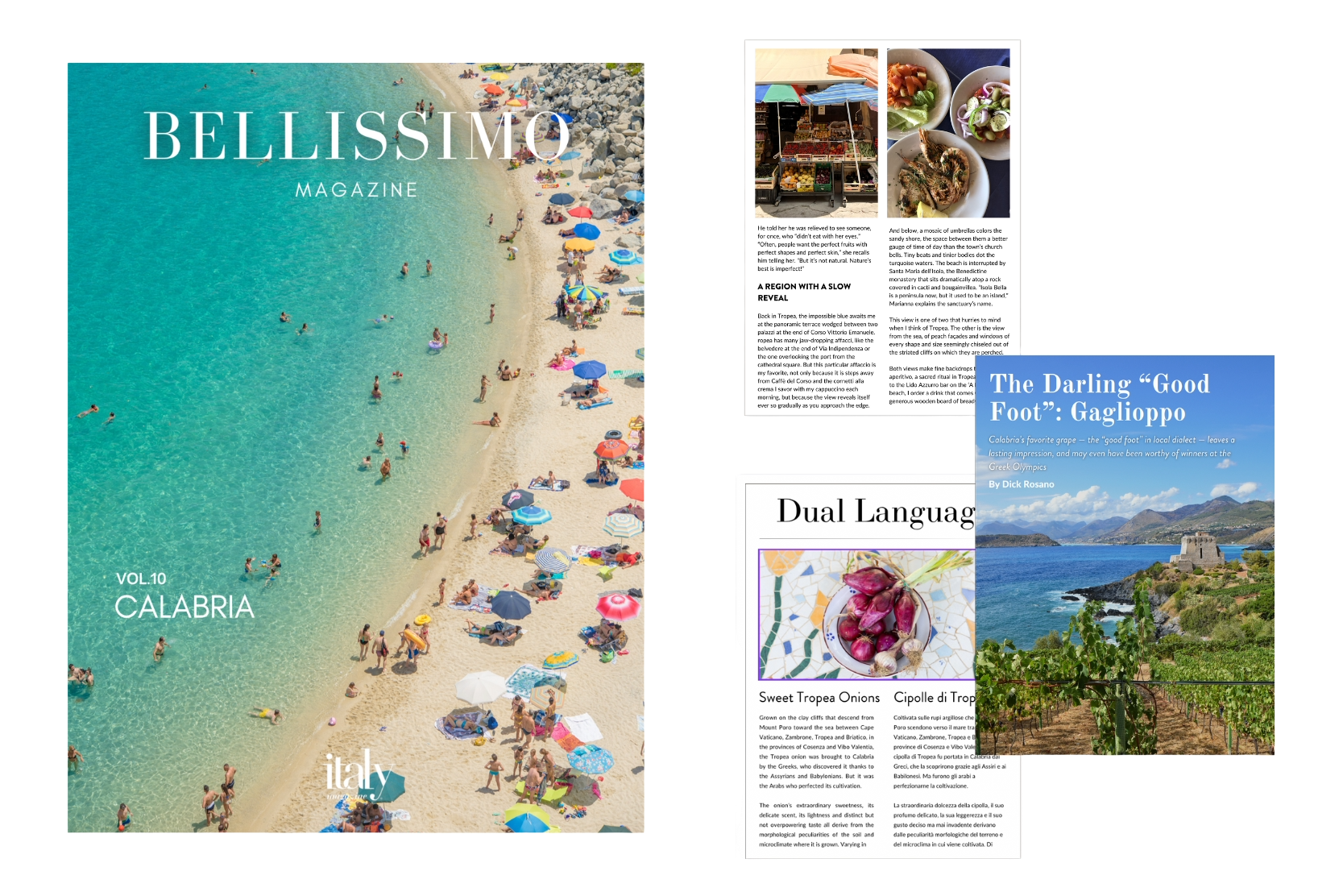 Bellissimo's mix of meticulous design and thoughtful content is a major draw for our engaged and curious audience. Readers enjoy in-depth articles spanning a range of topics, from rich cultural traditions and exquisite cuisine to travel adventures, places to stay and people to get to know.
Every page of Bellissimo is a visual treat, presented in vibrant full color. Whether you choose a half-page or full-page placement, your content will shine alongside our carefully curated articles. Plus, each placement includes a valuable link, connecting our readers directly to your world.
Italy Magazine's established editorial voice and mighty team of experienced, Italy-based writers and content creators mean that you'll be working with true insiders to capture what's special about your brand. Our range of editorially led partner content options ensures you can find the best fit for your needs, whether you're looking for immediate conversions, new lead generations or simply an image brush-up. 
Sponsored content allows you to seamlessly align your brand with independent editorial content. Marked with a "Presented by" tagline at the article's outset and reiterated at the end alongside a link to your company, your sponsorship will be clearly acknowledged. Your content will thrive on italymagazine.com for a minimum of one year, with an option to renew at a reduced rate.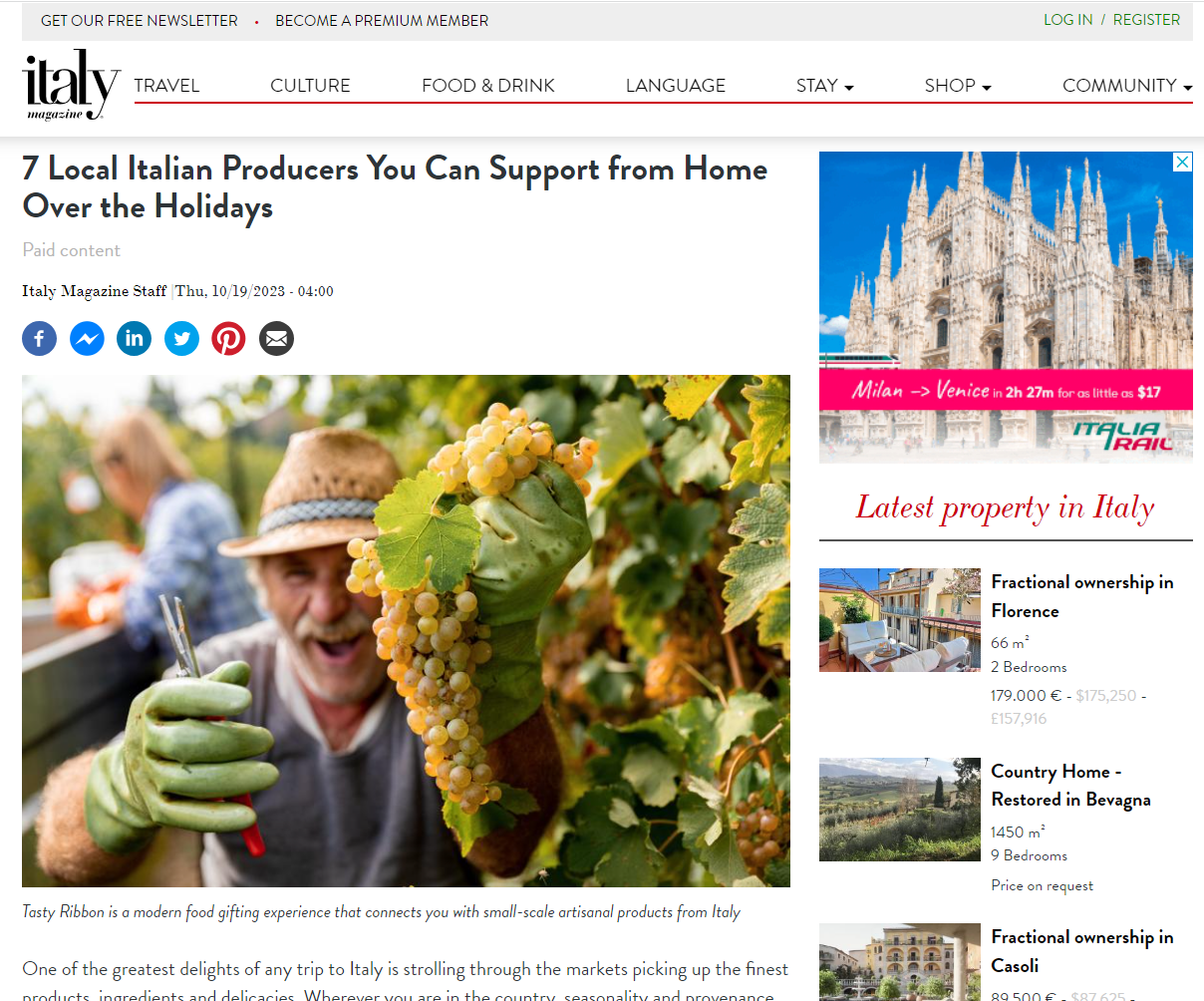 Alternatively, our branded content option involves more of your direct input. While sponsored content articles focus on a theme that's adjacent to your brand's offering, branded content incorporates your product more explicitly. You'll collaborate with our editorial team to ensure that this is done in a natural, curated way that fits with our style and, most importantly, interests our readers. The article will prominently feature an "In partnership with" tagline at the beginning and conclude with a link to your company. Plus, enjoy the benefits of up to two do-follow links to your specified URLs. Your branded content will reside on italymagazine.com for a minimum of one year, with an option to renew at a reduced rate.
Partner newsletters, new for 2024, are Italy Magazine's most exclusive, top-shelf offering for agreements that meet a minimum spend. With just one slot available per quarter, these bespoke, carefully crafted newsletters offer unparalleled visibility through the rare chance to make direct contact with Italy Magazine's most engaged and loyal readers — our 85,000+ newsletter subscribers. Newsletters are developed in close collaboration with the editorial team, who can guide you through what makes our audience tick.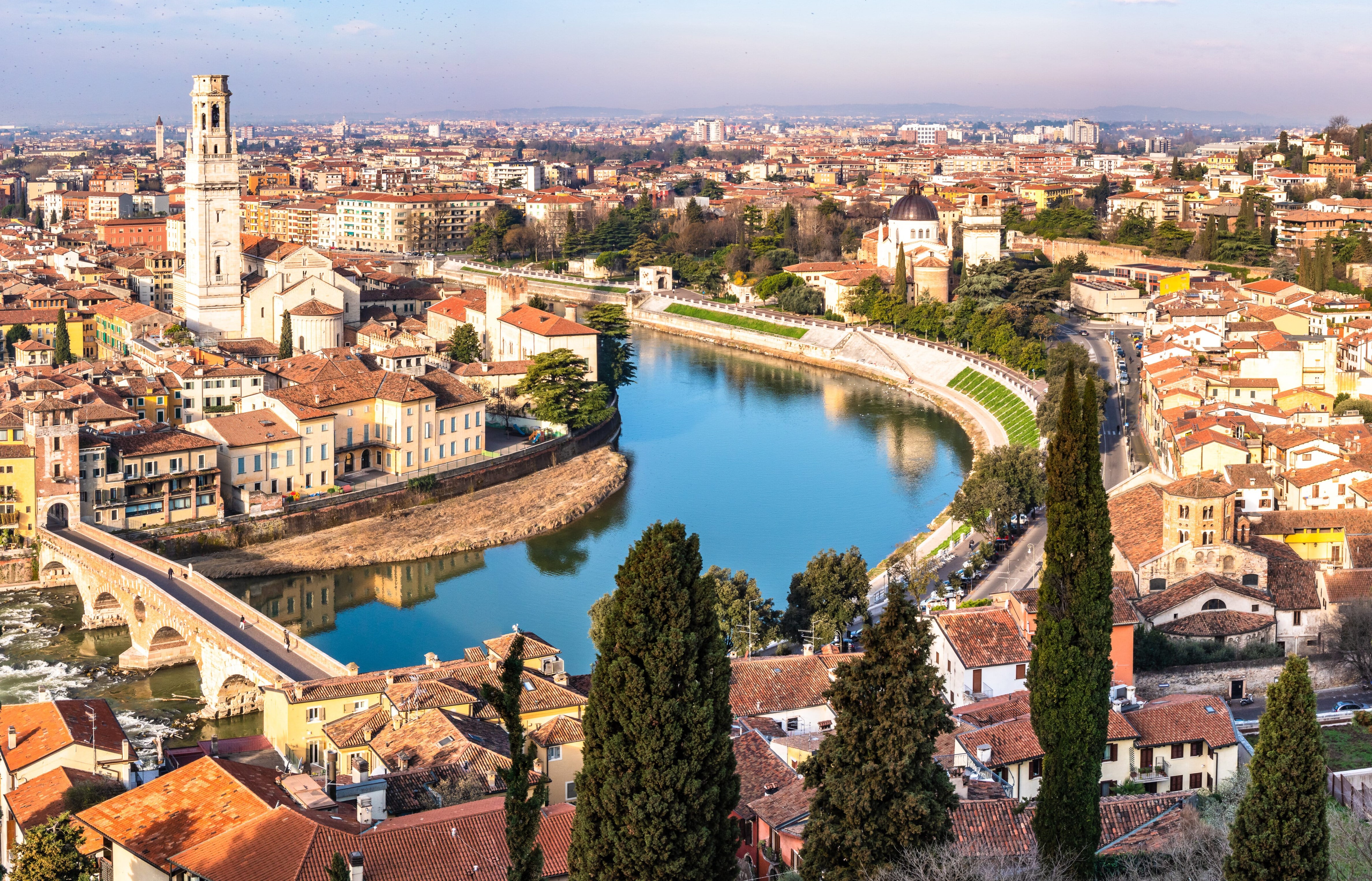 Real estate has long been at the heart of Italy Magazine's operations, just as owning a property in Italy is at the heart of so many readers' Italian dreams. Our most recent data shows that a staggering 45% of surveyed readers are actively seeking to purchase a home in Italy. Our properties section is dedicated to those users eager to bring their dream to life. Each listing has its own page, meticulously detailing every aspect of the property with high-quality photos, comprehensive descriptions and essential references. The platform facilitates seamless communication, as users can directly contact the property owner through the convenient form available on each individual listing.
Additionally, for those who want to move beyond individual property listings, our offers include:
Quarterly property digest: Feature your property in our exclusive quarterly email newsletter, reaching an eager audience of active searchers

Weekly property spotlight: Showcase your property to subscribers as the "Property of the Week" in our weekly email newsletter for maximum exposure

Featured homepage property: Elevate your property's visibility with a prime spot on our homepage
As Italy Magazine's engaged readership shows, more and more of today's travelers are less interested in impersonal, mass-market forms of tourism and are far more excited by experiences that bring them into direct, intimate contact with a culture and its people. You know you've got something these travelers would love — whether it's a cooking class, a language course, a small-group tour or trip, an exclusive visit or something else entirely. But if you're stuck on how to reach the right people, Italy Magazine's Experiences section is what you need.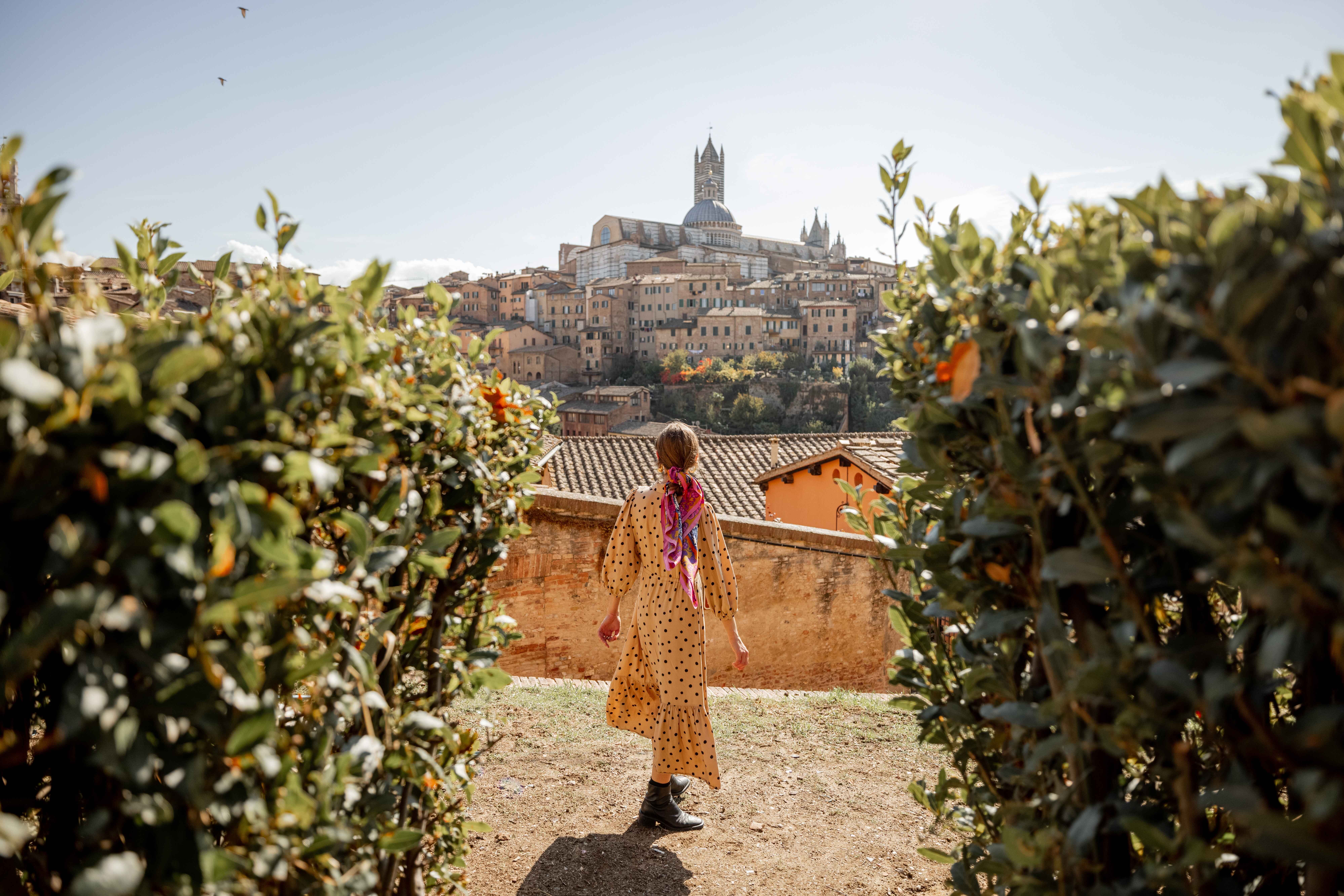 Reaching our discerning audience of highly educated, deeply curious travelers, our Experiences section features a range of listings, each with its own dedicated page. The page offers a comprehensive glimpse into the experience through captivating photos, detailed descriptions and valuable references. Users can connect directly with the experience provider (you!) through the convenient form provided in each listing.
Explore prime banner advertising opportunities on the Italy Magazine website, the powerhouse of all our operations. Tailor your campaign to specific website sections based on relevant topics, or opt for comprehensive exposure across the entire site. Choose from our range of impactful banner sizes:
Banner 300x250px

Banner 300x600px

Banner 728x90px
Our banners ensure maximum engagement, with click-through rates averaging between 0.1-0.2% for the 300x250 and 300x600 sizes, and 0.05% for the 728x90 size. Secure your spot today and let your brand shine.
Alternatively, gain premium visibility with our newsletter banner options, featuring prime spots at the top or bottom, each measuring 580x200px and directly linked to a URL of your choice. Our newsletter boasts an extensive audience of 85,000+ subscribers, enjoying an impressive open rate of 43% for free subscribers and a remarkable 75% for our Premium Members. Our average click rate is 6.5%, ensuring your message will make an impact.
Benefit from our impressive social media engagement rates: 3% on Facebook and X and 1.25% on Instagram. Tailor your message to captivate our engaged audience:
Facebook and X post: Engage our followers with a compelling post featuring a link and eye-catching image

Instagram in-feed post: Showcase your content seamlessly within Instagram's feed, accompanied by a link in our bio to take users directly to your channels

Instagram reel: Create dynamic content with an Instagram Reel, complete with tags and links to maximize reach

Instagram story creation: Let us craft an engaging story on your behalf, ensuring maximum impact and visibility

Full social media package: Amplify your presence across Facebook, X, and Instagram with in-feed posts containing direct links, maximizing your reach
Elevate your brand's social media presence with Italy Magazine. Connect with us to explore these options and bring your message to life.
What our clients are saying
"It's been a true pleasure and a productive experience working with Alessandra and the Italy Magazine staff.
My ad generated excellent ROI and I am very happy with the results. Looking forward to continuing my
relationship with them!"
- Alex C., SerataItaliana.club
"It is such a pleasure to be assisted and helped by Italy Magazine to promote my business on their website
and social media. I have worked with them for a long time and I hope that in future, after these terrible
pandemic years, there will arrive more tours requests by their help."
- Alessandro T., Professional Tour Guide
"We have been delighted to work with ITALY Magazine to promote Pomora's Adopt an Olive Tree program.
Alessandra, our account manager, has been both charming and efficient in arranging everything for us. The
advertorials we have run have enabled us to tell our story to a targeted audience and we have followed that up
with direct response campaigns in the email newsletter. We have seen directly attributable uplifts in both
interest and sales due to the activity with Italy Magazine and we are now regular advertisers. Recommended."
- John A., Co-Founder, Pomora Good Food Ltd.
"I have been advertising with Italy Magazine since January 2020. I remember very clearly the first editorial
that I wrote which was published and the amount of new requests I had into my Facebook group was
incredible (which is aimed at helping overseas buyers purchase property in Italy) which resulted in many new
clients working with me and using my services. The staff at Italy Magazine are always super helpful, and
since my first publication back in 2020 I have advertised several more times all of which has brought in an
excellent reach of new clients to me who are my ideal target market!"
- Nikki T., Founder, Italy Property Consulting
"One of the best magazines about Italy's culture, landscapes, food, stories and travel tips. Italy Magazine
offers many excellent opportunities to promote your business through social networks, editorials,
newsletters, banners, descriptive cards of your services and other tailor-made campaigns. The advertising
and editorial staff is highly competent and always available. I recommend monitoring every single activity to
adapt it to your needs and to check returns (as well as brand awareness increase) which, in our case, are far
superior to investments. Congratulations to the entire Italy Magazine staff."
- Fabrizio L., Co-Founder, Italia Sweet Italia