Properties Around Italy Ltd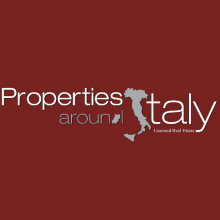 Properties Around Italy is a marketing portal for many Italian Estate Agents who are all members of F.I.A.I.P the Italian Federation of Professional Estate Agents and registered with the Chamber of Commerce in Italy with the relevant license in place. Properties Around Italy do not work with any unlicensed agents and therefore can offer the buyers the security of purchasing from a professional company in Italy.
Our purpose is simple: We wish to offer purchasers the best possible deal when purchasing in Italy in this connection we shall only be working for YOU, not the seller, there shall be no 'conflict of interest' in order to obtain the best possible purchase price, whilst also ensuring that everything is 100% in order with the Title to your new property.
In Italy it is perfectly legal for the estate agent to work for both purchaser and seller, however we feel strongly that this cannot possibly be in the interests of both parties, hence our change from Estate Agent working for both parties in the past, to a new company specialising in the interests of the purchasers only.
Phone Number:
+393421926489, +393421926489
Address:
1st Floor, 2 Woodberry Grove Finchley
London
N12 0DR
United Kingdom