Blog of the Week - ArtTrav
This week I had the pleasure of interviewing an interesting blogger whose PhD art-history background makes her blog about art, culture and travel a trusted local authority. Alexandra Korey from ArtTrav has been blogging since 2004 (wow), her words, "I originally conceived of this website as the guidebook I cannot find", setting the tone for what readers can expect. She mixes both interesting intellectual discourse with some quite superb photographs, while always encouraging readers to experience art and travel a little slower. She was also shortlisted in our 2013 Blogger Awards for one of the best Art & Culture blogs based in Italy.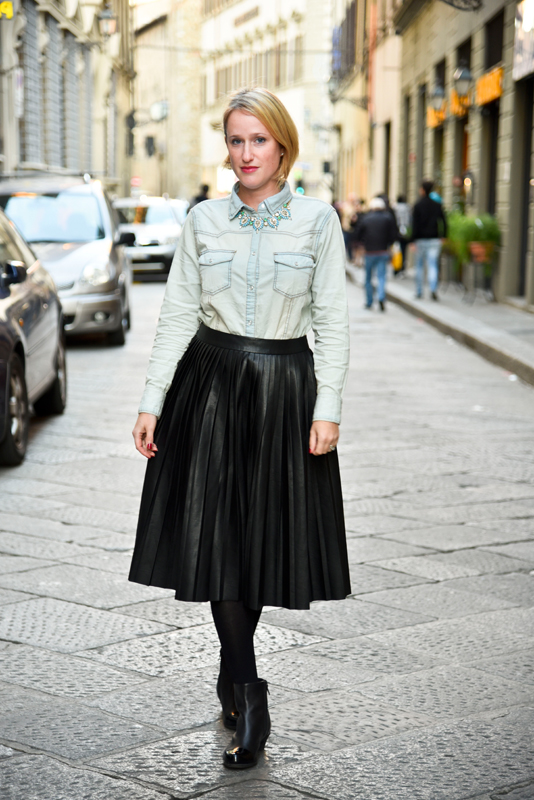 [Photo: Alexandra in a very "sartorialist" style. Photo credit Marco Badiani.]
Alexandra, where are you from and what made you choose Florence as your home base?
I grew up in Toronto, Canada. I first came to Florence as an undergrad study abroad student in 1997 and I felt oddly at home – considering I have no Italian roots. The summer program director suggested I apply for their Masters in Art History program, which I attended in 1999. The rest is pretty much history – I was back and forth to the States for a PhD in the same topic, but at that point I had a Florentine fidanzato… Florence would have always been a point of reference for me as a scholar since I studied Renaissance Italian art history, but personal reasons made it my full-on home base.
Can you tell us about the area where you live?
I live in the outskirts of Florence and work right downtown, which is the best of both worlds (except for the bus ride in between). But we also spend many of our weekends in our home in Maremma, the southern part of Tuscany that is just a little bit more rugged and wild. Things are pretty quiet in our Florentine residential area, but not as quiet as in Maremma, where the only sounds are the trees, the birds, and the occasional shot ringing out from the cinghiale hunters… oh and the sound of the Ape's put-putting up the road. I thrive on quiet, but I also love passing in front of the façade of the church of Santa Maria Novella on my way to work every day (at the English newspaper The Florentine).
What do you love about Tuscany?
What I love about Tuscany is precisely what I take advantage of with all my home bases! Tuscans love boasting that they have everything, but it really is true. You've got seaside for great beaches (frankly, better than in a lot of regions, so why leave?), not bad mountains for snow sports, art cities, hill towns, flat lands for farming… On a typical weekend in Maremma, I might go for a walk on the beach, stop by two local farms for fruit and veg, explore a random hill-town or an archaeological site, and read a book taking in the fresh air of the untainted forest near our home. Other weekends, we go further afield to check out an agriturismo, or in the winter we go snowboarding at Abetone. Even after 15 years in the country, I haven't seen everything in Tuscany, let alone in Italy.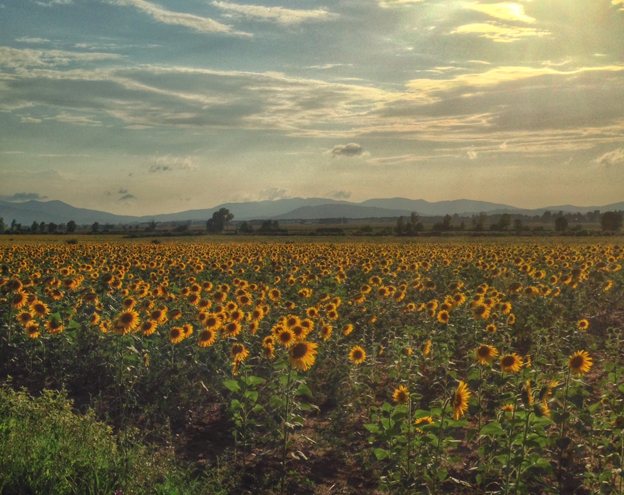 [Sunflowers in Maremma, photo by Alexandra Korey]
Is there anything that drives you crazy about life in Italy?
Yes, and no. I don't have much to complain about generally, my life is really good. Any time I find myself feeling a bit negative about anything, I try to remind myself of other realities and possibilities, and usually conclude that I'm best off where I am. Just a few years ago, my answer to this question would have been different. I think I've gotten to the "acceptance" stage of my relationship with the country: when a "foreigner" questions certain ways things are done, I find myself trying to explain why it is the way it is!
When and why did you start your blog?
As a matter of fact, now that you remind me, ArtTrav is celebrating 10 years in October 2014! I was still a graduate student in art history (I was doing my PhD at the University of Chicago in the post-coursework, research phase) and I was spending a month in Rome trying to see as much art, from all periods, as possible. When I couldn't' find the guidebook I needed for this task, I started writing it as a blog called "One month Rome." When I returned to Florence, my husband encouraged me to continue and expand the project. First, it was about art and architecture in Rome and Florence, but eventually ArtTrav expanded to other topics.
What do you blog about?
ArtTrav is about art, travel and expat life, mostly in Italy, although I sometimes include articles from my too-rare trips in the rest of Europe. My focus really is the art and making it accessible to readers, but "travel" is the other half of the title because experiencing art in person is the best way to embrace it. The teacher in me wants to share this part of Italy – it's what I came here for in the first place. I know the blog could be more popular if I talked about wine and food instead of Renaissance painting, but I don't know nearly as much about eating as I do about looking at art! Other than writing about museums or architecture or things to do around Florence, Tuscany or all of Italy, I try to keep up with temporary exhibitions and write detailed reviews of them.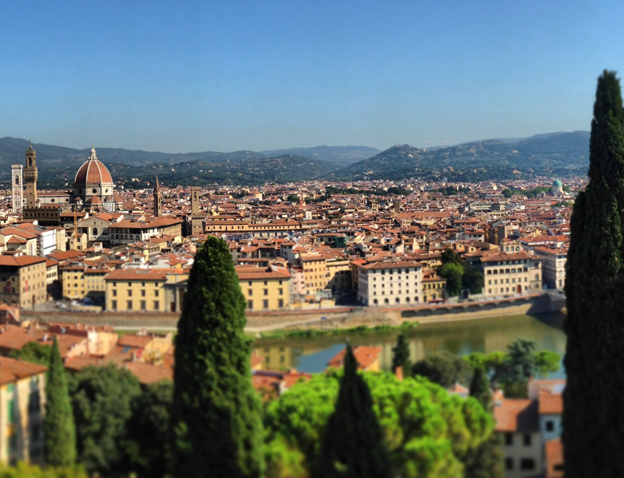 [Photo: view of Florence from Villa Bardini]
Tell us about your readers: who follows your blog?
Based on comments and Twitter interactions, I gather that my most active readers are university-educated women who enjoy travel. A number of them are museums professionals or university professors. I am always really honoured when I find out that some of these people are actually reading what I have to say, but I want to emphasize that I never intended to write something that would only be a conversation between "experts" – I hope I'm inspiring lots of non-experts to see, and maybe better understand, Italian art.
What do you recommend visitors do in Florence?
I hope that all visitors to Florence step inside at least one museum and one church. Depending on the length of your stay and how interested you are in these things, you may do more – there are probably about 200, so that should keep you busy for a while. Most first-time visitors feel they have to go to the Uffizi and the Accademia, and it's true that these two major museums are so important they're practically pilgrimage sites. Unfortunately, the Uffizi is just huge, and there is minimal wall text, so if you don't know much about art, it can be not just overwhelming, but unpleasant. That's actually why I wrote an app that is a guide to the Uffizi, in order to supplement information (not) provided by the museum. So if you're on a short first trip, you might actually skip these and head for a series of churches where you can view art in its original location. Whenever possible, take some time to quietly sit and look around and think about what you're seeing – how old it is, who might have commissioned the works, what they represented or how they functioned at the time, and how the artist has communicated the story.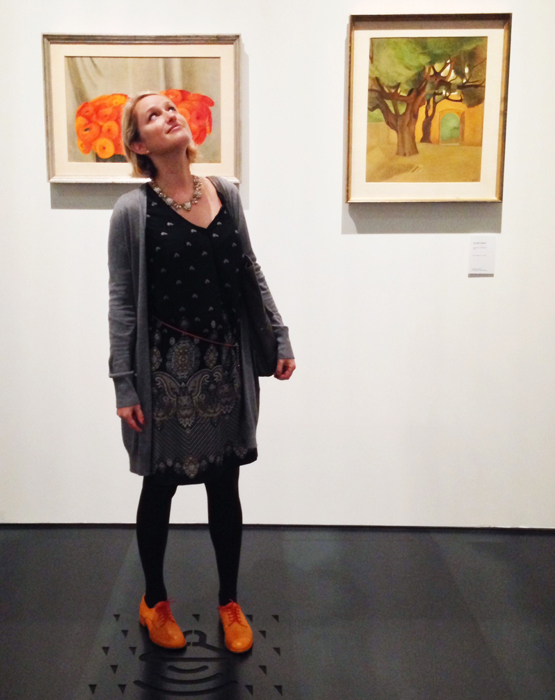 [Photo: Alexandra "listening" to art in Florence's new Museo Novecento, which has audio "stations" in front of relevant paintings.]
Can you describe some local museums that you adore?
To tell you the truth, I cannot say that I "adore" any museums in Florence. I think the overall museum experience is almost as important as what you're looking at, and it's hard to have a great experience alongside 6,000 other visitors. If I come out of a place feeling calm and introspective, I can say I adore it. In Florence, that used to be Palazzo Davanzati, though now it's been "discovered" and can be rather crowded. The Villa Bardini, when it has a good temporary exhibition, has the desired effect, especially as you can go sit on a bench in its beautiful garden afterwards, overlooking the city, and digest what you've seen. Any of the Medici gardens, for that matter, first thing in the morning. And then the churches: San Miniato al Monte, and Santissima Annunziata. Two very different churches, stylistically, but I like the way they make me feel.
All your blog posts are interesting, but can you recommend one or two especially for ITALY Magazine readers?
One of my favourite recent posts is about the recently cleaned Adoration of the Magi by Leonardo da Vinci (from the Uffizi). I was invited to the big reveal in the restoration studios as a member of the press, and the painting just blew me away. I had the opportunity to interview the art historian in charge of the restoration on video, and it felt like I had my own personal guide. When you talk to the people who actually touch these works of art and who have such deep knowledge of them, the enthusiasm shines through.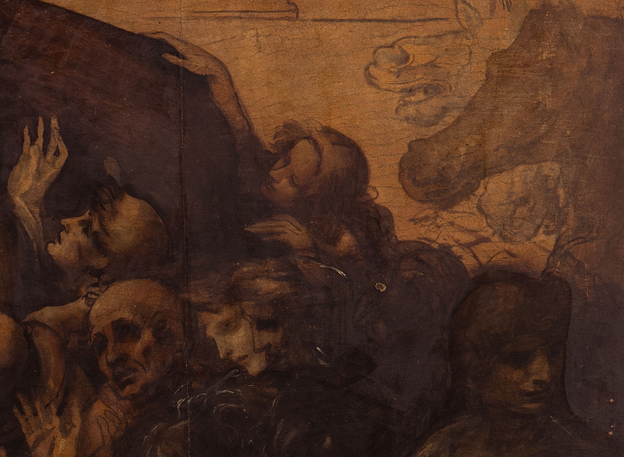 There are certain posts that top the traffic charts on my blog, but one in particular represents a beautiful moment of collaboration with another person who is very dear to me. Hasan Niyazi was an Australian self-taught art historian and blogger, and he and I co-wrote an article about the works hung in the renovated Michelangelo room at the Uffizi in February, 2013: "Red walls and new neighbours for Michelangelo's Doni Tondo". Hasan passed away suddenly, at the age of 37, a year ago on October 28, 2013. He had always encouraged me to stick with "art blogging" and to push myself to write difficult, long articles. He's the voice in my head behind a lot of what I do, and he set up a long-term challenge for my readers, too: it's not every day that you want to read something "deep" about art, but I try to make it fun and I hope you not only enjoy, but learn from what I share.
Thank you for talking to ITALY Magazine, Alexandra! Happy blogging.
Thank YOU, Georgette and ITALY Mag - being a runner up last year in the culture category of your Best Italy Blogs competition was a highlight for me, so it's an honour!
Keep in touch with Alexandra aka ArtTrav via her blog, amazing Instagram, Twitter and Facebook. 
Topic:
You may also be interested in...