Retire in Style in These Properties For Sale in Trentino
If you want to be where the action is for retirement in Italy, then you won't go far wrong with Trentino.
This autonomous Italian province is well known for a number of elements, including its amazing mountains such as the Dolomites. With that in mind, if you're a fan of winter sports such as skiing, snowboarding or mountaineering (whether you're a spectator or whether you continue to participate yourself), then this is an ideal location.
There is also plenty to explore, with many tourist spots to see and sample, including San Martino di Castrozza, Madonna di Campiglio and Fiera di Primiero to name but three.
But on the other side of the coin, Trentino does contain plenty of rural havens of peace and quiet. It's a region that is rich in agriculture and countryside, with high concentrations of fruit produced, such as apples and grapes, which you may like to sample in the concentrated forms of dry and sparkling wines.
The capital city Trento is highly acclaimed, often regarded as one of the main Italian cities to be in terms of quality of life. It has, in its time, made the Top 10 and has even reached pole position in such surveys, known for being one of the most prosperous cities of its kind. With such status, retirement to Trentino is a highly tempting proposition for those seeking a good quality of life, history, culture and scenery.
Design Your Dream Home in Merano
€ 975.000  ($1,153,133; £859,560)
Remember those days when you were a kid, and you were asked what your dream home would look like? Well, this proposition asks you the same question: albeit without the need for drawing paper and wax crayons.
The way it works is that the bare bones of this high quality property are in place. It's up to you to fill in the finer details, such as the planned interior division. Simply state your specific requirements to the agent (more details are given in the link provided), and they can ensure that the house will be designed with your specifications in mind.
The basic layout of the property offers much, the semi-detached property located below Merano's Winkelweg. It is planned to include a large living and dining room, four bedrooms and bathrooms apiece, five balconies and terraces and also basement quarters. Among the up-to-date amenities are underfloor heating, large windows, and room ventilation with heat exchanger.
You will also benefit from the exterior facilities, such as the large roof terrace, which gives you some superb panoramic views of the local mountains and countryside. Whether you want to sunbathe, host a barbecue or provide playing facilities for your grandkids, the south-facing private garden offers plenty of outdoor fun scope.
A further bonus is that the property is ideally situated close to the main facilities of Merano, including the thermal baths, the racecourse and golf courses. Whether you're a fan of sport, pleasant country walks or culture, you'll find plenty to do, with your new base close by.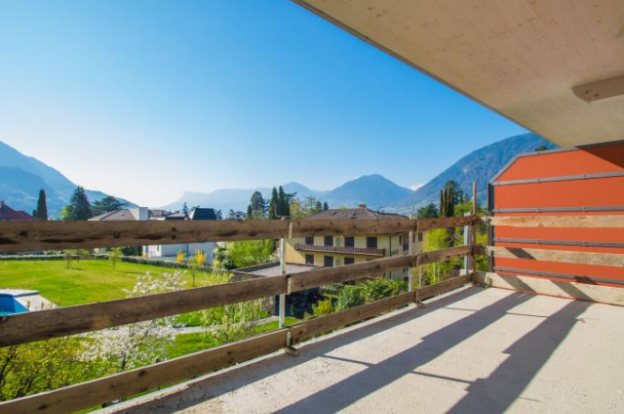 € 1.200.000 ($1,419,240; £1,057,920)
As I've pointed out in past property round-ups, sometimes there's a shrewd investment opportunity to be had. If you've got enough retirement cash, then why not invest it in a B&B or hotel idea?
This Merano property offers up such potential, mixing residential town house with commercial premises. The town house has recently been refurbished, spanning three floors of high quality rooms and facilities included in the unique tapered, geometric architecture. These include an attic facility on the second floor and partly vaulted basement rooms which can be used however you wish (for example, as a wine cellar or maybe even a restaurant or bar for guests). 
The package also includes two apartments, which can be individually divided and designed. Again, this is a good opportunity for bringing in guests who can sample local Merano hospitality, whether they are on holiday or locals on business.
Again, this property is close to the local amenities, as it is situated in the heart of Merano, and is in walking distance of the city centre, esplanade and spa.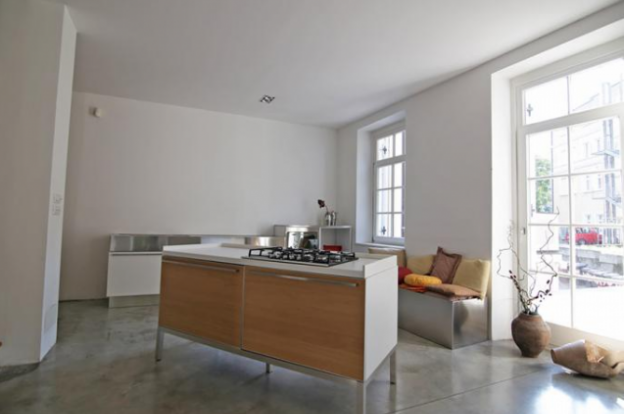 € 1.190.000 ($1,407,413; £1,049,104)
Thinking about the benefits of retirement, one of the principle gains is living a quieter, stress-free lifestyle. If that's at the top of your list, then you won't go wrong with this idyllic villa, situated in Ritten, close to Costalovara.
A chief draw is its lush surroundings: woods and green fields make for a lovely backdrop, and you'll be spoilt for choice with plenty of local trails to explore the rural environment. Furthermore, the property is situated on a small hill and is surrounded by 1,000 m2 of garden when you want to relax and take it easy.
The villa itself offers plenty of charms: there are a number of levels, including the basement area (housing the cellar and boiler room) and an attic, which can be used as a guest room or a chill-out area. You also get a spacious lounge, kitchen, utility room, bathroom and bedroom on the ground floor. Meanwhile, the sleeping facilities are more than adequate on the next level, with a generous total of four bedrooms, as well as a balcony and a bathroom. A garage is also sizeable and can store up to three cars.
Historical Independent Property, Bolzano
€ 615.000 ($727,361; £542,184)
Sample a slice of history with this wonderful property in the heart of Bolzano.
This is an apartment that is part of a historic 19th century building. The roof-top apartment was renovated in the 1990s and has been done so to a high standard.
The property on offer boasts a number of special features. Because it's away from the numbers, you've got a peaceful traffic-free base to retire to, and furthermore, the flat gives way to some splendid views which you can enjoy either from the roof top or on two balconies.
While the apartment is in keeping with the original, historical architectural style, its recent renovation includes all mod cons including a centralised heating system. The property includes a generous three floors, with rooms for storage, hobbies and washing on the ground level. The first floor is where the lounge is to be found, along with a kitchen plus extra bathroom and storage area. Up above on the second floor are the master bathroom and two bedrooms. And let's not forget the roof top area where you can relax with a drink when the sun's out to soak in the views at your leisure.
€ 990.000 ($1,170,873; £872,784)
You can enjoy the best kind of retirement with this new penthouse property available now. While the property is based in a relatively quiet area, near Piazza della Vittoria (between Bolzano and Piazza Tribunale), it is still close to amenities such as shops, supermarkets and a health district. Bolzano destinations are easily reached whether you have a car or whether you want to catch the bus.
The advantage of this property is its modernity. You won't have to worry about older facilities, since this property has been designed with both aesthetics and practicality in mind. High quality elements such as parquet flooring, porcelain tiles, flat plate radiators and wooden/aluminium doors cap off a top of the range habitat that's packed with rooms and facilities.
The living area includes a lounge with kitchenette, a bathroom and a balcony that overlooks the terrace surrounding the first floor. The sleeping quarters are equally impressive with a total of three bedrooms allowing for either family, friends or paying guests to stay. Two bathrooms and two large balconies complete this level. There is also a basement cellar and two garages, completing an ultimate retirement property that provides comfort, space and modern living.
€ 490.000 ($579,523; £431,984)
A common aspect of this month's crop of possible retirement properties is that some are tucked away in quiet, peaceful surroundings. That's a great temptation for anyone looking to escape the former hustle and bustle, and this restored country house in a private and peaceful area above the Ambra valley is no exception.
The inside of this old stone house does require renovation completion. An advantage for retired couples or individuals is that the interior structure of the house can be adapted to specific requirements.
Once the renovations have been completed, then this is a good catch with some stunning views in and around the property. There are around 3ha of grounds, which are divided into meadows, forest and an olive grove, which boasts around 100 well-kept and around 30 scattered olive trees.
€ 330.000 ($390,291; £290,928)
This value for money property will tick many a box for a potential retirement property. It's been recently renovated, and offers a fresh, modern living space. The interior offers some innovative design flourishes, such as the exposed beams made from olive tree wood.
The apartment comes fully furnished, so if you're moving from abroad, transferring your old furniture won't be a problem. The furniture is part of the package which also includes two decent sized bedrooms, bathroom with shower, and open plan living room. There is also a cool cinema/TV room which boasts surround sound: an ideal entertainment facility to catch up on some of those old movies that you haven't seen for a while.
Outside, there is also much to keep you entertained, including a garden, a terrace, a cantina, a solarium, and a barbecue to keep guests entertained on sunny days. On the subject of which, there is also a small but functional wooden built house that comes with the property, comprising a double bedroom and bathroom, which is perfect for staying guests such as friends or family.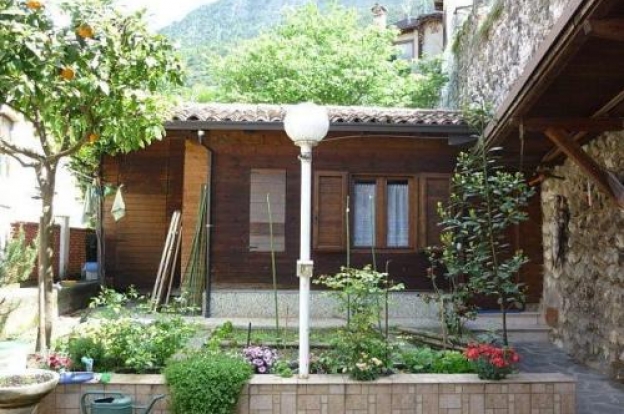 € 490.000 ($579,523; £431,984)
Part of the condominium, 'Villa Verdi' (which was built in 1960), this apartment gives you a stylish and homely place to enjoy your retirement in comfort. It's situated on the first floor, and comprises a number of design styles and influences from art nouveau décor to herringbone pattern hardwood floors. The rooms are spacious and bright, and from the lounge, you can make your way towards the outside balcony where you can relax, enjoy the views, and soak up the sun.
The condominium is close to the local amenities, with the city centre only a walk away, along with vineyards and promenades also perfect for a visit.
Topic:
You may also be interested in...