John Bensalhia looks at some notable property investment opportunities situated in or around the beautiful Italian mountains...
There's something to be said for investing in property near the mountains. If you have the money, and an interest in running accommodation for keen tourists, then investing in property in or near to mountains is a no brainer.
The amazing scenery of Italian mountains not only make for a spectacular view (imagine drawing the curtains in the morning to look out to amazing scenery), they are also a good location for sporting activities. Whatever the weather, mountains provide the ideal backdrop for walking, cycling, and of course, in the current climate – skiing!
Here then are 10 properties in or around Italian mountain locations that are currently for sale. Investments in properties of this kind make for shrewd business opportunities. What better than to come to a cosy chalet or hotel to enjoy a holiday in Italy?
With ski season here, Badia is the base for this renovated chalet. It's close to a hugely popular ski resort which offers more than 500 km of interlinked slopes and first class ski facilities.
The building is only a stone's throw away from the tourist destination of Corvara which you can reach in minutes by car. It's also close to Brunico town and the capital, Bolzano. And what could be better than having the backdrop of the Dolomites' Sassongher Peak?
You actually get two buildings for the price of one. Restored to a high standard, these two rural buildings are now perfect to run as modern, luxurious places to stay. What used to be a farmhouse and an adjacent hay barn have now become superb residential quarters with plenty of amenities.
Starting with the converted hay barn, this now hosts the master apartment with a good share of bedrooms and bathrooms. Spread over three floors, one of the main selling points id the large scale living room which gives way to a balcony that looks out to an amazing view of the panorama (that includes views of Sasso Croce and Gran Risa Slope). The kitchen and pantry are also impressive, containing first-rate amenities such as Miele kitchen appliances and wood-fired brick oven. A wine cellar can hold plenty of stock and there are also plenty of relaxation amenities including spa/sauna, jacuzzi and multi-sensory shower.
The farmhouse includes three individual apartments that range in size between 61 and 78 square metres. Each one offers good sized rooms such as double bedrooms, living quarters, kitchen, storage area and bathrooms.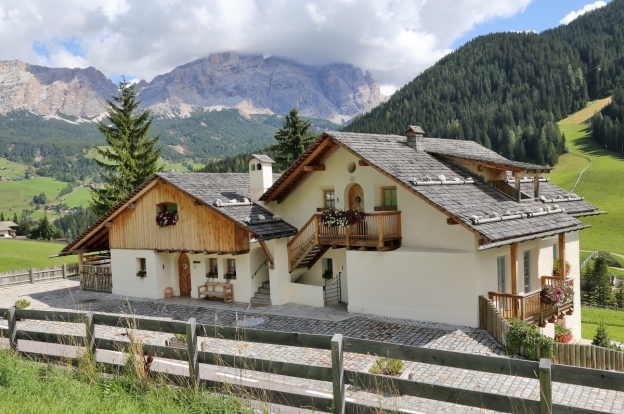 This fine country home was originally built in 1985 and was subsequently restored and finished in 2003. It's a top quality chalet base that's based around the mountains of Limonetto. It's surrounded by local and national parks in the heart of the skiing area of the Riserva Bianca. Skiers can look forward to traversing more than 80km of ski slopes.
The town of Limone Piemonte is close to the tourist destination of Limonetto and is around five minutes drive away. A notable boon of this chalet is that skiers can reach their destination with ease. A chair lift passes in front of the chalet, making for a convenient way to go back and forth from a day's skiing.
The chalet is located on the top of a small hill that's well protected from the potential risks of avalanches, landslides and flooding.
Open the doors and you'll be greeted by a strong range of facilities that will delight and comfort any visitors. There is a good selection of bedrooms, bathrooms and a fully equipped kitchen and bar area. A health and fitness area boasts a steam room, shower space and comfy sofas to unwind in after a day on the ski slopes.
The chalet is finished to a high standard and is a pleasing mix of old and new furnishing and design styles. The chestnut floors of bedrooms, beamed ceilings and locally made lamps combine to create an atmosphere of comfort and style. There's also a garden to look out to which contains its home-grown spices, herbs and local plants.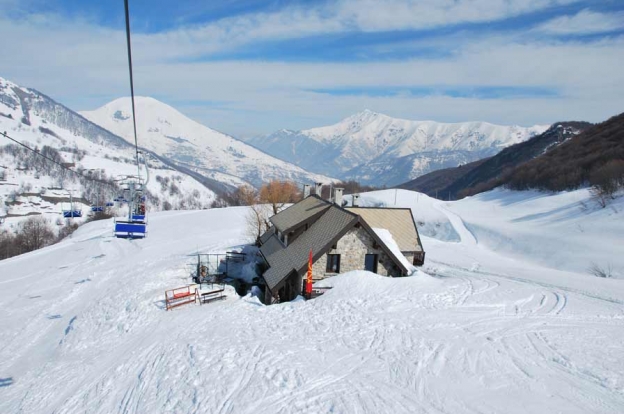 Maso Bagnaga is packed full of "storybook charm", a building that traces all the way back to the 16th century.
This chalet can be found in the natural park Adamello in the municipality of Caderzone Terme. There's a fabulous landscape to be enjoyed. The chalet is near to Madonna di Campiglio with ski slopes accessible by snowmobile. It's also worth checking out the nearby lakes of San Giuliano and Garzone.
All in all, it's the perfect location for those who want to get back to nature as the chalet is based in 7000 square metres of woodland. The building itself is also very special indeed, containing lashings of rustic charm with beam ceilings, wooden floors, stonewalls, a country-style kitchen and an open fireplace that guests can enjoy after a cold day out. They can also warm up in a spa jacuzzi bath.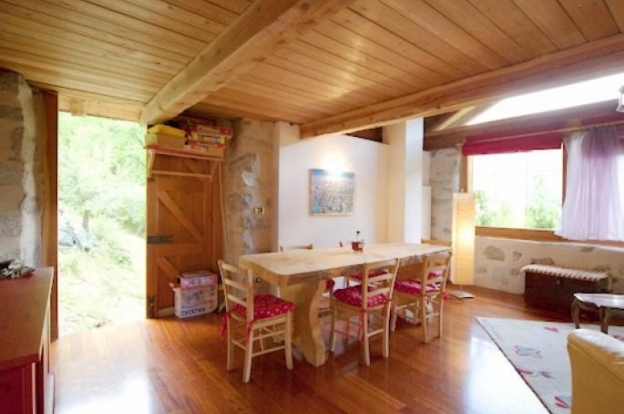 There's a great deal of potential to be had with this detached house in Alta Badia. The package includes the main accommodation building, a large barn, a garage and also an alpine building (which requires restoration work done to it but there's the chance to turn it into a separate facility zone for a spa or fitness area).
For convenience, it's unbeatable. It links up with other ski lifts of Alta Badia and is 500km away from the connected pistes of the Dolomiti Superski area. It's also just a walk away from the village centre and is only around 8km away from Corvara and close to San Cassiano and Brunico.
The main building holds court to separate apartments spread over a number of floors. The building also houses stacks of other amenities and rooms including office, reception area, cellar, utility/boiler room, ski storage and a communal patio. This is another good example of carefully chosen designs and furniture, with the wooden floors, carpets, drapes and curtains all in tune with each other.
There is also room for storage space in the barn which can be used as a place to keep all the tools and materials for apartment and ground maintenance. On the subject of the grounds, the house and its buildings are located in around 10 hectares of land, seven of which are woodland and mountain pasture. Beautiful surroundings to be enjoyed by all!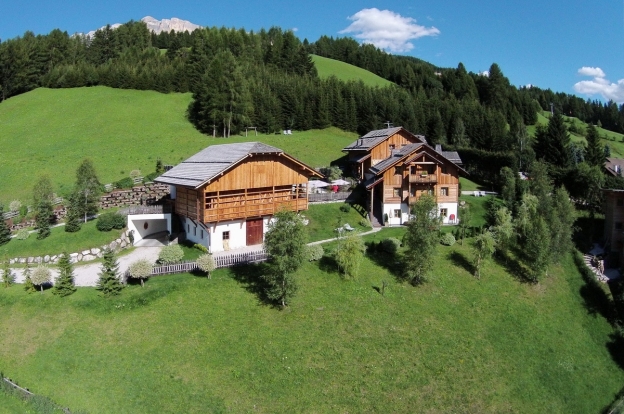 Chalet Campiglio takes its name from the nearby ski resort. It's to be found in a beautiful natural environment with woods and meadows making for a suitably lush place to welcome guests. There are more than 16 hectares of land surrounding this chalet and visitors can enjoy some amazing views of the surrounding woods and the Brenta Dolomites.
Chalet Campiglio was created out of a 16th century mountain hut and today stands tall as a fine example of hospitable accommodation. It comprises three levels and a loft. It's in excellent condition and provides a welcoming, traditional atmosphere.
Among the facilities dotted over the three levels are bedrooms, bathrooms, a rustic alpine-style dining area, a large lounge with old fireplace and changing and storage rooms. There are special areas for recreation and relaxation (which includes its own sauna) as well as a utility area that includes a pantry, laundry room and storage for skis and mountain bikes.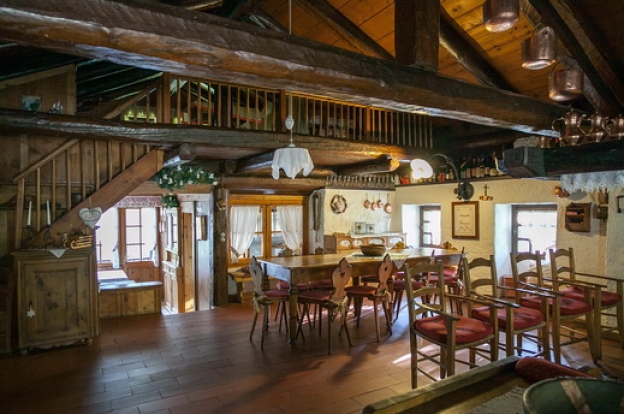 VILLA, San Vigiglio di Marebbe
Promising a slice of high quality living, this villa is a good investment if you're looking to bring a bit of luxury into visitors' lives.
The villa is situated in a quiet spot that's within walking distance from the village of San Vigiglio di Marebbe. Around 200m from the villa are the cross country ski trails – lifts to Plan de Corones are also only 50m away.
Spanning four levels, the villa includes a good number of generously sized bedrooms, bathrooms and storage areas. The designer kitchen allows any budding chefs the chance to whip up a feast with its own modern equipment and built-in appliances. Guests can also chill out with special facilities such as an infra-red sauna and a jacuzzi bath.
Want to be king or queen of the castle? Well here's your opportunity with this sumptuous castle dwelling that's near Lake Garda.
Built on top of a rock, the castle looks on to some wonderful views including the lake and the surrounding mountains. The woodland surroundings make for a peaceful base, although it's close enough to amenities and town.
The dwelling comprises a two-part property: the original 12th century castle and the younger 16th century castle. While this property can be used as a lavish private home, it's got enough rooms and facilities to be a boutique hotel. There are some good sized bedrooms, a 270 square metre salon and all the necessary amenities including electricity, water supply and telephone lines. The outside spaces also include unique selling points such as an old well and a small church that itself includes its share of paintings and frescoes, all kept in very good condition.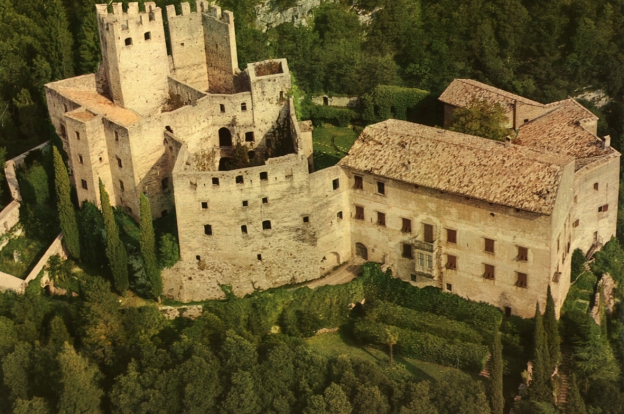 Originally, this delightful country house was a castle with its own watchtower. From the tower, you could see the hills all the way to the Sibillini Mountains. Today, the house makes for a neat accommodation investment with a healthy mix of fine views and plush facilities.
The tower has been fully restored and turned into high quality modern accommodation. It's still possible to appreciate the stunning views of the rolling hills and the snowy Sibillini Mountains. Although the original stones and external look have been retained, this destination has still been updated with a modern slant to take on energy saving and contemporary facilities.
There are four floors in total and contain en suite bedrooms, bathrooms, lounges and a designer kitchen. Eating experiences here are boosted by the chance to look at the great views on offer. The large dining room's French windows lead to a courtyard that overlooks a valley – and there is also an outside eating area.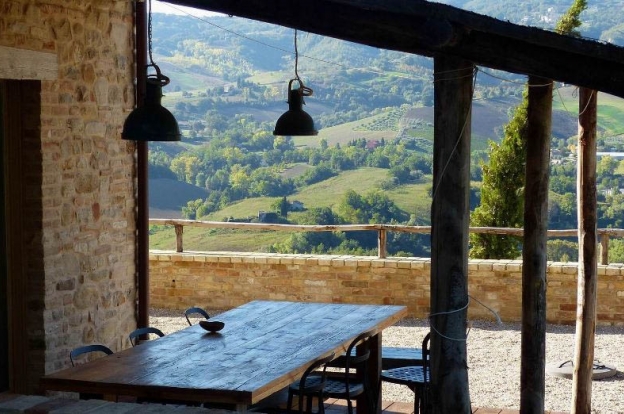 This newly built villa is situated in the residential area of Padenghe Sul Garda in Brescia. It's less than an hour away from the nearest ski destination and is also close to the local village centre.
Finished with a keen eye for detail in an elegant country style, the villa is afforded some extra privacy thanks to a vista of green gardens and olive trees. The building features three floors worth of stylish rooms and some notable outdoor goodies including a stone paved outdoor area, terraces and a swimming pool.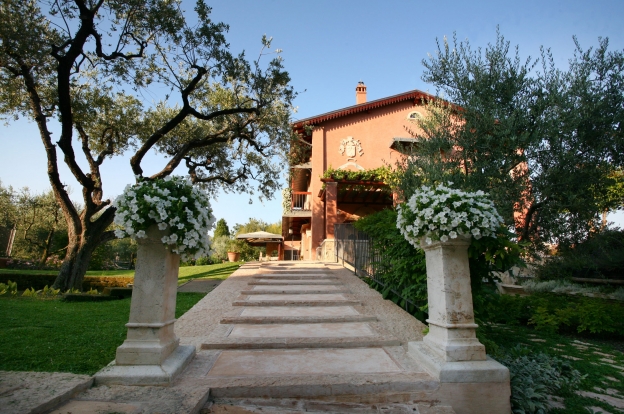 ALPINE WELLNESS HOTEL, Cervino Valley
This one has much potential in the Winter seasons. The hotel is less than 30 minutes drive away to 360km of ski runs. The building itself is in superb condition and has been restored to tip top condition.
The hotel covers four levels and is jam packed with excellent quality rooms including bedrooms and bathrooms, a bar and living room (with its own balcony). Some great food and drink facilities will cater for all guests including kitchen, restaurant, breakfast room and a wine cellar. A special area has also been created to ensure tranquillity and well-being. Here you will find an indoor swimming pool, gym, massage room and a Turkish Bath.
That sense of peace and calm extends outside with the beautiful surrounding meadows. All things considered, with its stylish, peaceful ambience, this wellness hotel will make for a very good investment in the trade.