ItalCasa Real Estate Agency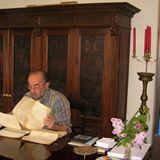 ItalCasa works in assisting you in buying and selling properties in the Italian regions of Tuscany, Le Marche and Umbria. ItalCasa is dealing specifically with farmhouses, farm-estates, villas and prestigious properties, both restored and to be restored, in the countryside of these regions.
ItalCasa offers, in your own language, support and advice along the whole route from choosing a property to renovating it.
Phone Number:
+39 3386310620
Address:
Via Barbanti, 148
61045 Pergola PU
Italy