Ed., March 21, 2023: We're re-sharing this article as it was originally published in 2020, since Gennaro Sangiuliano and Asta Vrečko, culture ministers of Italy and Slovenia, respectively, convened on Monday to discuss forthcoming projects for the European Capital of Culture 2025. Gorizia and Nova Gorica will share the title.
Few non-Italians have heard of Gorizia, a city of around 35,000 residents that straddles the Italian-Slovenian border. A beguiling mix of Italian, Austrian and Balkan influences, it seems to exist in its own whimsical snowglobe, cut off from the rest of the country. Despite its fascinating history, beautiful architecture and unique cuisine, the city has struggled to brand itself in Italy's saturated tourist market.
But Gorizia's brand is its very uniqueness. A city that — more than any other — exemplifies the complex history and cultural ambiguity of Italy's border regions.
History of Gorizia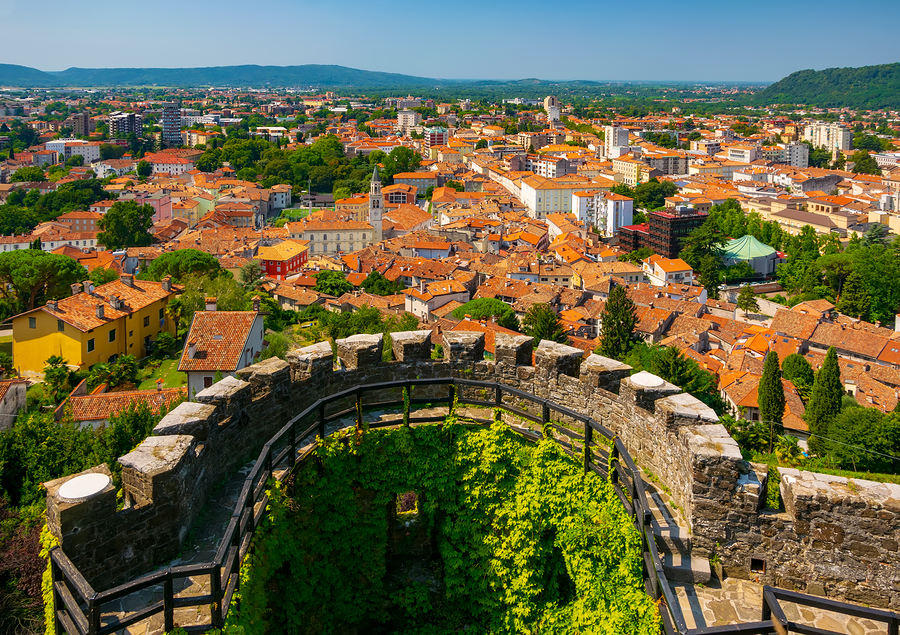 Originally a small hill settlement guarding the entrance to the strategic Vipava pass, Gorizia grew under the Austrians who adorned it with elegant Habsburg architecture and promoted it as a holiday town for European aristocracy (its balmy microclimate is said to have curative properties). 
On the border of the Latin, Germanic and Slavic worlds, it was a myriad of cultures, languages and identities that defied easy explanation. Captured by Italy in 1917 after some of the most brutal battles of WW1, its large Slovene population suffered persecution under fascism, while its Jewish population was wiped out in the Holocaust — a haunting Jewish quarter and synagogue remain.
After WW2, the town was divided in two between Italy and Yugoslavia; the Cold War border running through houses, streets and most evocatively, a square — Piazza Transalpina — which was only reunited in 2004. These days the city celebrates its multicultural heritage through its architecture, food, culture and its relationship with Nova Gorica — the brash "new city" built by Tito on the Slovene side of the border.
Sights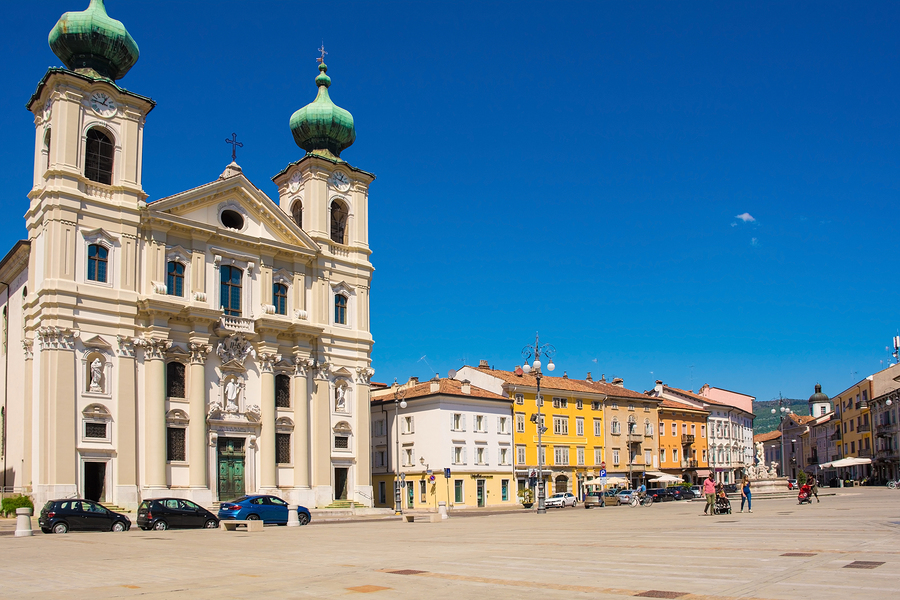 Much of the pleasure in Gorizia derives from soaking in its colorful mishmash of influences, faded aristocratic ambience and charming, workaday atmosphere. There's a darker side here too — memorials to the First World War which so damaged this region and its people are everywhere, providing a surreal contrast to the serenity and easy-going feel of the city today.
Start in Piazza della Vittoria, an attractive square of softly coloured buildings, among them the Church of Sant'Ignazio, whose white baroque façade topped by two green onion domes sets the tone for the eclectic mix of cultures that awaits you. Miraculously unscathed during the wars, it's worth popping in to admire the expansive interior, with six side-chapels spilling out from the pulpit, each with a uniquely designed altar.
From there, make your way up Via Rastello, one of Gorizia's most beautiful streets. You could tell a history of the city just off the names of the shops here — Fuchs, Kosic, Montagner, Carlotto — that evoke something of the cultural melange of the city.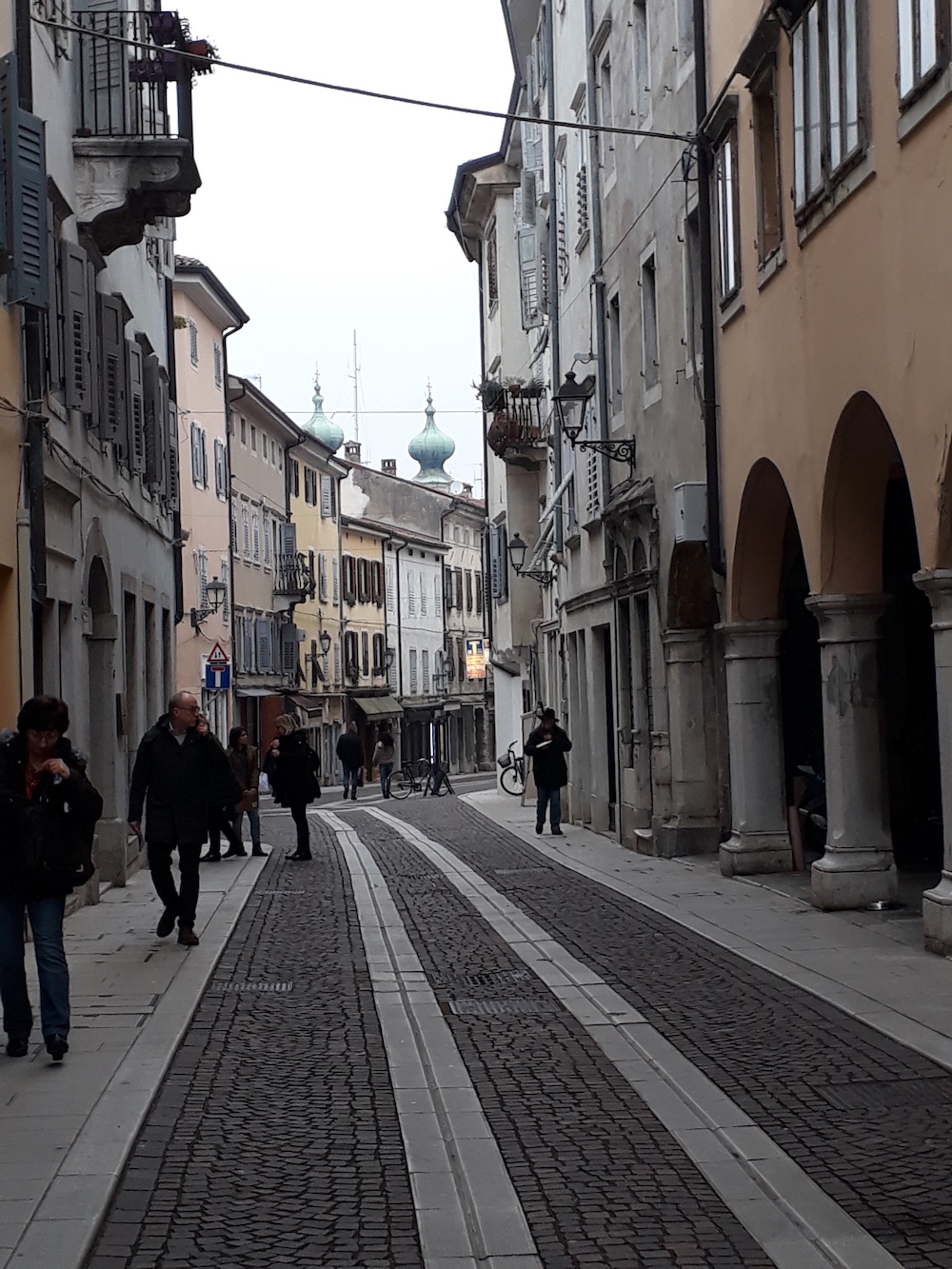 Narrow side streets lead you into Cocevia, Goriza's evocative old Jewish quarter. Once an integral part of the mosaic of the city, the community was almost totally destroyed during WW2. A few minutes' walk away on Via Ascoli, the city's impressive synagogue testifies to the wealth of this once great community. Recently restored, it now hosts a museum telling the moving story of "Little Jerusalem on the Isonzo."
Follow the street uphill into the Castle of Gorizia. Within the castle walls, a small borgo with houses, cafes and shops seems to exist blissfully unaware of the city below. This is the 'original Gorizia' - still ticking along - from where the Austrians expanded the city into the plains below. The view from up here is staggering. Due to the curvature of the hill, you can usually see more of Slovenia than Italy, although where the border actually lies is never entirely clear.
Within the castle lies the Museo della Grande Guerra. Between 1915 and 1917, the hills around Gorizia saw some of the most brutal fighting of WW1. Gorizia itself was mostly evacuated in 1916 and suffered large scale destruction. Despite casualties of around 1.7 million, the Isonzo Front (named for the river that runs just west of Gorizia) remains relatively unknown outside of the countries involved. 
Even if you're not particularly interested in WW1 history, this is a moving and thought-provoking exhibit that helps put the city and the surrounding region in context. Ultimately the theme of the museum is not one of 'victory' but of the futility and senselessness of war.
For a taste of Gorizia's more recent history, make your way to Piazza Transalpina. When Gorizia was ripped in two after WW2, Yugoslavia insisted on keeping the city's railway station as it was an important stop on the Bohinj line which covered most of what is now western Slovenia.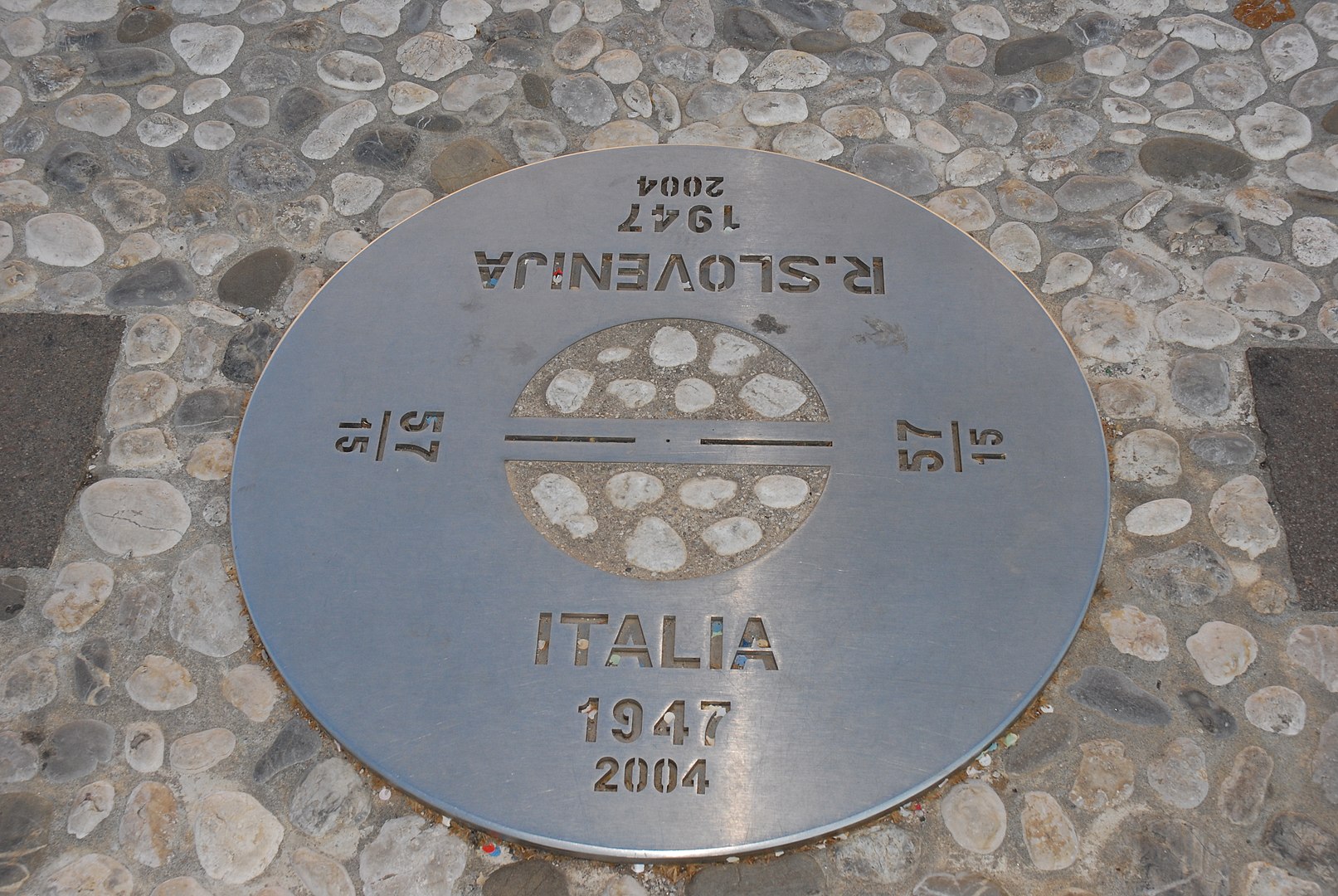 For much of the Cold War, Piazza Transalpina was a heavily fortified border zone, with barbed wire and military patrols. Even as relations between Italy and Yugoslavia thawed in the 1960s, the square remained physically divided until Slovenia joined the EU in 2004 and the border fence was removed. 
Even then, it was only when the country joined the Schengen Area in 2007 that free movement within the square became possible for the first time in 60 years. Nearby, a poignant photo exhibit charts the square's turbulent history, while happy-go-lucky tourists take photos of themselves with one foot in each country.
Back in the city centre, take some time to visit some of the city's showpiece buildings. Palazzo Lantieri, a gorgeous 14th century mansion with porticos and a lovely garden, was converted into a hotel during the Austrian period; Goethe and Casanova both wrote fondly of their stays here. It's still a hotel today, though you can also book a private tour to see its eclectic interior, where Renaissance frescos by Marcello Fogolino sit incongruously beside modern art works by the likes of Janis Kounellis.
Not to be outdone, Palazzo Coronini Cronberg, a luxurious 16th century compound which briefly hosted the exiled French King Charles X, is full of artwork and antiquities amassed by the eponymous family over the centuries, including paintings attributed to Rubens and Bernardo Strozzi. 
It also has a five-hectare public park containing a surreal mix of flora, including bamboos, cypresses, Himalayan cedars and even palm trees, which survive all year round thanks to the city's mild climate. Perhaps the most striking building is Palazzo Attems Petzenstein, located just off Piazza della Vittoria. 
Built in a bombastic neoclassical style, it harks back to a time when Gorizia was a city of cross-cultural prestige. Its picture gallery hosts a modest collection of works by Giuseppe Tominz, Tullio Crali and others. While in town, keep an eye out too for the Viennese Secession buildings of Max Fabiani, the mercurial (and controversial) architect who spent his final years in Gorizia. A quirky statue of him stands opposite the city's tax office, which he designed. 
Day trip ideas from Gorizia
Oslavia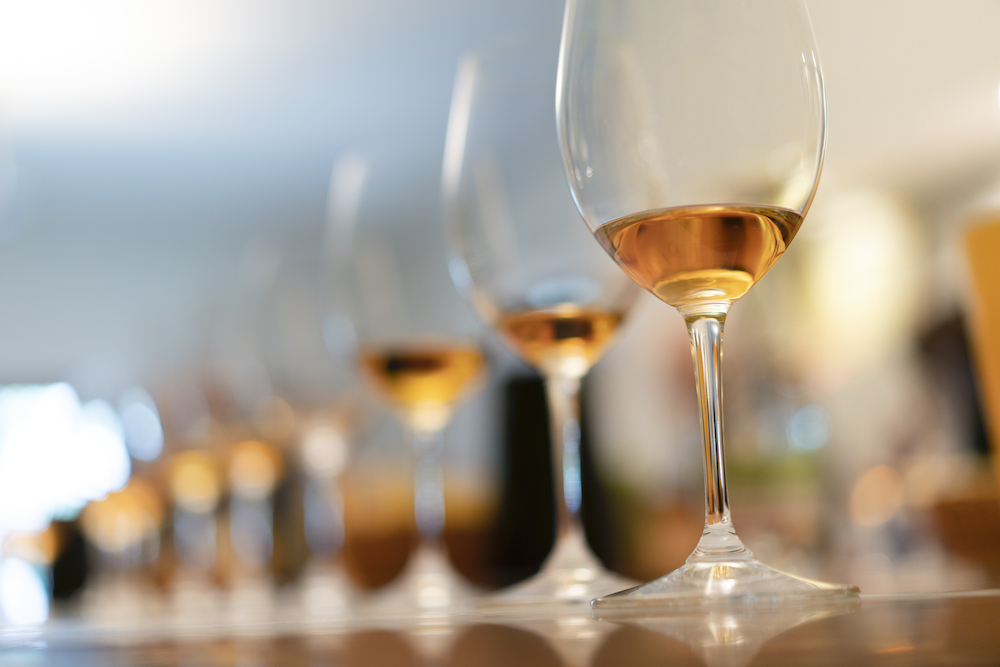 Perhaps Gorizia's most prominent contribution to Italian cuisine comes in the form of its wine, with the Collio Goriziano being one of Italy's most sought-after DOCs, and the region being touted as mini-Tuscany by those in the know.
Strewn thinly atop a narrow hill overlooking Gorizia, the village of Oslavia is synonymous with wine, and has recently earned international attention for its Ribolla Gialla, an amber or "skin-contact" variety whereby the grape skin stays in contact with the juice for an extended period of time during production. The result are wines that often combine the color and texture of a white with the deep flavor of a red. 
Martin Fiegl's family has cultivated wine on these hills since the late 18th century. At the entrance to his winery, he shows me a collection of First World War artifacts: photographs, insignia, even old weaponry. It seems like an odd start to a wine tour, but for Martin the story of the First World War is inextricable from the story of Oslavia. Bombs disfigured the landscape and forced the villagers into exile. But they returned and rebuilt, and this instinct for survival and growth, as well as a deep connection to their land and traditions, is what continues to motivate them.
Today there are seven family-run wineries in Oslavia, whose members are more than happy to show you around their vineyards and share their passion for the winemaking process.
To organize a tour or tasting, contact one of the seven Oslavian wineries here. If you don't have a car, the wineries can arrange a pick up from Gorizia. Radikon winery offers bed and breakfast if you wish to stay the night.
Exploring Goriška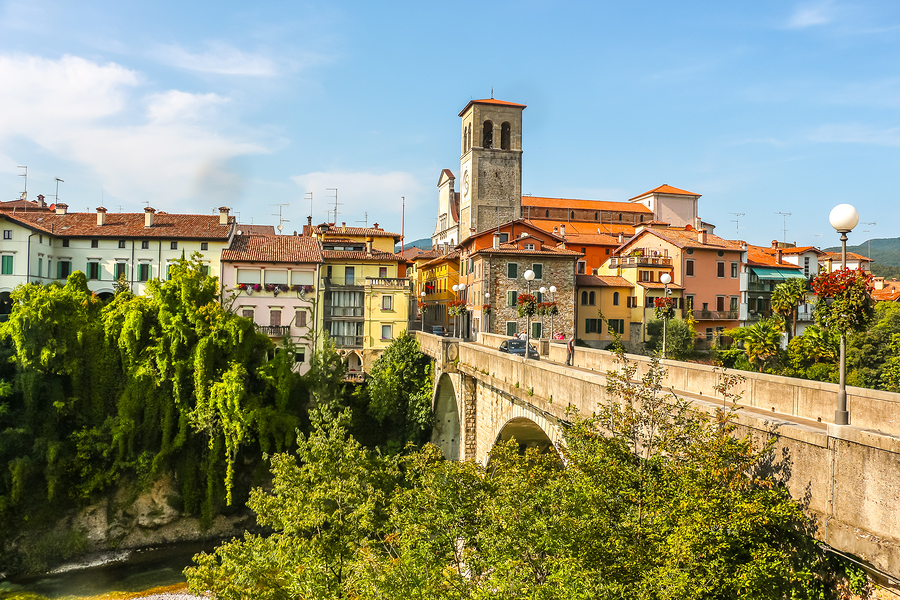 An enjoyable day trip by car can take in much of the old Habsburg County of Gorizia and Gradisca, which existed between 1754 and 1919. Known today as Goriška, it's a particularly evocative part of rural Habsburgia, following the valley of the Isonzo/Soča river, surrounded by the jagged Julian Alps and encompassing some of Slovenia's loveliest villages. A historic melting pot, the scars of the First World War are visible here too, though glimmers of multicultural nostalgia continue to linger.
Cross the border at Nova Gorica and drive a few minutes to Solkan, a traditional clifftop village that is now largely integrated with the city below. Take some time to admire the Solkan Bridge - an engineering marvel when first built in 1906, it's still the longest stone arch railway bridge in the world. Keep following the river north and the landscape becomes more and more alpine, with dark green mountains falling into the deep blue river and scattered villages that seem to emerge from nowhere. 
One of them — Kanal ob Soči — is one of the most photographed villages in Slovenia, with an impressive bridge and a mishmash of Gothic, neoclassical and neo-Renaissance architecture. Tolmin, the only real town in the region, has an attractive position in a large plain caused by the confluence of the Soča and Tolminka rivers. Further north, Kobarid is another lovely village with a sad history. It was here that the Italian Army was nearly obliterated in the 1917 Battle of Caporetto, famously chronicled by Ernest Hemingway in A Farewell to Arms and documented with much sensitivity at the village's award-museum. 
At this point the road curls back towards the Italian border. For a while it looks like you're being led straight into the mountain, until the narrow Natisone valley appears, slicing through the Julian Alps like a long tendril. The Italian side of the valley is one of the most beautiful drives in the region, with its looming mountains like waves ready to crash into you. 
Eventually the geography softens and you emerge into the Friulian plain, where you'll hit Cividale del Friuli, with its historic devil's bridge and signs that greet you in the town's four historic languages (Italian, Friulian, Slovenian and German). From Cividale, the road back to Gorizia cuts through peak wine country, where the pancake flat plains of north-east Italy meet their sudden end at the Gorizia hills.
Where to eat and drink in Gorizia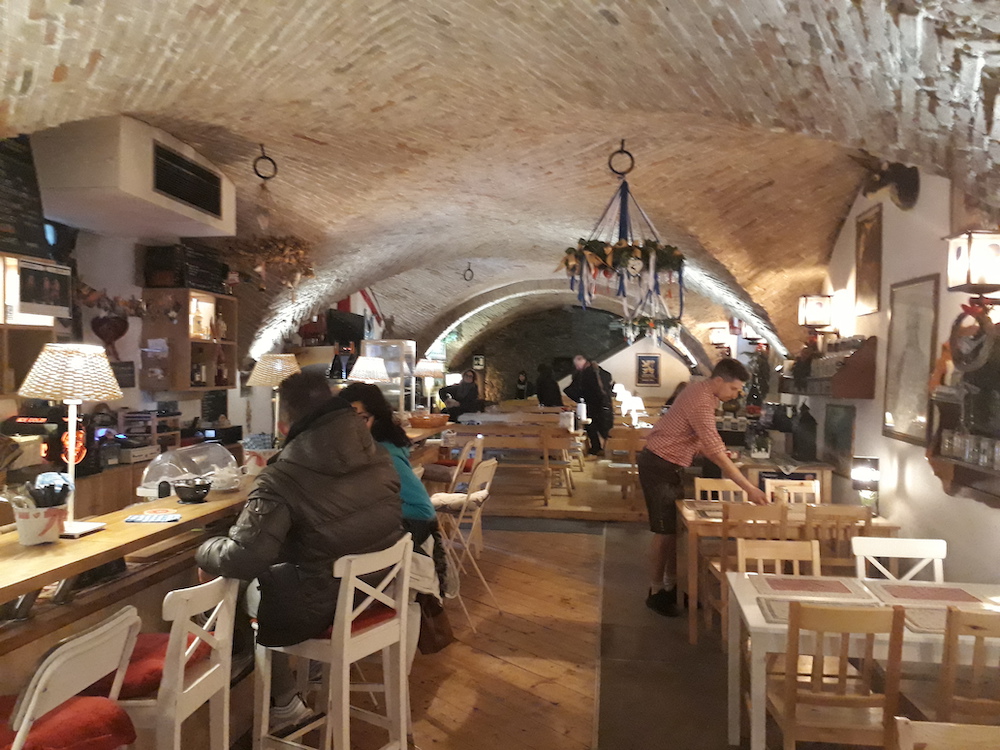 If you thought you knew what Italian food was like, then you're in for a shock. Gorizia's cuisine is like nowhere else in Italy, a confident and unheeding swirl of Italian, Balkan and central European influences. The result is something that is often strange, but always interesting.
Trattoria La Luna is symbolic of the Gorizia experience — an Italian restaurant where waitresses in Austrian dirndls serve you Balkan staples such as cevapcici and ajvar. The menu, which runs to about 12 handwritten pages, is stuffed with local delicacies and the charming Mitteleuropa atmosphere is unforgettable.
Antica Osteria al Sabotino specialises in seafood (we're only 18km from the sea after all). It's also a great place to try biechi — the local variety of tagliatelle — served here with a cinnamon-spiced rabbit ragu.
 
Plush Rosenbar was a popular haunt for turn-of-the-century revolutionaries and maintains an old-fashioned atmosphere with some seriously good coffee. Their food too is superb; quirky local treats like plum-stuffed gnocchi alongside some exquisite seafood pasta dishes.

Austria-Hungary lives on (in spirit at least) at Bierkeller, where one of the dishes is literally called Frittata dell'Imperatore (Omelette of the Emperor). There's also Tyrolean-style canederli and beer-soaked goulash. One may question the logic of eating goulash in Italy, but as the manager explained to me, "Every goulash is different and Gorizia goulash is not like the others."
Where to stay in Gorizia
Gorizia doesn't have a wealth of options. Those with cash to splash might enjoy following in the footsteps of Goethe and Casanova and opting for the extravagant Palazzo Lantieri. Otherwise, a good — if less regal — option is Best Western Gorizia, located close to both the city centre and the railway station. The friendly, multilingual staff are more than happy to discuss the city and its complex history.
There are also agriturismo options at the Radikon winery in Oslavia, which has a simple bed-and-breakfast setup where you can combine your stay with tours and tastings at the village's vineyards.