Friuli is a place for all seasons. It has attracted the attention of writer Ernest Hemingway who wrote of the wonders of Lignano Sabbiadoro. Its quiet charm makes it an ideal place to retire to, with its beaches and greenery. But it is also a place that has plenty to do and one that attracts visitors, whether for traversing ski slopes or relaxing on the beach. Here is our selection of properties for sale for every budget, affordable family homes to luxury dream villas, browse a new life in Friuli. 
€700,000 ($764,820; £593,390)
In the heart of Trieste is a wonderful building that dates back to the 19th century. This is where you'll find the luxury penthouse, which is currently for sale.
Since this is all about retiring, it's worth pointing out two things about this apartment. One is that you'll need to bring your furniture, since this apartment comes unfurnished. The other is that this is a top floor apartment, so may not be so suitable for the elderly or infirm.
But if you're fit enough and looking for a suitable Italian home for your furniture, then this apartment has plenty going for it. One is the central location. Because it's in the centre of Trieste, the penthouse is close to many amenities and popular locations such as the main square Piazza Unità d'Italia, the seafront, and also the promenade, Molo Audace, a spot where the Trieste inhabitants – or 'Triestini' – enjoy going for a stroll.
Another plus point is that the apartment has been restored to perfection. It is set on two levels, and comprises an entrance hall, lounge (including a corner kitchen), a master bedroom (containing its own en-suite bathroom), a separate bathroom, and storage space. There is also another bedroom on the top level, which comes with its own amazing views of the town and gulf of Trieste.
With such a lovely apartment up for grabs, your family will be likely to want to come and sample its delights. With that in mind, the transport links are very good, with strong motorway, rail and air connections – the international airport is Ronchi dei Legionari.
€4,000.000 ($4,370,400; £3,390,800)
Otis Redding once extolled the virtues of sitting on the dock of the bay. If you also like watching the tide roll away, then this first class villa is well worth consideration.
The sea view is one of the big selling points of this villa. It faces the south-west side of the Gulf of Trieste, and the villa includes its own private dock where you can relax and bathe.
Retirement doesn't get more luxurious than this. Or spacious. The villa is located in a park of 3300 square metres: another enchanting locale to lose yourself in. As for the villa itself, it spans a good number of floors and also includes an independent apartment.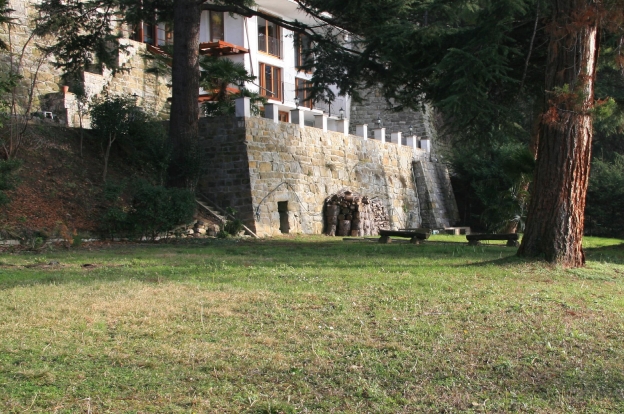 Villa with sea view, Duino, Aurisina
€2,200.000 ($2,403,720; £1,864,94)
This property also has close ties with the sea. Located in Duino, the villa has access to the sea with a small dock. It's also very close to the historical wonder of Duino Castle, the 14th century fortification that oversees the Gulf of Trieste. What else have we got close by? There is a charming marina, full of life and colour, as well as its own beach – just the place to be in the Summer season. If you want to eat and drink out, then there is also a nearby bar and restaurant. Parking facilities are also near.
While there are plenty of local attractions either to visit or relax in, your villa also contains much. With no less than three separate entrances, the villa is a superb building with plenty of outside space. The spacious private garden contains trees and also the potential area for building your own swimming pool.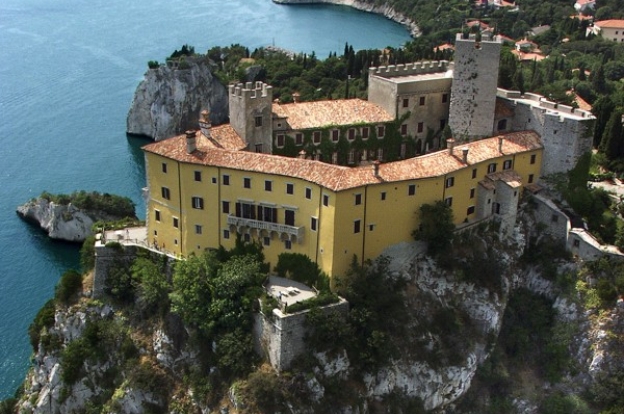 Villa, San Vito al Tagliamento, La Signoria
€3,000.000 ($3,277,800; £2,543,100)
With this splendid villa, you can have your cake and eat it. On the one hand, its location is conveniently situated, being near to both the motorway and to the coast. On the other, it has its own privacy, thanks to the large fenced park.
Richly designed with a strong flavour of Venetian architecture, this villa also comes with its own building that is currently used as an office. The office building is on two levels, as well as a mezzanine floor. This building can either be used for yourself. Maybe you want to keep the office for a little correspondence and day-to-day activities. Or maybe you could keep the office and hire it out – or convert it into a separate place of accommodation for family and friends (or use this as a source of income for a mini B&B).
The villa itself is generously sized over three floors (which comprises two levels as well as the 'tower' floor). There are two living areas – one each in the left and right wings of the house. The main one in the right wing includes its own fireplace. Other ground floor goodies are a big kitchen and pantry, a dining room, a study, a small bathroom, and also an entrance hall.
Six bedrooms on the first floor mean that there is plenty of room for guests. If you're looking to buy the property to turn into a B&B or hotel, this is also a boost. There are also four bathrooms and a private room inside the suite. Head on up to the top floor tower, and you'll be greeted by a large space that can either function as a lounge suite or a study.
While the property is in very good condition, it is advisable to take a look at some of the sleeping areas which do need a bit of extra work. Nothing major, but a bit of technical updating to bring it up to be a par with the rest of the building. For a bit of period design, this villa contains much to take you back in time. Decorated floors in Venetian style. Frescoes in some parts of the outside walls. Coffered ceilings. And don't forget the lush 3,000 sq m garden which features well maintained lawns and tall trees.
It's a lovely piece of history that can be yours, whatever you want to use it for.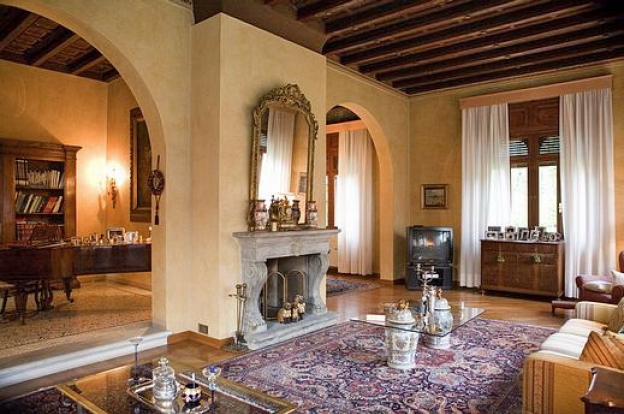 €311,000 ($339,799; £263,635)
This is another property that you can either enjoy in your twilight years (especially if you have plenty of family or friends) or take on as a business project. The main house was renovated in 1993, and there is also a rustic barn that can be converted for whatever use you want.
The main house spans two floors and an attic area. While the ground floor includes a hall and an office, the first floor plays host to two 112 square metre apartments. Both of these include a bedroom, a lounge, a kitchen, a bathroom, as well as its own hallway. Oil heating and satellite TV are also included in the package.
Part of the attraction is that the property is near to a fair number of amenities including a spa, ski resorts and Lake Cavazzo. As mentioned, if you're looking for a hotel or B&B-style business to run in your retirement, then this could be a shrewd investment.
€156,000 ($170,446; £132,241)
While this isn't the largest of properties in this month's selection, it's just the job if you're looking for a decent-sized apartment at a good price. However, like the first example in the list, make sure that a third floor apartment isn't a problem for you.
The apartment boasts a good sized lounge, a fully fitted kitchen, three bedrooms, two bathrooms and also two covered terraces (as well as the greeting entrance hall). You also get a garage and your own parking space, and for odds and ends which won't fit in the apartment, there is a storage room on the ground floor. You've also got gas central heating and air conditioning.
Both the ski resorts and the sea are within easy reach from this apartment, and it's also close to the airports of Trieste, Venice and Treviso.
€390,000 ($426,114; £330,603)
Writer Ernest Hemingway once referred to Lignano as the "Florida of Italy". Hemingway wrote about the wonders of the region in his book called 'Across The River And Into The Trees', recalling the beauty of the landscape, the forests, the bays and the lagoons.
If you want to sample the joys of Lignano Sabbiadoro for yourself, then now's your chance. A lovely terraced house has come on the market in a quiet residential area. It's close to the beach, so that you can follow in Hemingway's footsteps, and it's also near to the city centre.
So what have we got here? A good number of levels. The lower ground floor has its own fireplace and pizza oven, as well as garage and storage space. There is also a bathroom with shower and laundry.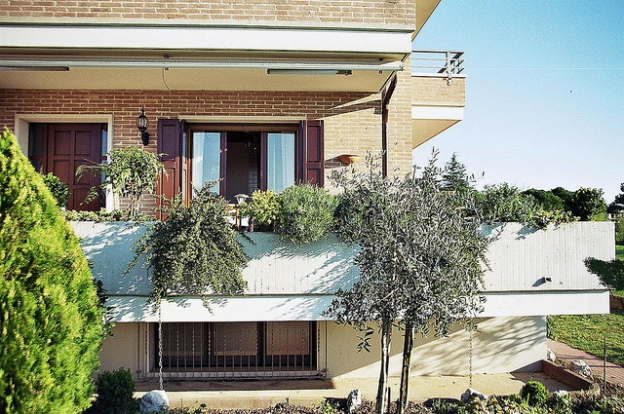 Moving on up to the ground floor, there's a lounge with a south-facing terrace, a kitchen with gas stove, and an adjacent terrace to the garden. Three bedrooms can meanwhile be found on the first floor, as well as a bathroom with its own tub. The super views can be enjoyed from each of the bedrooms, which look out to the sea. Even better is the view from the top attic room, which looks out onto the lagoon. It also has its own double bed and a bathroom containing its own shower.