"We're going to Butterfly Land," announced my husband. "We're going to photograph butterflies in Bordano."
Butterfly Land? Had my husband been suddenly struck with Peter Pan syndrome? And Bordano? Where on earth was Bordano? It was not my idea of how to spend a weekend.
A Town nestled in the Mountains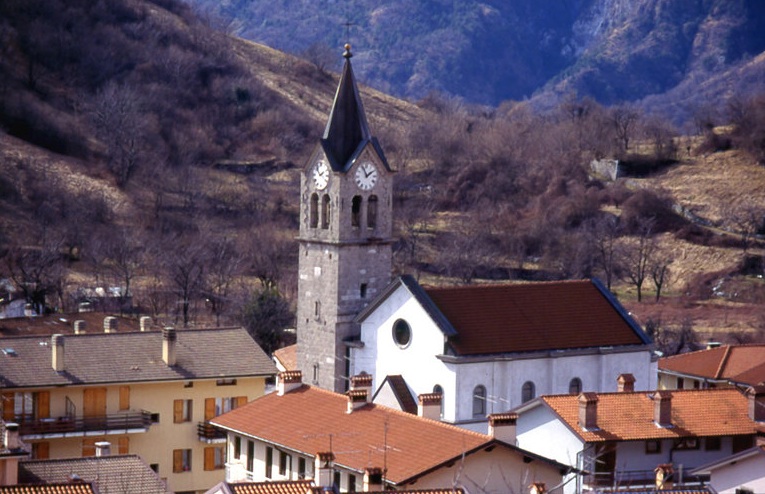 You won't find Bordano on a general map of Italy, only on the more specific regional one, and the region we are talking about here is Friuli Venezia Giulia, in the north-east of Italy, part of the Austro-Hungarian Empire in the 19th century. To reach Bordano entails going through Udine and it is worth stopping over for a quick visit.
Nestled between Monte Festa and Monte San Simeone, Bordano was the scene of some of the worst battles on the Italian-Austrian front during the First World War. Right at the top of Monte Festa is a fort which still bears testimony to the War.
And it was on Monte San Simeone that our butterfly adventure began. Apparently this mountain and the surrounding area, including the small towns of Bordano and Interneppo, have a special microclimate where numerous species of butterflies thrive.
This used to be known to only a handful of scholars around Europe who would come and study them, until an enterprising mayor, Enore Picco, decided to put Bordano-Interneppo on the map. During the 1980s, Picco and a journalist friend wrote a book about the beauty of the area and about this peculiar richness: butterflies, pavees as they are called in the local language which derives from Latin.
From that moment Bordano became known as the Butterfly Town.
In 1995 Picco came up with another brainwave: murals.
In the summer of 1996 the first mural contest took place as artists from all over Italy, and some foreigners too, flocked to the town to demonstrate their free interpretation of a single theme – butterflies.
This contest still takes place, though not always in the form of mural painting; some years it is poetry, short stories or other art forms.
Enchanting Murals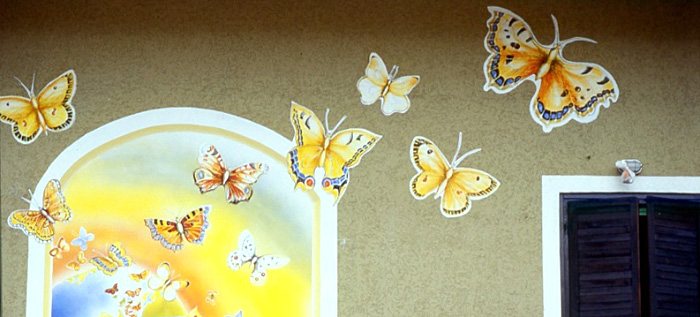 This area is a corner of paradise with that peace and tranquility that only mountain towns have. The tiny town strikes you immediately for its cleanliness and the colourful terraced houses, brand new because this area was totally razed to the ground during a massive earthquake in 1976.
The population - proud, independent and hardworking mountain people - did not wait for the state to intervene but started to rebuild straight away.
The murals are spread out over the two small towns (Interneppo lies three kilometers from Bordano up a winding mountain road) and their beauty is simply enchanting.
As you arrive in Bordano it is like opening up a book of fairy tales: all the walls are covered in multi-hued, vivid murals and there are different stories at every turn. There are fairies playing with butterflies in a delicate fantasy world, knights in shining armour, battles on both sea and land and country scenes depicting farmers working in the fields while butterflies flit around, or local craftsmen at their trades.
More Surprises
Branching out from the streets in Bordano and Interneppo, there are paths where it is possible to closely observe these creatures in their habitat in absolute silence, a rare experience these days.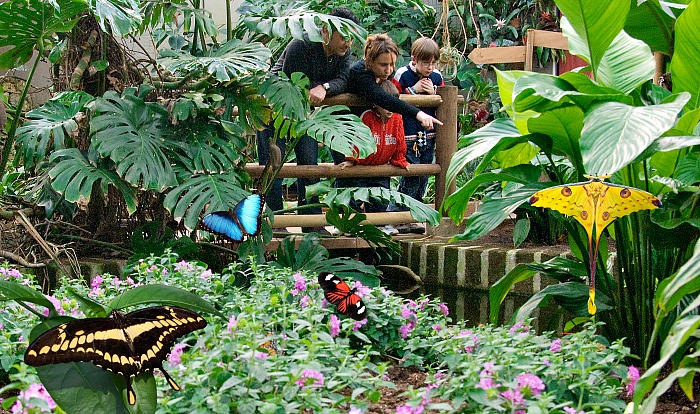 The Butterfly House of Bordano houses a real universe dedicated to the insects where they can be studied, observed and admired as they get along with their lives. There are three large greenhouses which recreate tropical Africa, the Indo-Australian area and the Amazon basin.
Landscapes of waterfalls and little lakes with exotic vegetation have been recreated and creatures such as birds, lizards, fish and insects live freely, and are useful for biological control. Over 400 species of butterflies from all over the world can be admired, all in one day.
The only hotel, the Alla Terrazza, a small one-star family-run inn, where the food is glorious, is found at the end of Interneppo where another surprise awaits you: a lake!
Surrounded by mountains, Lake Cavazza spreads out below and the views are breathtaking. It's great for water sports like wind-surfing or you can just sunbathe or swim.
What had threatened to be a boring trip turned out to be one of the most interesting and incredible experiences of my life.