Ed.: The Inspired Stays series highlights hotels we love around Italy. Each property is independently reviewed by an Italy Magazine writer, who is generally hosted on a complimentary basis. Our contributors do not accept compensation or gifts in exchange for specific types of coverage. We only showcase properties we would genuinely recommend overall.
Why we love it
Despite the luxury perks and five-star ranking, Chalet del Sogno never loses its sense of coziness — and that's thanks to its boutique dimensions, thoughtful extras and its family ownership. 
What to expect
Too often, five-star hotels can feel like hushed temples of luxury — stylish and posh to the max, but not necessarily...comfortable, at least not in that curl-up-on-the-couch sense of the word. Chalet del Sogno, an all-suites hotel in Trentino's Madonna di Campiglio, finds the balance between the cozy comforts of a family-run inn and the perks of a full-service facility. Expect an upscale ski chalet vibe coupled with the hominess of a rustic mountain lodge. 
Background
Built in 2006, Chalet del Sogno is the passion project of Alberto Schiavon and his family, who've lived in Madonna di Campiglio since the 1970s. The structure is geothermally heated and was built with natural, sustainable, toxin-free materials.
Location, location, location
The hotel is a five-minute walk from Madonna di Campiglio's town center, which has shops, plenty of casual restaurants and is buzzing in summer and winter high seasons. Snow sports enthusiasts will love the hotel's proximity to the Spinale cable car — it's literally steps away. The town sits in the middle of the spectacular Brenta Dolomites, which offer year-round recreation, big mountain scenery and swoony Alpenglow sunsets.
Where you'll sleep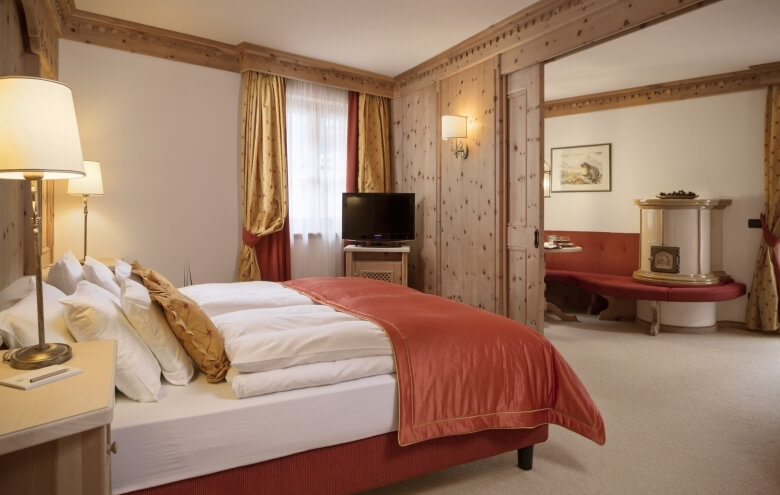 The 18 suites at Chalet del Sogno vary in size from a roomy 34 mq (365 sq. ft.) to a downright palatial 50 mq (538 sq. ft). All have wooden floors and furnishings, with chalet-style fabrics and decor, and all have balconies with views of the town or mountains. Sofas and a dinette table and chairs up the comfort factor. Bathrooms with separate toilet/bidet and shower areas are a nice touch for families. The overall feel is one of cozy warmth with a touch of high-tech modernity thrown in.
Dining & drinks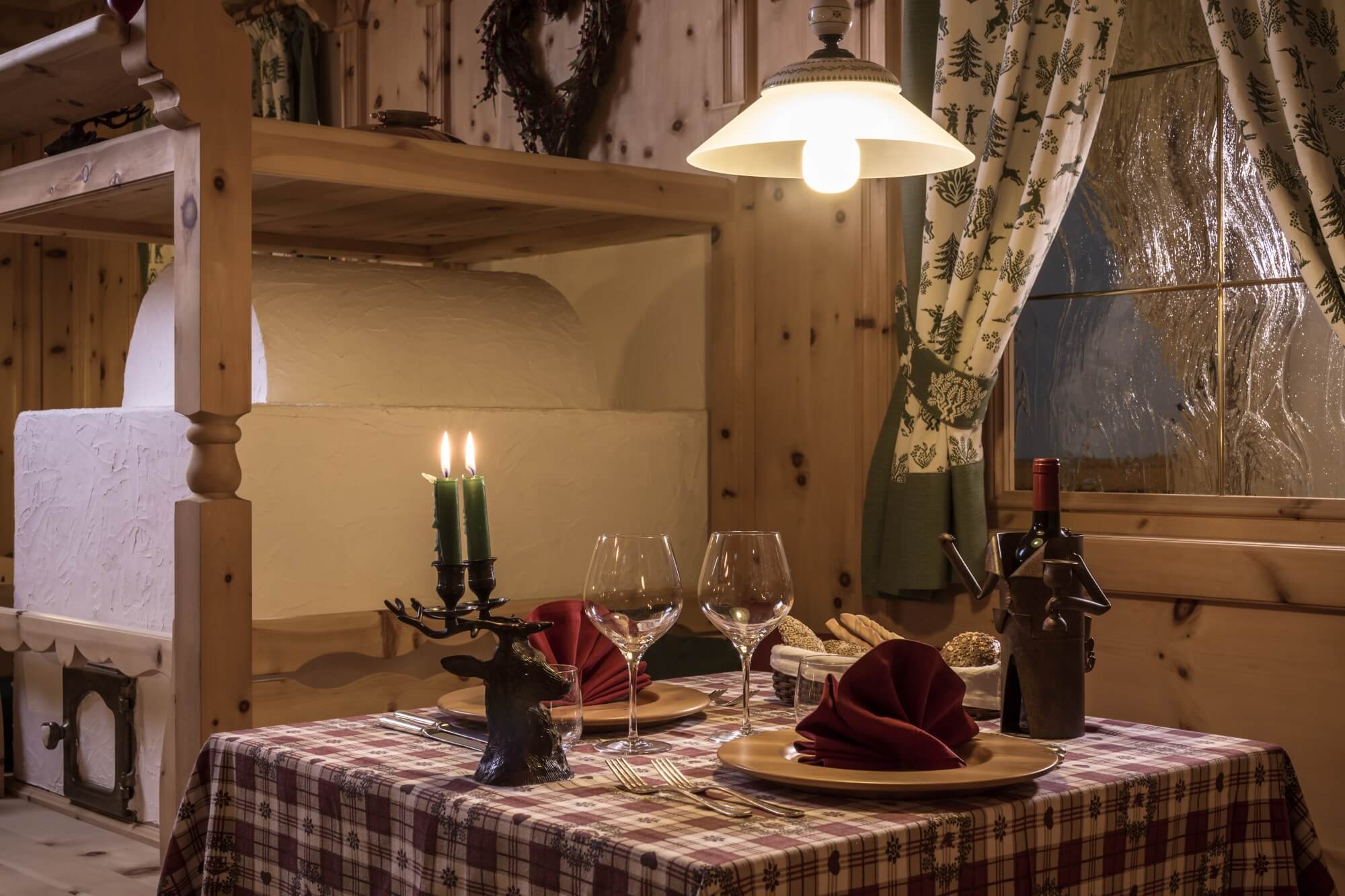 The hotel's fine dining restaurant, Due Pini, turns out artfully prepared, Michelin-caliber fare using locally sourced ingredients wherever possible. The wine list is curated by Schiavon, a trained sommelier, and includes plenty of excellent entries from Trentino-Alto Adige. Complimentary breakfast is served in a sunny dining room off the lobby and includes a range of healthy organic choices and hot items cooked to order. Drinks, desserts and light meals are available in the welcoming stube room.
Service notes
Chalet del Sogno is very much a family-run hotel and its service reflects that — it's warm, friendly and thoughtful, if not always seamless. For us, the key service notes were the availability of staff, especially the omnipresent Schiavon, to answer questions and help with any special requests. 
Spa time
For the hotel's size, its spa area punches over its weight. Amenities include an indoor heated pool with exercise equipment, whirlpool jets and a countercurrent, a jacuzzi, a steam room, a Finnish sauna and a sweet relaxation area with heated waterbeds. A small menu of treatments is available.  
Family perks
All suites have sofa beds and even the smallest units are well-suited to families. The pool is adjacent to the spa areas, so kids will need to splash around somewhat quietly. There's an excellent city park with a zipline and multiple jungle gyms, and nearby are several kid-friendly restaurants.
You should know
A former Olympian athlete, Schiavon is passionate about fitness and the outdoors, and keen to arrange excursions ranging from soft adventure to extreme sports — he may even accompany you and serve as your guide. 
The hotel closes twice a year, roughly from Easter to the beginning of June and from the beginning of October to early December.
Accessibility notes
The hotel has an elevator.
Features & amenities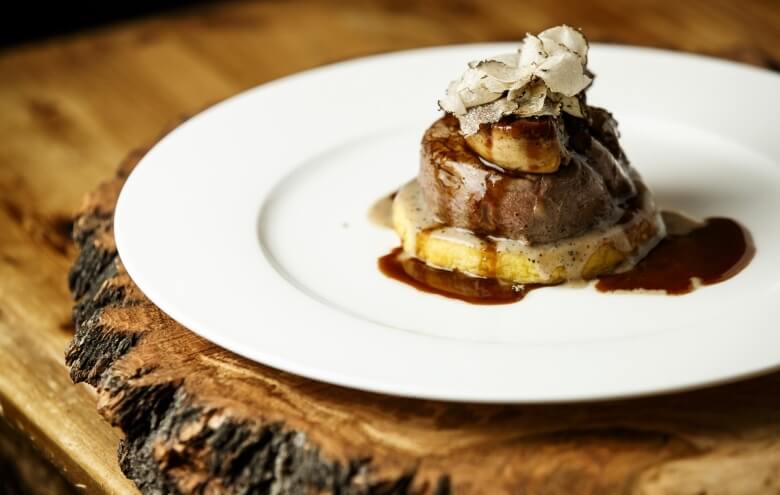 Semi-rural setting
Restaurant
Bar
Free WiFi
Free parking
Pool 
Spa
Fitness room
Pets allowed
Family-friendly
Contacts
Chalet del Sogno
Via Spinale 37b, Madonna di Campiglio
Tel. +39 0465441033
Website