Ed.: The Inspired Stays series highlights hotels we love around Italy. Each property is independently reviewed by an Italy Magazine writer, who is generally hosted on a complimentary basis. Our contributors do not accept compensation or gifts in exchange for specific types of coverage. We only showcase properties we would genuinely recommend overall.
Why we love it
Opulent but tasteful, the Savoia Excelsior Palace is a four-star bedrock of Friuli-Venezia Giulia's capital and most beguiling city, Trieste. Where some hotels of this size and stature can feel divorced from their surroundings, the Savoia Excelsior Palace's straight-on views of the port and many Mitteleuropean accents mean it's deeply integrated with the local landscape — and downright special to boot.
What to expect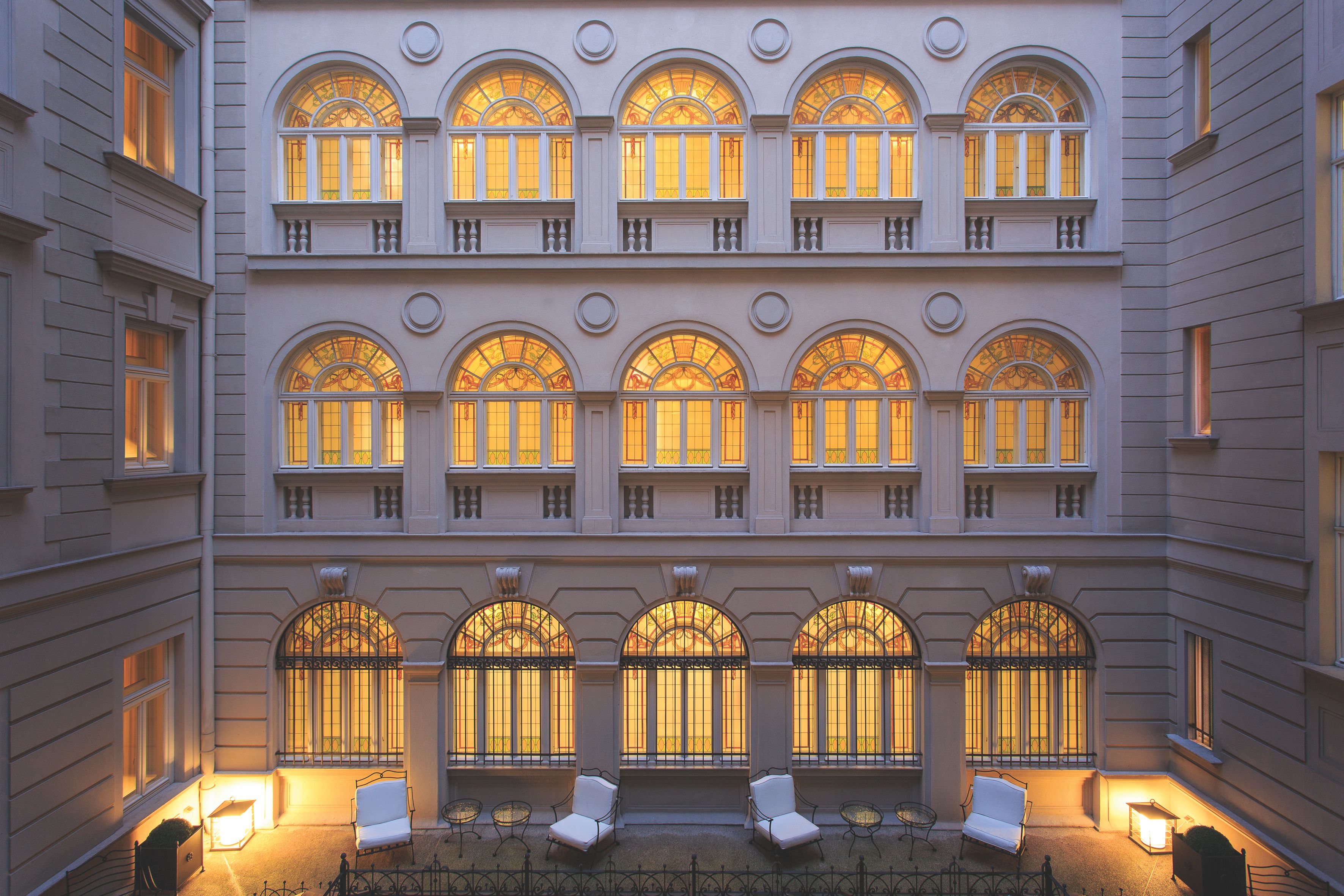 Inside, the hotel is expansive and ornate: stained glass windows, a scalloped lobby ceiling, a series of long and maze-like corridors. During my early-autumn visit, it was almost eerily quiet (calling to mind the "phantom-city" premise of Jan Morris' travel classic, Trieste and the Meaning of Nowhere). I stayed while a well-attended conference was taking place onsite, and was surprised to rarely cross paths with other guests, except at breakfast and in the lobby-area library; depending on your preferred liveliness level, this "grand ghost hotel" vibe could be a pro or con.
Background
Inaugurated in 1911 to welcome the Habsburg court on their visit to Trieste for the launch of the Viribus Unitis, the flagship of the Austro-Hungarian Navy fleet, Savoia Excelsior Palace's splendor reflects its elite origins and clientele. "Savoia" was added to its name for King Vittorio Emanuele III's ceremonial visit to Trieste in 1918; today, the hotel is under the Italian hospitality umbrella of Starhotels Collezione.
Location, location, location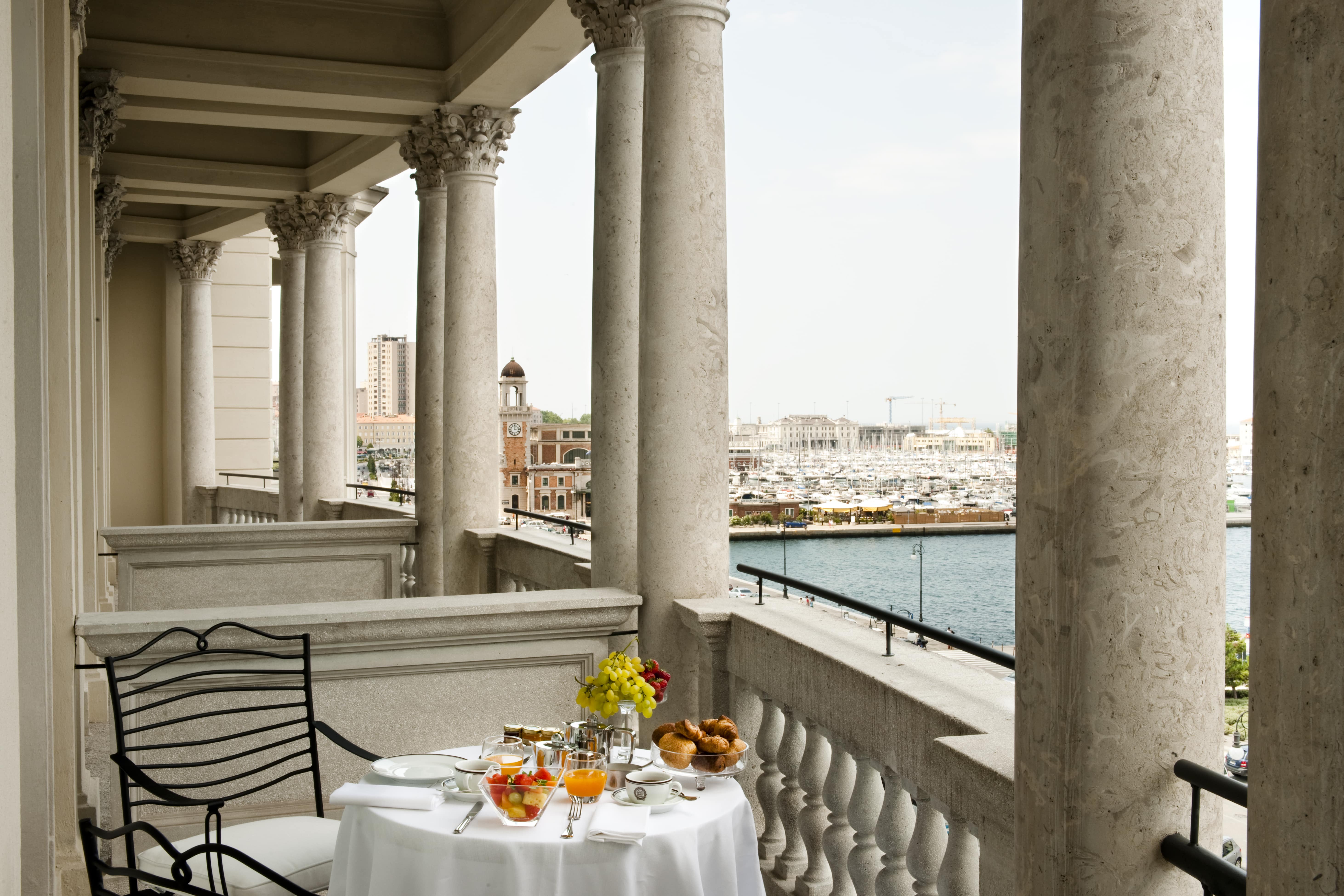 Here, not only are the old glories of Trieste at your doorstep, you're actually staying in one of them. (At the time of its opening, the Savoia Excelsior Palace was described as "the most important and luxurious hotel in the Austro-Hungarian Empire.") In present-day practical terms, you're within a three-minute walk of the spectacular Piazza Unità d'Italia, one of the largest seafront squares in Europe and home to the Caffè degli Specchi, a Trieste institution where Italo Svevo and James Joyce are known to have hung out.
Where you'll sleep
This is an old-school "Grand Hotel" in every sense, including the number of rooms (144), so both price points and amenities vary considerably. I stayed in a regular (non-presidential) suite with a striking (hardly regular!) view over the Adriatic and the Trieste Terminal from the bedroom's spacious balcony. Privacy on the balconies is limited (as the neighboring suites have adjoining ones, and all are street-facing), but with the sea and mountain views, you'll hardly care. My suite also included a separate sitting area, workstation and kitchenette.
Dining & drinks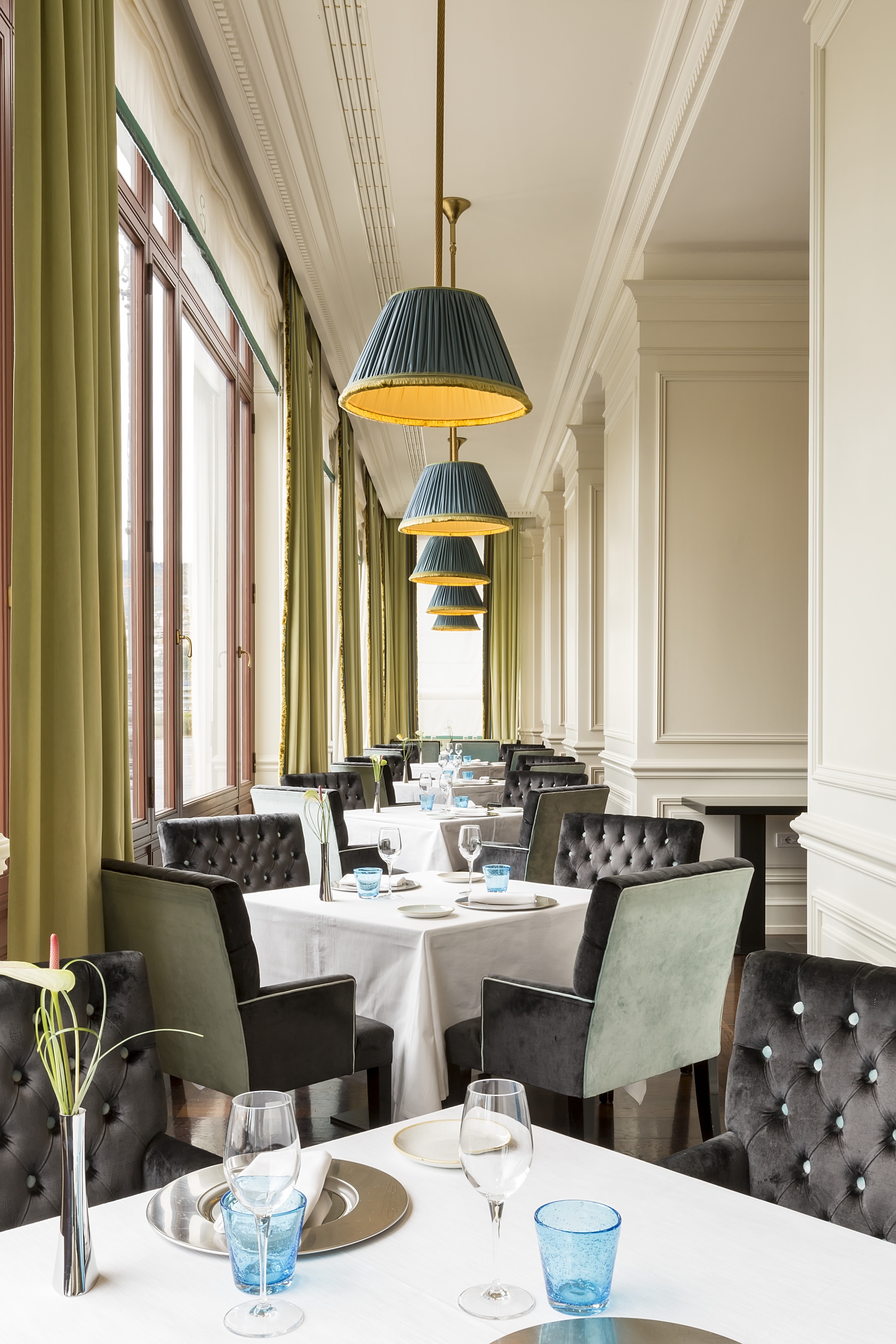 Breakfast, lunch and dinner are all served in the Savoy restaurant on the ground floor, which has wall-to-wall windows looking out on the waterfront. The breakfast buffet is generous and varied, but with seemingly few nods to local tradition. Dinnertime is when the executive chef (and Trieste native) Andrea Stoppari puts more of a triestino's spin on things. But if ordering again, I'd stick with an antipasto and a first course, as my sea bass was dramatically over-salted for a dish served with capers.
Service notes
A flurry of small but special touches keeps things memorable without feeling over the top. Guests enjoy charming surprises like little end-of-day pick-me-ups delivered to their doors, and room service is available 24 hours per day.
Family perks
The Starhotels brand offers a V.I.K. ("Very Important Kid") service for families traveling with children and teens under 16. These young travelers get a special welcome pack with tailored tips to enhance their stay in this enchanting but occasionally tough-to-crack city.
Accessibility
The hotel has an elevator.
Features & amenities
City setting
Waterfront
Seaside
Restaurant
Bar
Free WiFi
Fitness room
Family friendly
Pets allowed (for a fee)
Contacts
Savoia Excelsior Palace
Riva del Mandracchio 4, Trieste
Tel. +39 04077941
Website