Forget the 80s, Italian ski resorts of the 21st century rock! Find out what you need to wear, what the locals love to do and generally how to make the most of your Italian ski break.
Remember the 80s, when the only time Italians took skiing seriously as a sport was as spectators? Just as we now follow the fortunes of Ferrari in Formula One, they followed the fortunes of homegrown stars like Kristian Ghedina  and Alberto Tomba on the ski circuit. It is not that Italians did not like skiing but their attitude seemed more laid back when it came to snow sports.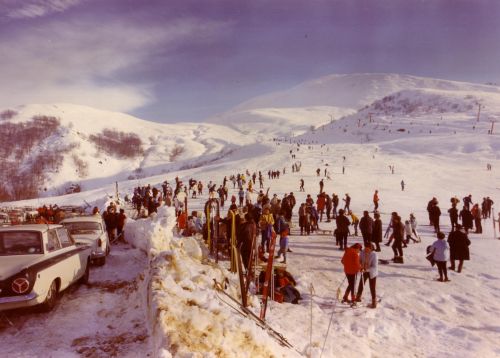 After all, for those who grew up on the Alps or the Apennines, skiing was just a part of everyday life rather than a sport to practice during the winter holiday seasons. While other Italians, like my family and friends, seemed content with a weekend of fun on the snow with great food and wonderful alpine sceneries. 
Back in those days, this  attitude meant that lifts were often slow and low capacity, they closed during lunch  time and no one really complained about the antiquated systems some lift operators maintained. I remember that the most fun we could hope for was a fight with fresh snow balls on the sunny terraces or sliding down on improvised sleds (literally carrier bags, baking trays, cafeteria trays, sheets of cardboard, etc!). 
Then came the 1990s and, with the Italian lira becoming weaker and weaker, suddenly Italy was a very competitively priced and attractive destination for skiers. The Italian Alps were finally 'discovered' by winter sport lovers from other parts of the world and many people switched from a winter break in France, Switzerland or Austria to one in the Dolomites or the Aosta Valley. In the meantime, more and more Italians had started to enjoy winter sports, though most, were still more interested in mountain sun tanning, just like my teenage friends and I.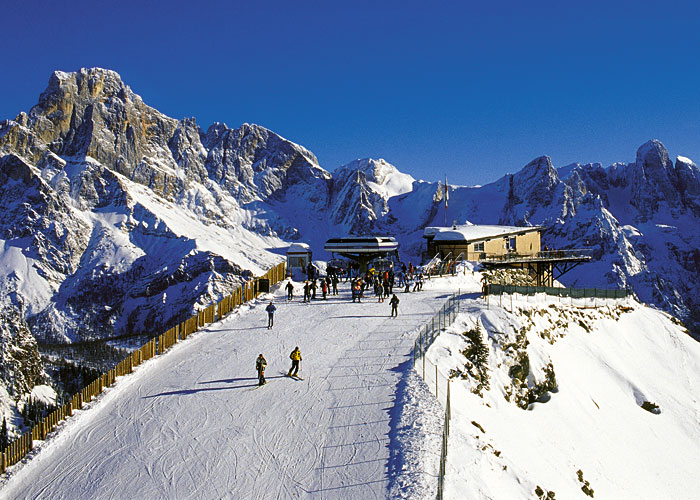 But  Italian ski resorts could not continue to compete on price alone. The lira would have not remained weak against other European currencies forever and the euro was on its way.  Italy's ski industry had to compete on quality  if it was to keep its new market position.
Hoteliers and restaurant managers started to upgrade their facilities while lift operators began to invest in reliable new, high speed, high capacity chairlifts.  Cable cars which run even at  lunch time and ski passes were introduced. 
Improvements and upgrades continue to take place and there is no doubt that Italian ski resorts are now competitive in terms of value for money.
Doing it the Italian Way
All these improvements are great news for the hardcore skiers (both Italian and not) - but at their core Italians are really creatures of comfort (and style). They tend not to travel too far for their skiing holidays, preferring to visit the resorts at the weekends several times in a season. Consequently the resorts, with few exceptions, are free of crowds during the week but can be packed at weekends. However, the fact that today most sky resorts meet international standards  does not mean that they have lost that essentially Italian flair.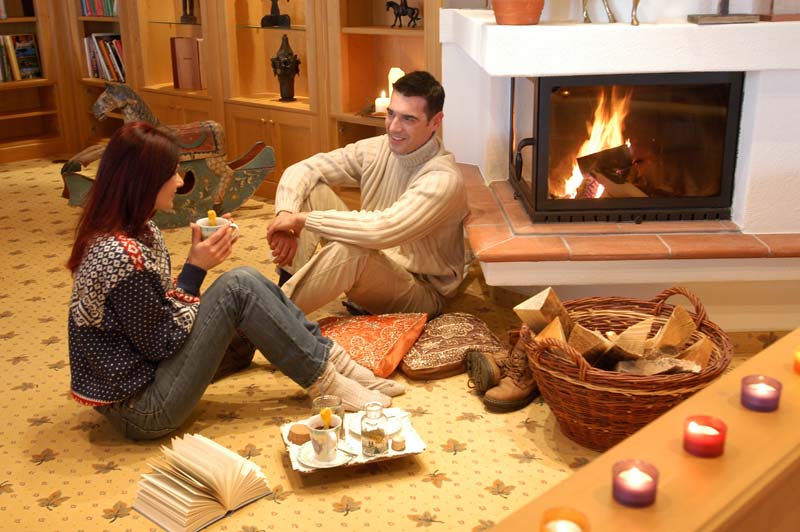 Dress to Impress on the Snow
The Italian sense of fashion cannot be left at home, so even on the slopes people dress to impress.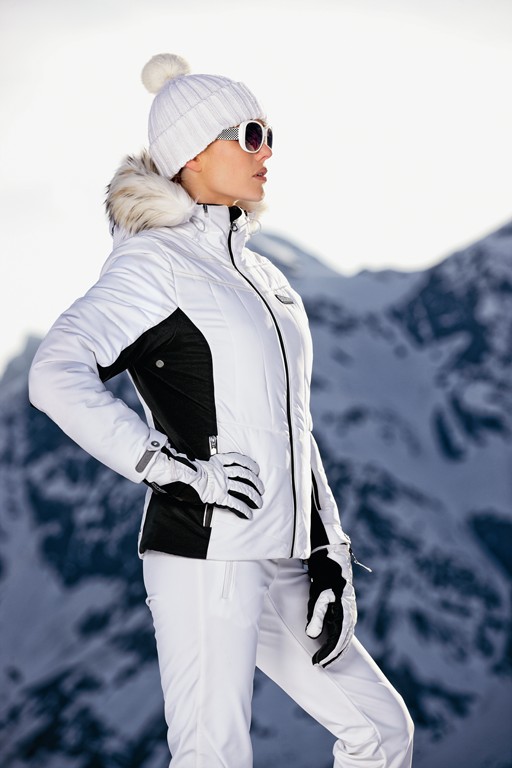 They choose clothes that are a cross between high performance and high fashion, from designer-label jackets, trousers, micro-fleeces to slick aprè-ski wear. After all, it's thanks to an Italian designer, Miuccia Prada, that the tube-shaped Michelin man is nearly extinct on slopes. In the early '00, Italian fashion house Prada Sport set the trend for a slimline silhouette which has now conquered us all. Accessories get the same attention, especially sunglasses, a key to the Italian mountain look both on the pistes and aprè-ski. 
As I often point out, while there is no doubt about the strong Italian sense of fashion, this should not make you feel stressed about what to wear. People are more focused on the way they look, rather than on what others are wearing, especially now that we are  more aware about the weight limits imposed by airlines which force you to pack wisely. 
Children and family friendly
Just as with any other holiday, for most Italians skiing is a family affair. There are a lot more families, sometimes three generations together, skiing on the slopes in Italy.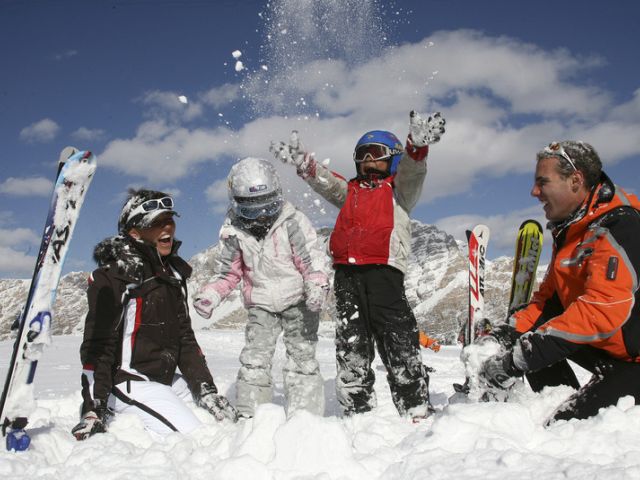 My parents, like many Italian grandparents,  often come along to enjoy the mountain atmosphere and play with my daughter on the sunny terraces cable car run or watch her slither and slide in the children's park with her friends. 
In the old days, this also mean that, resorts only had classes for children in the morning and did not offer options for those who wanted their children looked after all day, because there was no demand for it from the local market. But even  this has changed now as most resorts strive to meet the demands of  foreign clients. You can usually find play areas where children can enjoy themselves either on or off their skis. Some resorts have bouncy castles where people generally congregate.
More importantly, children's ski schools tend to use older experienced instructors, because it is believed that they need more care and attention. As a mother, when I took my daughter to her first ski lesson I felt reassured by their competence.  
When You're Not Skiing
I am sure many ladies will agree with me when I say that my  favourite moments are those spent at the spa. There is nothing better than pampering yourself after a day on the snow. Many  resorts now offer great Spa services with heated pools, aromatherapy treatments and massages. You can also just take one of the wonderful herbal teas they usually offer and relax on a chaise-longue with a good book or reading ITALY Magazine on your tablet.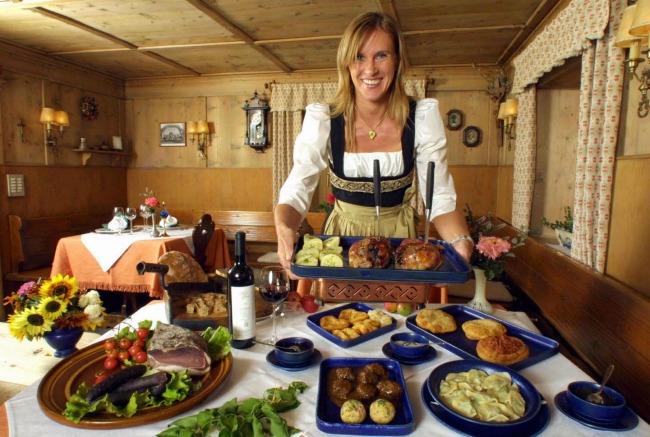 Just like anywhere else in Italy,  food is generally excellent! Lunch time is still a leisurely time for most Italians on the slopes and people want to sample local products, especially cheese and cured meat, and enjoy traditional recipes from canederli (bread dumplings) in the North East to a fonduta alla Valdostana in the North West. 
Shopping or window shopping is also a favourite pastime. You can buy anything from local food products, to the typical loden jackets or wooden tools, to a diamond ring. Resorts like Cortina d'Ampezzo or Madonna di Campiglio have incredible jewelry shops and high-end boutiques.  
The passeggiata, the typical Italian evening stroll, is also a must. Once darkness falls the streets of the resort will be full of people in their best mountain gears. So just join in and, remember, the best thing you can do to fit in with the local crowd is relax and enjoy yourself.