The Val di Sole or 'Valley of the Sun' is located in Italy's north, although you'd be forgiven for thinking you'd stumbled into Austria. Like much of Trentino, Val di Sole was part of Austria until the end of WWI and its residents still know more than a word or two of German.
Winter wonderland
Sitting pretty among the highest peaks of the Central and Eastern Alps, the Val di Sole is one of the Alpine valleys with the most abundant snowfall. So naturally, it's an extremely popular skiing destination with not only Italians, but plenty of other snow-loving Europeans.
There are almost endless kilometres of slopes to choose from, as well as a bunch of ski schools and rental stores, meaning everything you need is close at hand.
The Italians approach skiing with the same aplomb they apply to all of life's pursuits. They spend the morning on the slopes before tucking into a very hearty lunch at one of the many rifugi. Here you're served deer stew and polenta in a very good imitation of a Swiss chalet while the sound of people clomping around in their ski boots drowns out any conversation. After lunch, everyone retreats to the terrace to, as absurd as it sounds, sunbake and, more reasonably, drink vov, a peculiar liquor made from egg yolks and marsala.
The chicest slopes in the Val di Sole are at Marilleva, where the Scuderia Ferrari Formula One and Ducati Corse MotoGP make annual appearances.
When the slopes no longer beckon
In April, the ski resorts close and the Val di Sole devotes itself to its other love: nature walking or, more precisely, Nordic walking. You don't have to travel far in the valley to see clusters of devotees moving very briskly, aided by poles that seem far too big for them. Nordic walking is a whole bodywork out that consumes more energy than skiing or jogging. But you have to learn the technique first, which is why there are plenty of Nordic walking schools in the valley.
If you're looking for something more relaxing, head to the Stelvio National Park for a run-of-the-mill walk or hike, or simply explore the many towns and villages that dot the valley.
One of the most beautiful things about the Val di Sole is that it's so very unItalian. The locals are fair haired and long limbed. They are obsessed with every sort of outdoor activity. And their homes! Their homes are like something out of the Sound of Music. Forget the boring pastel-coloured palazzos that define the rest of Italy, homes in the Val di Sole are mountain escapes adorned with panels carved from dark wood. These panels depict mountain scenes and animals and, on the oldest homes, are accompanied by bright frescoes painted directly onto the facade.
Unwind and recharge
In actual fact, the name Val di Sole has nothing to do with the sun and everything to do with the Celtic god of water Sulis. It's a nod to the valley's abundance of thermal water, primarily located in Peio and Rabbi.
For about €20, you can spend the day in the Turkish baths, heated pools and saunas that define the area's thermal spas. These are usually adult-only refuges and the staff may insist you wear a swimming cap and thongs.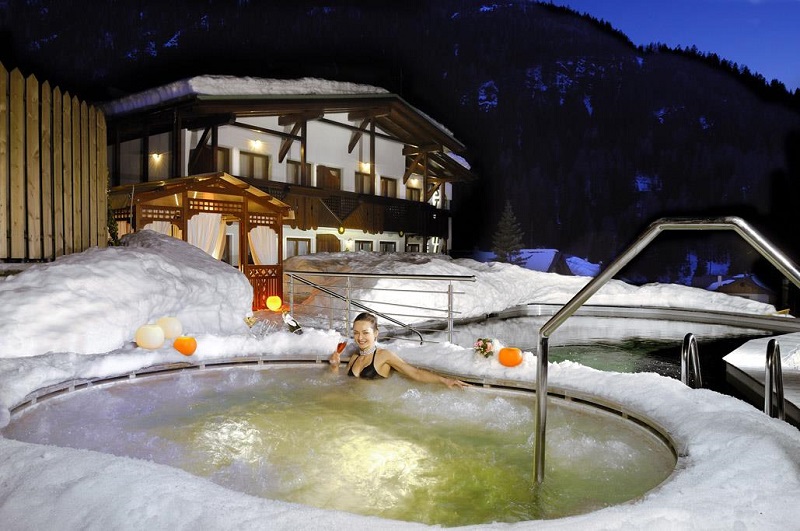 Photo credit: http://www.valdisole.net/
Otherwise you can relax at one of the hundreds of in-hotel spas. These are often open to both guests and non-guests. A word of warning. Since these spas are popular with visiting Northern Europeans, they can be quite lax about clothing. In fact, your fellow spa companions will most likely be naked.
The Val di Sole's thermal water isn't just for bathing in. Rich in carbon and sulphur, it's said to cure every ailment and the locals drink it by the glassful. The overpowering copper taste will take some getting used to though.
The cuisine
In a destination that looks, sounds and feels so very foreign, you can't help but expect something other than your typical spaghetti alla carbonara and the valley doesn't disappoint. It's Italy's apple growing capital and you'll find the fruit in everything from strudel to cider. It's also famous for its Casolet, a rich cow's milk cheese that's a great alternative to mozzarella.
As for a national dish, the Solàndri, as the valley's inhabitants are called, will never say no to a plate of canederli. These boiled dumplings are very popular in Central and East European cooking and are made from bread, milk and eggs. The valley sets itself apart from its neighbours by also including small cubes of speck, a type of prosciutto that's lightly smoked and cured. These dumplings are served in a light broth that's perfect for a winter's evening.
Canederli in brodo. Photo credit: http://www.natur-hotel-suedtirol.com/