Monument: Monastery of San Nicolò l'Arena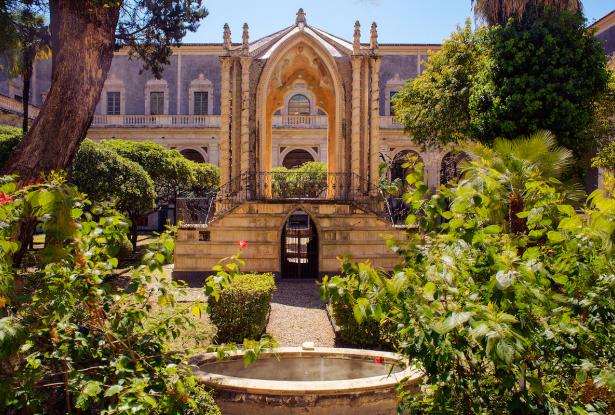 The Benedictine Monastery of San Nicolò l'Arena in Catania, Sicily, is one of the largest monasteries in Europe and a UNESCO World Heritage Site (as a part of Val di Noto World Heritage Site). It is the second biggest Benedictine monastery in Europe (the biggest one is in Mafra).
The monastery was founded in 1558 and today it hosts the Department of Humanities of the University of Catania.
The monastery complex is located in the historical centre of the city of Catania, with the church of San Nicolò l'Arena. It shows architectonical integration of many styles through different centuries. Although the monastery was founded in the 16th century, it was modified by two natural disasters in the 17th century. In 1669 the Etna eruption surrounded the city of Catania, widening the coast for more than 1 km, and the monastery too. So the monastery was not destroyed by the lava but the area around was completely modified by a lava bench 12 meters high.
In 1693 the earthquake of Val di Noto destroyed the entire east coast of Sicily and Catania. The monastery was terribly damaged and the only floor that survived was the basement.
In 1702 the rebuilding started and lasted until 1866 (when the new Reign of Italy confiscated the monastery). The original monastery was rebuilt on the top of the latter, and they added a new cloister (the eastern cloister) and a new area (the large part designed by Giovanni Battista Vaccarini) on the top of the lava bench.
Postal Address
Piazza Dante Alighieri, 32
95124 Catania CT
Italy
Other points of interest in Sicily