7 Fantastic Wines From the Region of Friuli
Pignolo
Let's travel back a little in time to the era of the Middle Ages.
In this period, it's said that the Pignolo wine was around even then. Originally, Pignolo wine was made in the Udine countryside. It's a wine that has had something of an up-and-down history. At one point, the Pignolo grape in danger of dying out, but producers from areas such as Rosazzo and Premariacco fought to save it.
But today, Pignolo stands tall as a tasty red wine that contains elements of cherry flavour. The grape can be identified as small, circular and black, and this wine can be matured for future consumption.
This drink can be found at the vineyards of Abbazia di Rosazzo. The abbey's wine cellar is one of the oldest in Friuli, and you can enjoy a guided tour here. If you want to make a real stay of this 11th century piece of history, you can stay in one of the building's 14 rooms.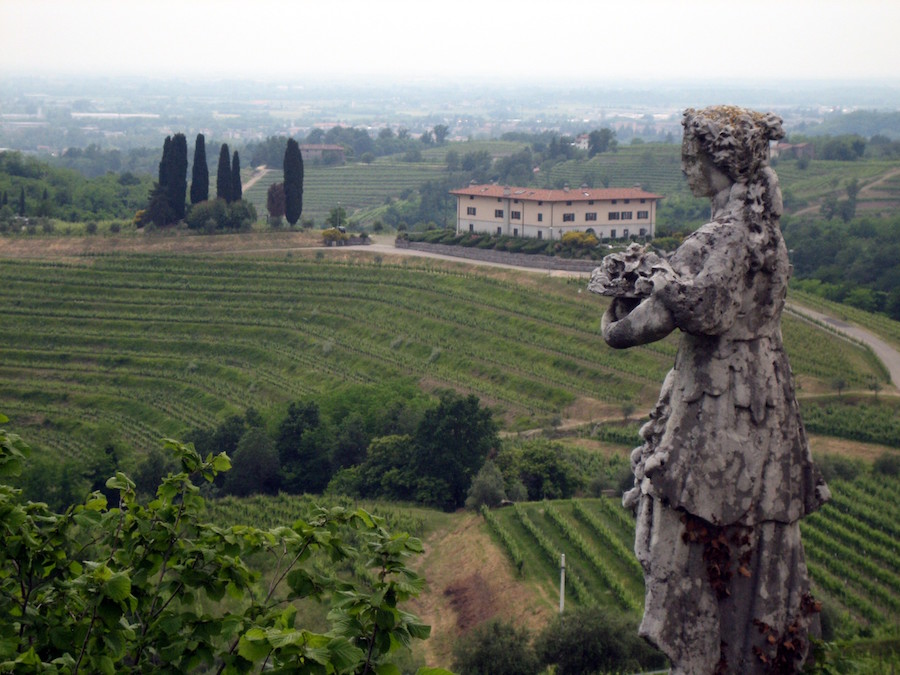 [The vineyards of Abbazia di Rosazzo, Photo credit: Wikimedia Commons]
Collio
The acclaimed Collio wine gains from its location. The grapes are grown in the south-east province of Gorizia (on the border to Slovenia). In particular, the area of growth is near to the Alps foothills, so the climate is tempered by the soft cool winds. This climate helps to keep the grape's inherent acidity levels, preserving its lovely, fresh flavours of apples and apricots, with aroma hints of smoke, vanilla and hazelnuts.
It's a full-bodied wine experience, with both red and wines from the area being enjoyed as accompaniments to dinner or as refreshing drinks in their own right.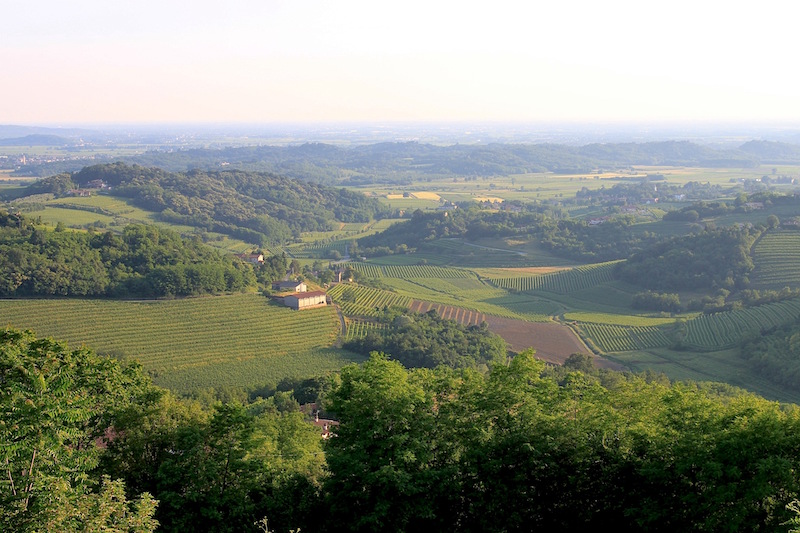 Ribolla Gialla
A full-bodied wine, its grapes grow in the Rosazzo and Gorizia regions. A worthy wine from the Friuli-Venezia-Giulia area, Ribolla Gialla is known for its floral, high acidity properties, not to mention its fresh, fruity flavour. The first written documentation of the grape was in a 1289 notarial contract on vineyard land in the Friuli region and Ribolla even garnered notice from 14th century Italian poet Giovanni Boccaccio when he listed it as a "sin of gluttony" in his ditatribes on the subject. Keep an eye out for its presence in white DOC wines of Colli Orientali del Friuli and Collio Goriziano.
One of the most notable aspects of the matured Ribolla Gialla wine is its distinctive nutty taste. Whatever age you choose to sample Ribolla Gialla at, it's well worth a sip.
Ramandolo
One of the best-known wines in the Friuli region. It originates again from the Friuli-Venezia-Giulia area. The name has something of a chequered history. While it was originally applicable to Colli Orientali's sweet wines, in 2001, the Ramandolo DOCG came into play. From then on, the Ramandolo moniker can only be applied for wines made in Nimis and Tarcento in Udine.
The location of the vineyards again means that climate has a beneficial effect on the resulting wine. The Monte Bernardia hills act as a kind of shield to the chilly north winds coming from the Alps. It's a cooler climate than normal, with warm rather than boiling temperatures in the Summer months. Night times can also see temperatures plummet, which crucially means a higher concentration of grape flavours in the latter months of growth.
The ripeness of the grapes results in a full-bodied, sweet flavour that has a distinctive aroma of apricots, honey and also chestnuts. It's little wonder that this particular wine receives much applause.
Carso
What colour do we normally connect with wine? Red? White? Well, here's another one: Orange!
That's the colour linked with Carso wine. Carso is located in the Trieste hills, and sees this intriguing method of making wine. The orange colour results from a specific process of melding the juice with the grape skins as the wine ferments. While it isn't the most obvious colour of wine, orange wine is still a trendy choice for drinkers, and offers a strong, high acidity and pleasant flavour. As a result of the oxidative style in which the wine is created, Carso wines can age and mature for a lengthy spell.
Schioppettino
The tale of Schioppettino is another of a near miss. Like Pignolo, the Friuli-Venezia-Giulia grape came close to extinction.
It's also a wine that dates back a fair few years. Early mentions can be traced back to the 13th century, and was a frequent and popular wine of choice for a good number of centuries. However, the turning point came in the mid 1800s. Having been affected by American odium the previous decade, the phylloxera epidemic of the 1860s affected this wine. The next century's two world wars continued the knock-on effect, and by the 1960s, it is said that the amount of Schioppettino vines numbered less than 100. However, the foundation of Paolo Rapuzzi's Ronchi di Cialla winery saw a rediscovery of this dark-skinned grape type, and over the subsequent decades, it has risen in acclaim and popularity again.
As a dry red wine, Schioppettino makes its mark, with the refreshing aroma of violets and red berries coming together with the spicy, earthy taste to create a well-deserved drink presence at the dinner table or as a choice liquid in the evening.
Friulano
And of course, let's not forget the Friulano white wine. It's an effective and tasty wine that mixes strong, palatable fruit flavours with hints of almond and citrus.
Friulano is an early bird of grape. It ripens early, and as a rule, is picked early in the season in order to eliminate the risk of succumbing to rot and mildew. This is a potential problem because of the thin skin of the grape. It's a wine that can be made in a number of styles, with some choosing to mature it with oak for extra structure.
A visit to Lis Fadis winery in Spessa (near Cividale del Friuli) is much recommended if you want to know more about the wonders of the local wine. The winery's name translates as 'The Fairies' and was built by antique dealer Alessandro Marcorin and his wife. Lis Fadis offers a comprehensive wine tour which includes the winery, wine making tools, glasses, and also a wine tasting! More details (as well as other worthy food and wine experiences) right here!
Products by Enoteca Pitti Gola e Cantina
Topic:
Location:
You may also be interested in...