With the dollar holding its position against the euro, Italy continues to attract those looking for a second home. Steer clear of the classic destinations like Tuscany and the Amalfi Coast, and you'll be rewarded with award- winning vineyards, quiet beaches, Michelin star restaurants, charming hilltop towns and a true sense of adventure. 
The 20 regions of Italy have a bit of everything — charming coastlines, mountains, vineyards, cities and rolling hills. What is harder to find, however, is one region that covers it all. Cue Le Marche, the central Italian region spliced between the Apennine mountains and the Adriatic sea, which has somehow managed to stay under the mainstream tourist radar.
For those looking to invest in property in Italy, Le Marche could be just the answer. Dawn Cavanagh-Hobbs has spent the last 14 years helping foreign investors purchase their own slice of Le Marche through fractional co-ownerships. By purchasing a few weeks per year in your very own property in Le Marche, you get all the pleasures of this enchanting region with none of the headaches. 
"Le Marche is one of Italy's most unspoiled and picturesque regions," Dawn explains. "It offers all the natural beauty and rich cultural heritage of Tuscany, but without the tiresome crowds and inflated price tags."
Here, Dawn explains some of the regions why Le Marche should be on your list both as an alternative destination for an Italian holiday without the crowds, and as a potential place to buy your own place. 
Art and culture
The opera tradition is big in Italy, and numerous Le Marche towns hold music and dance festivals from April to September. There are also many other historical and religious festivals during the year, for instance the celebration of Saint Emidio in Ascoli Piceno. The Sferisterio opera festival is held in the town of Macerata every summer, with the huge Roman-style amphitheater brought to life by an audience of up to 3000 people. The arena itself has a fascinating history, originally built in the 1820s as a stadium for handball. 
 
For those who think Florence and Tuscany are the only places worth visiting for Renaissance masterpieces, think again: The Galleria Nazionale delle Marche in Urbino holds some of the country's greatest Renaissance treasures. Other popular museums can be found in Pesaro, Fano, Fermo, Ascoli Piceno or Ancona, all within an easy day trip from each other.
History and heritage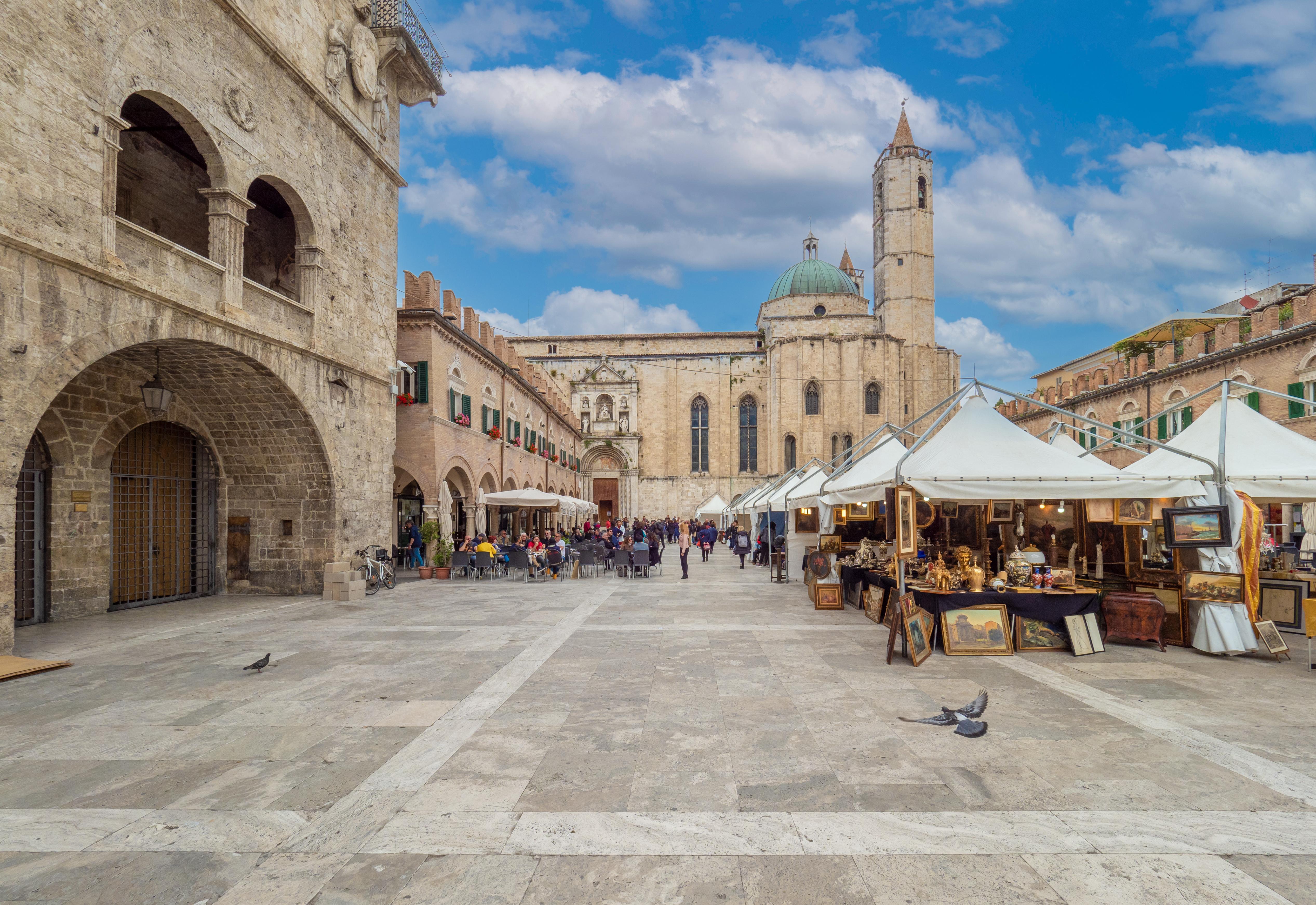 Untroubled by mass urbanization, the architecture in Le Marche is mostly unchanged since medieval times. The best way to get a sense of their local traditions and customs — many of which go back as far as the buildings — is simply to visit some of Le Marche's hidden towns and villages and partake in a bit of daily life. Grab an espresso at the bar, or plonk yourself in the piazza and watch the world go by. 
An excellent place to do this is the ancient town of Ascoli Piceno, where the central Piazza del Popolo is considered one of the most beautiful squares in Italy. The village of Sarano is equally delightful, and again listed as one of the most beautiful villages in Italy.
Artisan treasures
A little-known fact about Le Marche is that the region produces around 90% of all Italian shoes. Look out for traditional shoemakers for a tailormade treat, and get to know about the centuries-long traditions of shoemaking which are still practiced today. If this is something that takes your fancy, plan a little road trip to check out Fermo, Matelica, Cingoli, San Ginesio, Camerino and Offida.
Beaches 
The Le Marche coastline covers 180 km, and has one of the highest numbers of Blue Flag beaches in Italy. Be sure to visit Riviera del Conero and its azure seas, where some of its beaches are only accessible by boat. Elsewhere, you'll find the enchanting Riviera del Palme, which covers the area from Pedaso through to Cupra Marittima, Grottamare and San Benedetto del Tronto.
Nature and adventure
Beyond its beaches, Le Marche's verdant landscape is just as impressive, with almost 90,000 hectares of land covered by two national parks, four regional parks and six natural reserves.
 
The Sibillini Mountains are one of the most beautiful zones of the Apennines and include 10 sky-high mountains. The National Park has numerous nature trails suitable for all levels of fitness. Hike along river banks, pass stunning waterfalls and caves and enjoy some of the best views Le Marche offers. There are many routes for cycling and mountain biking. The National Park also offers other activities such as horse riding, climbing, quad biking and skiing.
 
Active types can indulge in all manner of water sports, from kayaking, windsurfing and canoeing to diving. In winter, you can ski at the Sassotetto ski resort. For thrill-seekers, have a go at tandem paragliding, white water rafting or taking a survival course.
Regional cuisine
Le Marche's cuisine is rich, diverse and unexpected, with both traditional and contemporary recipes invariably based around the seasons. Throughout the region, much is made of ingredients gathered from the wild, including game, nuts, herbs, berries and mushrooms.  Of course, make sure you don't miss the chance to sample Le Marche's hidden treasure — truffles.
 
Must-try local dishes include brodetto (fish soup), which is the quintessential dish of the area, vincisgrassi (Le Marche-style lasagna), passatelli (pasta made with bread crumbs) and crescia sfogliata (flaky flatbread grilled with vegetables, meats and cheese).
Fine wines
Le Marche used to be one of Italy's most untouched wine regions, but it is now gaining something of an international reputation as home to some of the country's best wines. While the region is mainly known for its white Verdicchio, you can find outstanding red wines, too: Rosso Conero and Rosso Piceno are two such examples, made from the Montepulciano grape. Today, Le Marche has an impressive 15 wines with the DOC (Denominazione di Origine Controllata) classification. 
Heading to Le Marche, you can discover an authentic way of life, where the seasons lead the daily rhythms of the people and local industry. With its endless coastlines of clean, quiet beaches, breathtaking mountain ranges and charming historic towns, Le Marche ticks all the boxes for those seeking an authentic Italian escape.
About Appassionata
Fractional ownership is fast becoming the smartest way to enjoy the benefits of owning a luxury holiday home in Italy at a fraction of the cost of buying a holiday home outright. Learn more about Appassionata's properties in Le Marche here and contact them to arrange your discovery visit today!