The Trentino Alto Adige offers extraordinary scenery, great skiing and Alpine villages that blend the best of Italian and Austrian culture and cuisine. Here are 8 exquisite towns to visit (four have made the "I Borghi Piu Belli d'Italia" list: Canale di Tenno, Glorenza, Vigo di Fassa, and Sterzing). The area, under Austrian rule for nearly 1000 years, merged with Italy after the first World War, but the Hapsburg influence endures. It becomes more prevalent the farther north you go with German widely spoken and towns having names in two languages. The villages here are arranged in nonlinear fashion South to North.
Main photo credit: Fototeca Trentino Sviluppo S.p.A. Photo: Silvano Angelani
ARCO (6.5 km from Riva del Garda)
Take in the sweeping panorama that reaches from Lake Garda to the Alps at Arco Castle, perched atop jagged, almost perpendicular limestone cliffs. (Not surprisingly the town is the site of a major rock climbing competition each year, the Rock Master Festival. The sport of speed climbing also began here in 1988.) With its dramatic setting the castle was the subject of numerous artworks, including a watercolor by Albrecht Durer. The town's glorious scenery attracted no less than a Hapsburg Archduke (Albert), who built a regal retreat, Villa Arciducale, as a winter getaway. For those interested in non-vertical treks, try the walkways of the  villa's garden, cultivated with Mediterranean plantings, or an outing to the Church of Sant' Appolinaire with 14th-century frescoes. When dining in Arco, the orrechiette with "molche" olive sauce and the spinach and ricotta tortellini with butter and sage are among the pastas to try.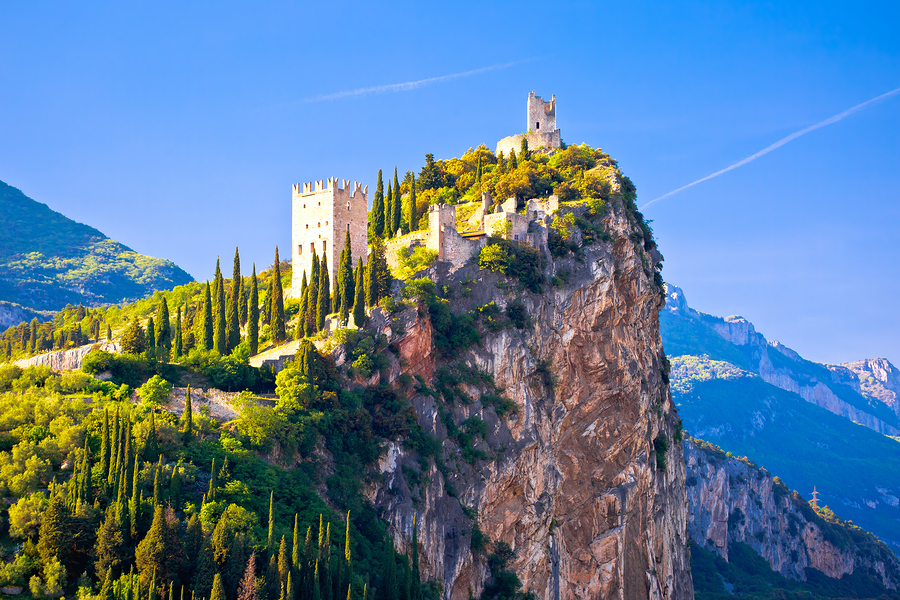 CANALE DI TENNO (7 km from Riva del Garda)
This exquisite medieval village was nearly deserted after World War I, but the artist Giacomo Vittone fell in love with the place and through his interest and residence helped revive it. He initiated the development of the Casa degli Artisti, now named in his honor; today it serves as a cultural center devoted to promoting pictorial art and alpine culture. It's easy to see why Vittone loved Canale—the well-preserved borgo is a jigsaw of tiny piazzas, arcades and linked stone houses, many with exterior frescoes. Canale's height—more than 400 meters above sea level—allows for views of Lake Garda and the Dolomites.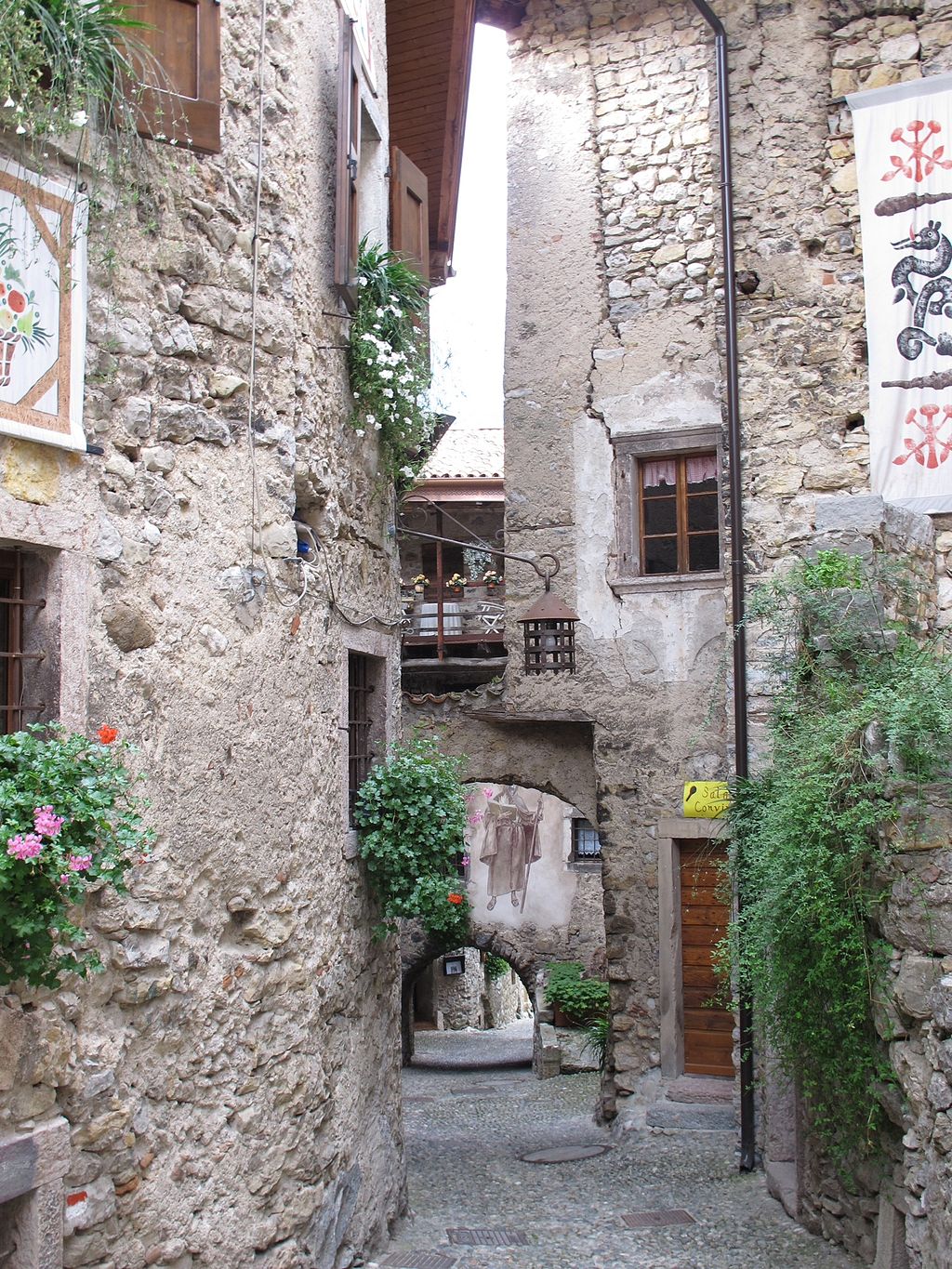 [By DavideDossi (Own work) [CC BY-SA 3.0 (https://creativecommons.org/licenses/by-sa/3.0)], via Wikimedia Commons]
SAN LORENZO IN BANALE (39 km from Trento
Now a Unesco World Heritage site San Lorenzo, dating to Roman times, is a fusion of seven hamlets—each of which had its own patron saint, church and traditions. In addition to visiting the hamlets (have a look at the frescoes in the church of St. Rocco and St. Sebastiano in Pergnano), the town offers hiking trails to the Alpenrose Refuge (at a height of 1070 meters) and to the Val d'Ambiez. The C'era Una Volta museum is devoted to the artifacts of mountain life. Sample the local specialty, Ciuìga del Banale, a sausage made only in this part of the Trentino.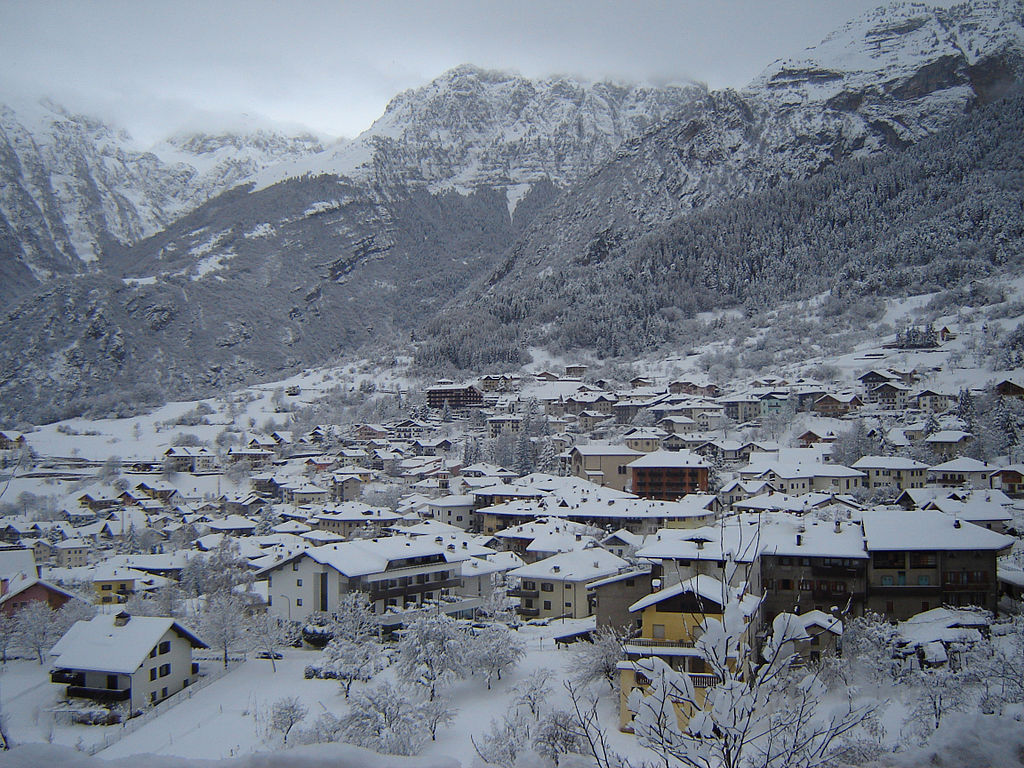 [By Jmz1902 at Italian Wikipedia [GFDL (http://www.gnu.org/copyleft/fdl.html) or CC-BY-SA-3.0 (http://creativecommons.org/licenses/by-sa/3.0/)], via Wikimedia Commons]
FIERA DI PRIMIERO (68 km from Trento)
Once the smallest municipality in Italy (until its merger in 2016 with a few neighboring towns to become Primiero San Martino Di Castrozza), Fiera has only 500 inhabitants. The area was long a fiefdom of the Austrian counts of Welsberg, who ruled from a castle in their namesake town 125 mountainous kilometers away, but the family had a villa here, where you can learn more about their history and the local environment. Fiera was a bustling, prosperous  town in the Middle Ages, thanks to its proximity to copper and silver mines, and is home to the Palazzo delle Miniere, a mining museum. Its subject matter is broader than the name might suggest with exhibits devoted to local crafts, ranging from carpentry to cheese production. The Palazzo also pays homage to native son Luigi Negrelli, who spearheaded the construction of the Suez Canal. Another Fiera bonus—it is close to San Martino di Castrozza, a popular ski and trekking area—good for working up an appetite to sample the local range of Canederli, or bread dumplings.
[Fototeca Trentino Sviluppo S.p.A. Photo: Gianni Zotta]
VIGO DI FASSA (38 km from Bolzano)
Vigo was long the capital of the Val di Fassa, one of several Dolomite valleys where the rare Romance language Ladin predominates.(Ladin, first spoken in the Middle Ages, is also the lingua franca in parts of Switzerland.) In Vigo's San Giovanni district you'll find the Museum of Ladin Culture and Cultural Institute. If you're in the Val di Fossa during Carnival season, many towns pull our the stops with pre-Lenten parties beginning on January 17th, the feast of Saint Anthony. There are parades and street parties with villagers dressing in colorful Ladin costumes and donning elaborate masks. Make sure to try the local sweet cake, fortaes, during the festivities. As for sport, skiers can take a cable car in the center of town up the Caiminei mountain (there are 13 kilometers of ski runs in the area). In warm weather months Vigo is a good base from which to hike numerous Dolomite trails.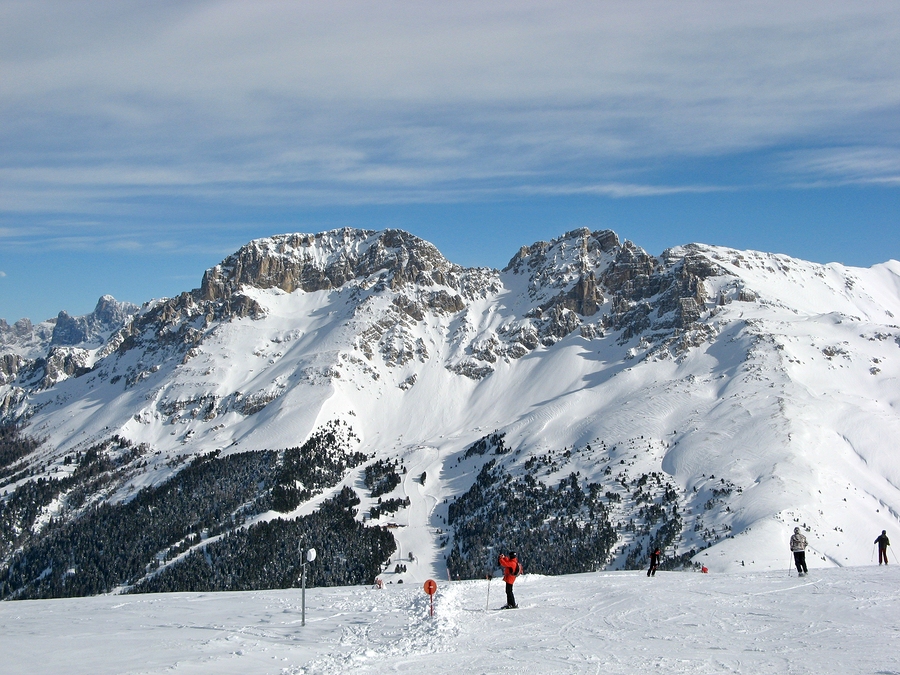 TERLANO 15 km from Bolzano)
A popular stop on Weinstrasse/Strada del Vino in the Alto Adige, Terlano (Terlan) produces white (including pinot bianco, pinot grigio, Gewurtzraminer) and red (pinot noir, Torilan) wines, but is also known for its asparagus and apple crops. All this means you will eat very well in Terlano—try the ravioli with artichokes; in spring the grilled white asparagus, and apple strudel any time. When you're in town plan a visit to the Terlano winery, a well-known vintner in the area in business since1893. The winery is also the starting point for the Terlano Wine Route, a delightful 3.7 kilometer hike which takes you through other vineyards in the area.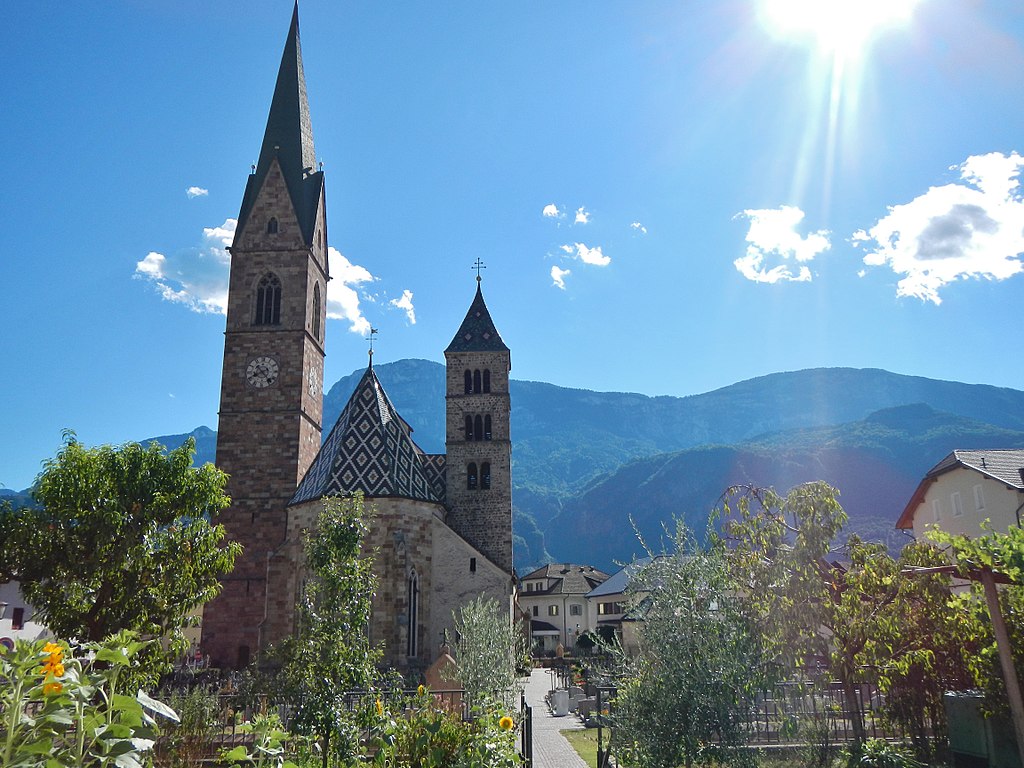 [qwesy qwesy [CC BY 3.0 (http://creativecommons.org/licenses/by/3.0)], via Wikimedia Commons]
GLORENZA (84 kilometers from Bolzano)
One of Italy's most beautiful towns Glorenza (Glurns) offers a camera-ready mix of Renaissance, Gothic, and Tyrolean architecture. As a trade center Glorenza prospered, one of the reasons for the beautiful dwellings found here. Wrapped in circular 16th-century walls (built by the Hapsburgs after the town was destroyed in 1499) and dominated by three towers, Glorenza is a good jumping off point for visits to the well-preserved Castle Coira/Churburg, dating from the 1500s and still owned by the famous Von Trapp family; and the Marienberg, or Monte Maria, the highest Benedictine abbey in Europe. Enjoy the hybrid Italian-Austrian cuisine, where you'll find both goulash and gnocchi on the menu.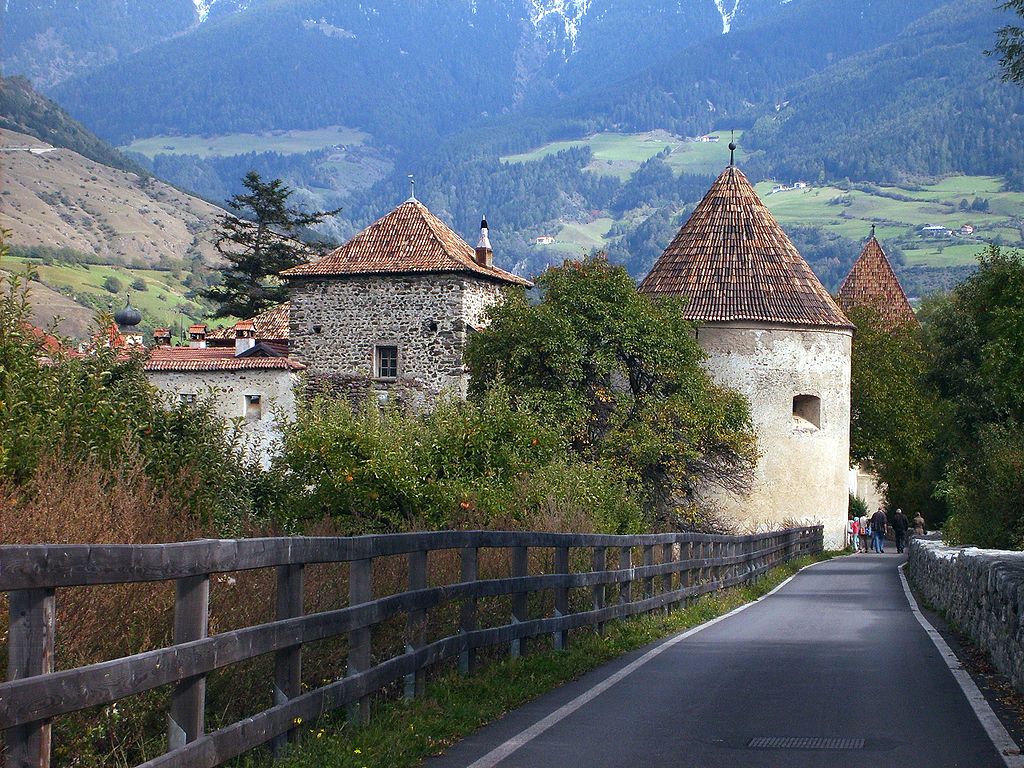 [By Stefan Hellings (Own work) [GFDL (http://www.gnu.org/copyleft/fdl.html) or CC BY-SA 3.0 (https://creativecommons.org/licenses/by-sa/3.0)], via Wikimedia Commons]
STERZING (67 km from Bolzano)
If you traveled from the Tyrol to Sterzing (Vipiteno), Italy's northernmost town, you might still think you were in Austria, a country it was part of until the end of WWI. More people speak German than Italian; and menus skew accordingly (think thick barley soups and roast pork with apples in addition to Italian offerings).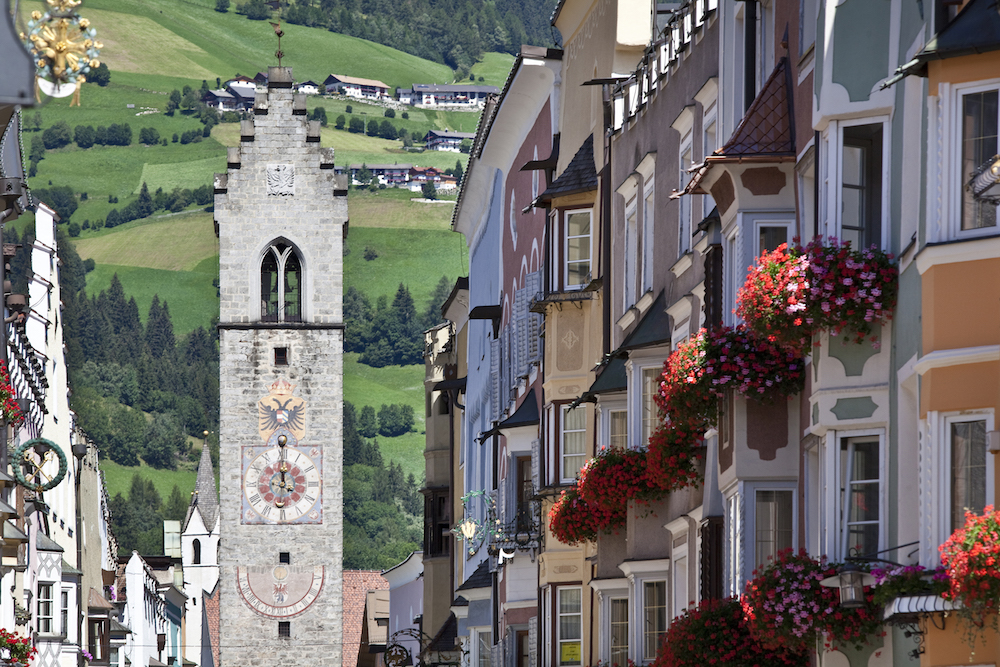 This is a very pretty spot, where streets are lined with houses painted in ice cream colors and decorated with flower boxes spilling with geraniums and impatiens in summer. The town literally lights up at Christmas, when a month-long market draws visitors from the area.