DO carry the right documents with you
You'll need a number of these in your glove compartment. Obviously, you'll require a full, valid EU driving licence that proves that you are over 18 years of age (the earliest age at which you can drive in Italy). You will also need a valid passport, a national ID card, proof of insurance, and also what's known as V5C (a registration certificate).
If you're a tourist from another country travelling around Italy and you don't have a numberplate with a Euro symbol stating your country of origin, then you must ensure that you have a sticker stating where you come from. Also make sure to bring your International driver's license and rental documents in the glove compartment. 
DON'T forget to pack the following in the car as well
Reflective jackets, which are requisitions for driving a four-wheeled (or more) vehicle. The jackets must be put on in the case of conditions that create poor visibility, so that others can see you. Warning triangles are also musts, and of course, if one of your tyres has been punctured or has gone flat, then don't forget to bring a spare.
Now that it is winter, having snow chains for your tires is a must anywhere that snow might appear, make sure to check with the hotel before you go to get the latest, current information. 
Like this article? You don't want to miss "The Essence of Italy: What Makes Italy Unique." 
DO be aware of the relevant speed limits
There are a fair few aspects to consider before you think about auditioning for Top Gear. For one thing, the speed limit depends on the weather conditions. If it's a sunny day and you're looking for a speedy journey on the motorway, then the maximum speed limit is 80 mph. However, in the case of adverse weather conditions such as rain, wind or snow, then the maximum motorway speed comes down to 70 mph. You'll see devises that are catching speeders, typically called Autovelox that look like a big box on the side of the road with a camera that takes a photo of your license plate if you are speeding. Normally you get a fine a few months later so be aware! 
However, in the case of driving in and around built-up areas, speed limits are reduced. Outside built-up areas have an average speed limit of between 55 and 68 mph, while inside built-up areas, it's between 31 and 43 mph maximum.
There are also other considerations to take on board when ensuring that you don't go too fast. You must reduce speed in and around playgrounds, nurseries, playgroups and schools. Additionally, be prepared to bring the speed down for bends, narrow roads and intersections. Also, if you're driving at night (or if your visibility is compromised by foggy weather conditions), then you'll also need to take great care when not going too fast.
Here's another point to make if you're coming over for a road trip or camping holiday. If you're bringing a caravan or a trailer, then separate speed limits apply. On the motorway, the speed limit is just under 50 mph. Outside built-up areas, the limit is around 43 mph, while it's around 31 for inside these areas.
DON'T forget the other regulations if you're bringing a caravan
Everybody everywhere, join the caravan's regulation awareness. The rule is: One vehicle, one caravan. Service brakes should be on each of the wheels in the case of caravans taking half the weight of a towing vehicle. A caravan can also have a maximum of two axles, providing the gap between doesn't exceed 1m.
DO wear seat belts
The usual rules apply for both drivers and passengers, although in the case of pregnant women, if it's causing too much discomfort, it's possible that they won't have to wear one. However, a proof of acknowledgement is required from the gynaecologist saying so.
DON'T talk on your mobile
As with other countries, chatting away on your mobile while driving is forbidden in Italy. However, if it's an emergency or if you really can't put off that interview, then Bluetooth and hands-free means of communication are permitted.
Another emergency solution is to stop at an special emergency phone, which can be found at regular 2km intervals on the motorway. You can call 113 (for police), 115 (fire brigade) or 118 (ambulance). As well as the emergency phone, you can also call another kind of emergency phone in case you need mechanical help (this is marked out on a phone by a special button bearing a spanner icon) or medical help (press the button with the red cross icon).
DO stay sober
Off down the pub? Boozy party coming up? Then it's bus, taxi or lift for you, my friend.
This is especially the case for drivers who have been driving for less than three years, in which the alcohol limit is a strict 0%. For more experienced drivers, the limit is slightly higher at 0.05%, but it's advisable to keep a clear head when driving, so stick to the soft drinks.
Be warned: police will be keeping a beady eye out for any suspicious looking driving. If their suspicions are sufficiently aroused, they have the right to pull you over to take a breath test. In the worst case scenario of a road accident, the police can also ask the medical services to also test the driver for the presence of alcohol. Additionally, police can also test for the presence of drugs if they believe that this has affected someone's driving.
DON'T overtake in the following locations and situations
When you're next to a vehicle that has stopped to let people cross the road; Approaching level crossings; When a vehicle has or is slowing down; Approaching bends; Approaching a brow of a hill; Intersections; Driving around in locations where visibility is poor.
DO be aware of priority situations
The obvious case is that of emergency service vehicles, so if you hear a siren or see flashing lights, then pull over, slow down or stop.
Meanwhile, if you find yourself on a narrow road and there's another larger vehicle trying to get through, then you must also stop as by rights, the larger vehicle has the priority to pass.
DON'T park in the wrong place
Generally, if you're in town or in one of the major Italian cities, then keep a look out for a blue road sign. This signifies a nearby car park where you can leave your car for a small charge. Sometimes, you can park for free on a Sunday. Be aware though, that in the case of a sign with blue stripes, limited car parking means that you can only leave your vehicle in that place for a specific amount of time.
In Italian cities, be very careful when you plug in your GPS coordinates that it doesn't lead you into a ZTL (zona traffico limitato) which means limited traffic or pedestrian zones in many historical centers. Driving inside the ZTL can cause you to get big fines, usually in the form of a letter in the mail several months down the line (they always find you because there are cameras mounted at the entrance which takes a photo of your license plate) so it pays to do your research in advance. Your hotel should be able to send you a ZTL map and instruct you where to park and where not to park. 
If you need to park in a street, then this depends on whether it's a one or two way road. If two way traffic is coming and going down the street, then you can only park your car on the right hand side of the road. However, in the case of one way traffic, you can park on either side, so long as you leave a gap of at least 3m in the centre of the road.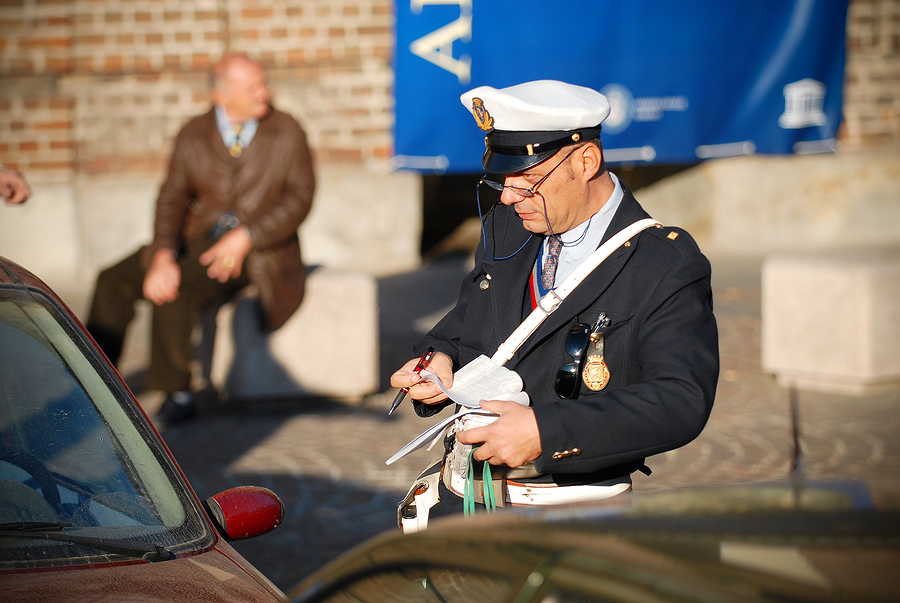 DO make a note of disability parking spaces
If you're disabled, then as long as you place the significant sticker in your vehicle, then you can get special parking access. The special spaces are denoted by the symbol of a wheelchair and yellow lines.
DON'T break the rules
Because if you do and you get caught, you'll have to pay the price.
Having just mentioned car parking, if you don't pay the fee, then your car wheels will be clamped or worse, towed away if it's blocking traffic). Payment of a fine will get you your car back.
The same applies to other rules being broken. For example, if you break traffic rules (such as going too fast or driving erratically), then Italian traffic police have the right to stop and fine you. While instant payment isn't required, anyone stopped by the traffic police has 60 days to pay the outstanding fee, although in some cases, if it's paid reasonably swiftly, then the guilty party can pay a smaller fraction of the original charge. If you believe that you have been charged unfairly, then again, you have 60 days to put your complaint forward to the relevant authorities.
You must also ensure that you possess the relevant documents when driving. If you don't then you may find that your vehicle is taken away by the police. Lack of driving licence or out of date documents are regarded as an offence, as well as forged number plates.
Hot tip* We recommend check out this wikipedia page of Italian road signs which will help you better navigate the somewhat confusing messages that signs can give you in both the countryside and the cities.