As ever-more busy shoppers looking for the best deals, our purchases are often emotional and spontaneous; any number of events of the day can influence our need or rather more often, pure simple want to just buy things. Fast fashion and cheap clothes have become somewhat of a hallmark to modern society in the past 30 years with most buyers knowing little to nothing about where their clothes come from, including the conditions of the workers where their daily threads were made. However, in Italy there has always remained a strong tradition of quality craftsmanship that radiates through generations of artisans taking pride in their craftsmanship; but it is true that even here, shoppers often fall prey to the devaluation of the Made in Italy brand, especially when it comes to buying leather. 
"For me, everything having to do with leather should be 100% Made in Italy. Sure, I could buy anything for cheaper in Morocco but that's not what my brand is about," says Ben, founder and co-owner of acclaimed in Florence leather brand Benheart. I had just gotten in Ben's car, which despite its long size, managed to park in my neighborhood square, the tiny but oozing with charm Piazza dell Passera. For a moment, we all held our breath as the car made a sharp turn down an ancient Oltrarno alleyway, just barely missing a wall on the right-hand corner.
Ben himself has a unique and very "American dream" type of story that is unique in a place like Italy. Born in North Africa, he spent all of his life in Italy. After growing his career in the fashion industry, first honing his skills in a shoe shop and working at a local pasticceria; eventually Ben created a real name for himself as a designer for contemporary luxury brand seller Luisa Via Roma. All that changed dramatically one day when Ben was only 29 years of age. It was the summer of 2011 and while playing soccer in a friendly afternoon game with friends, he suddenly collapsed and had to be quickly rushed to the hospital. His heart was failing and there was no telling what could happen. As it was, he would spend the next few months in the hospital, waiting for a dire heart-transplant in order to save his life.
As luck would have it, Ben did get his transplant, and during his recovery he started cementing plans with his best friend Matteo to open up a store selling quality leather goods. Tthey would call it "Benheart," to be opened in the historical center in Florence. The first location indeed showed up on Via il Prato. This was followed by additional stores on Via della Vigna Nuova and Via dei Cimatori (the Prato location later closed), places where one can buy a true Made-in-Italy artisan quality product. The success quickly took off, now Ben and Matteo have shops in Rome, Verona and Tokyo, soon to follow, stores in Milan and San Francisco.
This is where I first discovered Ben, after going on a personal shopping tour with a friend and becoming entranced by his unique unisex, casual vintage style that was a world away from the old-fashioned leather I've seen most everywhere else. This was a true luxury product but cool enough to wear any time of the year, and I was hooked. From the shoes impressively made using Vibram® soles to handmade form-fitting leather jackets; all created with a blend of textures and colors I had never seen before.
Once we actually met in person, I instantly became entranced with his charismatic presence. He's the kind of guy whose genuine soul comes directly from the heart, pun intended. I knew from years of living in Florence that most of the leather you spot in the San Lorenzo markets and other areas of town isn't truly worthy of being called Made-in-Italy. Cheap jackets, belts and shoes are constantly being hawked to tourists as genuine "deals" with most of the parts, if not all, produced elsewhere with only the tag or bagging process done in Italy. I asked Ben about this and how people can avoid falling for modern-day snake salesperson tactics in Florence and his wise advice was to simply "just look around. If you go to five different shops you'll see that they have the exact same product, which means they probably bought it at the same wholesaler, try and really find something truly unique."
My curiosity got the best of me. In a bid to learn more about how true Made-in-Italy I asked Ben to take me with him to where he buys his leather and makes his jackets. This meant going to Santa Croce sull'Arno about 40 minuets from Florence a slightly-smelly industrial production area where most of the true Florentine leather items you buy takes shape. While it's definitely not anything to look at in terms of scenic value, this is where life happens - what we wear and how it's made; all hidden behind the doors of these huge, spacious and uniform buildings. Sure, you'll find that it is a secretive place, not just anyone can visit; I felt it quite a privilege to get a first-hand peek at this step-by-step manufacturing process in the leather route of Tuscany thanks to Ben and his vow to show complete transparency in his work.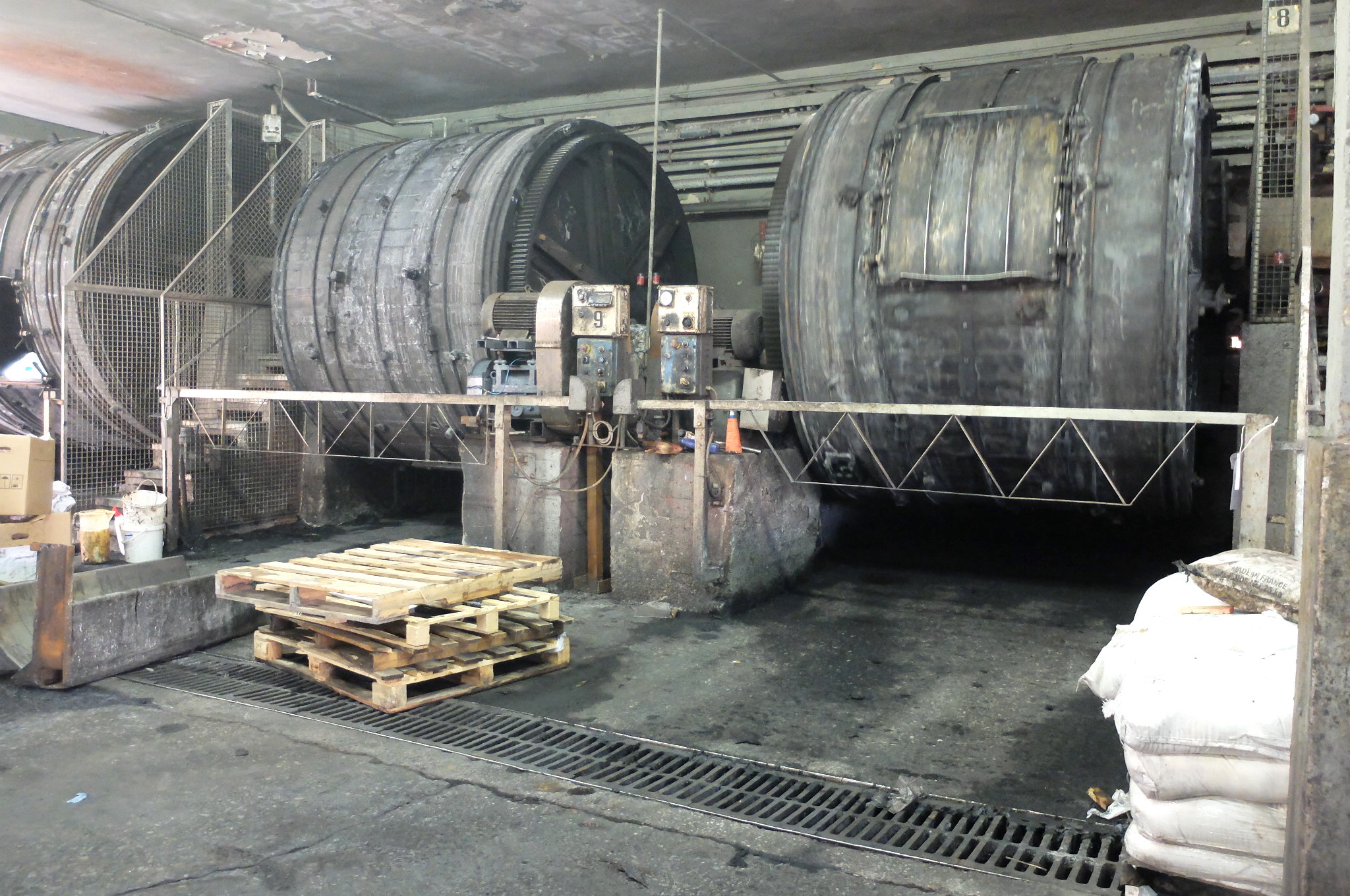 [The inside of the conceria]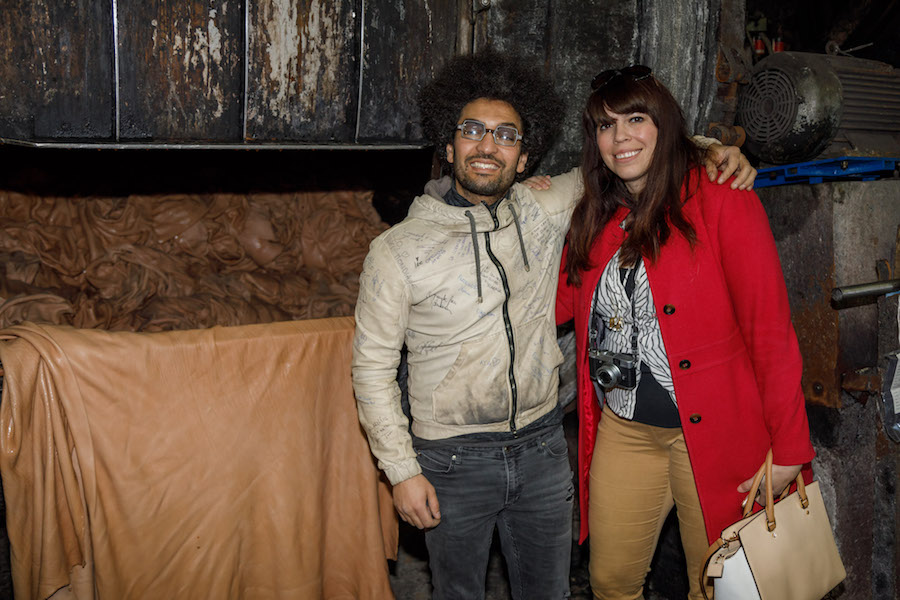 [Ben and I during our factory tour of where TRUE made in Italy leather in produced]
We started at the conceria (tannery) where Ben buys his leather. Here huge swathes of leather go through the initial process of being sprayed with varnish and laid out to dry on what looks like a huge leather conveyer belt. This place in particular where Ben goes is a family business; the owner's daughter having done her thesis on the process took us around to show us each step. Ben stops and chats with everyone, joking with a casualness that makes everyone smile. I can see how much he is loved here, a client who knows what he wants and refuses to accept anything but the best quality, and for that, everyone respects him.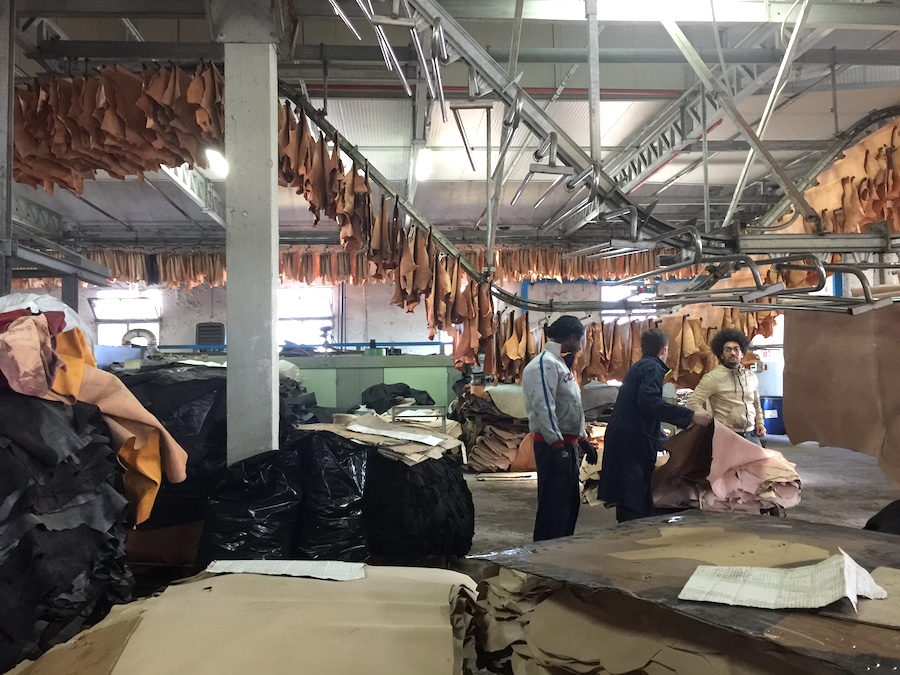 [Leather hides dry behind us in a Tuscan tannery, Sante Croce sull'Arno]
Back in the car, our second stop is the area of Scandicci where they cut their leather into whatever objects they later want to sell, belts, bags, shoes and jackets. We walk into a small workshop with his laser machines, which visually project the image to be cut using a laser before what looks like a 3D printer does the job in a flash. It's a pretty remarkable process to see the nude leather beginning to take shape.
This is where we ran into Ben's partner Matteo, wearing a tight-fitting and cool jacket (naturally) his job is more behind-the-scenes then Bens, he handles most of the orders. We then headed to their magazzino or store room where the next stage of hand-cutting takes place. They line up belts on a small table crowded by jackets lined up on either space, it's cramped but they plan on moving to a bugger area in a month's time. With expert precision, they cut lines into the leather to create a textured effect you often see in Benheart's products. Using the metal bars of the gate that closes behind the main door, they rub the belts back and forth on the hard iron to soften the material before one of the employees uses a spinning rotating metal wheel to take away the sharp edges. This gives the belts a more rugged, casual style.
After this, we head to where the leather is dyed. This is back in Santa Croce sull'Arno and is as smelly as you can imagine, though the warehouse itself is kept in impeccable order. On either side are machines that look like oversized washers and dryers. The first step is to pull up Ben's exclusive "recipes", to which he is understandably protective, I wouldn't dare give those away. After picking a darker green version, one of the warehouse guys expertly mixes the powder and throws the selected belts into the machine. We can hear the whoosh of the process beginning, after they will be put in special dryers before heading to their next step. Later Ben and his team would use a special technique brushing the item with black dye by hand to create a unique color that differentiates depending on the base. This helps create the signature Benheart look.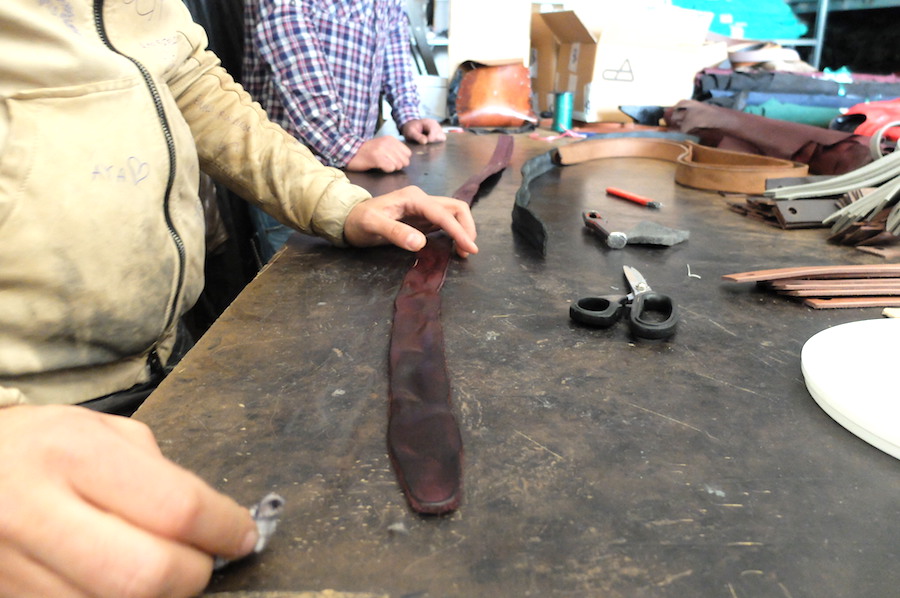 [Rubbing black dye on each belt is just one of the many steps these belts undergo in Tuscany]
Next we go to what is one of the most intriguing, and possibly the most secretive stop of them all. No one can gain access to this place without personally knowing the owner, who has created special machines to shape leather items like bens in a unique way that only his machines can. While I can't reveal his name, I can say with certainty that he works with the top fashion brands around the world. Dresses for Beyoncé, bags for Emma Watson, they come from the unique designs by these machines in Tuscany. It's one of the most amazing places I have ever seen, a testament to Ben of his dedication to the best of the best. Over and over I hear "I can't sacrifice quality for quantity, I need to do this the right way."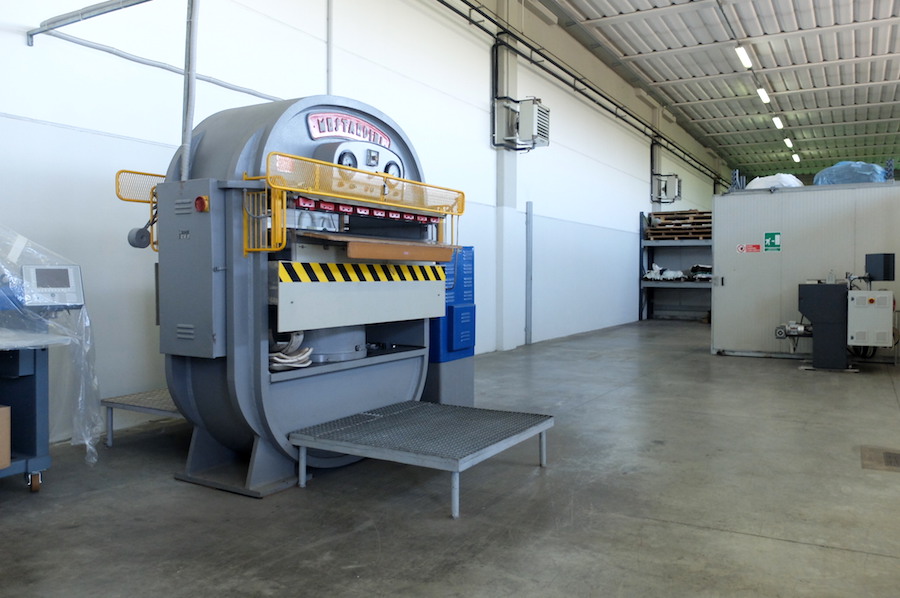 [The furthest I could go in this warehouse home to some of the most important fashion designs in the world]
Last stop on our Benheart adventure was his best friend Matteo's family home. The family patriarch and Matteo's father Lorenzo is retired from his career as an orthopedic surgeon but has now undertaken the valued job of hand-making all of the wooden furniture you see in Benheart's shops. Our stop involves a flurry of greetings; coffee was made and we made a trip to the workshop in a wooded area a few meters from their home. The area overlooks the rolling hills of Ginestra Fiorentina, on this day the sun was blazing over the panoramic view as Lorenzo tells me "why would I do anywhere else? This is my paradise."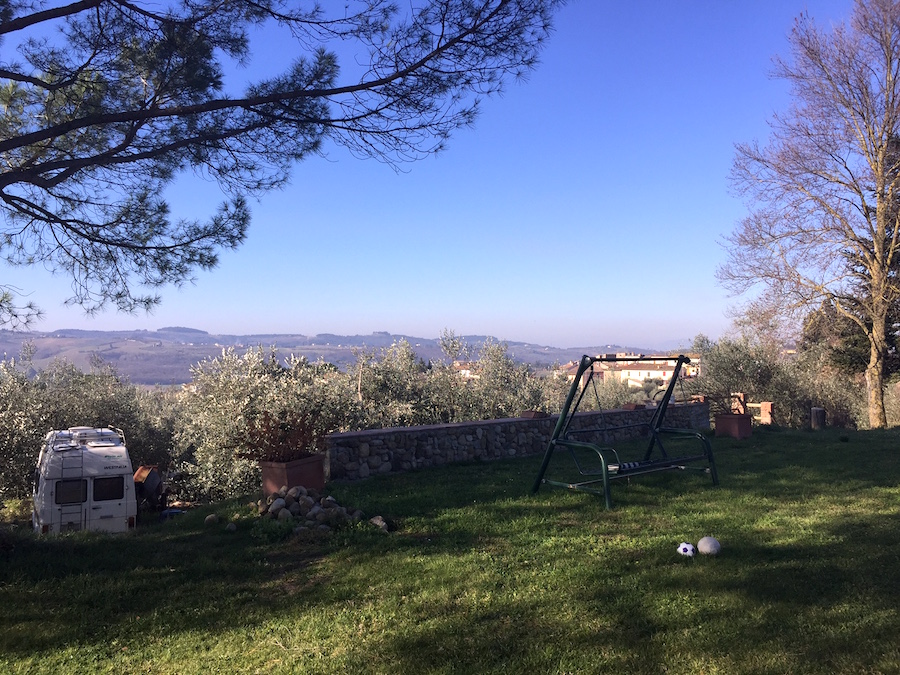 [The view from Lorenzo's garden]
After my day out in Florence's industrial underbelly, Ben insisted on taking me to lunch at Pasticceria Giorgio in the outskirts of the city with his beautiful Calabrian wife Jessica. A place where locals frequent for a quick lunch and some of the best sweets in the area, for Ben, this is home; he worked here as young man, one of the many steps of his incredible life journey. I left energetic and excited after this experience, as it isn't often I meet someone this inspiring, who's work I truly respect.
Benheart is located on Via dei Cimatori just steps from the main street of Via Calzaiuoli while the Via della Vigna Nuova location is currently going through an exciting upgrade! You can explore more about the brand and discover the rest of the worldwide locations here.