Trieste, in Friuli Venezia Giulia, is one of our favorite hidden escapes in Italy and Kate Wickers shares her experience in the city...
I wanted a vast, uninterrupted, birds-eye view of Trieste, to soak up its magnificent seafaring past before I delved in to discover the heart of the city. So I headed to Piazza Oberdan to catch the Opicina electric tram, with its unique stretch of funicular railway, which has run from the city centre up the steep hills to a plateau high above Trieste since 1902. We were an eclectic mix of commuters from young entwined Italian lovers to snap-happy Japanese visitors to ancient ladies lugging their fresh radicchio and ciabatta home from the market. From the Obelisk stop there's a picturesque stroll through pine trees to the town of Prosecco, where on a clear day you can gaze past the Victory lighthouse to the coast of Croatia and Slovenia. You need to get up high to get a true view of the city, and appreciate why it was once the premier port of the great Hapsburg Empire and known as "The Gateway to Zion" due to the frequent covert emigrations to Palestine by Jews fleeing persecution.
Mittle-Europa
Trieste has a unique atmosphere and is so different from other Italian cities. It oozes the atmosphere of Mittle-Europa and is greatly influenced by its location at the crossroads of Latin, Austro-Hungarian and Slavic cultures. If ever there was a place to tickle your taste buds Trieste is it, where Viennesse style coffee houses serving up fresh apple strudel rub shoulders with bierkellers offering bratwurst and sauerkraut, next door to tavernas dishing up fresh risottos and pasta and, of course, lots of fresh locally caught fish.
As in other Italian cities social gatherings are all about food. In Café de la Tour I sat and drank my prosecco and listened happily to the animated banter from the immaculately dressed office girls, dipping my ciabatta into soft polenta topped with tomatoes and peppers – a generous complimentary snack. Later in trendy Roma Quattro I ate spaghetti made simply with butter and porcini mushrooms and then picked up a pistachio mousse at the tempting Jazzin Gelateria on Via Mercato Vecchio on my way home, loosening my belt and wondering why food never tastes this good at home.
I was staying at the Savoia Excelsior Palace on the seafront, built in 1911, on of the most imposing and luxurious hotel of the Austro-Hungarian Empire. It quickly became the model for other hotels to follow and artists, diplomats, members of the aristocracy and the tourist elite flocked here from anywhere in the world. One frequent visitor was the Emperor of Austria and King of Bohemia, Franz Josef. Lavish balls took place here and even the smallest of corridors were carefully measured to be wide enough for two ladies in ball gowns to walk side by side without brushing their skirts together. After a three year restoration the original style and luxury has been restored but with the added benefits of modern technology (wifi, power showers, Jacuzzi baths). The ornate Boiserie (intricate wood paneling) has been expertly restored and the belle-époque stained glass windows once again sparkle in the sunshine. My huge bedroom, furnished in mossy greens and soft greys, was a study in unfussy first-rate taste. The bathrooms are sumptuous and included nice touches like the underwater neon lights in the Jacuzzi bath and the Etro toiletries, with their alluring musky unisex scent.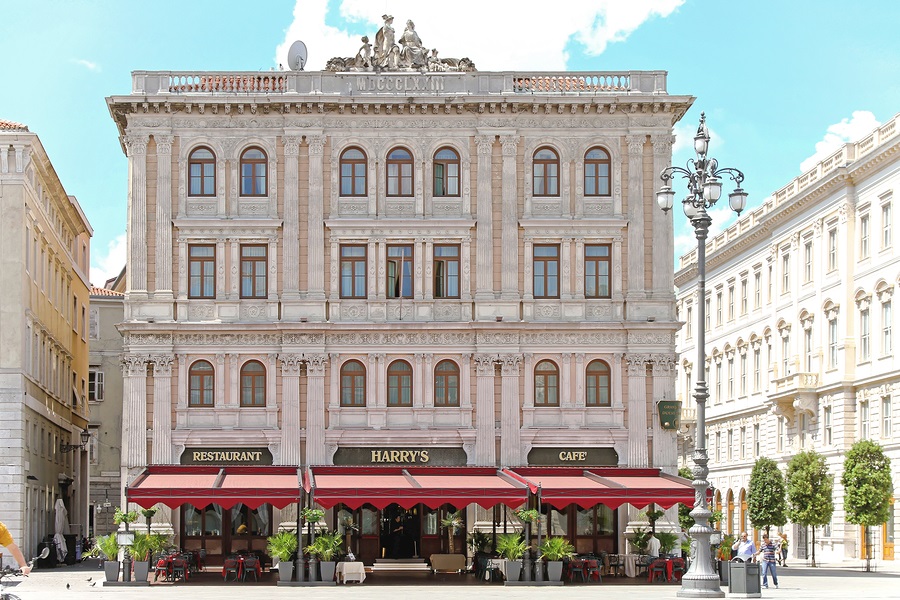 Piazza Unità d'Italia - Trieste
The immense Piazza Unità d'Italia, where Italian teenagers convene to flirt and eat gelati near the baroque fountain, is the heartbeat of the city. It is a rather unusual Italian square, as it is framed by numerous ostentatious buildings, palazzi built in 1800s, the Government Palace, and Palazzo del Municipio (Town Hall), but does not have a church. It's particularly atmospheric at night and beautifully lit to highlight the many ornate statues and reliefs that adorn the facades.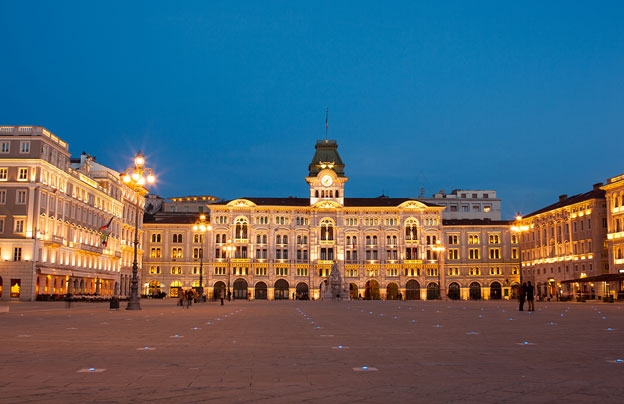 The Jewish community and its legacy
Although the Jewish community only numbers around 600 today Trieste was once home to more than 6000 Jews. Unlike elsewhere in Europe, the ghetto was abolished in 1785 and people were free to attend university, to buy property, to find commercial ventures.
Gabriella Kropf, a third generation Triestine, runs Key Tre Viaggi, a tour company specialising in Jewish cultural tours and she was waiting for me at the synagogue, one of the largest in Europe. The vast interior with four mighty marble pillars sustaining the huge central dome and an Oriental-style design in the biforate windows, columns and carvings is testament to the standing of the Jewish community in Trieste. Gabriella proudly pointed out the prayer area, which is bound by a marble railing embellished with flowers and corn ears the symbol of the Trieste community.
We wandered up the Via del Monte, which was in the 19th century the central thoroughfare for the Jewish community. Number 5 has been a Jewish hospital, primary school and refugee shelter but today is The Carlo e Vera Wagner Jewish Community Museum. It has a varied collection from important historical documents to ceremonial objects and religious furnishings.
The most moving section of the museum though is dedicated to the memory of the people of Trieste who were deported to concentration camps. The Risiera di San Sabba, Trieste's old rice husking factory, was the only extermination camp in Italy, and thousands of people, among them partisans, political prisoners and Jews, died here. In 1965 it was declared a National Monument.
At the summit of Via del Monte is the Jewish Cemetery where you can pick your way through the very elaborate graves of Trieste's important Jewish families to the memorial dedicated to those that died during the Second World War. We had a coffee in Café San Marco, one of Trieste's Viennese-style Art Nouveau coffee houses, a favourite haunt of the writer James Joyce who lived in Trieste from 1904 -1915. The waiters look like they're relics from those days in their long black aprons and crisp white shirts. We joined the elder Jewish ladies in their furs, who come after Synagogue to sit and gossip over their espresso, before Gabriella pointed me in the direction of the Old Ghetto. "Forget your map," she told me. "Just get lost in the narrow streets. It's wonderful."

Synagogue - Trieste
Following Gabriella's directions I came first to The Roman Theatre. It's capacity was 6000 and it is remarkably intact if not a little overgrown with weeds and stray cats. Once it would have overlooked the sea but today it sits slap bang in the middle of Trieste's commercial district.
The Riborgio Ghetto starts just behind here and is a confusing labyrinth of narrow streets and blind alleys, many of the buildings are in decay but there is love in the air and houses are being restored. And it's not just the architecture that's being looked after. I came across a row of makeshift wooden boxes home to grateful purring homeless kitties. It's a knee-aching steep climb up cobbled streets to the castle built between 1471 and 1630 and home to the Lapidarium, a stunning collection of Roman sculptures; bas-reliefs and immense inscriptions that look freshly chiseled and wonderfully intact mosaic floors. Surprisingly there was just a handful of other tourists visiting the castle and I strolled leisurely around the ramparts enjoying the solitude and far reaching views over the Cyprus trees to the port where jaunty little ferries make haste across the blue.
With the Savoy restaurant's view of the port it felt appropriate to order langoustine spaghetti followed by steamed seabass washed down with Terrano, a local wine. After dinner I curled up happily in the library, found at back of the stylish Rive Bar. It has the ambiance of a private members club with dark wood paneling; subdued lighting, deep velvet armchairs and bookcases filled with luxury travel books.
Castello di Miramare and Museo Revoltella
Next morning I was up early because I wanted Castello di Miramare all to myself. Built by Archduke Ferdinand Maximillian Joseph in 1855 it shines like a beacon on a rocky outcrop just a couple of miles from the city centre. It's an enchanting fairytale place, jutting out over the sea, sumptuously furnished (the archduke's study like a ship's cabin), and surrounded by 54 acres of rare and exotic flora imported from around the world. Just the coo of pigeons and the gentle lap of the sea interrupted the silence.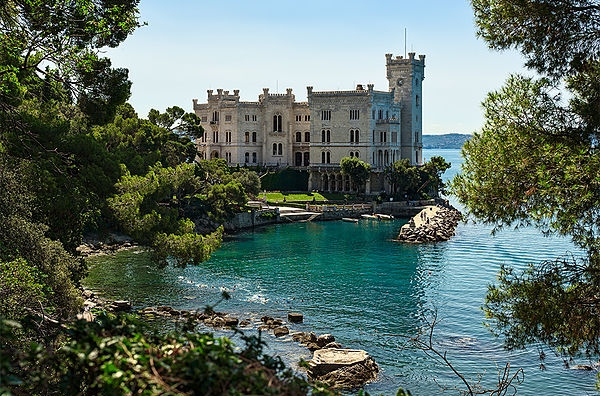 Castello di Miramare - Trieste
Bus 36 took dropped within me striking distance of Museo Revoltella, Modern Art Gallery. It would be hard to pick a highlight among this collection of 19th and 20th century art but Carl Frithjof Smith's After The First Communion, painted in 1905 is truly compelling and Giacomo Manzu's sculpture Child with a Duck brought a smile to my face.
At restaurant Fratelli la Bufala I sat outside by the edge of the Grand Canal to soak up the late November sunshine and devour a special salad, a delicious blend of grilled aubergine, carrot, mozzarella, olives and fresh radicchio. No visit to Italy would be complete without a spot of shopping. I indulged in a set of art collection coffee cups, designed by Anish Kapoor, from the eminent coffee makers illy, who founded their business in Trieste in 1933.
I spread my map of Italy out to look for Trieste. It was on a crease, hidden under a staple and I felt rather pleased. Trieste is a nice secret to have, at least for a while.