Friuli Venezia Giulia is mostly famous for its outstanding wines – especially the white ones; but do not neglect the red and the "orange" wines obtained with a prolonged maceration of must with grape skins – and for the delicious hams crafted in the whole region: from the exquisite San Daniele PDO dry-cured ham to the rare traditionally-smoked ham made in Cormons or Sauris. Yet, the regional culinary heritage of this border area marking the limit between Italy and Slovenia and Austria, and once belonging to the Austro-Hungarian Empire, is much richer than this. 
From "underground" cheeses to rare vegetables and old folks' recipes, travelling around the region gives the chance to taste unique flavors undergo peculiar food experiences.
Before you go, check out our curated list of typical regional products, and where to taste them. 
Frico
Essentially made of cheese (a higher-fat hard cheese like the local Montasio PDO) and sometimes potatoes, frico is a traditional dish made frying the two ingredients, shredded into strips, until it becomes crisp yet malleable. Born as a clever recycle of cheese rinds and remnants, it's often served to accompany stews, meats and soups. Also a thinner and crispier version exists, and some add onions too. At Ai Cacciatori in Cerneglons (via Pradamano, 28; phone +39.0432.670132), an old-fashioned, typical trattoria, they only use two-month matured Montasio; the result is a soft and airy ball resembling a soufflé, yet crisp on the outside.
White asparagus
Grown in the region and especially in the flat lands around Udine since the 19th Century, when they were planted in the vineyards to reduce the excessive moisture of the soil, these vegetables are today considered a true delicacy. Larger than usual and totally white, their short season goes from April through May, and they are usually served with eggs or grains. At the two Michelin-stars restaurant Agli Amici 1887 in Godia, near Udine, chef Emanuele Scarello uses them in creative and elegant recipes such as the herbs&potatoes gnocchi with cheese fondue and green and white asparagus.
Muset e brovada
A quintessential local peasant recipe, this dish – traditionally served at Christmas – is made of brovada or bruade (fermented white turnips sliced and macerated in red grape marc, quite similar to sauerkraut) and muset (a sort of fat and large pork sausage, similar to cotechino). The two are separately cooked and then served together, allowing the pungent taste of turnips to "clean" the palate from the pork's fat. At the holiday farm and restaurant Là di Muk in Vergacco you will find an authentic version of this challenging, yet very tasty dish.
Pitina 
A kind of mix between a sausage, a meatball and a salami, Pitina is a typical product of the mountain area of Val Tramontina. It's made of meat of chamois or goat, sometimes enriched with pork meat or lard, seasoned with garlic, salt, pepper and red wine in a mortar, rolled in corn flour and then slowly smocked with mountain pine embers. The result is an intense, fresh or matured salami to be eaten raw or cooked with vinegar or grilled and served with polenta or vegetable soups. At Ai Cacciatori restaurant in Cavasso Nuovo (via Diaz, 4, +39.0427.777800) they cook it in many different ways: in a sauce for blecs (traditional buckwheat pasta), boiled in broth and served with polenta, with risotto and more.
Cherry gnocchi
Definitely an Austrian legacy, cherry dumplings (or gnocchi) are common in the northern part of the region and are strictly linked to the cherry season, in summer, while in autumn there is a version with plums. A soft yet compact dough made of boiled and mashed potatoes hosts a pitted cherry as a filling. The gnocchi are then boiled, drained and sautéed with butter and sugar and served with a dash of cinnamon. At Sale e Pepe (via Capoluogo, 19, +39.0432.724118), a lovely trattoria in  Stregna – in the Natisone valley – you can also find a savory version with no sugar, served as a pasta dish.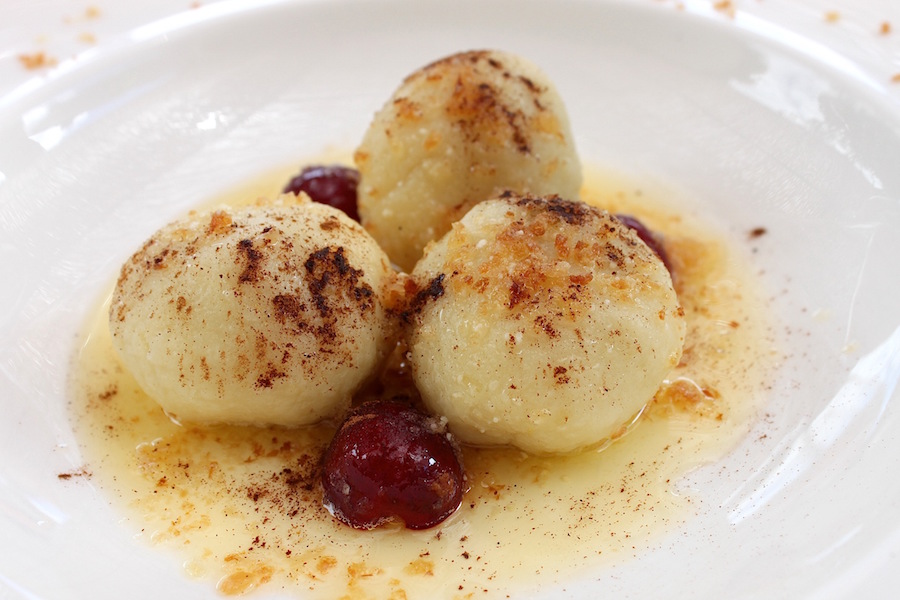 Rosa di Gorizia
The "Gorizia's rose" actually is a peculiar local variety of chicory.  The round shape and the intense red color – sometimes with lighter pink shades – make it look like a rose. Crunchy and not as much bitter as other varieties, this chicory is rare and precious. It only grows in local orchards near Gorizia in winter. To savor its taste and crispness it should be eaten raw, maybe in a salad or with potatoes and beans or boiled eggs. At Rosenbar restaurant they also serve it with a bean soup with roasted bacon and vinegar or with grilled squid and polenta.
Il bollito 
Boiled beef meat is a staple of the Northern Italy "noble" cuisine, yet in Trieste – probably following  the Austrian tradition – it is a little different: almost every part of the pig is cooked "in caldaia", the local version of the traditional boiling in a huge pot. Bacon, head, tongue, ears, knuckles, porcina (a sort of spicy air-cured salami), sausages and more are boiled in a tasty broth and served piping hot with cumin sauerkraut, mustard and grated horseradish. A simple yet tasty meal to be matched to a glass of the fierce, local red wine Terrano. One of the most iconic places in Trieste to eat bollito is the historic Buffet da Pepi. 
Girini di pasta (pasta "tadpoles")
Tiny, twisted "crumbs" of pasta buttata (egg and flour dough strained with a potato ricer) boiled just like a pasta, then seasoned with seasonal greens and other ingredients like San Daniele ham, Gorizia's rose and goat cheese. Inspired by local tradition, this original and lovely recipe is made by chef Alessandro Gavagna at the elegant restaurant of the charming resort La Subida.
Pestat di Fagagna

It looks like a large, soft and pale salami with some colored dots. Yet, pestat – a Slow Food Presidium - is a different kind of food, a sort of ancestor of the modern bouillon cube. Made of fresh minced lard flavored with herbs, spices and diced vegetables, it is preserved as a sausage (today, local producers also make a convenient, creamier version in jar) taking a bit of it when needed. A generous amount of pestat gives an incredible flavor to roasted potatoes and meats, soups and stews, without adding too much salt. A red version with tomato is also used to season pasta or on toasted bread like they do at Casale Cjanor in Fagagna, a farm with a cozy trattoria open at weekends which produces its own, delicious pestat.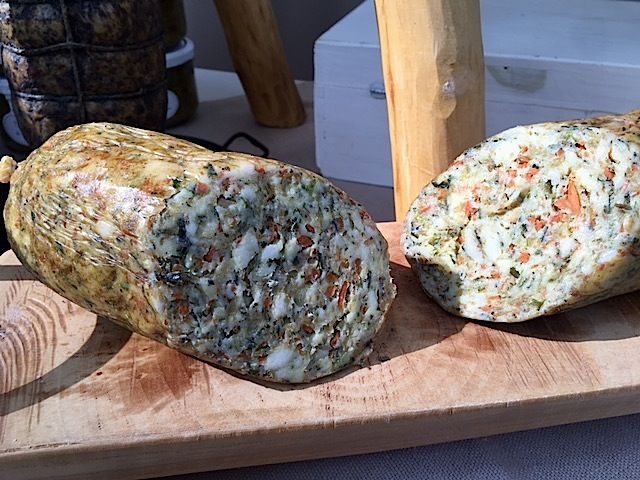 Jamar
Jamar is the name of an outstanding, wonderful cheese made by local breeder and dairyman Dario Zidaric in Prepotto, a small village not far from Trieste. Made with cow's milk, the cheese matures for 12 months in a 60-meter deep karst cave (a landscape formed from the dissolution of soluble rocks such as limestone or dolomite, which gives shape and name to the Cars area at the border between Friuli and Slovenia), until it reaches an intense flavor yet keeping a creamy and rich texture. Jamar is obviously delicious to be eaten on its own, yet it can also be used as an ingredient for tasty recipes. At Devetak, a beautiful family-run inn in the same area, they use it to prepare a  fantastic risotto or the fusi istriani (a nestle-shaped fresh pasta) with sausage and cheese.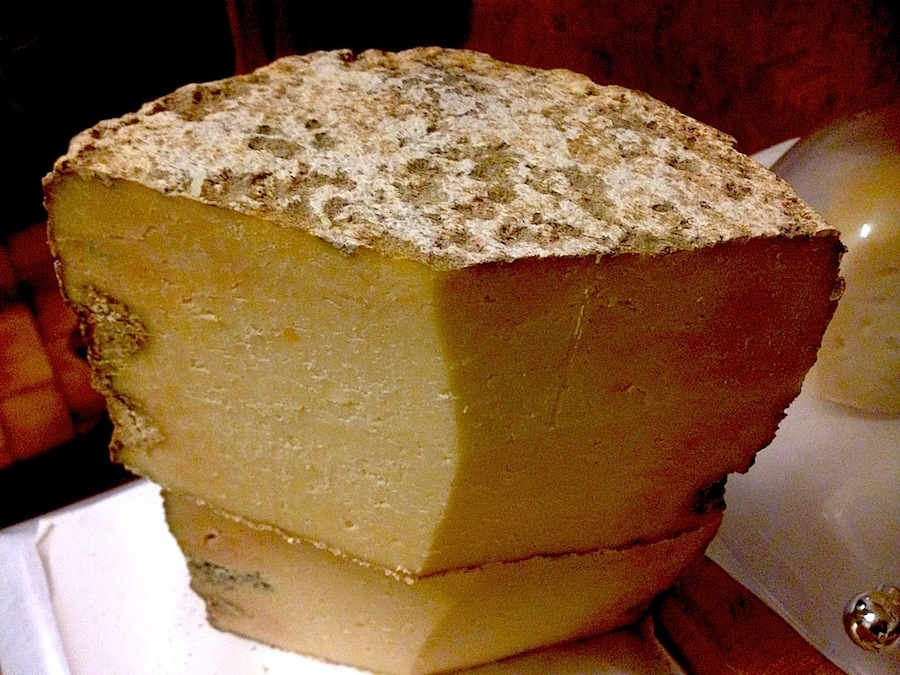 Smoked trout
Many freshwater fishes grow in the cold, clear waters of the regional lakes. Thanks to this, a renowned production of cold or hot-smoked trout is born. The precious and delicate fillets are usually eaten on toasted bread or in tasty salads. At spring, at the country farm Casa Rossa ai Colli in Ragogna they serve them on a cold barley-risotto salad with citrus, urticions (hop shoots) and beer mayo.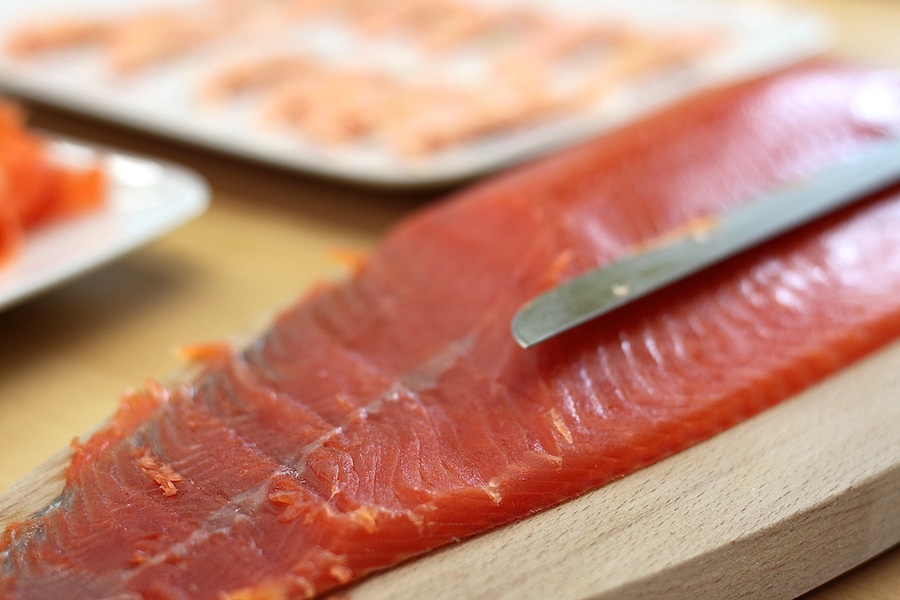 Gubana
The spiral-shaped yeast cake hides a rich filling of nuts, raisin, pine nuts, sugar and lemon zest. Apparently its origin dates back at least to 1409, when it was prepared for the feast in honor of the Pope visiting Cividale del Friuli.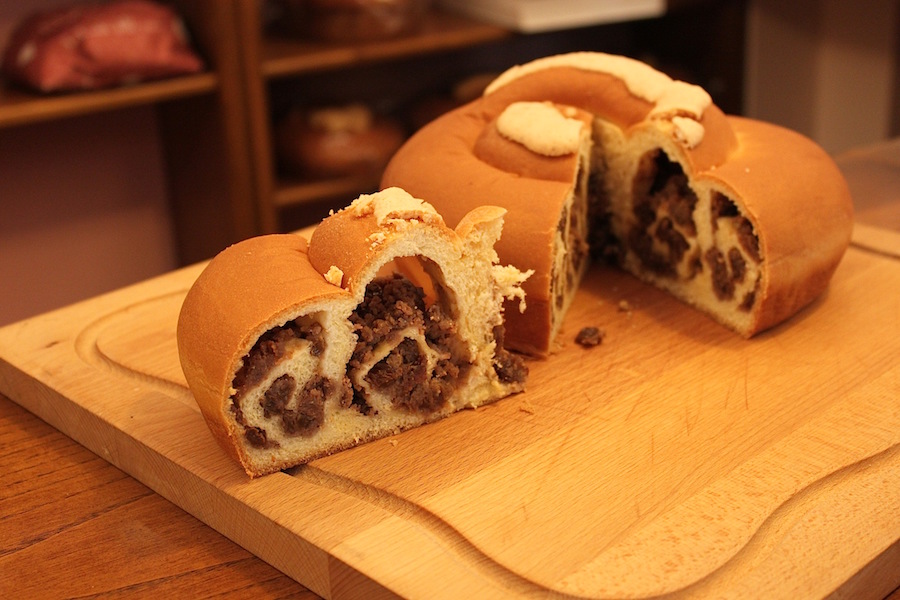 Traditionally made for special occasions such as Christmas or Easter, sometimes gubana is served with a splash of grappa or Slivowitz, the local plum brandy. Try it at the lovely Enoteca di Cormons along many other local products and wines.