Wedding planning is exciting and fun – at least, most of it. It's exhilarating to think about the décor, the guest list, the food, the music… Unfortunately, it's also necessary to do a lot of administration to make sure your wedding is proper and legally binding.
Less exciting and, as ever, dealing with Italian bureaucracy can be a little challenging! But you need to get it done and, with enough advance planning, it should be relatively painless.
Please note that this is merely a guide to help you understand the steps you'll need to take. It is not legal advice, and some requirements vary based on your nationality and the town you want to get married in. Check carefully with the bodies mentioned below to make sure everything is in order.
Church or comune?
Firstly, decide whether you want a church wedding or a civil one. This should be a straightforward decision – for the former, at least one of the two of you must be Catholic! There is some information at the end of this article about the extra bits you need to do in order to get married in church.
Of course, you can get married in another religious tradition as appropriate, but if the wedding is not a Catholic wedding then you also need to complete civil vows either separately at the comune (town hall) or incorporate them into the religious ceremony.
The other option is a complete secular or civil ceremony via the comune of the town you wish to get married in. This is done by the mayor or an officer on his or her behalf, either at the town hall or, for a fee, at another venue provided they have the appropriate permission.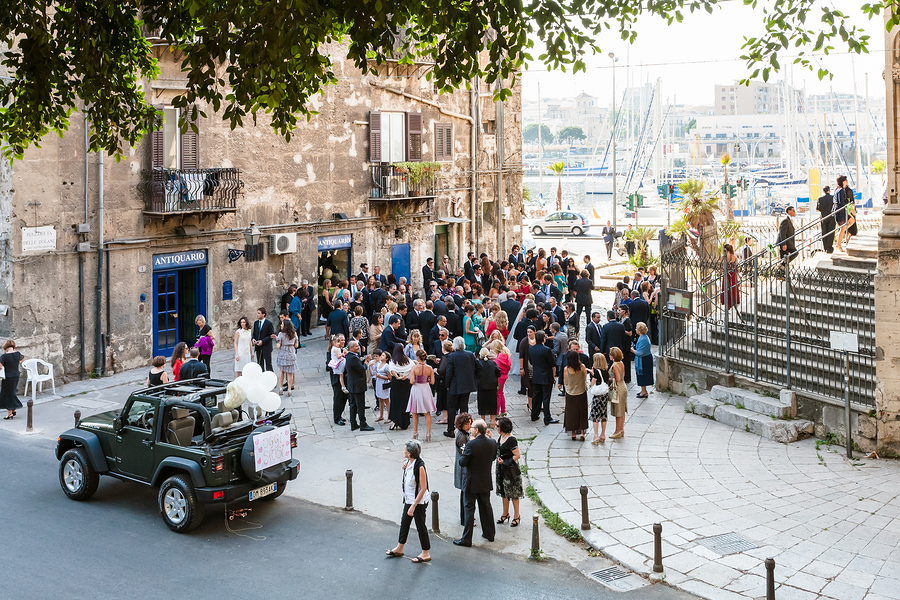 Get in touch
Once you know the date you want to get married, get in touch with the comune to check availability. The sooner the better – both to secure your date and not find you are inviting people to a wedding that cannot go ahead! This is especially important if you want to book the mayor to come off-site to another venue.
While you're speaking to the comune, check when the various steps need to be completed as the time requirements can vary.
Put your paperwork in order
The basics you're likely to need are:
Passports for you and your partner.
Evidence that any previous marriages have ended, such as a divorce certificate or death certificate.
Both parties will then need to obtain a Nulla Osta or equivalent document from your country. This is essentially a document declaring that there are no objections to your right to marry.
The requirements may vary depending on whether you are living in your home country, Italy or a third country. Contact your country's consulate or embassy to find out what is needed. If you either live in or are travelling to Italy before the wedding, this can often be done at your country's embassy or in front of an Italian notary public. Make sure to check whether any documents require official translations to be produced.
Once you each have a Nulla Osta or equivalent, your will need to post notice of your marriage – the pubblicazione di matrimonio. If you live in Italy, this should be done at the comune in which at least one of the couple lives – not the one in which you intend to marry. If you live abroad, this must be done at the Italian embassy or consulate in your country. 
The announcement will be made public and there will be two weeks for anyone to view and object to it, after which you will receive notice that you are free to marry. This must be completed no more than six months and no less than two months before the wedding date. Your comune or consulate will also forward this information to the comune in which you plan to marry, if different.
The ceremony
At the civil ceremony, you will be read and asked to agree to certain acts of the civil code, related to the obligations and rights of the spouses. One thing you will have to decide and declare is whether you choose separation or communion of assets – essentially whether you choose for assets aquired by one partner after the marriage to be jointly owned or remain separately owned unless otherwise specified. 
This only takes importance in the event of divorce or death, so it can be a tricky conversation, but no less important for it. Comunione dei beni is the default option, and in this case should there be a divorce property and assets are generally split 50/50. Separazione can be more contentious but also perhaps fairer, depending on the circumstances of the couple. Whichever regime is chosen at the point of marriage, it can be changed down the line.
There are a few important people you need with you at the ceremony. Firstly, there must be two witnesses or testimoni who are at least 18 years old. They will affirm that they have witnessed the union and see no impediment to it.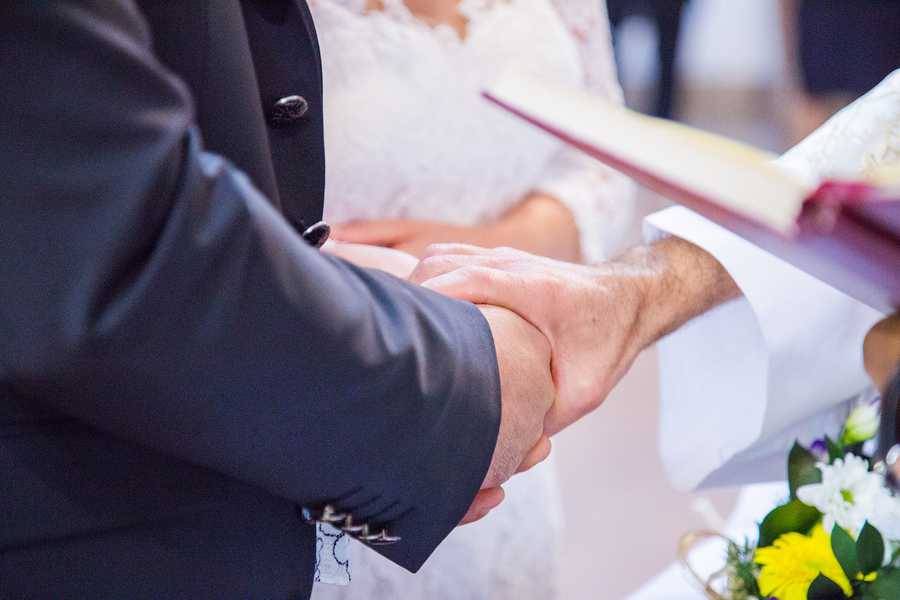 Secondly, if one of you or your witnesses is a foreign national, you must have an interpreter, even if you speak Italian. This is to ensure that everyone has full understanding of the agreement entered into. Please note: There is no requirement for this interpreter to be qualified! If you have a friend or relative who speaks both languages, they can do it. The vows and acts are quite legalistic, but the comune should be able to provide a sample text to translate in advance to avoid any nervous mistranslations.
The civil part of the ceremony itself is quite dry. Couples generally opt to do one of two things: Make the ceremony more interesting with their own readings and additional vows – especially if it is taking place at a venue other than the comune; or do the civil ceremony with a small group in the morning before a larger, custom ceremony of their own later in the day.
If you are having a non-Catholic religious ceremony, stay in contact with the minister, who will be able to guide you on ensuring that your ceremony is legally proper.
Catholic weddings
If you're getting married in a Catholic church, there are a few extra things you'll need to do:
Speak with your local priest well in advance. It is likely you will have to complete a pre-nuptial course and the priest will have to provide documentation to the parish in Italy to allow the marriage to go ahead. There will also be documentation from the diocese should one of you not be Catholic.
Get your documents in order: Pre-nuptial enquiry; baptismal, communion and confirmation certificates; letter of freedom. Your priest will be able to help you with all of this.
Remember, if neither of you is Catholic or one of you is divorced, you will not be able to get married in a church in Italy. The priest will also want to meet you and has discretion over whether or not to marry you, so make sure you also make contact well in advance with the church you want to get married in.
You're married!
Congratulations! Now go and enjoy some bel cibo, bel vino e buona compagnia!