Just like its other fashion cousin capitals Milan, Paris and New York, London Fashion Week may officially be over- yet a sense of Italian style lingers on- thanks to highlight collections such as catwalk king Antonio Berardi, husband and wife team Preen, and the debut of Italian influenced Barbara Casasola.  Upcoming talents were also showcased in a new initiative timed to coincide with the capital's Spring/Summer 2014 catwalk coverage. Here's our hit-list of the best in show:
Catwalk Chic, Italian slick:
Antonio Berardi
It's yet another strong season from the 'British Sicilian' innovator behind a unique Anglo-Italian fashion fusion. Citing his design inspiration as 'Traditional English craftsmanship meets warm Sicilian culture', ever the heartfelt Italian, he says his beloved mother remains his ultimate muse. Since the launch of his first professional collection mid-'90s, Antonio's been an unstoppable fashion force, designing for such as Gwyneth Paltrow, Beyonce and Victoria Beckham. His ideal client he describes as: 'A woman who is aware of her sensuality, and who appreciates the meticulous nature of what I do.'
The Berardi brand is one of only a few internationally influential designer independents.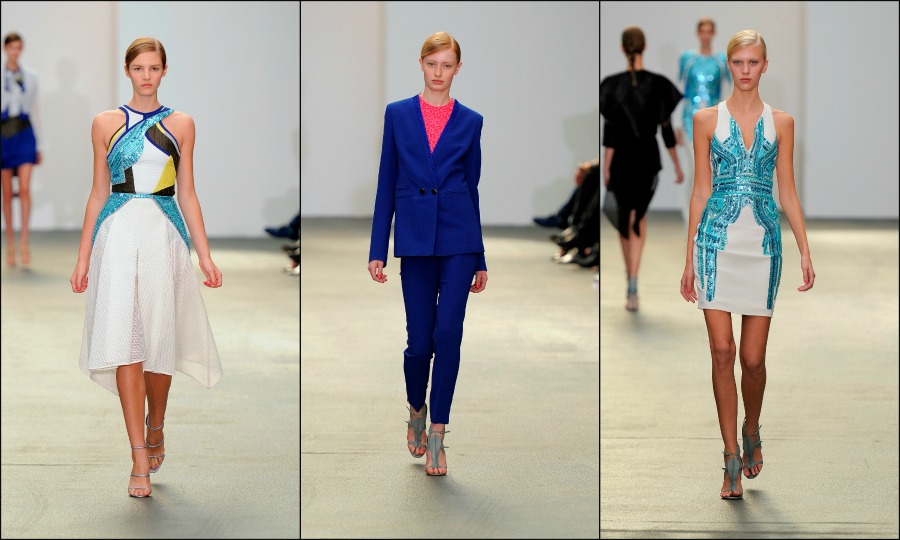 Style Highlights: 'Hard tailoring, body-conscious and highly decorated, with a traditional twist...Baroque 'n' Roll!' is how the designer defines his style. Less overtly sexy than say, Versace, a more subdued sensuality, less sharp and more eclectic, was on display in London. Sophisticated sugar-almond shades culminated in a candy pink biker's jacket worn casually over a sweeping cream maxi dress, the front curve cut to the thighs. A high front falling into back train became a dress design refrain. Other eye-catchers: a quirky tri-colour trouser suit of lipstick red, slim-fit trousers graduating at shorts level from cream into black; silver, 
semi space-age metallic skirt and shirt sets; diaphanous chiffon blouses pared with swingy animal print skirts. 
Barbara Casasola
Though Brazilian born, Barbara's Italian training inspired and influenced her informal occasion-wear. Having studied at Milan's prestigious Instituto Marangoni, she graduated 'cum laude' or first in class, in 2007. Instantly hired by Roberto Cavalli she became his first assistant designer, women's wear, in Florence. Selected as a 2012 finalist for the coveted 'Who is Next?' award, she impressed a jury including Franca Sozzani of Vogue Italia,and Silvina Venturini Fendi of Fendi. She was also selected for Milan Fashion Week's Vogue Talents Corner. Designing from her London studio, each piece is made in Italy. This season, her latest collection showcased on LFW's official schedule for the first time - to great acclaim.
Style Highlights: Showing the same day as established talents Vivienne Westwood, Paul Smith and Mulberry, judging by a confident, polished debut, newcomer Casasola promises to be a name to watch. Leading with classic black, models like pared-down 1940s screen sirens in elongated pencil skirts and structured gauzy blouses transitioned into fashion-forward creations featuring playful colour and texture splicing. All looks that real women can aspire to: from cigarette pants and nippy jackets to oriental suits in slinky hues of mustard and damson, and an op-art black and beige maxi gown the epitome of elegance. With the focus firmly on the figure flattering and lengthening, it was hooray for a classy - and wearable - collection from the new girl in town.
Francesca Villa
On display in the LFW exhibition space was a treasure-chest of fine trinkets by Ligurian born, Rome based jeweller Francesca. As previous Creative Director of one of Italy's most famous goldsmiths, she has crafted designs for ateliers including Bulgari, Louis Vuitton, Tiffany and Mikimoto. Since going solo in 2007, her inspiration comes she says, from the travels and souvenirs of her great grandfather, a ship's captain. Consequently, from ready to wear silver items to evocative, one of a kind 'memento' pieces using tiny antiques to vintage finds, Francesca's finely-crafted works are a 'world in miniature'.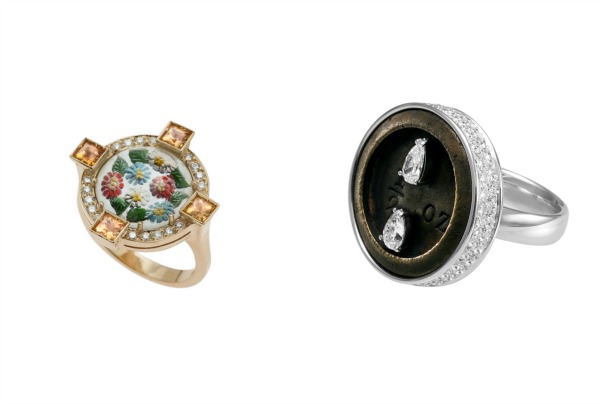 Preen
Thea Bragazzi brings a cool, clean and crisp - some might say, Italian-rooted - design aesthetic to her creative partnership with husband Justin Thornton. Renowned as design team Preen, the two met at age eighteen and have worked together ever since. They recently celebrated a decade of success - with their directional clothes stocked worldwide. A menswear and accessory collection has now been added to their impressive portfolio. 
Style Highlights: Always unexpected, Preen's strength lies in blending well-cut body-con with clever optical illusion. Their usual masterful use of colour and original print continued with a 40 strong collection of striking separates and dresses. Turning the experimental into everyday aspirational, their colour palette spanned arresting new ways with monochrome; a particularly beautiful powder blue and dove grey, and white given power with digital pixel type prints. 
The Bloomsbury Set Event
Hot on the heels of last year's Italian Collective design talent showcase held as part of ModaItalianaLondon at the Italian Cultural Institute, show organisers Stephen Mahoney and Cristina Polizzi have evolved the event and switched venues to present a pop up luxury lifestyle showcase for emerging talent. Run independently during the first two days of London Fashion Week from a location in Bloomsbury, the event is named after author Virginia Woolf and her creative 'Bloomsbury Set' friends. Cristina explains that they're already 'Italian talent spotting' for the next event due to take place in mid February. Meanwhile, ones to watch showing their product for Spring/Summer 14:
Nico Didonna
Most experienced on show, Nico has already established his men's/women's wear atelier in London, forging a strong clientele and signature based on versatile silhouettes, plus quality and craftsmanship. He feels his 'Italian heritage is integral to the brand identity-traditions merge into the multi-cultural London surroundings.' Across both ranges, the Cubism movement proves his latest influence-vibrant, clean design lines, and for glam girls, gowns featuring swirling navy and white or bold primaries, sleek shifts, and an interchangeable capsule wardrobe. (www.nicodidonna.com)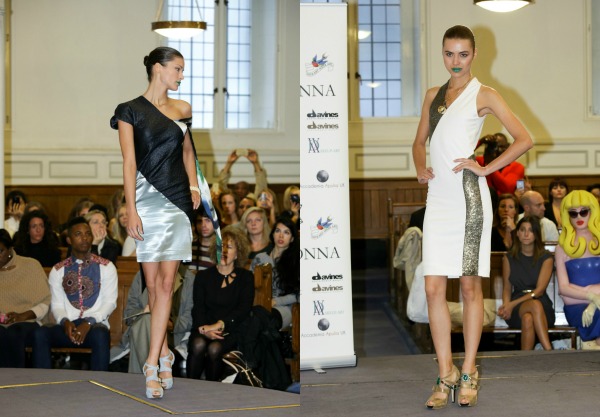 Lavolio
Lavinia Davolio's unique boutique confectionery is, she says, 'inspired by favourite Italian designers such as Missoni, Emilio Pucci, Etro and Moshchino.' With over 30 flavours spanning five distinct 'collections', the designer-box clad sweet treats are natural, vegetarian and gluten-free. Through design, flavours and experience, Lavolio's gourmet mission hopes to be 'the opposite of boring!' says Lavinia. (www.lavolio.com)
Carlotta Gherzi
Following on from her 2012 launch of luxury leggings, Carlotta's style staple's proved an international hit: featured everywhere from 'Corriere Della Sera' to Italian London based newspaper 'La Notizia', and dressing the best celeb's legs. This season's must-buy legwear comes in eco-leather or breathable 'pleather', a shiny nylon/viscose made by the supplier behind Stella McCartney's faux leather. 'A fabric of the future you can wear year round,' says Carlotta. 'Nip and tuck' luxe leggings in trend-led print to plain, lace and animal print effect, plus wide-leg options with tops to match, are other Spring/Summer 2014 inspirations. 'Leggings are the new jeans,' states Carlotta. 'No matter what the weather - or her size or age - women worldwide wear leggings!' (www.mylovemyleggings.com)