Their signature bold and intricate knitwear, so often described as wearable works of art, has wowed the fashion world for six decades. What began in 1953 as a modest creative collaboration between husband and wife Ottavio and Rosita Missoni, has become a remarkable global lifestyle brand, boasting 40 stores worldwide, and a latest estimated turnover of 70 million Euros.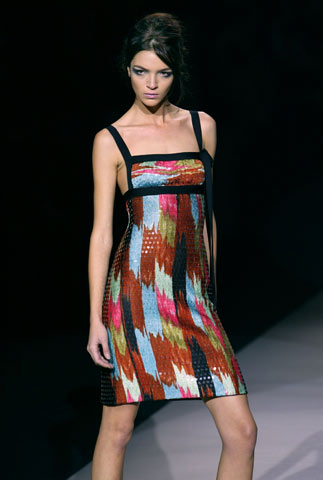 Happily for the Italian-based, family-owned fashion brand, Missoni's acclaimed apparel has never gone out of style. Expansions to the award-winning empire are ongoing and over the decades include accessories, men's, children's and diffusion ranges, swimwear and footwear,
wine
, home lines, international hotels, and inspirational industry collaborations: Mazda's 'Missoni MX-5' marked the 50th anniversary. Since 1997, the couple's children, Vittorio, Luca and Angela have been at the company's creative helm. Yet the much-anticipated milestone anniversary this year must seem bittersweet, in the event of two deaths, one in mysterious circumstances. A month beyond his 60th wedding anniversary, Missoni founder Ottavio (Tai) died in May, aged 92 - peacefully in his sleep, though his passing was preceded by the tragic news of the presumed death of his eldest son, Vittorio. In January, the small aircraft carrying Vittorio, also Missoni's marketing director, holidaying along with his wife Maurizia and other friends, disappeared en route to an island off the coast of Venezuela. Amidst the ensuing heartache, business was seen to bravely carry on. The 60th anniversary catwalk led by men's/women's designer Angela Missoni was, as usual, a triumph, serving to underline Missoni's distinguished heritage and trendsetting influence. Female fans span the classic to contemporary, from royalty and celebrities to feminists and entertainers: Russian princesses and the Duchess of Cambridge; Italian actresses such as Antonella Interlenghi as well as international stars, like Sofia Vergara, Madonna, Rihanna, and more. In its deceptively easy elegance, its timeless 'hippy luxe' take on fashion, its elevation of once humble knitwear into must-have glamour, the brand's USP is a master mix of craftsmanship and high technology. Specialising in blending together complex colour, texture and distinctive pattern, Missoni's recurring weave motif, the brightly coloured zig-zag, is as internationally recognisable as the Chanel 'double C' logo. With a focus on form miles away from couture structure of old, the fashion house arguably created the concept of lifestyle dressing. As grande dame Rosita Missoni, now in her eighties, has always maintained: 'I hate luxury in the sense of luxury and luxury brands. For me, real luxury is good attentive service and good and comfortable design.' As for the roots of business success, 'We started with our knitting machines and found the fabric of the fifties – knitwear. It really was a field where there was the most to be discovered.'
Olympic Love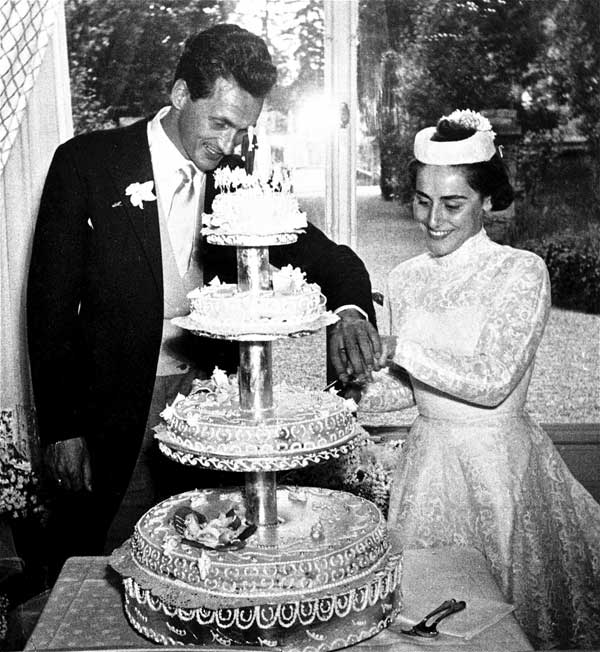 How the Missoni couple came to discover one another appears just as original. Born in Ragusa di Dalmazia on the Dalmatian coast (Dubrovnik), Ottavio's father was a sea captain, his mother, Teresa De Vidovich, countess of Capocesto and Ragonsniza. As a boy, Ottavio excelled in athletics and, aged 16, became the youngest member of Italy's national team. However, he put his sports career on hold when he enlisted with the Italian army during World War II, participating in the Battle of El Alamein in 1942; he was captured by the British and was a prisoner of war in Egypt for four years. In 1946 Ottavio returned to Italy and resumed his track career to compete in London's 1948 Olympics. Meeting Rosita - a chaperoned student spectator - over an officially arranged lunch, it was love at first sight. Appearing in the 400m hurdle finals (coming sixth) wasn't Ottavio's only claim to fame. With trainer friend Giorgio Oberweger, he'd also produced the Italian Olympic team's wool tracksuits from a small knitwear workshop in Trieste. Rosita, meanwhile, having grown up in the 'heavenly playground' of a family textile business, also had a strong interest in clothing. By 1953, the newlyweds set up a small knitwear workshop, Maglificio Jolly, in Gallarate, Lombardy, near Rosita's hometown. Initially, the fledgling business lost money, but success was gradually theirs with their emergence into the newly birthed 'ready to wear' market. In 1958, the first Missoni labelled, multi-coloured, striped knit dresses sold out at top Milan department store Rinascente. Ottavio's easy-wear 'sportif' expertise with Rosita's help crossed over into mould-breaking fashion – and began to feature in the style press.
The famous zig-zag motif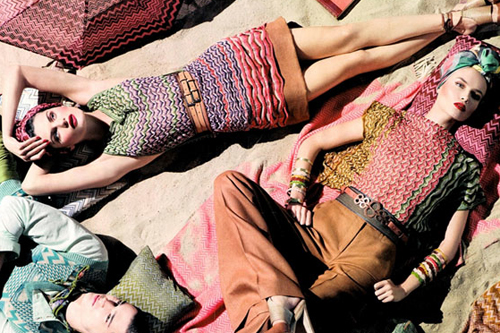 The '60s heralded a time of major creative growth. Their signature stripes evolved into ever more complex stitches, plaids, jacquards, and the famous zig-zag motif. In 1962, the Missonis cleverly adapted the Raschel knitting machine, once used by Rosita's grandparents to make hand-knitted shawls. They went on to devise lightweight, bright knit fabrics, plus innovations including knits quilted or boiled, space-dyed processes, the concept of colour tones and the 'Put together' look, reversible coats, and their favourite silky rayon-viscose blends. As a result, the company's archives feature 7000-plus designs in fibres of silks, cottons, linens, wools, rayons, mohairs and metallics. In 1965, quirky style editor Anna Piaggi was first to champion the brand, while in 1966, influential French stylist Emmanuelle Kahn created a Missoni catwalk happening in Milan, with models changing their avant-garde knits from behind a transparency. Transparency of a different type became somewhat taboo the next year at a presentation at Palazzo Pitti, Florence. Regarding the model's unsightly coloured underwear beneath her delicate creations, Rosita apparently sent them on the runway sans brassieres – rendering the blouses see-through beneath the bright lights, to much eyebrow-raised reaction and worldwide publicity. Shows were held in Milan, Paris and other capitals, while Missoni's 'Made in Italy' concept rolled out in boutique openings round the globe.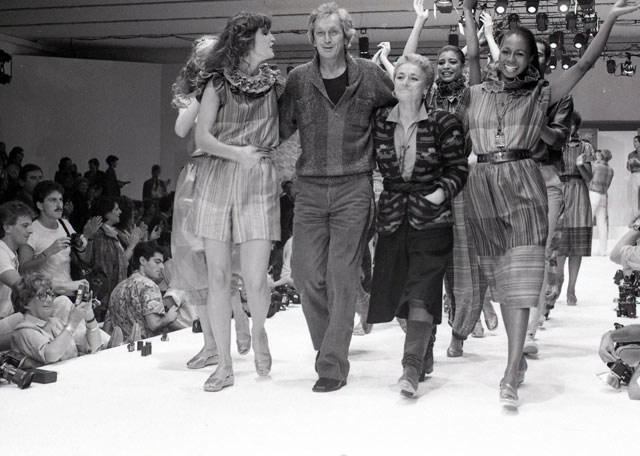 Accolades ranged from the 'Moda Mare' award in 1969 to the Neiman Marcus Fashion award in 1973. Later lifetime achievement awards bestowed by the Italian government would include Rosita's title
Commendatore al merito
, and Ottavio's
Cavaliere del Lavoro
. Women's Wear Daily praised them as 'the best knitwear designers in the world'; legendary US Vogue editor-in-chief Diana Vreeland declared their techniques 'ingenious', and by 1972, The New York Times lauded Missoni's knitwear as 'the new status symbol of Italian design…like Vuitton bags and Gucci shoes.' A later survey conducted by the Italian Foreign Trade Institute would conclude that Missoni, along with Armani, were the designers U.S. buyers preferred.
'Colour is the story of our life'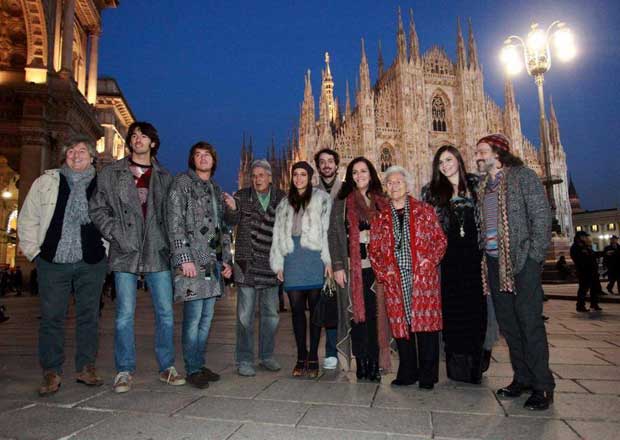 The 25-year brand landmark was celebrated with a Missoni museum retrospective at the Rotonda della Besana in Milan, before transferring to New York. In 1979, Italian journalist Maria Pezzi appreciated Missoni fashion as 'museum pieces that can nevertheless be worn.' Missoni menswear launched, followed by the first fragrance. The '80s ushered in a new home collection, and cross-cultural pollination. Ottavio dabbled in carpets and tapestries and, along with Rosita, they debuted as costume designers at Milan's La Scala Theatre for Donizetti's opera, Lucia di Lammermoor, starring Luciano Pavarotti. Highlights of the '90s included receiving the Pitti Immagine Prize, with its accompanying "Missonologia" exhibit in Florence, and the house appearing in the "Italian Metamorphosis 1943-1968" show at the Guggenheim in New York. More hit launches of shoes and diffusion lines later, Rosita announced her step-down, in order to pursue other projects, like her partner. Similarly to Ferragamo and
Versace
, family is at the core of the brand – though Ottavio explained, it was of the second generation's own choosing, rather than enforced. 'We all agree it's a family firm and it must remain as such.' Made co-creative director with brother Luca, Angela Missoni seems to display the same design flair as her parents. 'It's instinctual, almost as if it's in my blood…I do everything I like. Everything easy.' In turn, Margherita, Angela's model daughter and muse, is the latest design member of the dynasty, creating the brand's first bag collection produced in-house. 'When I was little, I used to sit in the family atelier and listen to them all…it taught me some things are just instinctive and how important that is in fashion. I designed my bags with proportion in mind – I wanted them to be real.' High-end accessories aside, Margherita oversaw the recent partnership with Canadian department store Holt Renfrew to sell $50 zig-zag textile soft toys to benefit OrphanAid Africa.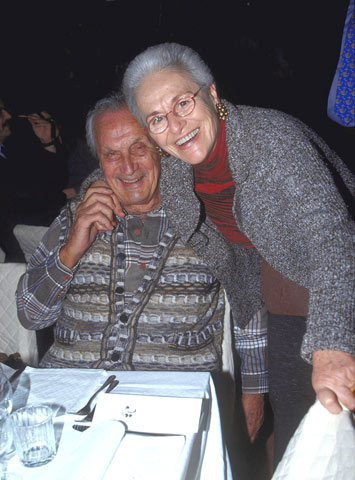 The charity strikes a chord as Margherita, 30, recently gave birth to her first child with racing driver Eugenio Amos, whom she married in typically bohemian celebrations in June in the family parkland situated at Sumirago, north of Milan. Baby boy Otto Hermann is the first of the Missoni family's fourth generation, and by all accounts a rainbow bundle of joy amidst this year's darker days. 'Colour is the story of our life,' is the oft-quoted saying of Missoni matriarch Rosita. Chiming as always with the vivid vision summed up by her beloved late husband: 'Life is More with Colours.'
---
Further reading: 'Una Vita Sul Filo di Lana/A life on the Woollen Thread', the 2011 autobiography by Ottavio Missoni with Paolo Scandaletti. See also www.missoni.com.
---