Born Francesco Stephen Castelluccio, better known as Frankie, a certain Italian-American was told early on that should he make it as a singer, his surname was 'a little long for marquees.' Opting for Valley, then the Italianised Valli, his new name would gain worldwide acclaim over the next five decades and counting. He may have started out barbering, but sweet soul-pop harmonies was where he cut it best, to such extent that Frankie Valli is now rated as one of the longest serving and most successful singers in the business. From 1962 to 1978 alone, Frankie Valli and the Four Seasons sold more than 100 million records.
Jersey Boys, the long-running, multi award-winning Broadway musical, reflects the Frankie phenomenon. Over the past decade, more than 19 million people around the world are said to have seen the popular stage production. Following swiftly on, Frankie fan Clint Eastwood has directed a well-received biopic based on the musical, now on European release. Meanwhile, Mr Valli himself – who recently celebrated his 80th birthday – continues to tour, as he has done since 1962.
With an impressive range from baritone to falsetto, Frankie has tended to sing more in baritone when performing on his own; falsetto when with the Four Seasons. In all, he has earned some 71 chart hits, including eight number ones. Catchy classics include Sherry, Big Girls Don't Cry, Walk Like a Man, December 1963 (Oh, What a Night), Rag Doll through to 1975's disco smash Who Loves You. Solo hits span My Eyes Adored You, and the much covered Can't Take My Eyes Off You, to the Billboard number 1 title track of 1978 film, Grease. From contemporary French rap remixes to European remixes of '67 hit Beggin' in 2007, Valli's cross-generational appeal remains timeless.
As the first guy to perform lead vocals in a high falsetto, Frankie taught himself musical styling. By imitating and integrating his radio favourites – male and female – he pioneered his own sound. Frank Sinatra he cites as his initial singing inspiration, having been taken, aged seven, by his mother to see the legend perform at New York's Paramount Theatre. 'The way he was lit up, it was like he had an aura around him,' remembers Valli. 'I decided then and there that's what I was going to do – be a successful singer.'
From guesting in 1951 with an early prototype of his later group, over ten years Frankie and his friends tried to 'make it' with various changing line-ups. Taking off small-time as The Four Lovers, by 1960, the band name The Four Seasons was settled on – after a cocktail lounge in a bowling alley. Hit-wise, they were firmly on course from 1959 when piano-playing, song-writing hitmaker Bob Gaudio joined. Gaudio, together with Seasons' producer Bob Crewe, would become one of the biggest song-writing teams in pop music. Interestingly, Gaudio's original introduction to the group came by way of mutual friend Joe Pesci.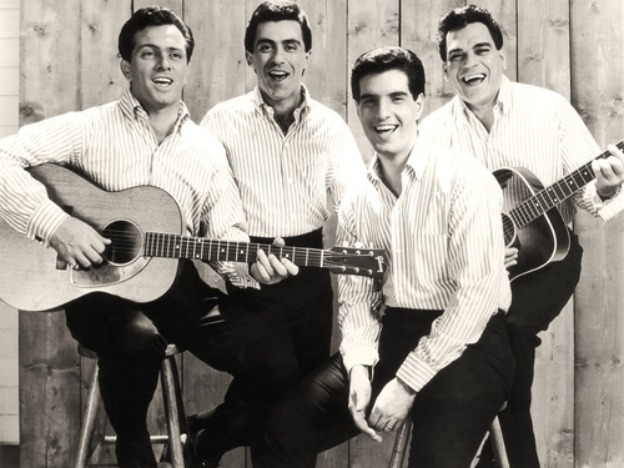 [Photo above: The Four Seasons: Frankie Valli, Bob Gaudio, Tommy DeVito and Nick Massi] 
Pesci (Frankie's barber, in fact, before becoming the Oscar-winning actor), along with Frankie and his definitive band, founding guitarist Tommy DeVito, bassist Nick Massi and Bob Gaudio, all hailed from the tough neighbourhood of Newark, New Jersey. As Tommy's character in the latest film soon clarifies, there were three ways out of town: 'join the army, join the Mob, or get famous.' As Frankie himself recently reminisced: 'We were not clean-cut kids who went to church every Sunday. Some of the guys in the group had prison records (for small-time robberies). So we just prayed and hoped that nobody would ever find out.'
Luckily, a calling to the classic Italian-American art of 'barber-shop singing', practiced on street corners and polished into their one-of-a-kind pop, proved the boys' creative escape from a potential Goodfellas style life of crime.
From this raw and colourful reality, art imitates life in Eastwood's movie tribute, Jersey Boys. As the film's consultant, Frankie was also a frequent on-set guest regaling the cast with tales of his rollercoaster life - and the celluloid result has an authentic feel. Following the format of the same-named musical, the film features three of the original Broadway cast, along with charismatic Italian-American Vincent Piazza as troubled Tommy DeVito - seen torn between the worlds of pop music and the Mob. Along with all the hits, the band's artistic highs as well as personal life lows, from debt to death, are shown: no event more heart-wrenching than the estrangement and subsequent tragic loss of Valli's beloved daughter, Francine, in 1980.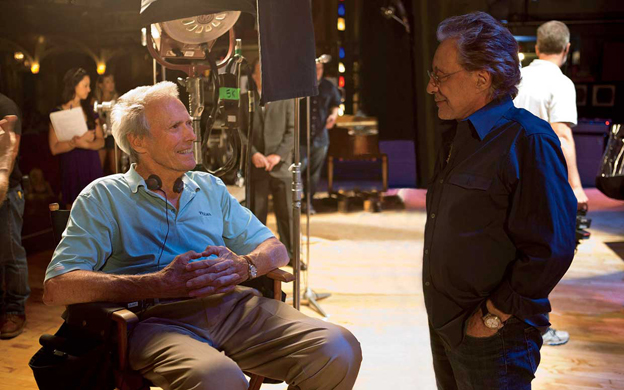 [Photo above: director Clint Eastwood with Frankie Valli on the set of Jersey Boys]
Fortunately in the same timeframe, surgery restored most of the singer's hearing. Having suffered from otosclerosis in the 1970s, Frankie had been forced to 'sing from memory' in the latter part of the decade. Later branching into acting, alongside Seasons' music on the soundtrack, he made several notable appearances as mobster Rusty Millio in successful HBO series The Sopranos. In real life never one to forget his roots, Valli is a keen supporter of heritage-related causes, such as the National Italian American Foundation (NIAF). Among his many awards, he has received the Ellis Island Medal of Honor for his commitment to causes philanthropic. An incredibly active octogenarian, the star still performs 50-60 gigs annually, approaching his 55th year in a truly unique, and still glittering, showbiz career.
THE CREATIVE PEAKS OF FRANKIE VALLI
* Considered a trendsetter in the music industry, Frankie was one of the first to forge a parallel recording path as a soloist while still commanding, and enjoying hits with, his band.  
* Covered by some 200 artists, Valli's signature Can't Take My Eyes Off You is now one of the top ten most played songs in the history of BMI, one of the two major companies that collect songwriters' royalties.
* Valli and piano-player/songwriter Bob Gaudio have a shrewd and long-standing gentleman's agreement. With a handshake, they each agreed to give the other half of their earnings – Bob's as writer and producer, Frankie's as solo performer. This would act as some buffer against the later shock legacy of debt incurred by guitarist Tommy DeVito.
* A master of interpretation, among his own favourites, Valli selects his 2007 release on Universal, a tribute to the era's best croon-tunes, Romancing the '60s.
* Other top recording artists from Barry Gibb of the Bee Gees to Billy Joel have cited Frankie and his Seasons as influences.
* Frankie Valli and the Four Seasons were inducted into the prestigious Rock & Roll Hall of Fame in 1995.
Watch the trailer for Jersey Boys: