"I feel like a pendulum between two magnets," says Italian journalist Federico Rampini, referring to an inner conflict common to many expatriates, the allure of the adopted country, in his case the United States, and the longing for the homeland, Italy.
Rampini has been the chief correspondent from New York City for one of Italy's major national newspapers, La Repubblica, since 2009, after a five-year stint in Beijing, where he had been dispatched to open La Repubblica's China bureau. Prior to that, from 2000 to 2004, he lived in San Francisco, where he covered the first Internet revolution, the so-called New Economy.
Born in Genoa, Rampini moved to Bruxelles with his family at the age of two. He returned to Italy in his late teens, and started a prolific journalistic career, which would eventually take him around the world, covering important international events. In his role as a correspondent from the U.S., he has covered several presidential elections and has followed U.S. presidents on their trips abroad, as a reporter accredited for the White House. Rampini is also an acclaimed speaker, the author of more than 20 books, and a theater performer (his latest show is "Trump Blues"). 
We reached Rampini via Skype at the New York newsroom of La Repubblica, to ask him about his life and work in the U.S., Italian American communities and culture, and why everybody wants to be Italian.
You've spent time in the U.S. since you were young. When it was time to actually move there, was it easy for you and your family to adjust to your new life in California?
It was a quick adjustment, and a happy one. We were lucky because we moved to a city  that is welcoming in many respects. There's a magic about San Francisco that is unique. It's small compared to other American cities, therefore it has retained a human dimension. The weather is marvelous, the landscape is marvelous, and people are very friendly. So we didn't have any trouble adjusting to our new life in California.
Why did you decide to acquire U.S. citizenship?
It all started when my children chose to apply for U.S. citizenship. My wife and I then decided to follow suit, for practical reasons because it would make things easier; but there was also an interest on my part, as a journalist, to experience first-hand this mechanism that I describe as a "citizens factory." There's a lot of debate nowadays on issues of identity, citizenship, how to handle migration flows, how to assimilate foreigners; the American experiment is still one of the most advanced and I wanted to be a part of it.
What do you like the most about living in the U.S.?
The freedom. It may be a cliché, but it's true, it's a country that lets you do a great many things. I'm attracted to its vastness, I feel like I'm always at the beginning of a discovery trip. I also like its multi-ethnic society, where you're accepted with your cultural background; obviously, there are minorities that have a more difficult relationship, but as an Italian, you can very much feel at home here.
What do you miss about Italy?
I miss almost everything! Because I didn't grow up in Italy, I've built my Italian identity piece by piece, so I'm very attached to it. Italy is a wonderful country, everybody knows it – there's the quality of relationships, especially in small towns, the beauty, the art, the food, it's an endless list. There's a chapter in my latest book [Le linee Rosse, 2017], jokingly titled 'The Globalization of Prosecco'; what I say is that Italy is so appealing that the rest of the world would like to live like we do, so, in a way, we're the winners of globalization. Wherever I've lived, I've met people who aspire to live like the Italians.
Don't Americans tend to have a stereotypical vision of Italy, exclusively as the country of 'la dolce vita'? Do they actually know about Italian politics and the economy?
No, they know nothing, but that's our luck, isn't it?! This is true not just of Americans though, but of foreigners in general: Italy is admired by the rest of the world, nobody really cares about the details of Italian politics, and it's probably better this way.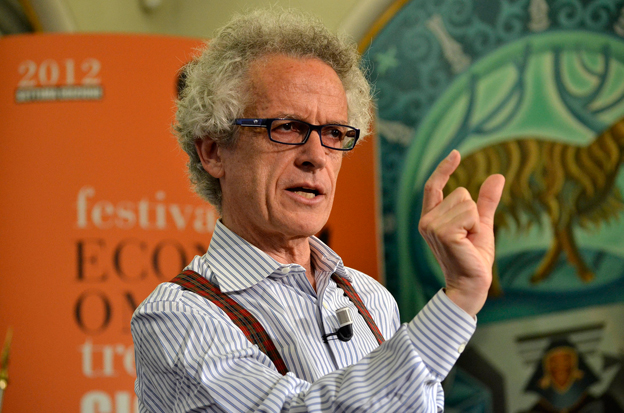 Are you involved with the Italian American community of New York?
I am, and not only with the New York community, but with all Italian American communities in the country. Whenever I travel across the U.S. and I meet Italian Americans, there's an immediate liking, and a desire to help. This is also one of the nicest memories I have of San Francisco, the Italian American community there is very welcoming, collaborative, and greatly helped me when I first arrived.
Don't you find that second and third generation Italian Americans sometimes have the idea of an Italy that no longer exists?
The Italian American community has diversified a lot because Italian immigration to the U.S. has never really ceased, so now we have stratifications, we have a younger generation, which I'd define as 'expats,' and not all these communities necessarily interact. So yes, third-generation Italians, those whose parents were born in the U.S., so the immigrants were their grandparents, may sometimes have an obsolete view of Italy. But they do travel, so they have the possibility to update their image of Italy. Another interesting thing that is happening is that an increasing number of Italian Americans who had 'forgotten' the Italian language are now studying it, so this has created a new connection with the Italy of today.
Speaking of the younger generation of immigrants, there are many Italians who have difficulty finding professional success in Italy, then move to the U.S. and have brilliant careers. Why does this happen, and do you think the so-called 'brain drain' will continue?
On this subject I have to be a bit pessimistic, at least in the short term. I think the trend will continue. There are two main reasons for the Italian brain drain that go beyond the bad economy. One is Italian nepotism: I see young Italians arrive in the U.S. and have exceptional academic careers, and the first reason they cite for having left Italy isn't the lack of funds, it's the fact that much less qualified people get ahead just because they have fathers, mothers, grandparents, etc., in powerful positions. Italian nepotism causes the brightest to flee. The other part of the issue, and this one's more subtle, it's a cultural issue, is that Italy is a country that is envious of success. Talented people are immediately looked at with suspicion, whereas in the U.S. it's the opposite, if you have success you're admired; in Italy, it's more likely you'll be vilified. These are aspects that I don't expect will change.
Are there events and places to experience Italian culture in New York?
Yes, there are plenty! There's so much of it that I only manage to follow a small part. First of all, there are some exceptional permanent centers of Italian culture: the Casa Italiana Zerilli-Merimò, directed by Stefano Albertini, a phenomenal institution for the number of events they organize, the Italian Cultural Institute, and the Italian Academy at Columbia University. I'm a big music fan, so I should mention the Metropolitan Opera, a place dominated by Italians, and Carnegie Hall. If you prefer contemporary or ethnic music, there are so many places, for example, in the Village, there's Poisson Rouge, where very good musicians perform. And I only mentioned a small fraction of Italian-related things, in New York you're really spoiled for choice.
Is it true that the Little Italy of the Bronx (Arthur Avenue) is now more authentic that the Little Italy of Manhattan, once one of the largest Little Italys in the U.S.?
Yes, Manhattan's Little Italy has been slowly encroached by Chinatown, which continues to expand. There are still Italian restaurants, there's still the legendary Di Palo's Fine Foods, but I believe very few Italians still live in the neighborhood, whereas in the Bronx there's a real settlement of Italian residents.
And since we're talking Little Italys, which nowadays mainly means restaurants, I wanted to mention another interesting trend, and this is true for other big cities in the U.S.: the Italian restaurant industry is no longer tied to the concept of 'cucina povera', a cheap cuisine that is also a bit simple, unrefined; Italian restaurants in New York are now the best. We've outmatched the French, thanks to a whole new generation of Italian chefs, and American chefs who have trained in Italy, and have opened very successful Italian restaurants in the U.S.
Thank you, Mr. Rampini, for taking the time to answer our questions. 
You can follow Rampini on his blog Estremo Occidente (in Italian) on La Repubblica's website.
Rampini's latest book, "Le linee rosse," is available on Amazon.