"Every family has amazing stories. What story do you want to find out?"
Mary Tedesco is a professional genealogist, a host on the PBS TV series "Genealogy Roadshow", and the founder of Origins Italy, a genealogical research firm specializing in Italian and Italian-American ancestry research. ITALY Magazine is thrilled to interview Mary to find out what Italian genealogy involves and how people can start tracing their Italian roots. 
Can you talk a bit about your own Italian origins?
I'd love to! My paternal grandfather is from a small town in Calabria called San Pietro a Maida and came over to the United States in 1929, when he was nine years old. My grandmother was born in Rovereto, province of Trento, but was raised in Rome. They met during World War II, in Rome, while my grandfather was an American GI.  They were married in Rome in 1945 and my grandmother came to the U.S. as a war bride in 1946.
Was it difficult for you to trace your Italian ancestry?
No, I had it easy because my grandparents were alive when I started this research (my grandfather still is), so I just asked them where they were from; plus, we still have relatives in Italy, so it was very easy to start piecing together the family history because I could just ask. Of course not all Italian Americans have it as easy as my particular case because not everybody has the gift of having their grandparents with them to ask them questions. The first time that I wanted to get family documents, even though I speak Italian, I had my grandmother edit my letter to the "ufficio stato civile" (civil records office), and then I used versions of that letter to keep writing to the offices of other towns in Italy. My grandfather is 95 and still recalls all the details about everything! It's a very fortunate scenario in terms of beginning to trace roots.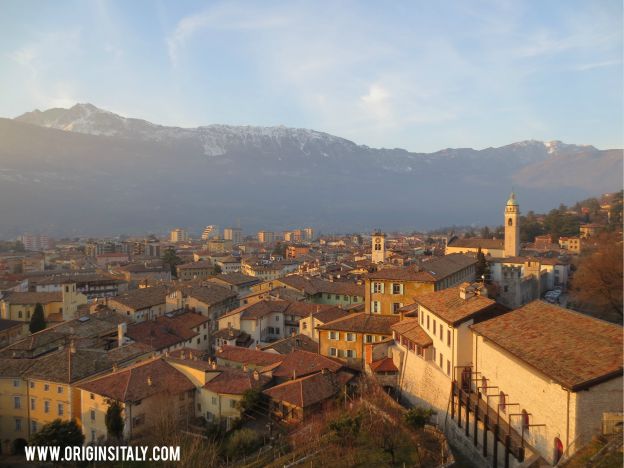 [Photo: Rovereto, Italy - Mary Tedesco's grandmother was born in Rovereto. Copyright 2015 ORIGINS ITALY.]
Why did you decide to start Origins Italy?
I had been doing research about my family for a number of years, then folks started asking me to do research for them, and that's how Origins Italy developed.  It is my passion, it doesn't feel like work to me because it's such a pleasure to help clients every day find their Italian roots, clients not just from America, but globally; our services apply to anybody with Italian roots, even Italians in Italy.  
Have you noticed an increased interest from people of Italian descent in tracing their roots?
Yes, and I'm happy to see how many more Italian Americans and other descendants of Italians around the world are getting excited about Italian genealogy. Folks are becoming more interested in their roots, wanting to know more about Italy and the places their ancestors are from, and it's very exciting to think of all these individual journeys of discovery that are ready to start. Everybody has a story to be told, a story to be discovered, but you don't know until you start researching.
What is the main reason for people to start tracing their roots?
Great question, and I think there are a thousand reasons because it all starts from a personal reason, but here are three of the most common.
The first one is that some of us, as Italian Americans, may be losing the connection with Italy, meaning that a grandparent or great-grandparent born in Italy is now deceased, and we're trying to get a piece of that back; in a very sentimental and nostalgic way, we want to recreate what we may have been able to ask this person: 'who are your ancestors, what did they do, how did they tie into the local community in Italy, what contributions did they make, and why did they ultimately choose to immigrate?'. So some people want to re-find that connection.
Others would like to become citizens of Italy, for which they need a direct ancestor. Others still would like to write a book about their family history and need this information about their background.
There are dozens of personal reasons. But what I always say is, you have to look inside yourself and find your reason: what are you most curious about?
Let's get into the practical aspects of Italian genealogy. What are the first three steps to take when beginning your research?
The first step is to find out what town or towns your ancestors came from. I have a blog post on my website for instructions on how to do that. 
The second step is to write down the things you're most curious about. This is not just research, it's about you and your family, so you really have to know what you're after.
Once you've found out where you're from, and here's the third step, you have to do an informal survey of what kind of records (birth, marriage, death, military, demographics, etc.) and repositories (city hall, state archive, diocese), are available for that area. You have to know what you can conduct research in.
What is the best source of information to start your search?
The first step for anybody globally is to go on www.familysearch.org and see if any records from your ancestral town or the area that you're researching are on microfilm or digitized. You can then have microfilm sent to a Family History Center anywhere in the globe, even in Italy. Once you have exhausted all the resources available online and on microfilm, you will need to consult records available in Italy. The Civil Records Office and the parish church of your ancestral town are excellent places to carry out your research. Sometimes, the only copy of a certain record, such as baptism or marriage, is in the parrocchia where the event took place.
Watch this clip courtesy of PBS Genealogy Roadshow - Mary heads to Italy for onsite genealogical research (interview continues after the video):
Is it true that last names can give a hint as to where the ancestors were from?
In general, yes, here's an example: the last name ending in –oti is a derived Greek ending, so that's most commonly found where the Greeks were settled, in Sicily or Calabria. Of course, with migrations throughout Italy, last names have spread around Italy quite a lot, but, more often than not, you can probably trace the history of that name back to one of the Greek settlements in Italy. And many surnames of course are just typical of a certain area. My grandmother herself had an Austrian name, later Italianized in 'Stenico'; you wouldn't find a German or Austrian derived name in southern Italy, so you'd know it's from the North. But with some names like Rossi, it becomes very difficult! 
What advice would you give to someone who decides to start research on their Italian origins?
Take a couple of classes on Italian genealogy or hire somebody as a consultant to give you some tips on tactics and techniques because it will make the process more efficient. Make sure you document your journey along the way, write down what you found and where you found it, so you don't go look for the same thing again. And most importantly, have a good time. There will be challenges along the way, but keep a positive attitude, just have a great time with your journey because it's unique.
That's such great advice. And my final question is, what does being Italian American mean to you?
Being Italian American to me is a source of great pride. I'm proud of who I am, who my grandparents are, and the sacrifices they made to come to this country. The thing I respect most about my grandparents is that they ingrained in us a sense of pride about being Italian, about not being afraid of who we are, about remembering who we are, where we came from, remembering our relatives in Italy, remembering the stories. My grandparents both tell stories of folks who have been deceased for 90 years. I mean, people are remembered, and cherished. In Italy family is cherished, and in our family it is as well.
If it wasn't for my grandmother, I wouldn't be doing what I'm doing. She was the one who was most excited about genealogy, about knowing the next ancestor. She had this curiosity and that's what genealogy is about: curiosity not just about yourself, but also your entire family, and ultimately, your identity.
Want to know more about Italian genealogy? Mary is the co-author of "Tracing Your Italian Ancestors" an 84-page Italian research guide, available for purchase here. 
You can get in touch with Mary through her website, Origins Italy, as well as Facebook page and Twitter account.