[Photo above: Gianni Versace, Valentino, Giorgio Armani, Gianfranco Ferré, Milan, 1992. (c) Graziella Vigo.]
As attended by Italian PM Matteo Renzi along with a star-studded array of designers, 'The Glamour of Italian Fashion 1945-2014' is proving a popular, and important, celebration of style. Taking place at London's Victoria & Albert Museum, it is the first fashion retrospective of its kind outside of Italy. Here, Julie Burns interviews its creator and curator, Sonnet Stanfill.
What is your connection to the subject of Italian style?
Though my background is American, I have a great reverence for all things Italian. I grew up in a household that loved Italian opera to food to design, spent summers in Italy as a child, and studied in Florence for a year. Having worked in London's Victoria & Albert museum now for 15 years, it's challenging to find fashion exhibition topics not yet covered. Though designers such as Versace and Valentino have been profiled, there has never been an in-depth look at Italian production as such. Taking five years to complete, it's been a truly delightful project.
With this timeline - 1945 to present - in mind, what makes Italian fashion distinctive to other style leaders such as the U.S., the U.K., and Paris?
France and the U.S. hit their peaks or moment of greatest influence at different times. What was interesting was the U.S. exploded in ready-to-wear first, with France hitting the golden age of couture in the era following Dior's New Look of 1947. The Italian flash moment in fashion came in the early '50s. Until then, Italy was not on the fashion map. Fashion was also decentralised with Milan, Florence and Rome all in the running, but no one efficient fashion week. That is until the famous Sala Bianca Florence show at the Palazzo Pitti started in 1951 - thanks to impresario Giovanni Battista Giorgini, who first showed at his own home. Italian fashion then picked up pace in the '60s.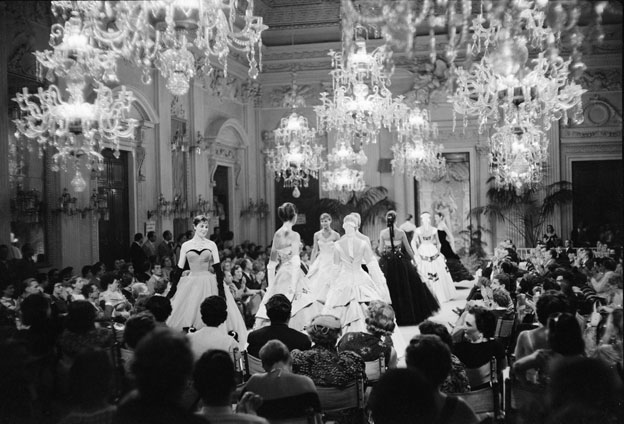 [Photo: Fashion show in Sala Bianca, 1955, (c) Giorgini Archive, Florence]
Can you summarise the highlights of the exhibition?
I think viewers will respond well to it all, actually! From the clothes of the '50s – the lesser-known but exquisite Sala Bianca exhibits by such as Emilio Schubert and Sorelle Fontana - never shown outside of Italy before. The glamour of the '50s and '60s 'Italian Hollywood' years as shown in outfits for stars like Ava Gardner… Contemporary influential designer wear including Armani, Versace, Dolce and Gabbana, Fendi, Gianfranco Ferré, Prada, Miu Miu, Roberto Cavalli to Gucci; all are here. Not forgetting rare pieces such as Liz Taylor's world-famous diamond and emerald jewels by Bulgari. With around 100 items on show, from garments to fashion photographs and film clips, it all tells the story of Italian fashion, the expertise behind it, and the impact it made.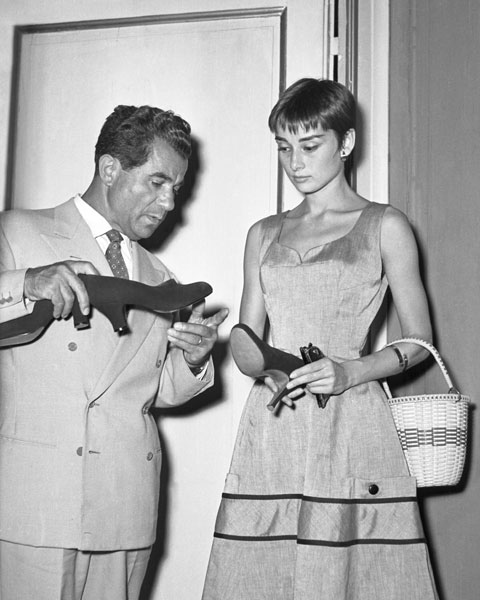 [Photo: Salvatore Ferragamo and Audrey Hepburn, 1954, (c) Banca Dati dell'Archivio Foto Locchi, Firenze]
How did Hollywood impact on the Italian fashion scene?
Films were less expensive to make at the Cinecittà studios in Rome, than at home, for the U.S. So began the era of 'Hollywood on the Tiber', with stars such as Audrey Hepburn, Ava Gardner and Liz Taylor brought over to make respective film classics such as 'Roman Holiday', 'The Barefoot Contessa' and 'Cleopatra'.
Worldwide, Rome primarily became the picture postcard to stars' lives, and the public got a window on Italian culture through the lens of the paparazzi. When these stars went shopping and were photographed in Italian creations, the international appetite for Italian fashion became phenomenal. From Audrey wearing Ferragamo shoes to Ava becoming ambassador for the Fontana sisters, to the romance of Liz being bought her legendary Bulgari jewellery suite from her lover Richard Burton, the publicity value was priceless. Film and fashion culture crossed the other way too – with homegrown fare 'La Dolce Vita' gaining cult status worldwide and its cool-suited male lead Marcello Mastroianni setting the taste for menswear in the postwar period. Visually, the exhibition charts all this.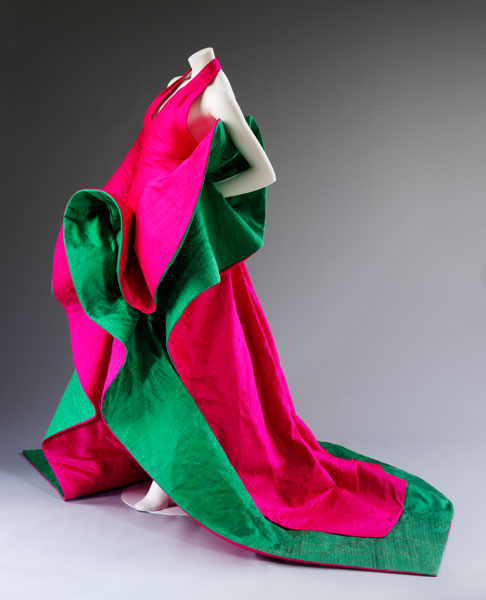 [Photo: Evening dress of silk, 1987-1988, courtesy Roberto Capucci Foundation, Photo (c) Victoria and Albert Museum, London]
Out of all the exhibits, which designers then and now stand out and why?
I admire Emilio Pucci, having started in the '40s and showing at the very first fashion show organised by Mr Giorgini at Mr Giorgini's home. His way with informal dressing, his groundbreaking use of colour and print… and the fact that his is the only fashion house from then still in existence today. Jumping to the present, it's interesting to consider when a leading designer has left their house, how do you fill their shoes? In the case of Valentino - founded in the early '50s and retired in 2009 – with verve and style. Creative directors Maria Grazia Chiuri and Pier Paolo Piccioli took on a daunting task but have delivered… not through copying his classic glamour, but in combining old world couture technique with 21st century style; harnessing the techniques of the atelier – the skills of seamstresses – with elements of surprise. For example, one star exhibit gown has silk satin roundels or medallions, printed with sea creatures suspended within a lace-like textile. Wonderful!
What's your very favourite dress of the exhibit?
One of my favourite gowns is a dress made for Jackie O's sister, Lee Radziwill, for Truman Capote's famous 1966 Black and White Ball - the jet set's party of the decade. The sparkling outfit won third prize in a Women's Wear Daily fashion contest at the time. Its Milanese designer, Mila Schon, also won the first prize for another creation. I find it significant that Ms Radziwill - known for her French couture wardrobe - when dressing for this party of all parties, chose Italian. It shows how far Italian fashion had come.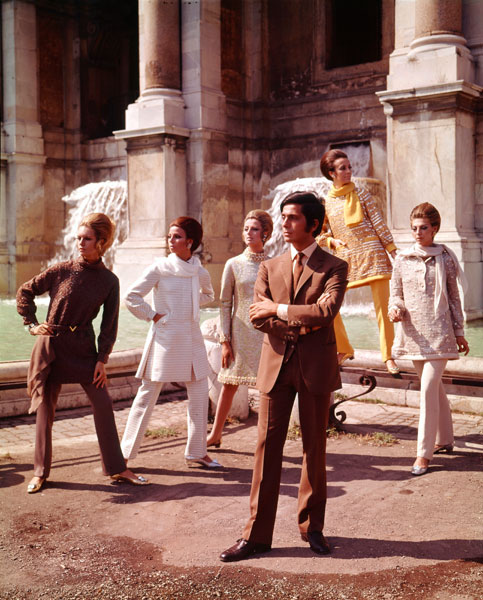 [Photo: Valentino posing with models, 1967, courtesy The Art Archive, Mondadori Portfolio, Marisa Rastellini]
Can you give a brief overview of how Italian style came to be propelled onto the world stage?
An interesting part of the story comes historically through the Marshall Plan. This was the effort to rebuild Europe after the war with a remit that included diplomatic activity and economic cash infusions to damaged nations.
Italy was aided through economic investment from the U.S. Its textile industry was one sector that benefited greatly. The U.S. considered the two countries could become important trading partners. The way that Italian fashion grew is also partly due to the North American market. American women were hungry for something new, so satisfying this demand was critical to the success of major department stores. At the first event in 1951, Bergdorf Goodman of New York and I Magnin of San Francisco were present. By the later shows of '55, more buyers came over. New names like Pucci proved a source of great excitement, and with natural, rich fabric resources available, Italian designs were 30% cheaper than their French equivalent. Buyers returned to New York and Chicago with trunk-loads of stock, swiftly selling out to their clients, and from there it just snowballed.
How do you see the future of Italian fashion?
It can be seen on multiple levels. Historically, from spinning to stitching, to Tuscan leatherwork, there's a tradition of top-notch Italian couture techniques and crafts countrywide from Rome to Milan. Also, with Italian factories producing ready-to-wear to an exceptionally high standard, in the '70s it came into its own, reaching unprecedented export levels. Even in the downturn, Italy's fashion industry is one of the bright spots in the country's economy. It's still satisfying a growing market, and emerging ones, from North America to China and Russia.
What happens next to the innovative 'Made in Italy' label will prove important. The future consumer has to have confidence in this as a mark of guarantee. [In February, the European Parliament was meant to decide what constitutes having a Made in Italy label, but at time of going to press this was still postponed ed.].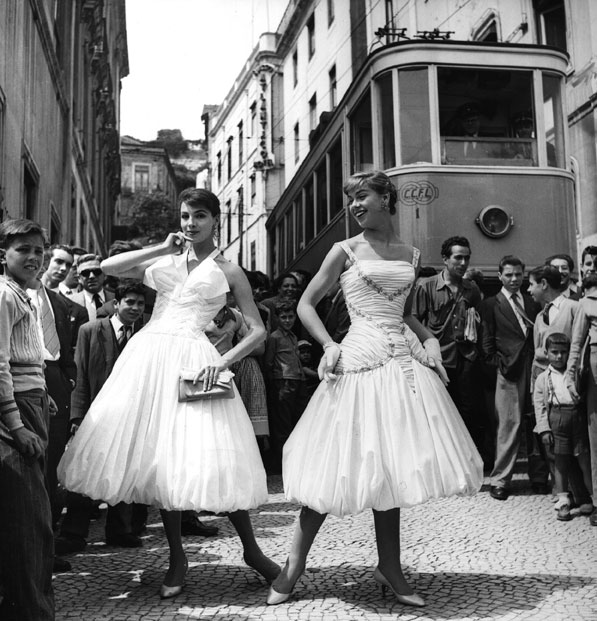 [Photo: Two models in dresses designed by Jole Veneziani, 1956, Courtesy The Art Archive, Mondadori Portfolio, Electa]
On the other hand, compared to London, which fashion writer Suzy Menkes calls a 'young laboratory' in nurturing talent… where does that leave Milan? What it's always had is big industry and mega-brands – Armani, Gucci, Versace, etc., rather than the upcoming youth aspect. In the spirit of positive change, The Italian Fashion Council recently appointed a new British CEO, Jane Reeve. She spoke to me recently of her remit to encourage young designers. In addition, more along the lines of the Italian Vogue talent showcase, in conjunction with Rome's Alta Moda, would also be good.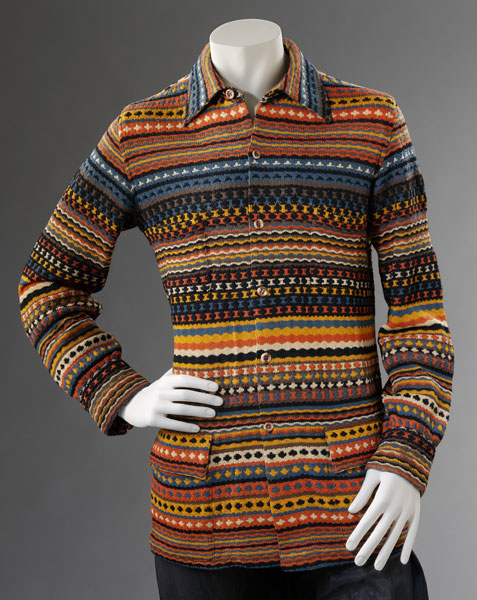 [Photo: Cardigan, 1974, Missoni, (c) Victoria and Albert Museum, London]
Beyond its showcase of Italian style, what do you consider will be the V&A exhibition's legacy as such?
I have had many interviews and conversations with people in the industry over plates of pasta and at work. Italians within the industry are very aware of the importance of their crafts heritage, and have a sense of cautious optimism about the future. This was further evidenced by the star-studded support the exhibition's opening evening received. With industry greats like Dolce and Gabbana, Valentino and Giancarlo Giametti, Tom Ford, Marni designer Consuelo Castiglioni, Italian Vogue editor Franca Sozzani… it was quite the fashion moment! It's great that Italy's Prime Minister Matteo Renzi came along. As he was the mayor of Florence, the place where our fashion story begins, it brings past and present full circle. The fact he was here means that he recognises the importance of Italian fashion for the future of the economy. It shows a sign of great confidence in the future of Italian fashion.
'The Glamour of Italian Fashion 1945-2014', at the Victoria & Albert Musum, sponsored by Bulgari, is on until 27 July. Curator Sonnet Stanfill's book of the exhibition is also available. See www.vam.ac.uk for all info.
(Photos courtesy of Victoria & Albert Museum)