Sacha Mascolo, 42, is Toni&Guy's global creative director. The international, cutting-edge hairdressing brand was established by her father Toni, and his brother, Guy, following a tradition inspired by their father, Francesco, a barber from Naples. With a presence in 42 countries including Italy, the company is currently celebrating 50 years in business and, amongst other accolades, have once again been crowned Men's Hairdresser of the Year. U.K.-based Sacha juggles the varied creative demands of her job with her role of wife and mother of three.
What's the story in brief behind the brand? 
'I come from a family of hairdressers, dating back to my grandfather, Francesco, a barber, who came from near Pompeii. In later life, he and my grandmother moved to the UK, though unfortunately she died when my dad, Toni, was 18. As the eldest of four boys, Toni and his brother Guy opened their first salon together in London's Clapham. Where my dad's a great businessman, Guy, like a true Italian, was very good with the ladies... so much so that they'd form long queues outside the shop! A second salon opened in Mayfair and my uncles Anthony and Bruno were also creatively involved. From the late '80s and '90s, major expansion happened. Fifty years of business later, the present total stands at 420 salons worldwide.'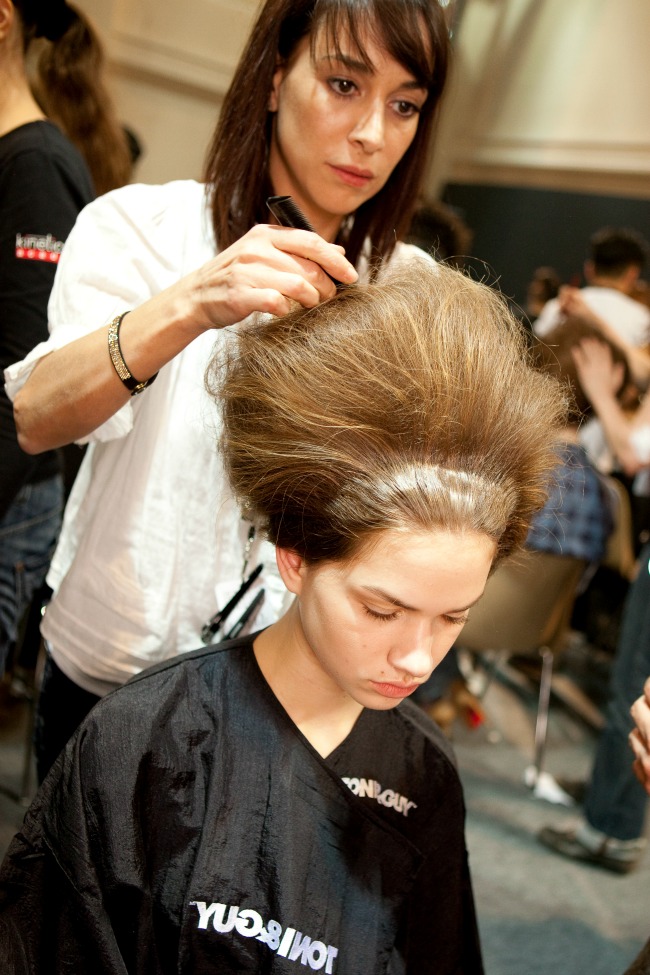 Can such an empire still run along the lines of a traditional Italian family business?  
'I would say so, but now in a different way. When I started 25 years ago, I assisted Anthony brand-building round the world, while Bruno and Guy started Toni&Guy in the States. Undeniably, there have been significant changes - in 2002, all the brothers 'de-mergered' and by 2007, Bruno and Anthony sold their share to Unilever. Yet at its heart, it's still very much a family enterprise. Bruno and Anthony work with their families, while I continue to work for the company with my dad, Toni, who's still passionate about the business side.' 
What does your working role involve?
'I'm responsible for all imagery associated with the brand. It's multi-faceted and can entail everything from the design of a salon, to packaging for our haircare range, or massive global hairdressing campaigns. From product testing to overseeing photo-shoots and seminars, it's all in a day's work. I also look after our annual global trend collection: the 10 hairstyles that forecast key looks for the industry.'
Are Italian roots still maintained within the family? 
'I consider my dad really Italian! I grew up in a passionate household where the family nearly always sat down to dinner. Even though my mother's Anglo-Irish, on marrying my dad, she was taught the art of Italian cookery by my great-aunts and grandmothers. In order to stay close to my dads' family, my parents have holiday homes between Sorrento and Positano. My father's also very proud to have been awarded with the equivalent of an Italian knighthood, in addition to his British OBE, and other special awards for creative services. As for me, though managing a work/life balance is tough – thanks to three kids aged 10, 8 and 2 – I'm happy being involved in a family business, while being mum and maintaining a traditional warm Italian home.' 
How do you consider hairdressing's changed over the past 50 years?
'Looking back at styles in the '60s, '70s or '80s, everyone then looked quite uniform. I think education has made a massive difference to the industry. Where once it was all about finishing and dressing hair, we brought in precision-cutting and product development for convenient client styling. The most satisfying part for me has been how the brand's built a bridge between hair and fashion. Years ago I used to help our Italian session stylist Guido Paulo at London Fashion Week. A team of ten of us would work on big '80s hairdo's for supermodels such as Linda Evangelista, Cindy Crawford, Naomi Campbell and the then unknown Kate Moss. Back then, LFW was seen as secondary to such as Milan and New York. As it has grown in status, so hair and fashion have become strongly interlinked - and now Toni&Guy's the official hairdressers of London Fashion Week.'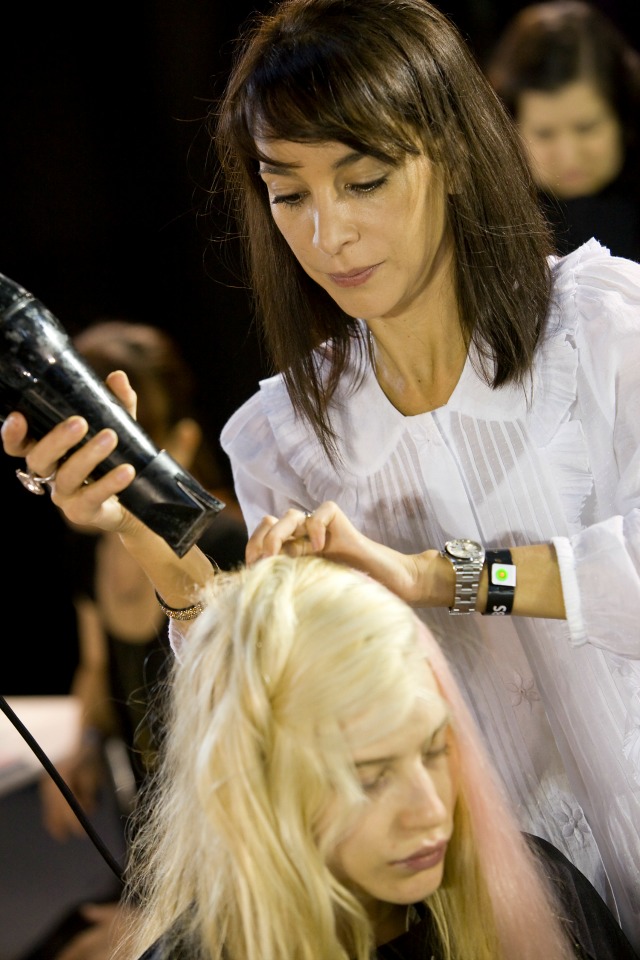 How does Italy view the Toni&Guy brand?
'Our salons have proved popular in Bergamo, Bologna, Como, Modica and Rome, with two in Torino, and four in Milan. They all have to sing the same song as Toni&Guy, London - with a strong message on 'hair education' - but an Italian twist is allowed!' 
Is there much cultural difference between hairstyling in Italy compared to the UK?
'UK street style is more fashion-forward, highly creative and 'out there' - probably a little more than the average Italian likes. London girls are more likely to experiment with colour, and have pink dip-dyed ends; wear a vintage bob or shaved sides. Genetically, of course, Italian hair's generally darker, thicker and has more natural curl. The Italian woman is perhaps more traditional and sophisticated, preferring to wear hair long and lush, with an amazing, red carpet style blow-dry. In comparison, young Italian guys appear more experimental. As for the next big mens' trend to filter across from the UK to Italy: I predict the beard - worn with shaved, stylised sides to the hair!'
Who are your personal 'hair icons' and why? 
'I'm a fashion follower rather than celebrity lover, though two figures stand out to me past and present: Sophia Loren for sheer classic glamour, and the contemporary, effortless cool of UK fashionista, Alexa Chung.' 
Onto the next 50 years, and what are the brand's plans?
'The accent's always on 'hair education', and we hope to complement this with a balance of styles from the trend-led to the classic and consumer-friendly. I will be working closely with our colour houses L'Oreal and Wella, to develop 'get the look' salon menus for clients - from beautiful blonde highlights and immaculate, precision cuts to fashion collections of powder pinks, red, turquoise and purple colour sprays. Add to this, London Fashion Week's 10th anniversary, and an exhibition for 4000 at the end of September. Meanwhile, my dad's expanding the business into different territories, and launching a book on his life story later in the year. As usual, packed schedules all round - but we wouldn't have it any other way!'
With party season underway, can Toni&Guy suggest any fabulous hair fashions and New Year trends to follow? 
'Looking ahead to February and our 10th anniversary with London Fashion Week, we have created ten catwalk looks to celebrate. The two I think most wonderful and easy to achieve, for going out any time of year, are these two classics with a cool edge: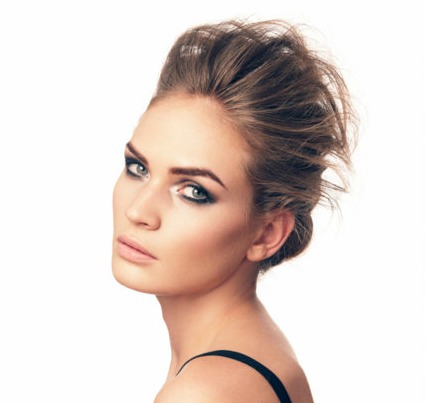 The Nouveau Knot 
'A flattering twist on the ballerina bun or sexy Italian matriarch up-do! Style hair with a texturising product, then coil a ponytail into a knot, securing with pins at the back of the head. Artfully pull out wisps of hair to give a glamorous, undone effect. Lightly spritz with spray if wished.'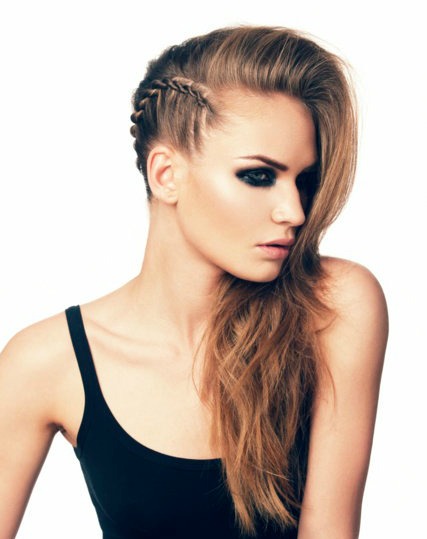 Pretty in Punk
'A very eye-catching variation for long locks! First, on clean, prepped hair, choose your best profile to define. Taking one side of the hair back, braid into as many little plaits as desired. Style the other side as usual, and perhaps tong into waves for added volume.'
'Toni&Guy History Book: 50 years of Toni&Guy: Hair, Fashion, Heritage' the brand's anniversary book is available on Amazon. For all salon, product and related info, visit www.toniandguy.com or buy from Amazon.