For our Where to Find Italy in the U.S. series, we head to Bloomfield, Pittsburgh's Little Italy.  
Where
Bloomfield is a neighborhood in Pittsburgh, PA, about three miles from the downtown area. It is bounded by Penn Avenue to the north-east, Centre Avenue to the south-east, and East Busway to the west. The main street is Liberty Avenue, where many shops, restaurants and bars are concentrated, including those of Italian-American descent.
Brief history of the neighborhood
Bloomfield began as the John Conrad Winebiddle Plantation, which provided food to the troops stationed at nearby Fort Pitt during the French and Indian War in the 18th century. It was later broken into lots which were sold for development. Bloomfield was annexed to the city of Pittsburgh in 1868. The first immigrants were predominantly German. They built typical row houses which still stand today.
Italian immigrants began arriving in the 1880s, mostly young men looking for work opportunities, often traveling back and forth between the U.S. and Italy. By the early 1900s, more permanent communities of Italian immigrants had settled in Pittsburgh, with a high concentration of Italians in Bloomfield. In 1905, they established the Immaculate Conception Parish.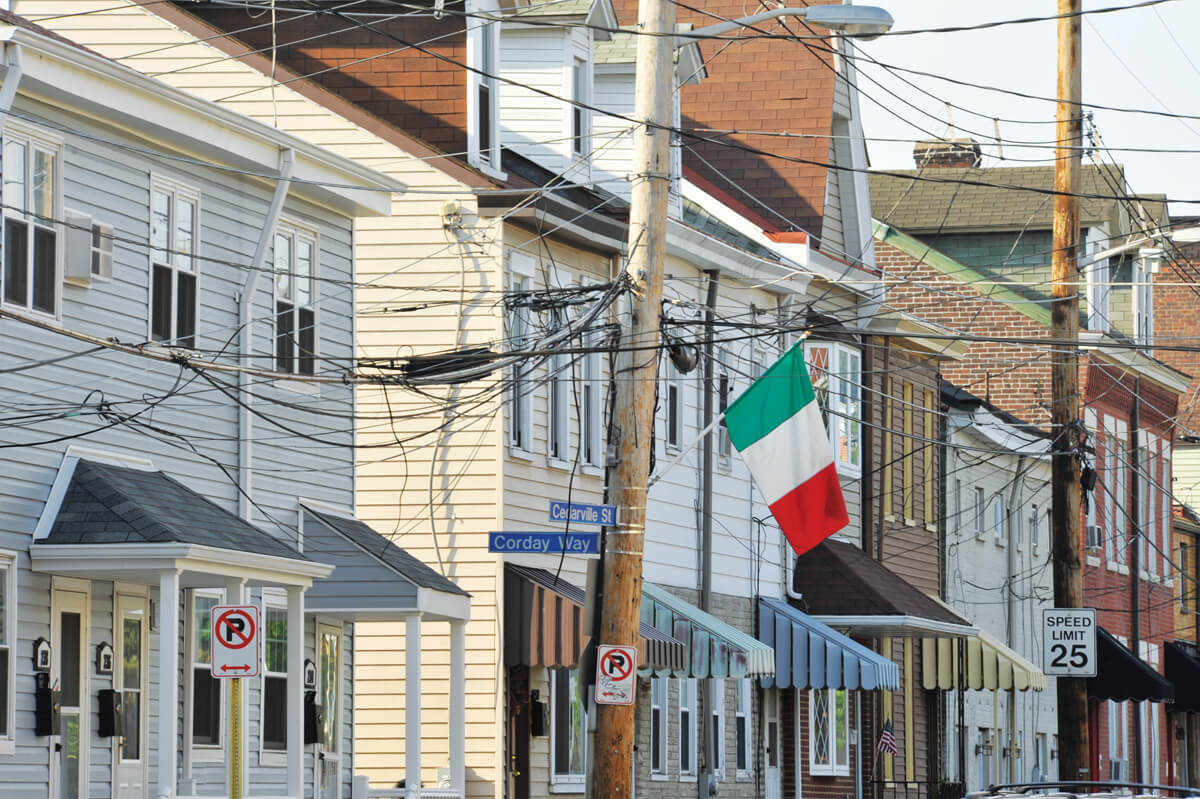 A second surge of Italian immigration to Pittsburgh took place right after World War II, when many Abruzzesi (from the central region of Abruzzo), displaced and impoverished, having suffered particularly heavily from German occupation, moved to the area, explained via email to me Melissa Marinaro, the director of the Italian American Program at the Senator John Heinz History Center in Pittsburgh. The History Center's Detre Library & Archives houses the Italian American Collection's archives, described as "one of the largest repositories of Italian American artifacts, photographs, oral histories, and archival materials in the U.S.," accessible to the public. The Heinz History Center is also home, since 1990, to the Italian American Program, dedicated to preserving and interpreting the history and culture of Italian Americans in Western Pennsylvania through exhibitions, educational programs, publications, and community outreach.
While Bloomfield is currently associated with Pittsburgh's Little Italy, Marinaro points out that, "historically speaking, it hasn't been the only one; there were and still are pockets of people with Italian heritage all over the city."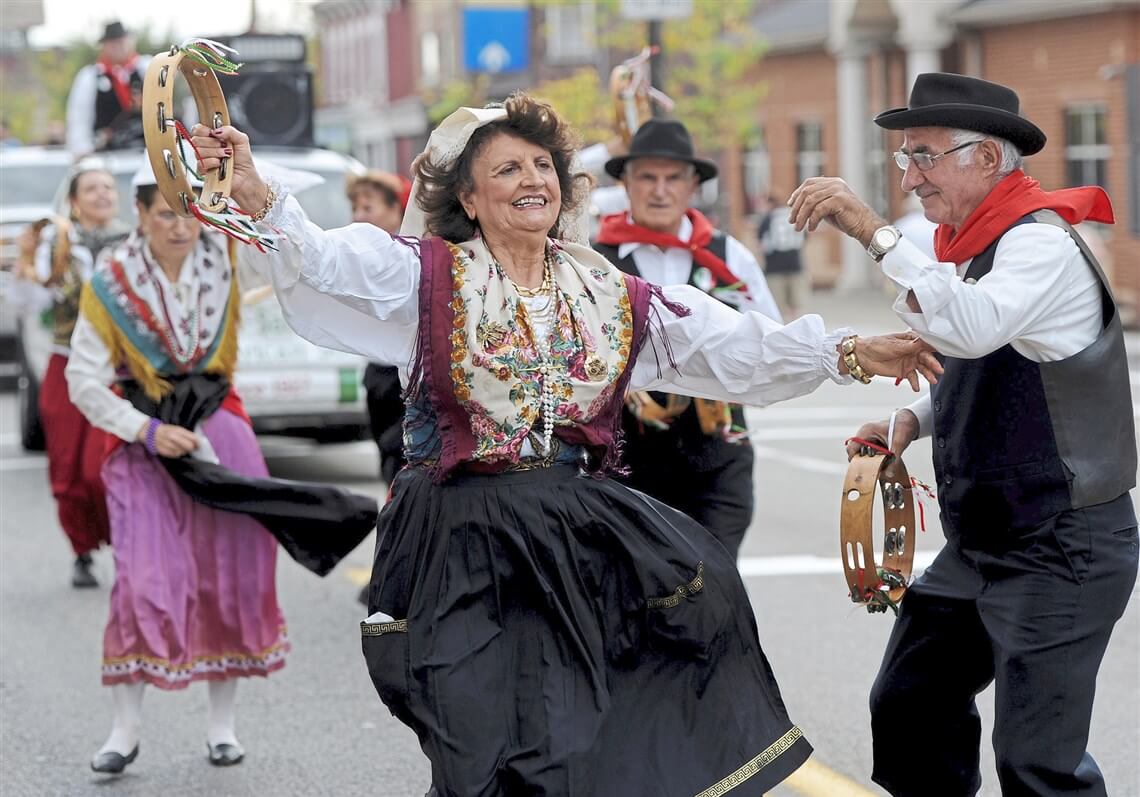 [The Little Italy Days festival takes place every year in August.]
Bloomfield today
While you can still hear Italian spoken in the neighborhood, Bloomfield is now home to a diverse community and, since the early 21st century, has been attracting a younger crowd. "Recently housing prices in Bloomfield have soared as young professionals and baby boomers move back into the city," Mary Menniti, a Pittsburgh native and the founder of the Italian Garden Project, told me via email. "I'm certain the immigrants who originally inhabited the area would not believe what their modest row houses are selling for."
"There aren't nearly as many Italian residents as there once were, in fact I found it difficult to find Italian Americans who still maintain vegetable gardens," Mary said. "At one time even the smallest backyard plot would have been used to grow fruits and vegetables." Mary has an extensive knowledge of Italian American gardening history and techniques. As the founder in 2010 of the Italian Garden Project, she works to document the stories and traditional methods of Italian American gardeners across the U.S. The inspiration for the project came from her grandfather, Antonio, who immigrated from Italy to the U.S. in 1912. "He had a large garden in the backyard of the house where I lived, just a few miles from his home. He spent all day, almost every day in that garden," Mary recalls.
Where to eat and shop Italian in Bloomfield
While there aren't as many Italian and Italian-American restaurants, shops, barbershops and businesses as there used to, Bloomfield has retained an Italian feel to it. I asked Menniti and Marinaro to recommend a few authentic Italian places in the neighborhood.
Mary Menniti: "There are still several Italian restaurants, grocery stores and an Italian gift shop. The Pleasure Bar restaurant has been in Bloomfield since 1941 and retains a retro feel and serves classic Italian American food. There are two Italian grocery stores, Donatelli's  and Groceria Italiana. Both make fresh pasta, sauce, sausage and pastries and have an Italian deli counter. Merante Gifts is a wonderful Italian gift shop which also offers Italian cookies and hosts cooking classes and private dining events."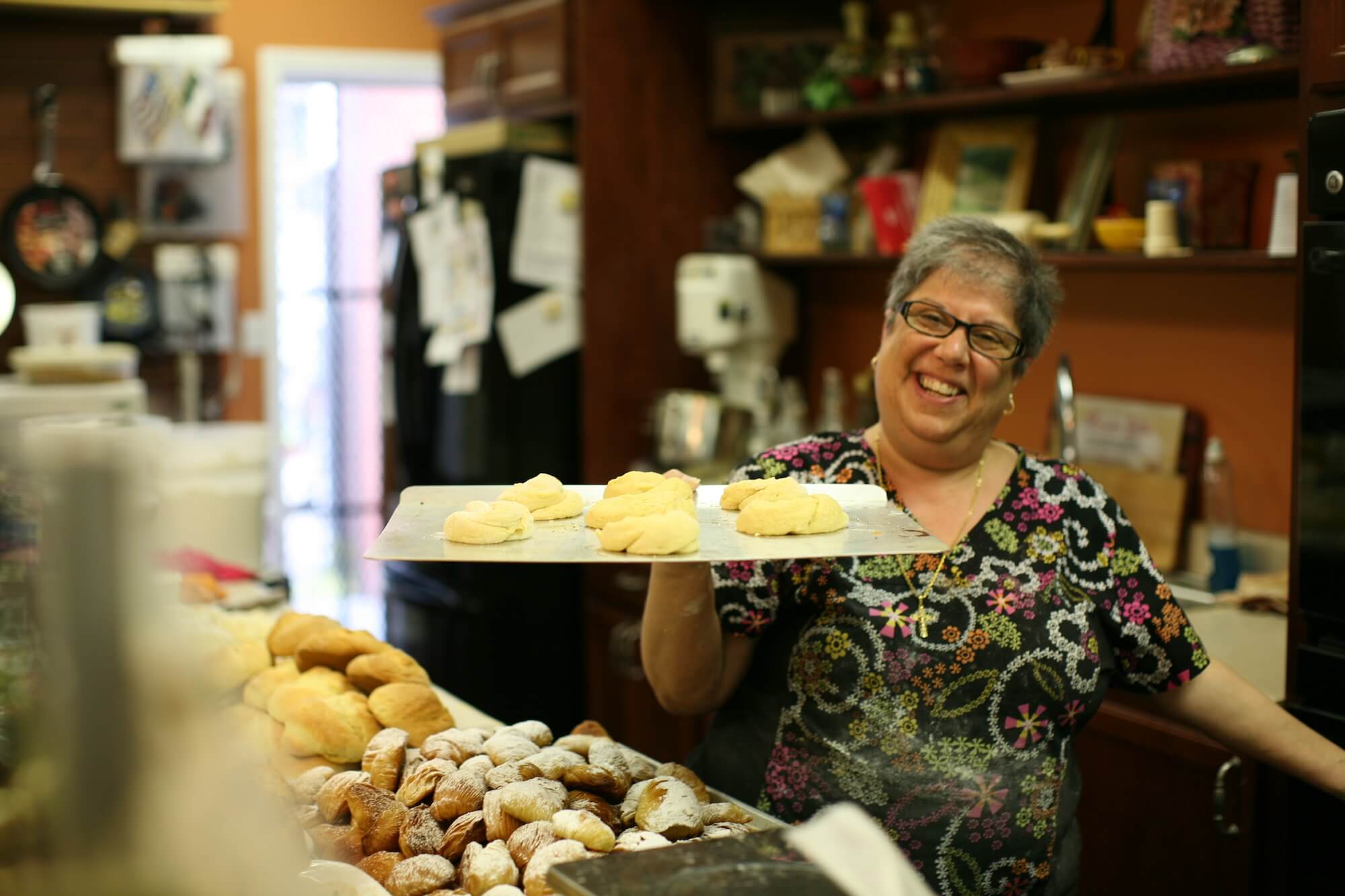 [Maria Merante Palmieri, the owner of Merante's Gifts. Photo credit Ruth E Hendricks.]
Melissa Marinaro: "I'm a regular visitor at Merante's Gifts. Owner Maria Palmieri (neè Merante) comes from a noted family of grocers in South Oakland, another part of Pittsburgh historically known for its Italian residents. She sells imported Italian goods, like kitchen wares and gadgets, hand painted ceramics, and decorative objects. Merante's Gifts also has a bakery in the storefront; the warm smell of anise and vanilla in the air reminds me of my nonna's kitchen. Dan Cercone Barbershop is another staple of Liberty Avenue, Bloomfield commercial district, and one of the most iconic storefronts of Little Italy. Now operated by grandson Dennis Scullion, it has been in its location since 1931."
For more 'Italian-ness', head to the small park beneath the Bloomfield Bridge, where there are public bocce courts, which the locals apparently love. Marinaro noted how "bocce is a popular sport in Pittsburgh and courts are a regular feature around Western Pennsylvania  (if you know where to look)."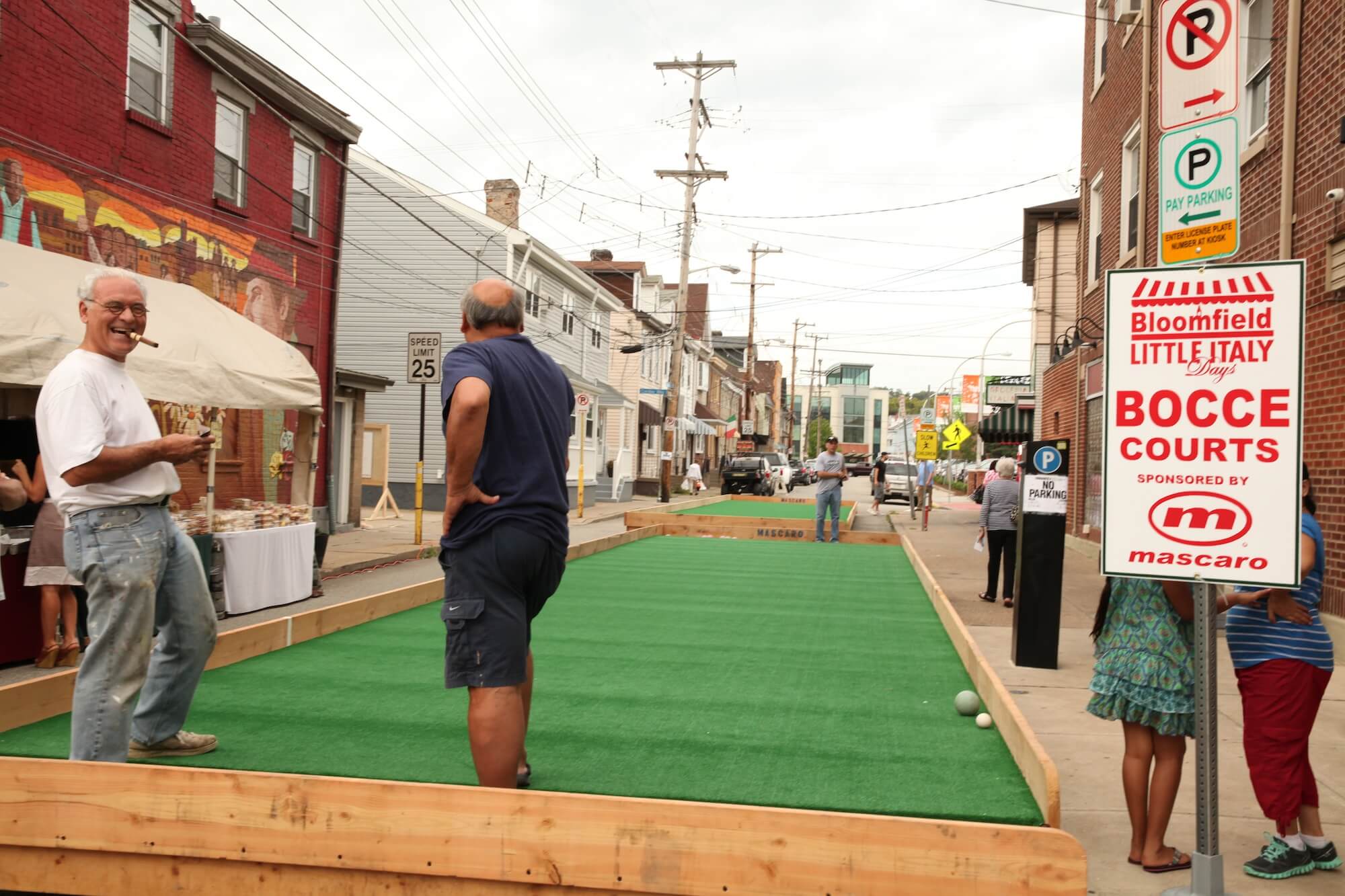 [Playing bocce in Bloomfield. Photo credit Ruth E Hendricks.]
Festivals & Events
The Little Italy Days started in 2002 to celebrate Bloomfield's Italian heritage. The festival takes place every year over the course of four days in August (this year August 16-19) and features Italian-themed entertainment and food, a celebrity bocce tournament, Italian cooking shows, a pasta eating contest and more.
The Columbus Day Parade has taken place along Liberty Avenue every year in October on Columbus Day weekend since 2001, although there are talks of moving back to downtown Pittsburgh.
A guided walking tour of Bloomfield focusing on food is offered by 'Burgh Bits & Bites. 
What's your experience of Bloomfield? Share with us in comments.